One of the many things I love about summer vacation is a little more time in the morning to make breakfast for my kids. They both love smoothies, but I just don't always have the time to make them on busy school mornings. So I started off this morning by blending up 2 cups of kale, some strawberries, half of a banana, half of a cucumber and some frozen pineapple.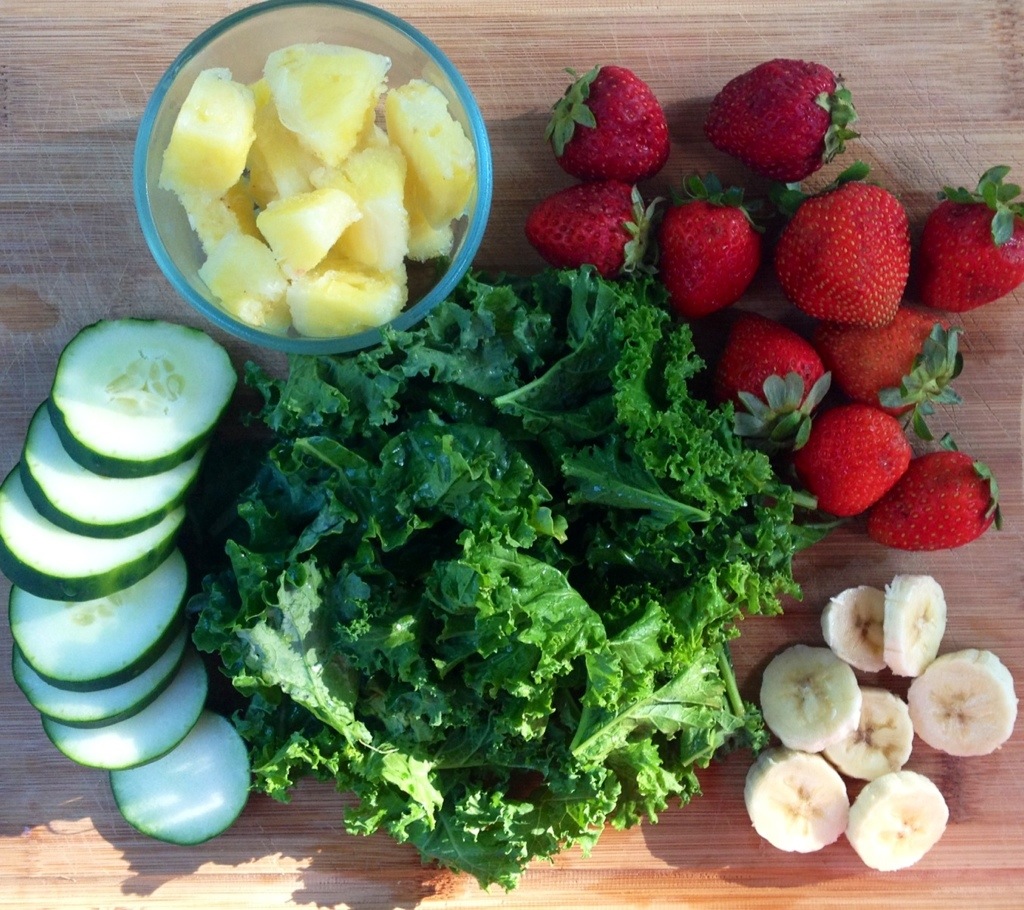 I will usually serve that alongside some oatmeal for the kids, either at the same time or a little later on in the morning.  I have been loving these overnight chia oats.  I have discovered that I really like cold soaked oatmeal like this.  The chia gives it an extra nutritional boost.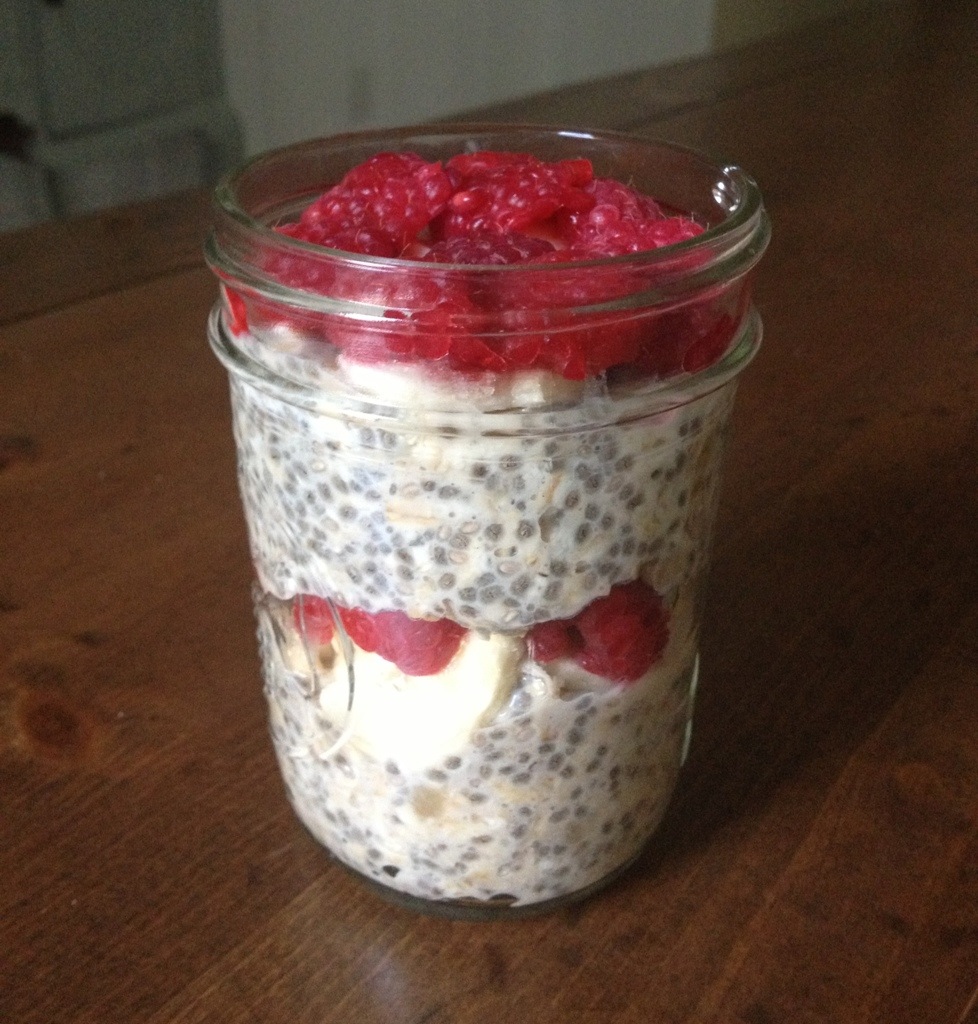 To make Overnight Chia Oats, combine:
1/2 cup old fashioned oats
2 T. chia seeds
1 cup unsweetened almond milk
1/2 banana, mashed
Stir to combine, cover, and leave in the refrigerator overnight.  In the morning, I divide the mixture into 2 small mason jars and layer it with different combinations of fruit, nuts, coconut, etc.  It is a great breakfast to make ahead of time and take on the go!
For lunch, I have been obsessed with this kale salad lately. I start with a huge bowl of washed bite-size kale leaves. In a small bowl, I mash up about 1/4 of a large avocado and the juice from 1/2 of a lemon, and season it with sea salt. Then I massage the lemon avocado mixture into the kale with clean hands. Its topped with edamame, diced mango, red onion, lightly toasted sunflower seeds, dried cranberries, chunks of avocado, cucumber, cherry tomatoes. This salad is such a great mix of flavors and textures, and I love that its filling without weighing me down at all.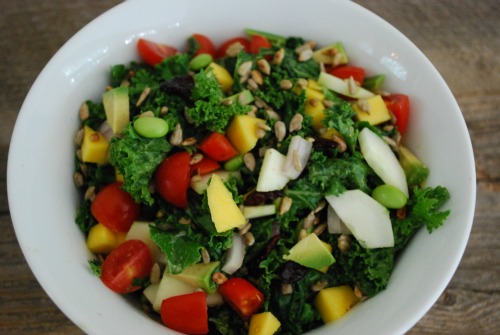 When I am making a big salad like this for myself for lunch, I will usually chop up extra fruits, veggies, edamame, etc. to throw on the kids lunch plates. They love having lots of little tastes of different things, and I can generally get them to eat a fruit or veggie they may not like if its just a few little bites versus a whole side of it.  If you saw this photo on Instagram, it is a great example of one of their chopped fruit and veggie lunches!
This afternoon, the kids and I snacked on some whole wheat pita chips, hummus, and carrots before dinner and I did not snap a photo of that 

For dinner, it was just me and the kids so we had their favorite Breakfast For Dinner.  Jake did a Gourmet Cooking camp last week and came home every day so excited about the recipes that he was making. He loved these little baked eggs and called them Egg McMuffins. The original recipe had a circle cut-out piece of bread at the bottom, but I left it out and he didn't even notice.
We whisked together a few eggs (1 egg per muffin), poured it into a lightly buttered muffin tin, and each added in the toppings of our choice – chopped spinach, sauteed red pepper, diced roma tomato, chopped nitrate-free ham, and shredded cheese. This is a great recipe to use up any little bits of leftover veggies in your fridge! Jake was very insistent that the cheese went on the very top! We baked them at 350 for about 13-15 minutes.
While those were baking, I mixed another egg with a splash of almond milk, a few drops of vanilla extract, and some cinnamon. I dipped slices of Ezekiel sprouted grain cinnamon raisin toast into the mixture and cooked them in my cast iron pan for a few minutes on each side. Ta da! Easy, yummy, healthy french toast!  They had a little side of 100% real maple syrup to drizzle on top or dunk their french toast.