Happy Wednesday!
After I dried out from a cold and wet walk with the dog this morning, I decided to switch it up from my usual smoothie/juice for breakfast.  This weather definitely called for a great big warm bowl of oatmeal!!!  The recipe just makes a single portion, but I think you could probably triple or quadruple the recipe to bake up a bigger pan of it to share with the family or eat throughout the week.  I love this because its not too sweet, very filling, and packs in a serving of vegetables!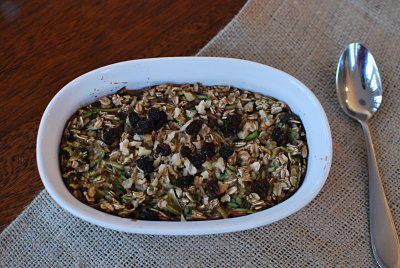 Zucchini Bread Baked Oatmeal for One
1/2 cup old fashion or rolled oats
1/3 cup unsweetened almond milk
heaping 1/3 cup zucchini, shredded
1/2 tsp pure vanilla extract
1/4 tsp cinnamon
1/4 tsp baking powder
1 T honey (or more if you prefer it sweeter)
optional – chopped walnuts and/or raisins for topping
Mix all ingredients and pour into a lightly sprayed dish.  Bake at 350 for 20-22 minutes.
Top with chopped walnuts and raisins, if desired.
My morning was busy with errands – trying to get lots done and groceries stocked up before we get hit with more snow.  Luckily the oatmeal held me over until lunch.  I have Jake home with me for lunch on Wednesdays so we shared our lunch of sandwiches, fruit, and
kale chips
.  His was PB&J.  My sandwich was
Ezekiel sprouted wheat bread
with hummus, avocado slices, tomato, cucumber, and red onion.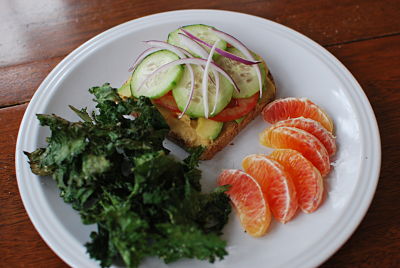 If you haven't tried
Ezekiel
breads by Food for Life, I
highly
recommend them!!!  They have really clean ingredients – only organic sprouted grains, yeast, vital wheat gluten and sea salt.  Because the grains are all soaked and sprouted, it is easier to digest for those with grain sensitivies.  I also love that each piece is only 80 calories and a whopping 4 grams of protein!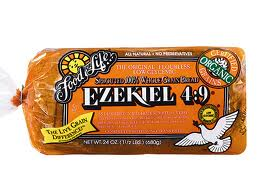 If you're interested, its usually found in the freezer section of the grocery store and runs about $4-4.50/loaf.  I keep it in the refrigerator and it lasts for weeks.  The raisin bread is really good too, especially with peanut butter or almond butter on it.  As a sidenote, I pretty much only like this bread when it is toasted (same goes for the kids!).  Its a little heartier than normal soft, sandwich bread and toasting it makes the dense, grainy texture less noticeable.
My afternoon snack was not cooperating for photos today.  This gray weather and lack of sunshine is just awful for taking pictures!!!
I learned about adding greens to smoothies a couple of years ago from blogs like
this
.  Its such an easy way to add a little extra leafy greens into your day (or into your kids)!!  I am pretty adventurous with greens in smoothies, but if you're not, then I promise this is a good starter recipe.  This one had a handful of spinach, a frozen banana, 3/4 – 1 cup of unsweetened almond milk, a scoop of vegan vanilla protein powder, and a spoonful each of raw almond butter (or PB is good too!) and ground flaxseed.  The protein powder is not necessary but I like to add it in on days that I lift weights.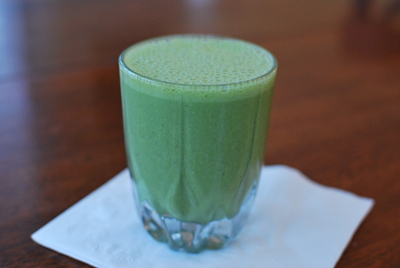 This particular dinner has gone through a lot of modifications.  It started off as a knock-off of the Buffalitos from Buffalo Wild Wings.  We would grill the chicken, add store-bought wing sauce, and wrap them in whole wheat tortillas, which was significantly healthier than the restaurant version.
My latest version is served in lettuce wraps.  And after a review of the ingredients in wing sauce (soybean oil, artificial flavors, caramel color, corn syrup, and EDTA?  No thanks!!), I just mix Franks red hot with a little melted organic butter.  We also had roasted sweet potatoes on the side.  I leave the skins on and slice them up, coat them with a little olive oil and kosher salt and roast them in a single layer at 450 degrees for 15 minutes.  Flip them and cook them another 15 minutes or until evenly browned.  The kids aren't a fan of the spicy sauce, so they do chicken/cheese wraps on whole wheat tortillas instead.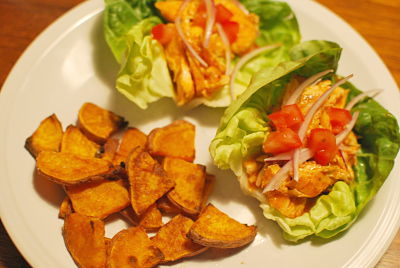 That wraps it up for this Wednesday

2 Responses to What I Ate Wednesday #3