Some people are all about the awesome deals at outlet stores.  Some are really into picking up a treasure at a thrift store or garage sale.  But me?  I love scoring a deal at the grocery store!
I especially love the clearance produce section!  Its a great place to pick up perfectly good produce for a fraction of the price (since you rarely see coupons for healthy whole foods or fresh fruits and vegetables).  Some of the staples I can usually find at our store are onions, citrus fruits, and mini peppers.  We have potatoes and apples a lot as well, but I prefer to buy organic versions of those.
One of my favorite things to find???  Bananas!!!!   These are one of the few fruits that I am perfectly OK with eating non-organic since you don't eat the outer part of the fruit.  And even if they're a little past their prime, they are perfect for cooking or slicing and freezing for smoothies and other frozen treats.
So this week when I found bags of clearance bananas, I cleared the shelves and brought home 7 pounds of bananas for a little over $2.00!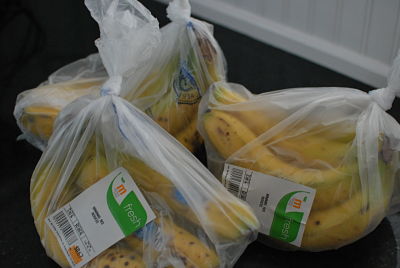 And I knew exactly what I was going to do with these guys!!  I've been eyeing the Bananas Foster Baked Oatmeal at Oh She Glows.   My kids love oatmeal and I thought this would be a little bit more special than their typical weekday morning oatmeal topped with raisins or thawed frozen fruit.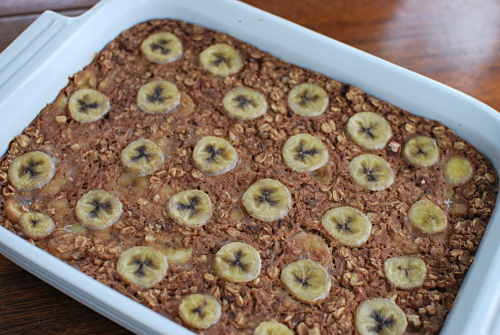 This was SO good – like a perfectly warm and cozy treat, very filling and not overly sweet.  I love all of the healthy swaps from traditional bananas foster including coconut oil for butter and a maple syrup for the brown sugar.   This will definitely be something that I make often!
Enjoy and have a wonderful weekend!!!
Bananas Foster Baked Oatmeal
Adapted from Oh She Glows
Oatmeal Ingredients
1 1/2 cups rolled oats
1/2 cup oat flour (finely ground oats, I've started grinding mine in a coffee grinder instead of the blender)
2 tsp. cinnamon
1 tsp. baking powder
1/2 cup walnuts, chopped
2 1/2 cups unsweetened, plain almond milk
Bananas Foster Ingredients
4 bananas, sliced (or chopped into small pieces if you prefer)
1 T. coconut oil
2 T. real Maple syrup
3 T. rum
Sprinkle of cinnamon
1 tsp. pure vanilla extract
Topping
1 banana, thinly sliced
Directions
Preheat oven to 350 degrees and lightly grease a casserole dish (I used coconut oil).
Combine all oatmeal ingredients in a large bowl and set aside while you prepare the bananas foster.
Add coconut oil, maple syrup, and rum to a cold skillet and heat over medium low heat.  As the coconut oil begins to melt, whisk to combine ingredients.  When mixture is bubbling, add in bananas and sprinkle with cinnamon.  Saute for about 5 minutes, reducing heat if necessary.  Remove from heat and stir in vanilla extract.
Stir bananas foster mixture into oatmeal and pour into casserole dish.  Place sliced bananas on top and bake for 40-45 minutes.
3 Responses to Weekend Breakfast: Bananas Foster Baked Oatmeal