kid friendly
Oatmeal is probably the breakfast food that I have made the most for my kids. Hailey went at least two years straight, if not more, where she ate oatmeal every single day for breakfast. Smart girl….oatmeal is healthy!!
It contains vitamins, minerals and antioxidants, and are a source of protein and complex carbohydrates.
Oats contain a specific type of fiber called beta-glucan, which helps reduce cholesterol and reduce the risk of heart disease.
The soluble fiber in oats helps stabilize blood sugar levels and keep you feeling full.
It's still a favorite around here and I've found plenty of ways to mix it up and keep it fresh.
If you follow me on Facebook, you may have seen the oatmeal-stuffed baked apple that I made yesterday. This was amazing and I had it again today!!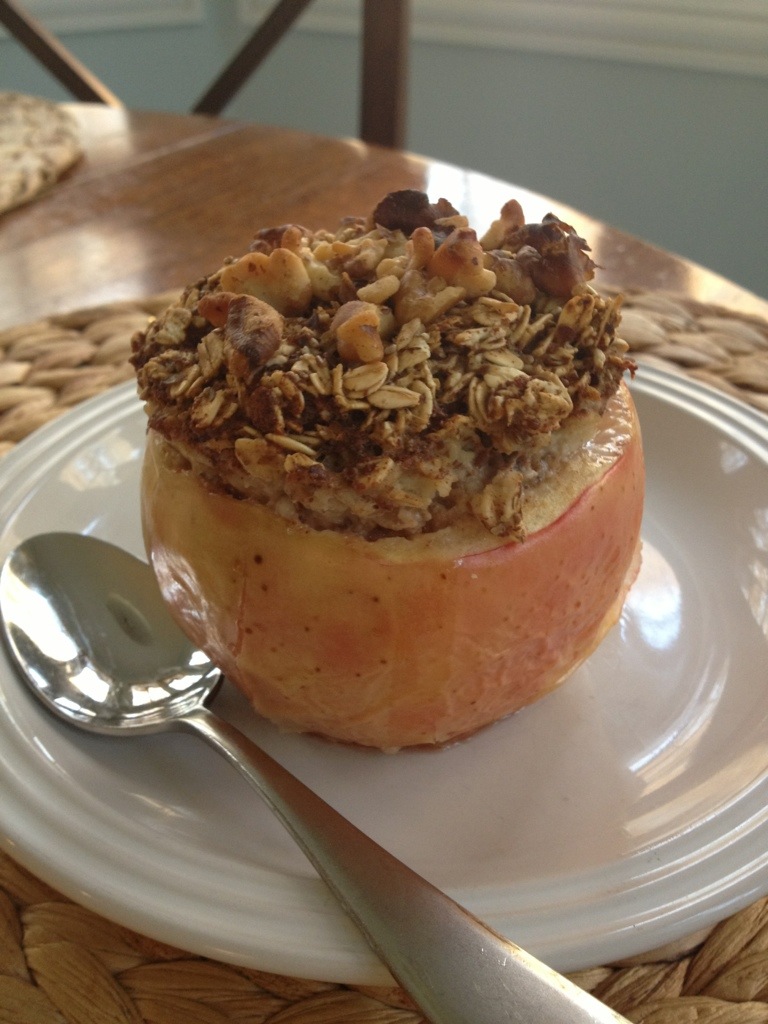 Directions
Use a sharp paring knife to cut out the core and some of the apple to make a nice big "well". In a bowl, combine 1/2 cup oats, 1/3 milk (or non-dairy milk), 1 egg white, 1 T. ground flax, 1 tsp. pure maple syrup, and 1/2 tsp. cinnamon. Fill the apple and top with chopped walnuts or pecans. Bake at 375 degrees for 25-30 minutes.
Alternatively, you can stuff this into a halves of a hollowed out orange (with a little extra maple syrup and some dried cranberries) for more of an Orange Spice flavor!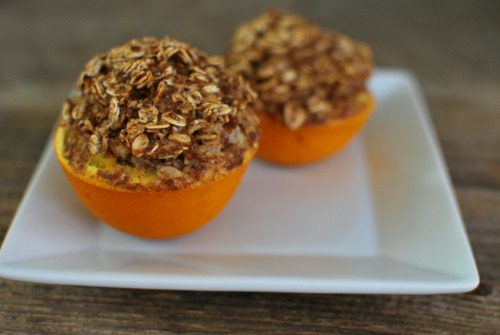 Something that my kids have been loving lately is Oatmeal Parfaits. While the oats are cooking on the  stove top, I get get the fruit and yogurt ready.  Then, simply layer oatmeal, yogurt, and berries a few times. We like to stir a little honey into our Greek yogurt or just drizzle it on top.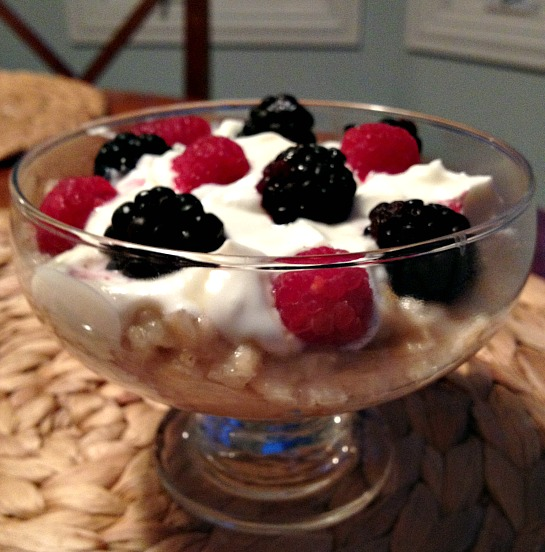 If you are in more of a time crunch in the mornings, I highly recommend this recipe for Crockpot Overnight Steel Cut Oats. I have made these a couple of times and everyone loves it!!! My crockpot tends too run a little hot so I just set it on the "Warm" setting and cook it that way overnight. I also skip the butter and brown sugar and it's still great.
If you want other ways to eat oats, check out some of these other recipes I have posted:
Baked Oat Recipes (can be made and then eaten all week long)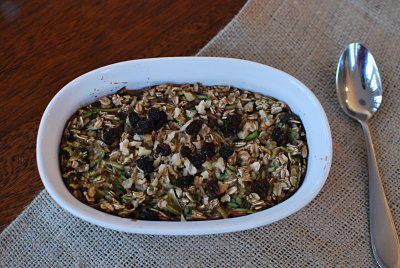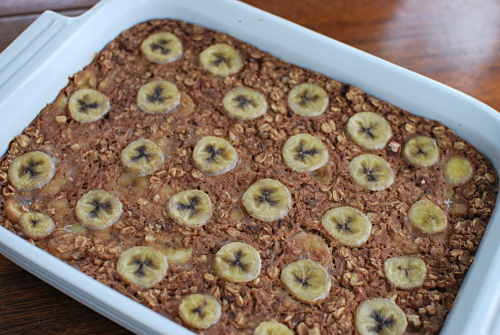 Overnight Oat Recipes (eaten cold or warmed up a bit in the morning)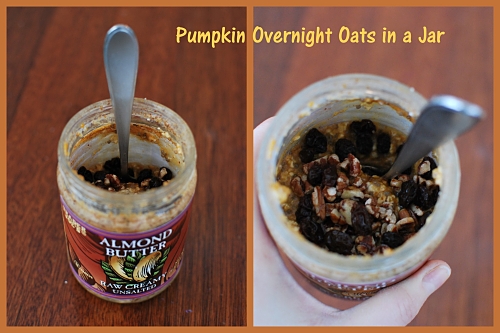 Pumpkin Overnight Oats in a Jar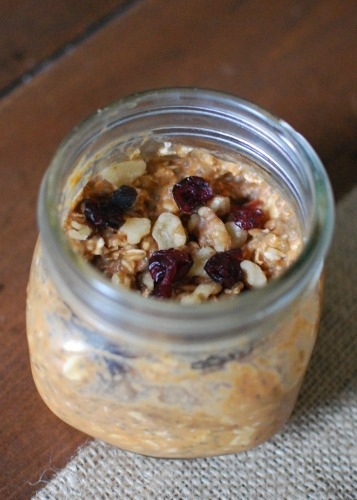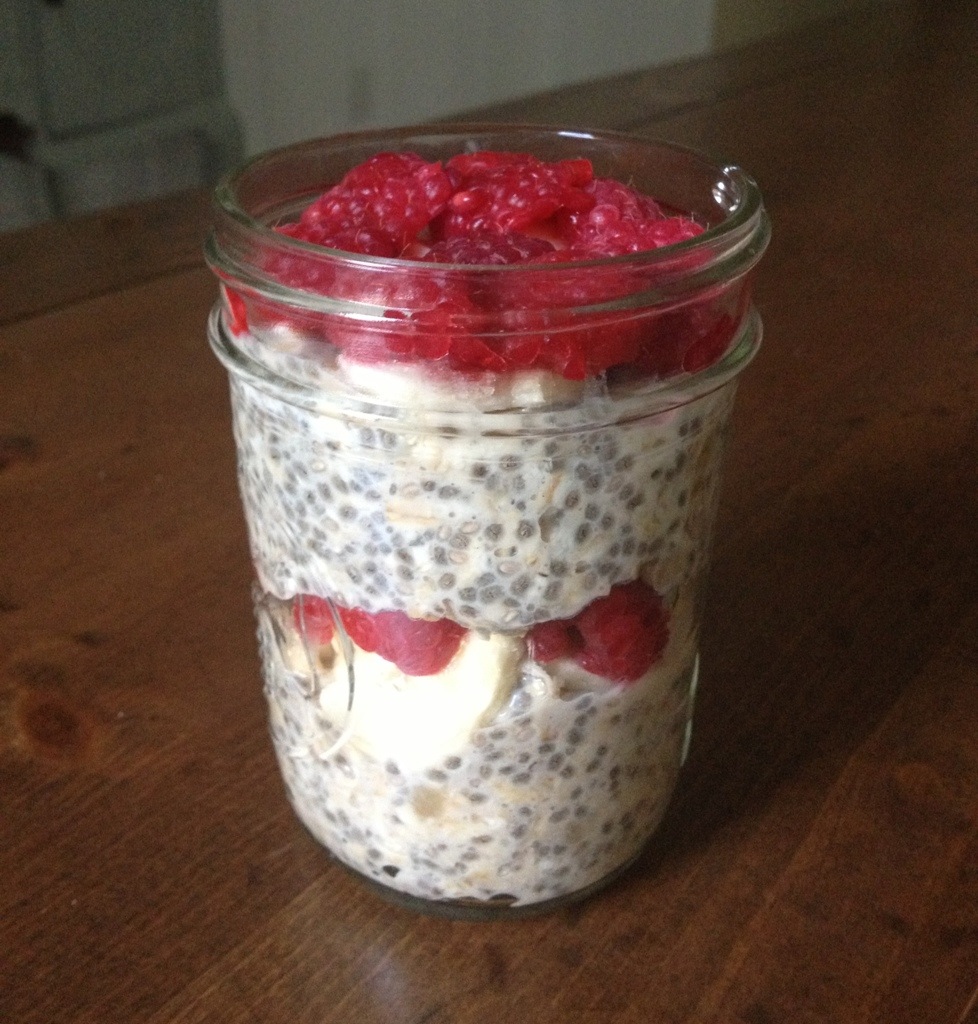 Overnight Chia Oats with Fruit
What a day! Super busy morning and a dead phone battery meant no What I Ate Wednesday pics

Luckily, there was a little time this afternoon for this…..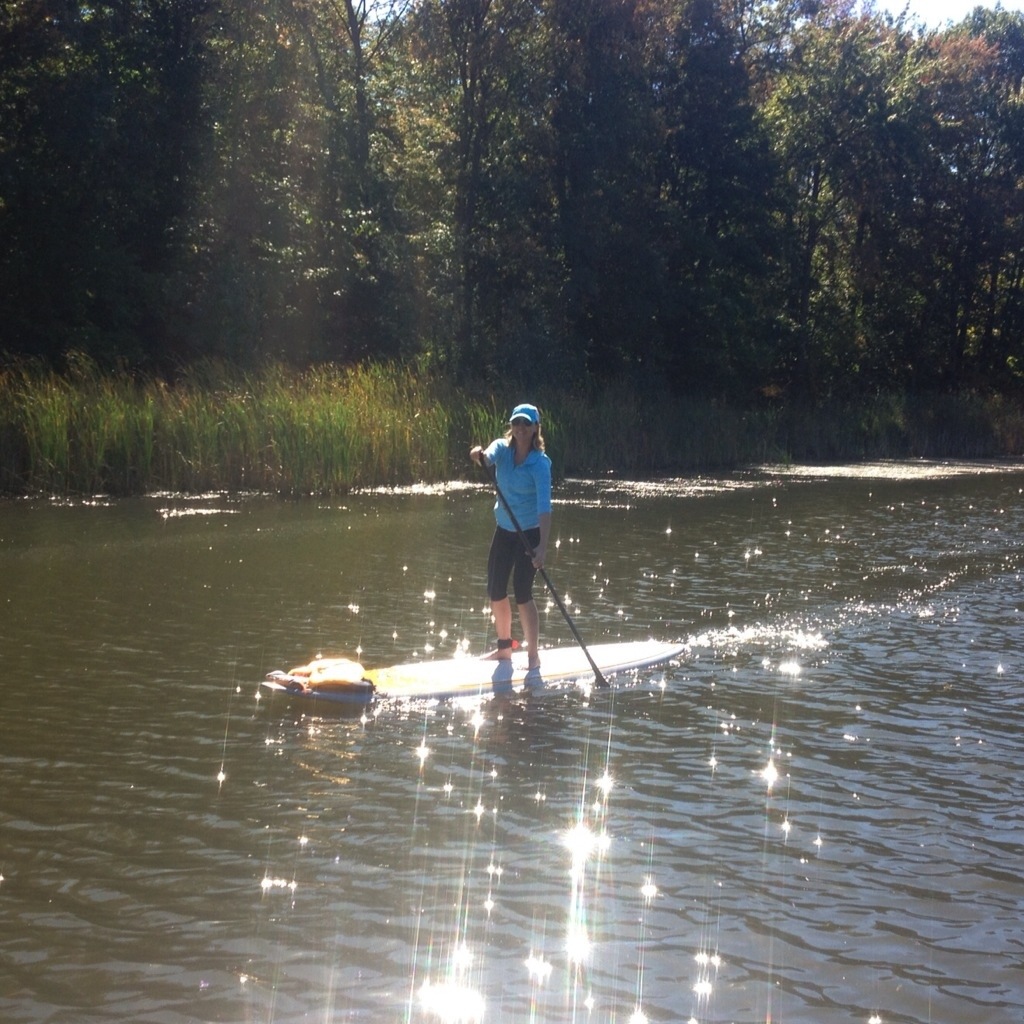 Seriously gorgeous Fall day! I couldn't pass it up!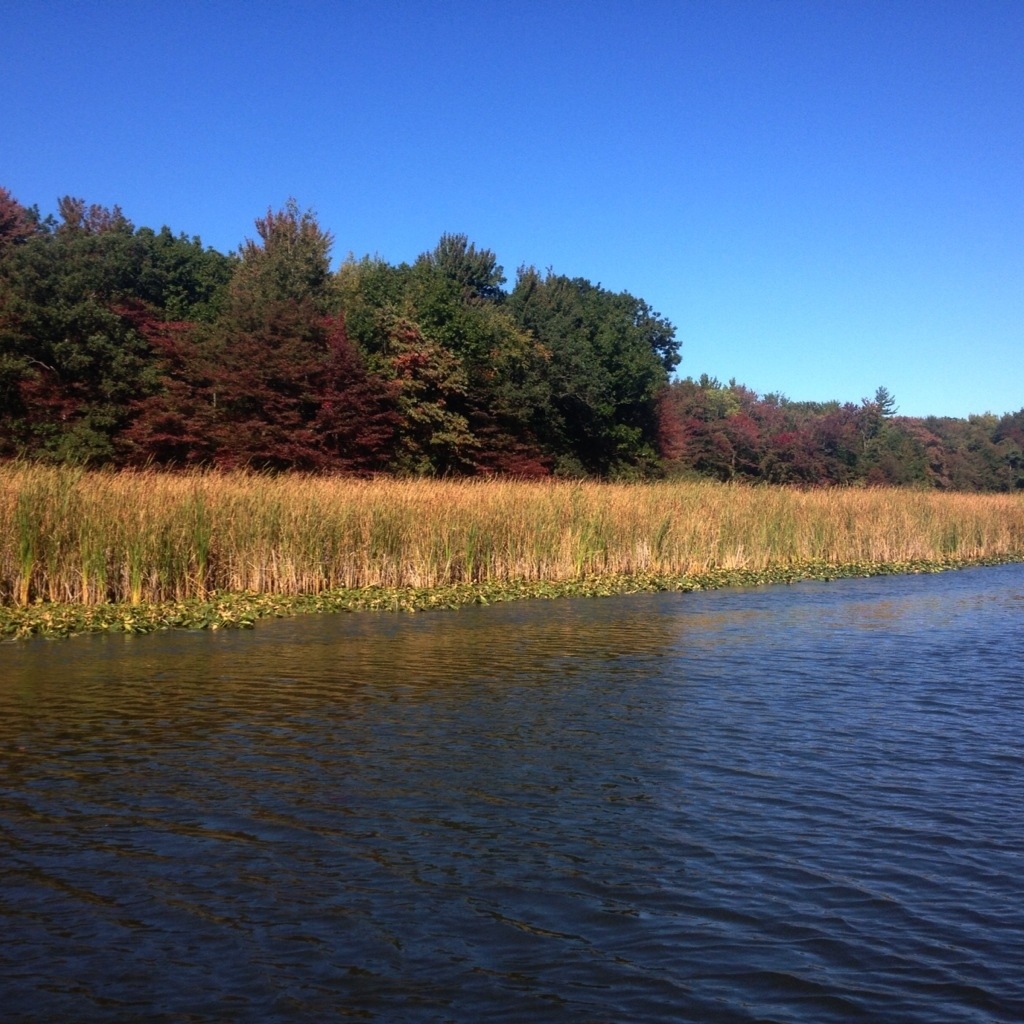 With Michigan weather, any day could be our last day out on the water, so we had to take advantage of it.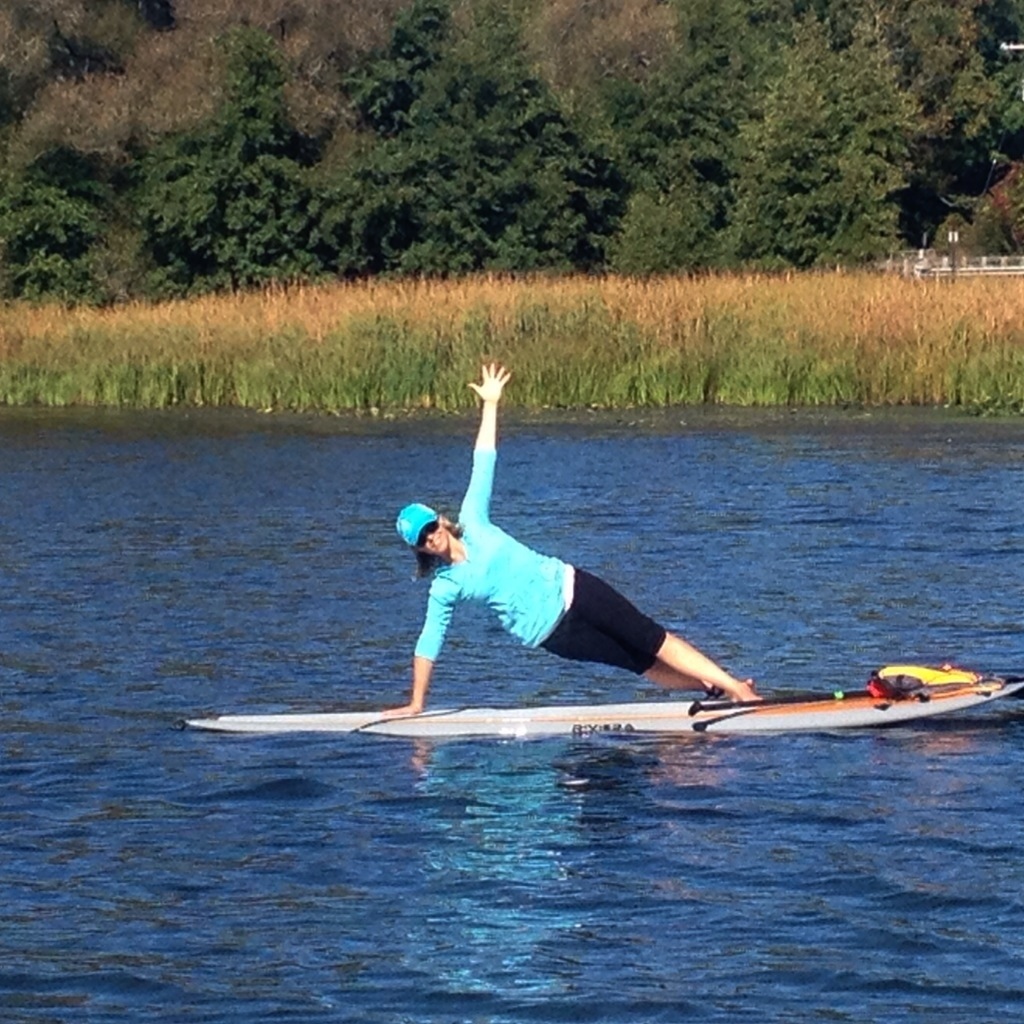 Luckily, I didn't have to worry about dinner since it was already prepped. I threw a jar of my mom's canned summer tomatoes into the Crockpot with a few fresh veggies and dried herbs and made my first homemade marinara sauce. Have you ever tried this? I had no idea it was so easy! And it made the house smell amazing! It was kind of an experiment so I don't have an exact recipe yet.
I do have an awesome recipe for the meatballs that went with it though!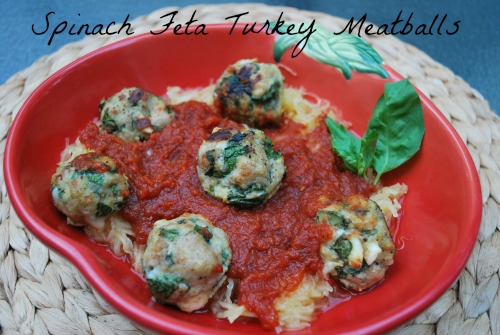 I actually made these on Sunday. I used the spinach feta turkey mixture to make a burger and just rolled the rest into meatballs and baked them. They are easy and come together really fast. And they are out of this world good! I served the meatballs and marinara over a bed of spaghetti squash that was roasted earlier in the day.
Spinach Feta Turkey Meatballs (or burger)
Ingredients
1 lb of lean ground turkey (see if you have the option of some local ground turkey or organic since the regular grocery store stuff contains extra flavoring additives)
Spinach (a big handful or two of fresh or you can use about 1/2 a bag of frozen spinach, defrosted, water squeezed out)
1/2 cup crumbled feta
1 egg, beaten
Salt and Pepper
Directions
If making meatballs, preheat your oven to 350 degrees. Heat a skillet to medium heat. Chop spinach finely if using fresh. Mix all ingredients together in a bowl and season with freshly ground salt and pepper. Form into patties or meatballs. To make burgers, cook patties over medium heat for about 6 minutes on each side. For meatballs, sear in the skillet to brown the meatballs and transfer to a baking sheet. Bake for 20 minutes.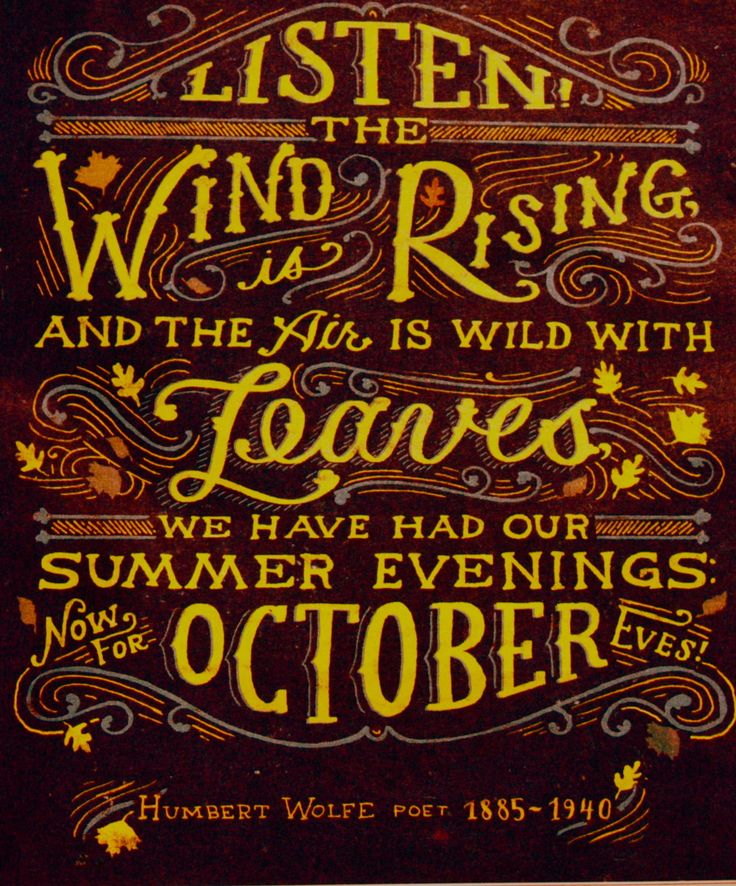 I am long overdue for a new post! Seeing as how we've entered a new season, my most favorite of all, I thought I would post the recipe for the meal that we had to celebrate the first day of Fall. It was just cool enough that I could pull off a one-dish comfort meal like this Chicken and Noodles!
Not only was it budget-friendly and super easy to make, but it was SO good too!  I know that this is not cutting edge health food, but I have come to the conclusion that there is room in our diet for comforting, enjoyable meals like this.  Of course there were plenty of variations running through my mind, like using spaghetti squash instead of noodles or buying the whole wheat flax fettuccine noodles so feel free to experiment with those options if that appeals to you.  But it has been my goal lately to simplify and de-stress our family dinner time by making only one meal that everyone can enjoy.  I have been encouraging the kids to choose what we will have for dinner and letting them help out in the kitchen more.  This was definitely a kid-friendly dish and it makes a great leftover to send reheated in a thermos for lunch the next day.  Enjoy… and Happy Fall!!!
Homestyle Chicken Noodles
inspired by Better Homes and Garden
Ingredients
Chicken Thighs (I just bought a package that had 5-6, bone-in would be great to for additional flavor)
3 cups water
2 cups chicken broth (one without msg, "natural flavor", or yeast extract)
2 Bay leaves
1 tsp dried thyme (I had ground thyme which worked nicely)
Salt and pepper to taste ( I added close to 1 tsp. of sea salt and a few grinds of pepper)
1 medium onion, chopped
3 carrots, peeled and chopped
2 ribs of celery, chopped
Homestyle egg noodles (I used the thick fettuccine style noodles)
1 cup frozen peas
1 cup milk
2 T. flour
Directions
Add chicken pieces, chopped onion, carrot, and celery, herbs, water and broth to a large stockpot or Dutch oven. Bring to a boil and simmer covered for 25-30 minutes until chicken is done. Remove and discard bay leaves. Remove chicken and place on a cutting board to cool. Remove bones if necessary and shred or chop into bite-sized pieces and set aside.
Bring the broth mixture back up to a boil and add noodles. Cook according to package directions (mine were about 12-15 minutes). Stir in frozen peas. In a lidded container, combine milk and flour and shake until thoroughly mixed. Pour milk mixture into pot. Add chicken back in. Cook over low heat until thickened.
It's late and I have to get on the road early in the morning to teach a big class.  But since I already took all of the pictures, I thought I would try to get my "What I Ate Wednesday" up on the blog. I'll try to make this one quick since that's how my day went anyway

Breakfast was kind of light. My stomach can't handle a heavy meal before teaching a paddle yoga class. So, before I left this morning, I blended up 3/4 cup light coconut milk, about 1 cup of fresh pineapple, 1 tablespoon of chia seeds and some ice and water. Tasted exactly like a piña colada!!!!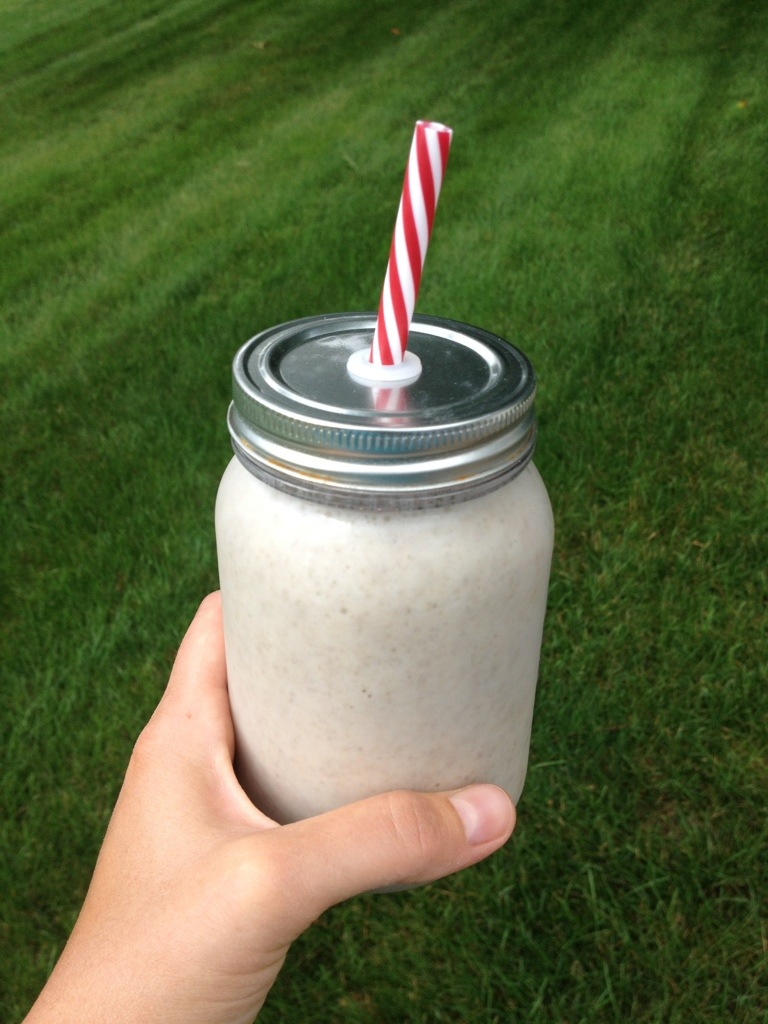 I had to go straight to an appointment after teaching my class, so I packed myself a little snack – a zucchini blueberry spelt muffin, fresh organic strawberries, and a few almonds.  The muffins were a combination of recipes and turned out awesome.  I plan on making a huge batch of them to freeze for school lunches!!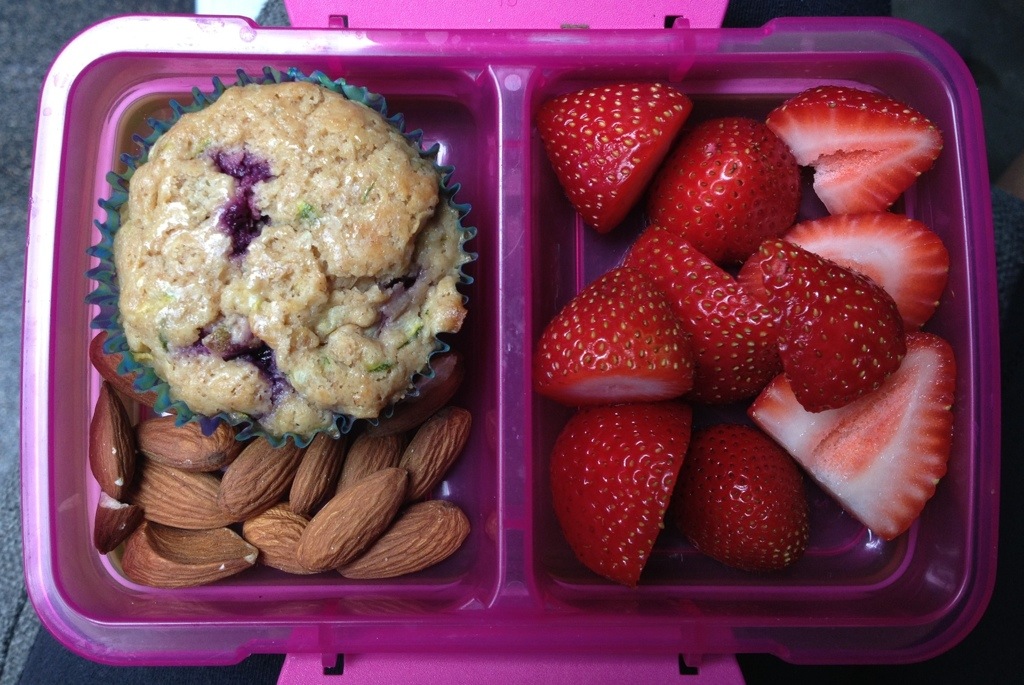 I was starving when I finally got home, so I made an open-faced sandwich on toasted Ezekiel sprouted grain bread with homemade hummus (made last week), cucumbers, and tomatoes with kale chips and fresh fruit. An awesome and filling lunch!!!!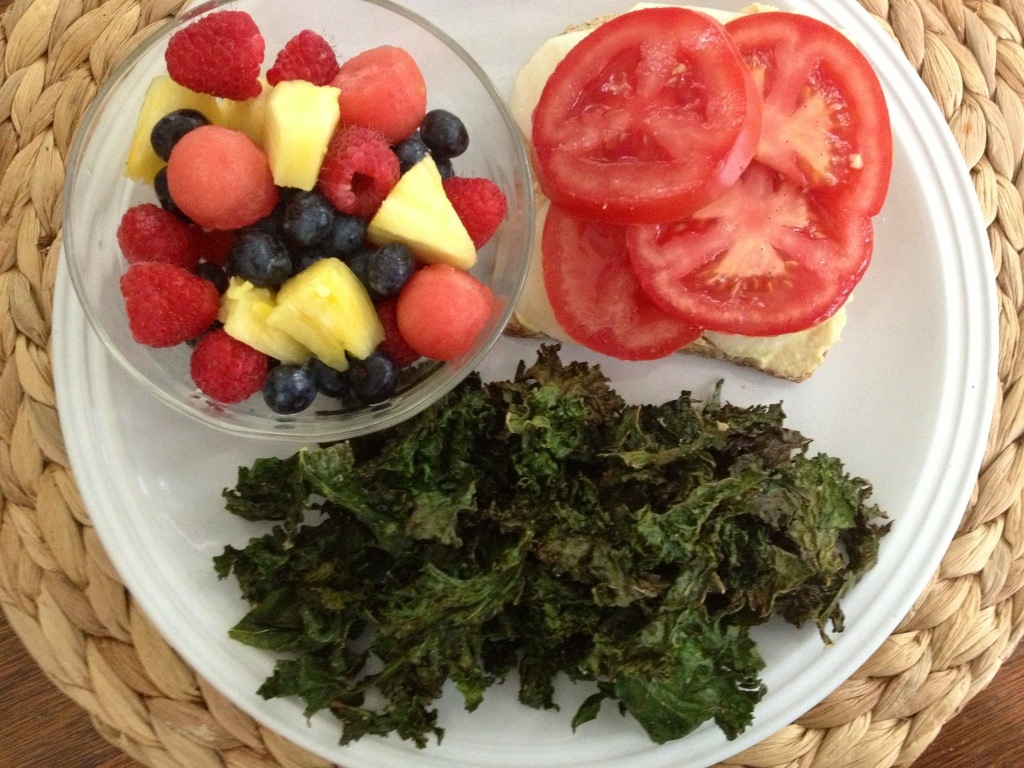 Jake and I snacked on bananas with a little peanut butter this afternoon.
Then we made a huge Cobb Salad for dinner with two kinds of lettuce, grilled chicken, nitrate-free bacon, tomatoes, cucumbers, red onion, kalamata olives, avocado and a little crumbled blue cheese. We topped it off with some homemade balsamic vinaigrette.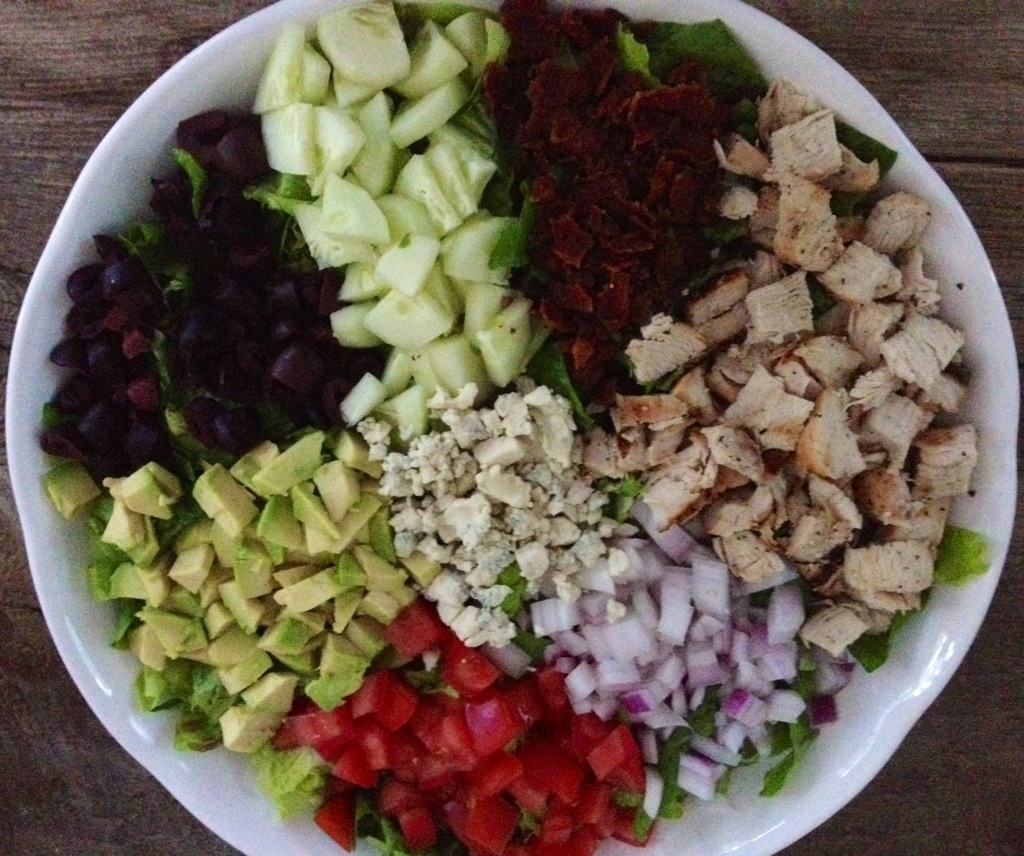 The kids made their own little salads too! They had their bacon on the side along with some scrambled eggs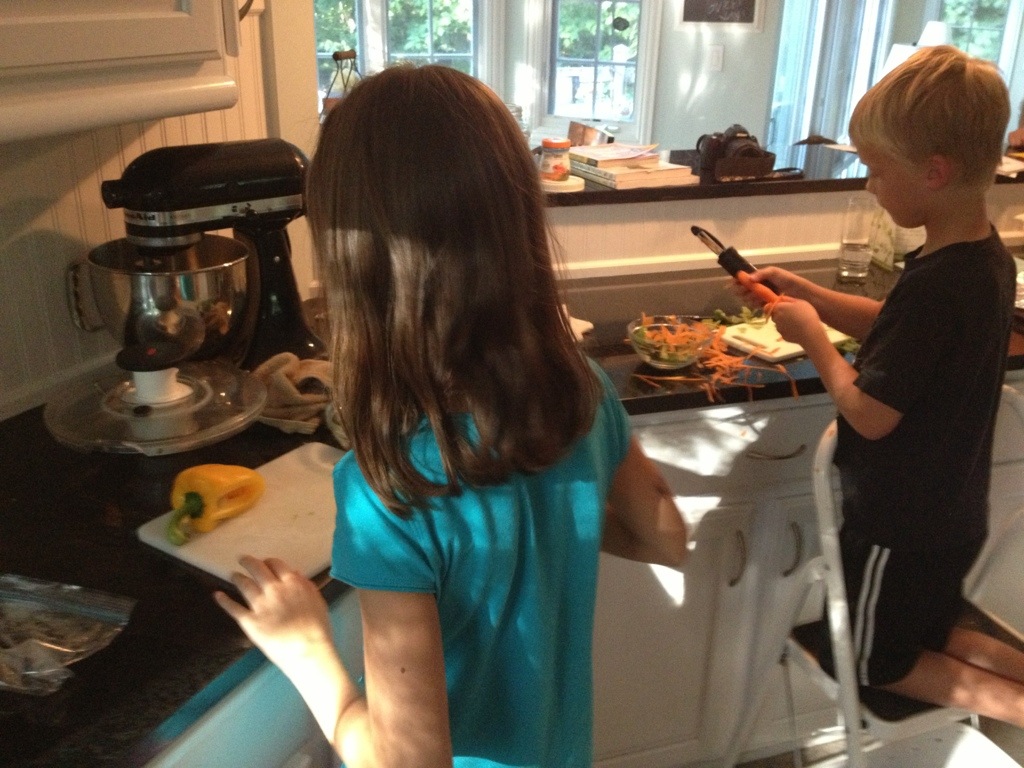 A very rare dessert – this is some of the leftover homemade key lime pie from Darren's birthday yesterday. If I'm going to squeeze the juice out of 30 teeny tiny little key limes, you better believe that pie isn't going to waste!!!!  SO yummy and so worth it!!!!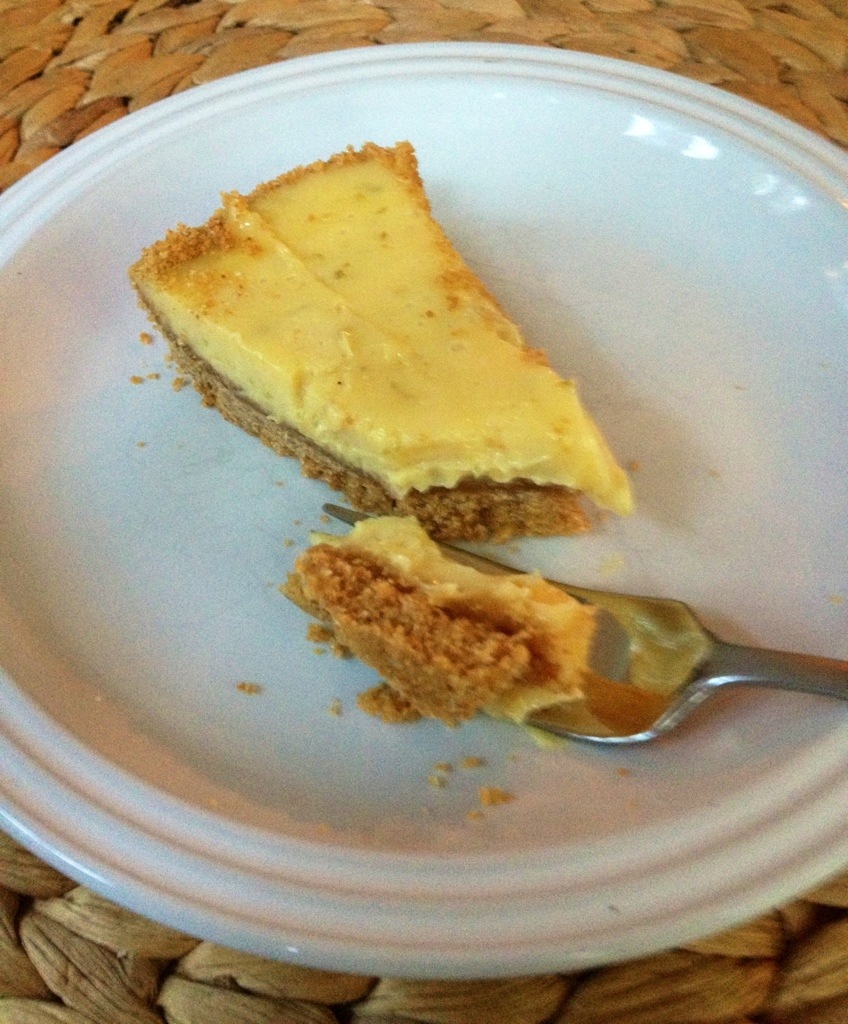 I can't believe summer is half over!! We have been busy doing all of the kids' favorite summer things – bike rides, going to the beach, letterboxing, playing with cousins, picking blueberries, trips to the cottage, paddleboarding, sleepovers, and going to fun day camps. So much more still to pack into these next few weeks!!
I started off this morning with one of the most awesome smoothies I have made in a long time.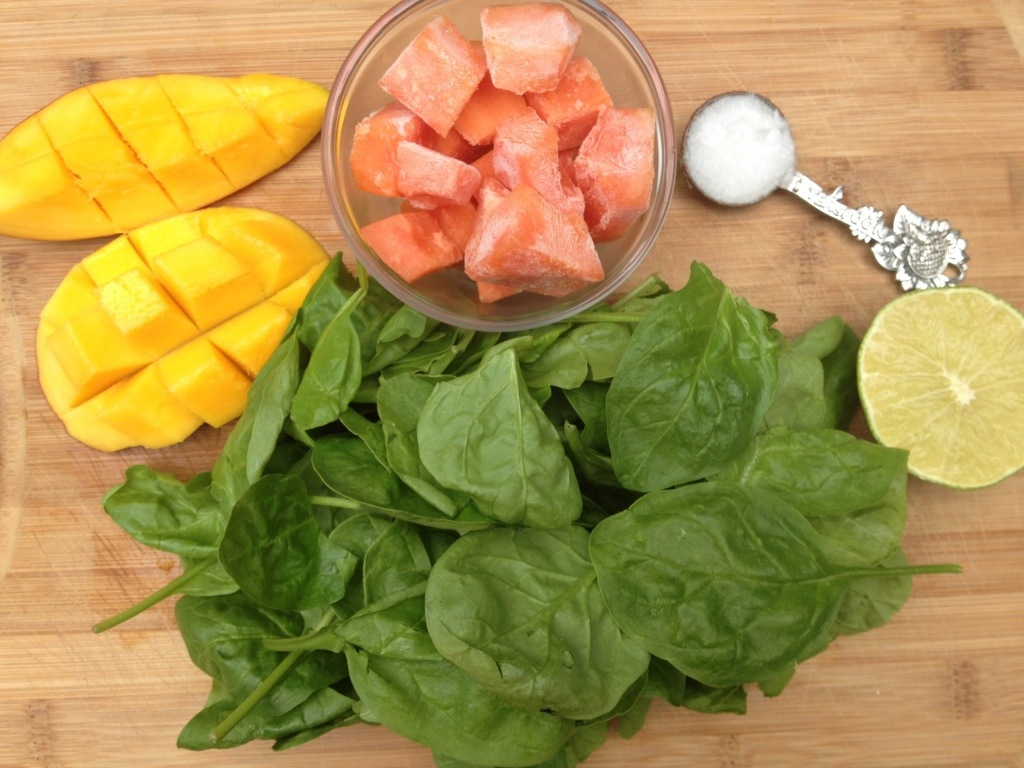 About 2 cups of spinach, 1/2 cup frozen papaya chunks, 1/2 of a mango, 1 teaspoon of coconut oil, and a squeeze of lime. YUM! If you are attempting your first green smoothie, try this one for sure!!
Be sure to blend the greens with about a cup of water first to get them fully blended. Then, add in the fresh and frozen fruit and blend again, adding enough water to get to your desired consistency.
For lunch, I had some leftover southwestern quinoa salad that I took to a family get together over the weekend. It was just a little variation from the recipe I've posted on here before. It was cooked and cooled quinoa mixed with black beans, fresh corn from the cob, red onion, yellow pepper, tomato, avocado, and fresh cilantro tossed in a simple vinaigrette of fresh squeezed lime juice, olive oil, sea salt, ground cumin and chili powder. I also had a little extra tomato and avocado on the side.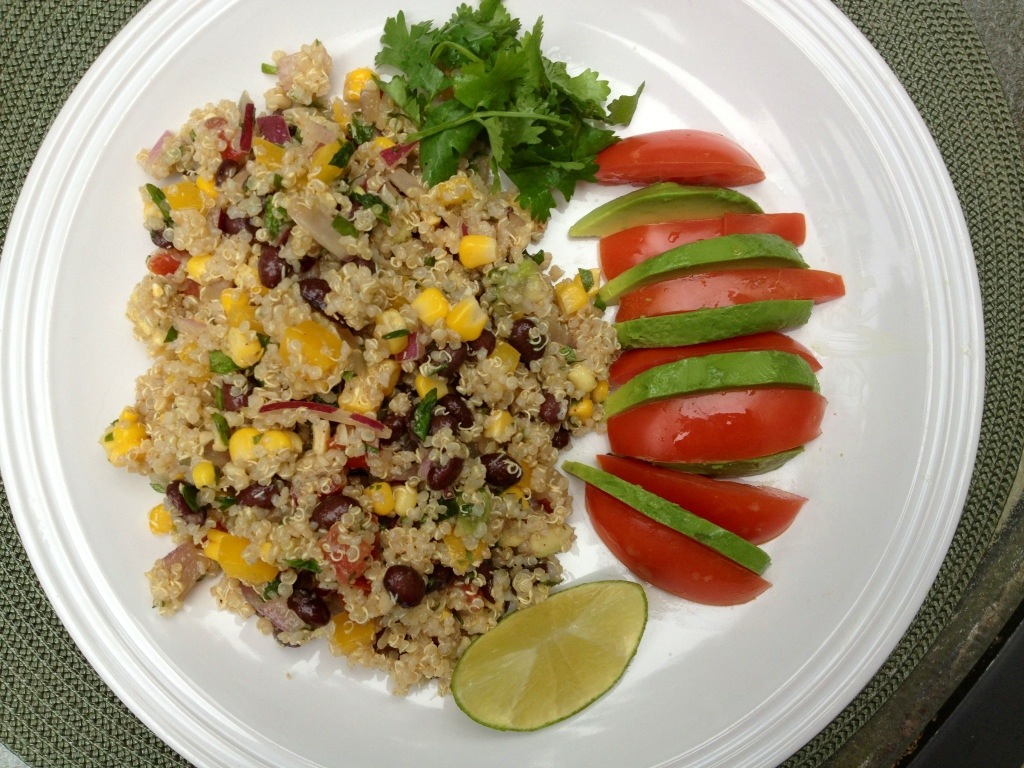 After lunch, the kids and I biked a couple miles down to one of our favorite parks.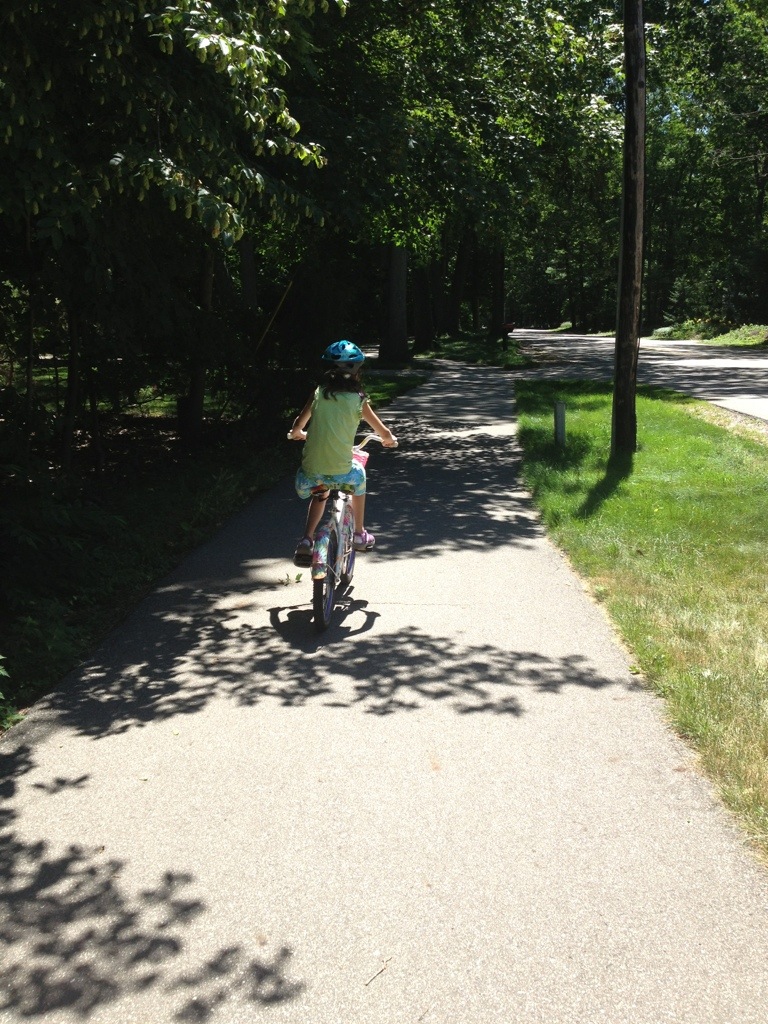 We hiked up the 104 steps to see this view. The waves in Lake Michigan were crazy today!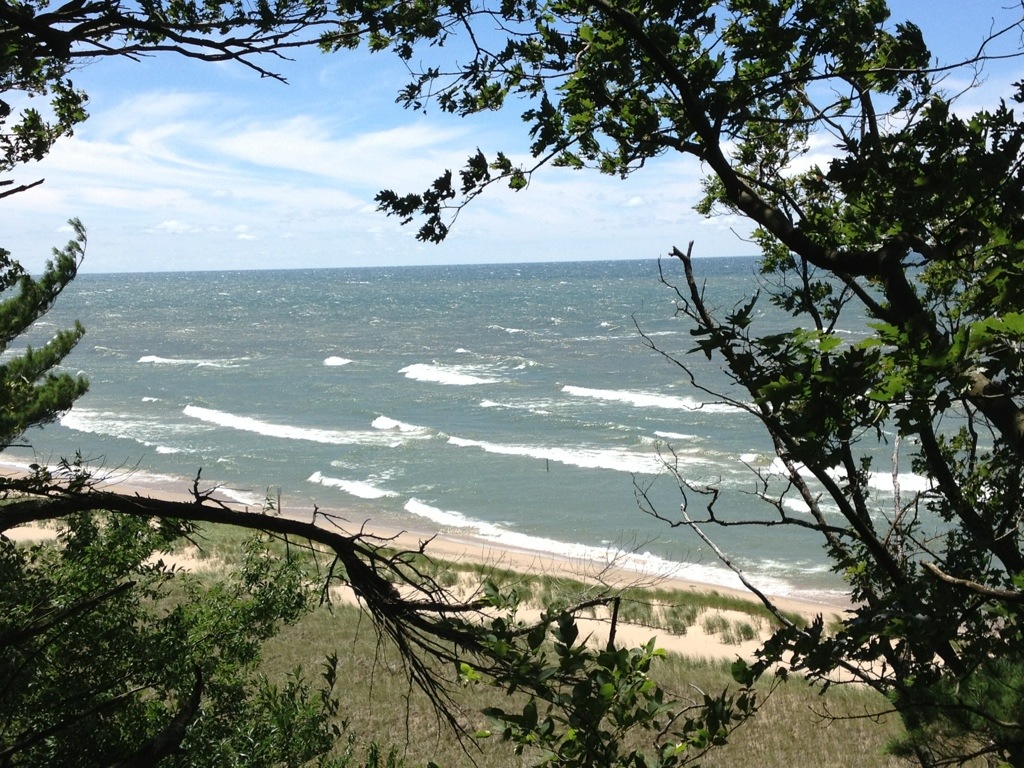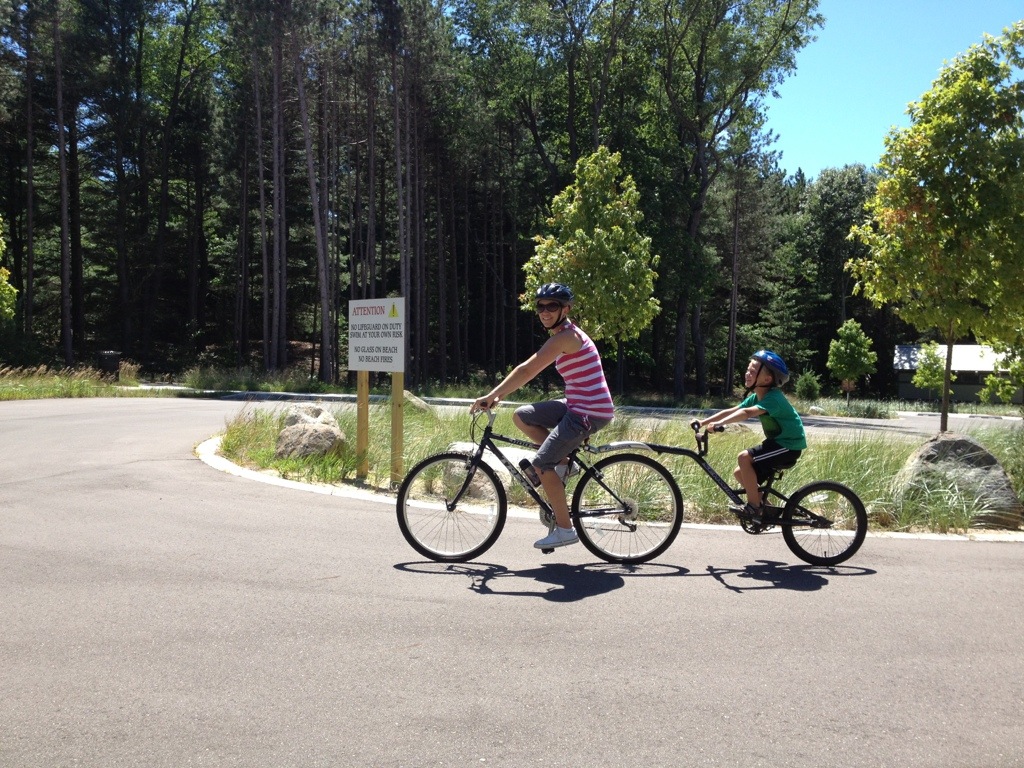 We were all starving when we got back two hours later so we snacked on the Blueberry Lemon Oatmeal Squares from yesterday. We may have each had two of them! Hiking and biking makes us hungry!!!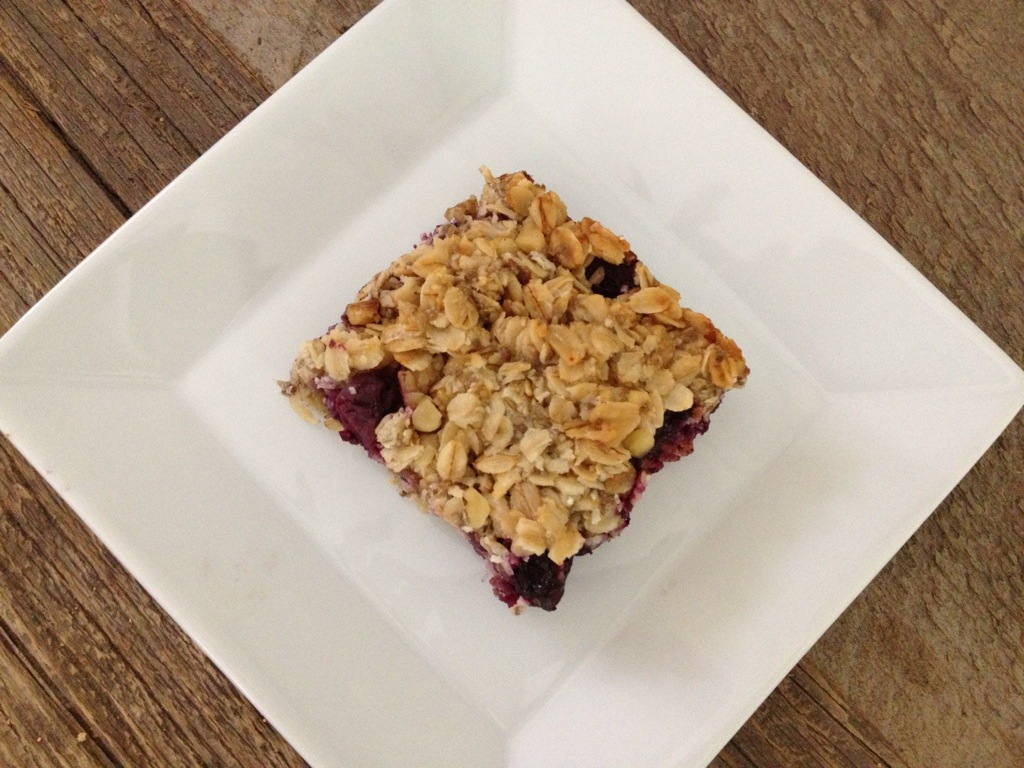 For dinner, Jake requested the Lasagna Roll Ups that he made in his Gourmet Cooking Camp a couple weeks ago. They were so quick and easy and the kids gobbled them up! New family favorite here!!!!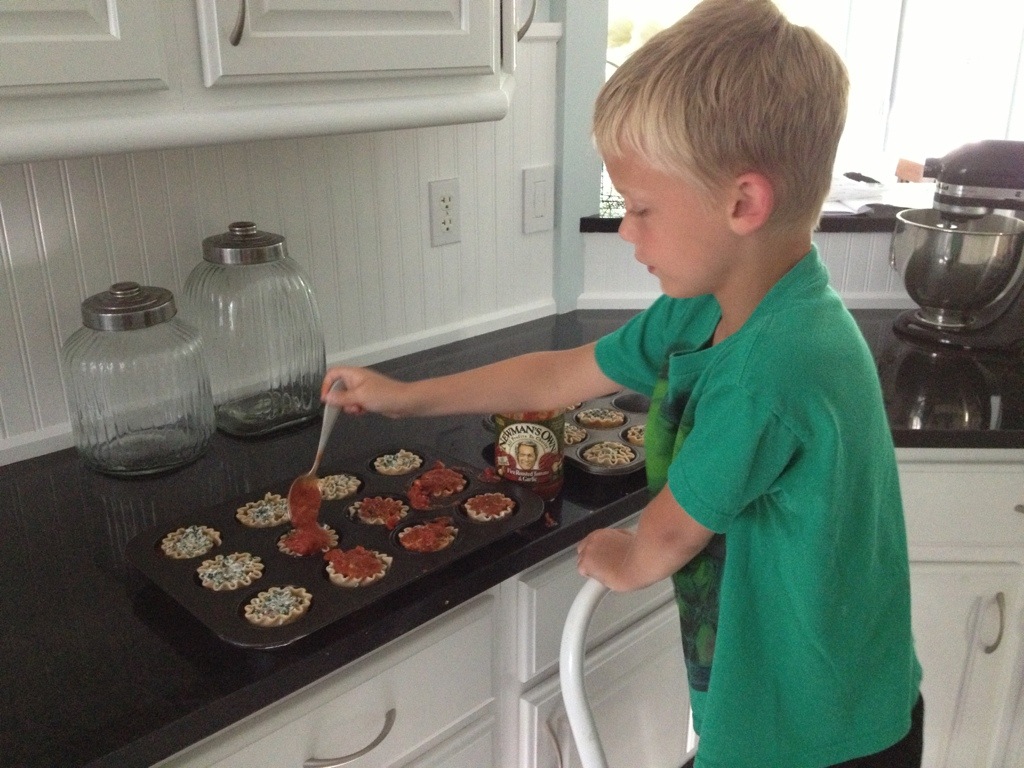 Lasagna Roll Ups
Ingredients
9 whole wheat lasagna noodles
1 lb organic, grass fed ground sirloin (optional)
1 box frozen chopped spinach, defrosted and excess water squeezed out
1 container part skim ricotta cheese
1 jar pasta sauce (we like the Newmans Own fire roasted tomato)
1-2 cups shredded mozzarella
Seasonings such as garlic powder, dried basil, oregano, and sea salt
Shredded Parmesan
Directions
Preheat oven to 350 degrees.
Cook noodles in boiling water according to package directions.
Cook ground beef and drain off any excess fat.
Mix together ricotta, drained spinach, cooked ground beef (if using), and season with a little sea salt and Italian seasonings.
Spoon half of the sauce into the bottom of 18 muffin tin wells.
Lay out cooked noodles on a large cutting board and blot dry.
Spread mixture onto noodles. Sprinkle with a little mozzarella.
Roll noodles up and slice in half. Place halves into muffin tin.
Top with more sauce and shredded mozzarella. Sprinkle with some shredded Parmesan cheese and bake for 25 minutes.
We served this with a green salad loaded with veggies topped with a simple homemade vinaigrette and the kids ate every last bite!!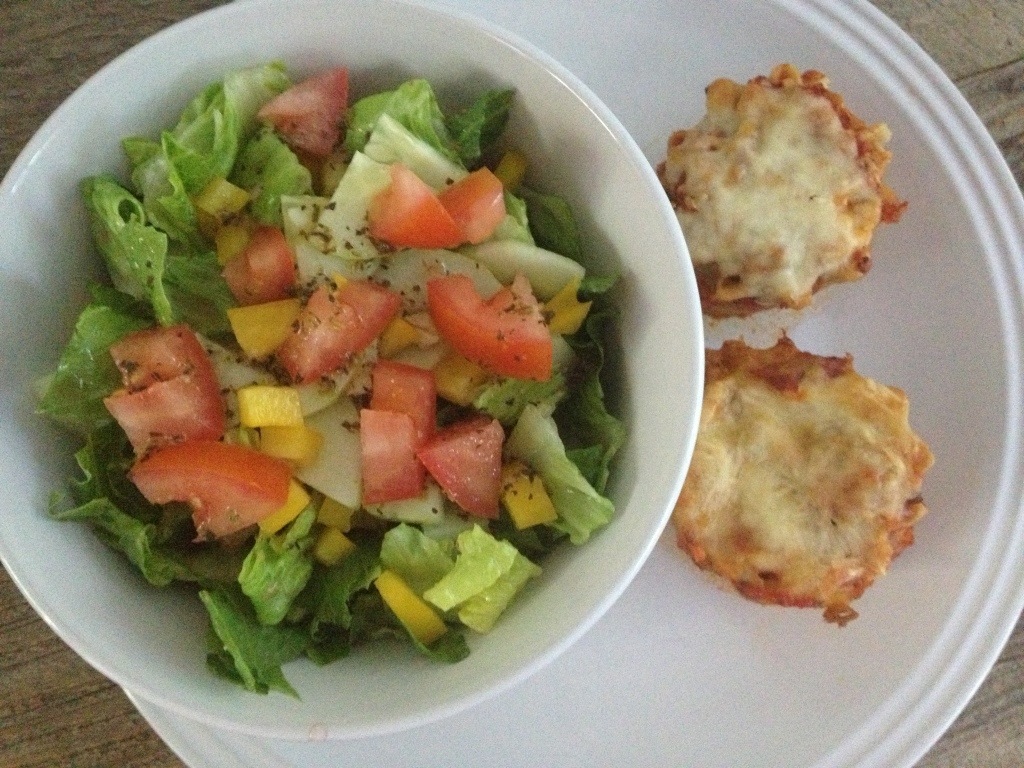 Happy Monday!  I hope you had a great weekend.  Ours was spent at a quaint little ski resort in northern Michigan for some much needed family time away from the monotony of everyday life.  Don't get me wrong, structure and routines can be a wonderful thing, but sometimes you just need to mix things up a little bit and have some fun!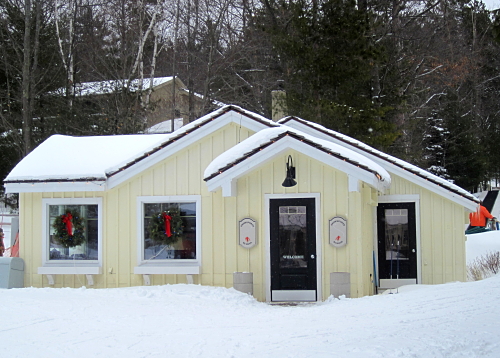 I had every intention of posting about all of the healthy meals and snacks that I packed for the trip and to take pictures of how we incorporated some meals made in the condo and some meals out.  But in the end, real life won out over blogging life

Instead, I enjoyed taking pictures of the breathtaking scenery and of my kids as they both took on new challenges.  Jake took his first ski lesson and can ski down the hill on his own now.  And Hailey tackled some pretty tough hills with her instructor and uses ski poles now.  It was so much fun watching them and their new accomplishments!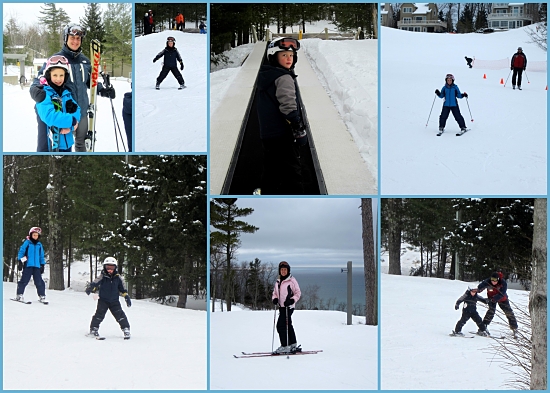 On our drive home, I passed the time by searching the internet for some new recipe inspiration.  I came across some tutorials for cooking beans in the slow cooker, which I was excited to try out for our Meatless Monday meal this week!
Beans are a healthy, inexpensive, low-fat source of protein, and a great base for a meatless meal.  I have always relied on canned beans because I was overwhelmed by the amount of time involved with cooking them from scratch.  But I was determined to learn how to make them myself because it accomplishes two of my biggest recipe goals – healthier food at a lower cost!   By cooking them yourself, you don't have to worry about unnecessary ingredients like natural flavors, preservatives or "firming agents" and you can control the amount of sodium.  I did the math and it brings the cost down to around $0.40/can!!  Plus it was SO easy!
As I poured the beans out, I pulled out any little debris or beans that were broken.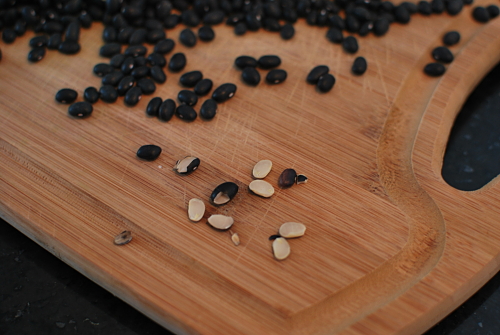 I gave them a quick rinse and added them to the slow cooker with about 6 cups of water, 1/2 cup of chopped onion, and 2 whole cloves of garlic.  I would have also added a bay leaf but I was out.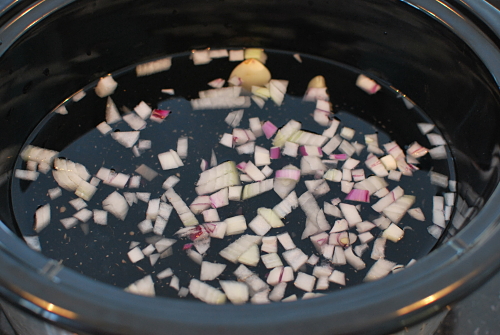 I cooked them on low for about 6 hours.  I added 1 T. of salt and turned the slow cooker to warm for another hour.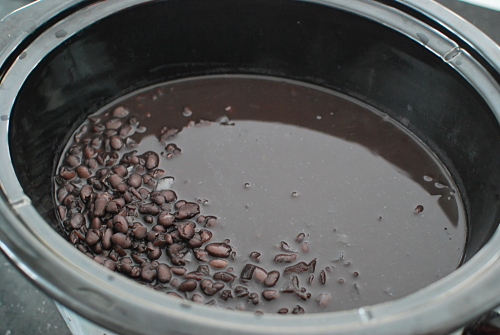 And then 1 pound of dried beans turned into 6 cups of delicious, perfectly cooked black beans!
I combined them with some roasted sweet potatoes, a tangy purple cabbage slaw, and some fresh guacamole.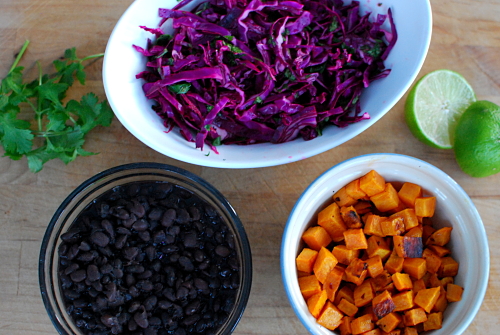 We tried this combination as tacos but I was disappointed in the taste and texture of the corn tortillas.  For the kids, I made a quesadilla out of a whole wheat tortilla, the black beans, roasted sweet potatoes, and just enough monterey jack cheese to hold it all together.  I actually preferred it made as a quesadilla and topped with the purple cabbage slaw and guacamole.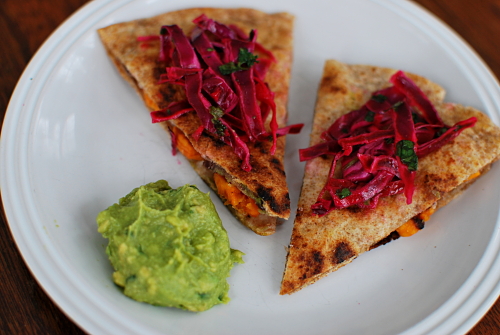 Slow Cooker Black Beans
Ingredients
1 lb dried black beans, sorted for debris and rinsed
1/2 cup chopped onion (white, red, or combination)
2 cloves of garlic
1 – 2 dried bay leaves
Directions
After sorting and rinsing black beans, add to a slow cooker along with chopped onion, garlic, bay leaves and 6 cups of water.  Cook on low for 4 to 6 hours.  During last 30 minutes of cooking, add in 1 T. of salt (or less depending on taste preferences).  You may need to experiment with the length of cooking time in order to get the desired texture.  Cool completely and use immediately or freeze in 1 1/2 cup increments in Ziploc freezer bags.
Sweet Potato and Black Bean Quesadillas with Tangy Purple Cabbage Slaw
Inspired by Watercourse Foods in Denver, CO and recipe adapted from Joy the Baker
Ingredients
For Roasted Sweet Potatoes:
2 sweet potatoes, peeled and diced into small cubes
2 T. fresh lime juice
1 T. extra virgin olive oil
kosher salt and red pepper flakes, to taste
For Black Beans:
1 1/2 cups cooked black beans
1 tsp. ground cumin
1 T. fresh lime juice
For Cabbage Slaw:
1/2 head purple cabbage, finely chopped into cole slaw "shreds"
3 T. fresh lime juice
2 tsp. extra virgin olive oil
1/2 tsp salt
2 tsp honey
2 T. chopped cilantro
Directions
Preheat oven to 400 degrees.  Chop sweet potatoes.
While the oven is heating, make the cabbage slaw mix so that it has time to soften.  Mix 3 T. lime juice, 2 tsp EVOO, 1/2 tsp salt, 2 tsp honey together in a medium-sized bowl.  Add cabbage and cilantro and toss to combine.
Toss sweet potato cubes with 2 T. lime juice, 1 T. EVOO, kosher salt and a pinch of red pepper flakes.  Spread evenly on a baking sheet and roast for 40 minutes, turning half-way to ensure even browning.
My beans were still warm from the slow cooker so I mixed 1 1/2 cups beans with 1 tsp. ground cumin and 1 T. fresh lime juice.  If you are using canned beans, rinse and drain well, and then heat them in a sauce pan with the cumin and lime over low heat.  Add salt if necessary.
Layer seasoned black beans, roasted sweet potatoes, and shredded monterrey jack cheese between two whole wheat tortillas.  Brush 1 tsp. grapeseed or olive oil in a large skillet and brown quesadilla on both sides.  Cut into wedges and serve with tangy puple slaw and "quick" guacamole (1 mashed avocado seasoned with a generous squeeze of lime juice and a pinch of kosher salt).
I love making a special breakfast for my family on lazy weekend mornings.  For awhile now, I've been trying to find a good recipe for healthy, whole wheat pancakes.  But they are never quite light and fluffy enough to pass off to the kids as a "special" breakfast.  Its more like "here, chew your way through this lead disc of fiber-y goodness."  Just as I was about to give up, I discovered the secret – a fresh can of baking powder and double the amount of it than I had been using before!
We tried them a couple of different ways with blueberries, mini chocolate chips, and some just plain.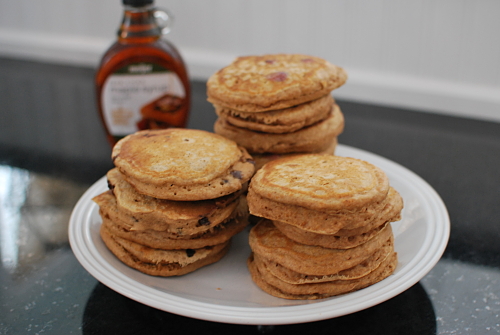 But in the end, the kids seemed to really like the plain pancakes topped with a quick homemade raspberry sauce.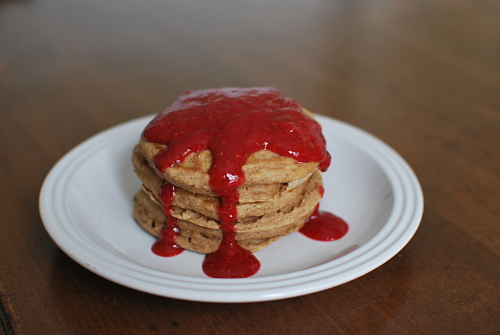 This recipe is just as easy as using a boxed pancake mix, but so much more healthy for you.  Out of curiosity, I took a look at a box of Bisquick recently and it baffles me that they are still including artery-clogging partially hydrogenated soybean and/or cottonseed oil in the ingredients.  This is a toxic, genetically modified source of trans fat and does not belong in a healthy diet.  As an added bonus, if you take the time to make these up over the weekend, they can be re-heated in the toaster for a quick mid-week breakfast.  Either refrigerate for up to a week, or store 2 pancakes each in a Ziploc bag in the freezer for up to 2 months.
Fluffy Whole Wheat Pancakes
Recipe adapted from Fit Fresh Food
Ingredients
2 cups white whole wheat flour (or whole wheat pastry flour)
4 tsp baking powder
1 tsp cinnamon
1/2 tsp salt
2 cups plus 2 T. unsweetened almond milk (or milk of your choice)
2 tsp sugar (I use organic coconut sugar because it is less processed)
2 eggs
1 tsp pure vanilla extract
coconut oil to grease the pan
Directions
Mix whole wheat flour, baking powder, cinnamon, and salt in a large mixing bowl.  In a separate bowl, lightly beat 2 eggs.  Add almond milk, sugar, and vanilla extract to the eggs and mix well.  Combine wet and dry ingredients in one bowl, being very careful not to overmix.
Heat a skillet to medium low heat and melt a little coconut oil in the pan.  Pour 1/4 – 1/3 cups of batter per pancake into the greased pan.  Top with blueberries, banana slices, chocolate chips, etc. or leave them plain.  Cook for 2-3 minutes until the bottom edges are starting to set and bottoms are golden brown.
Flip and cook for 1 more minute.  Keep pancakes warm in a 200 degree oven while you finish making the remainder of the pancakes.  Leftovers may be stored in the refrigerator or freezer and re-heated in the toaster.
Consider upgrading your topping to this quick and easy raspberry syrup.  It reduces the amount of sugar and incorporates a serving of fruit!
Raspberry Topping
1/2 cup frozen raspberries, defrosted
2 – 3 T. maple syrup
Mix defrosted raspberries and maple syrup in a blender at high speed.  This will make enough for 2 servings.
Enjoy!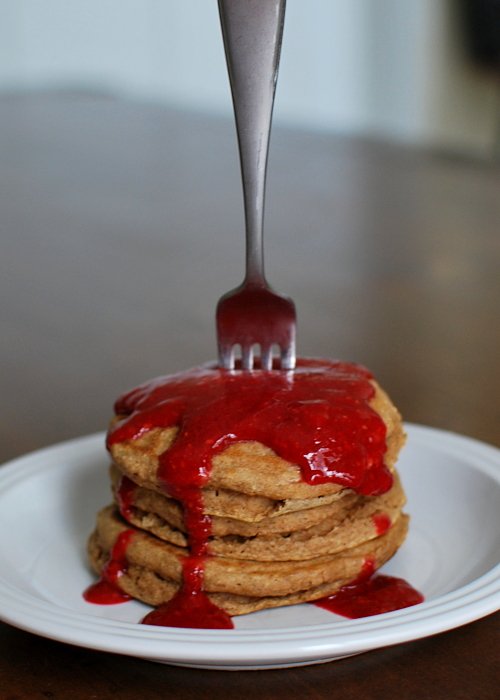 I am always looking for healthy snack ideas for my kids. On days that they have school, I have to pack them two snacks in addition to their lunch. Even on days when they are home, it seems like they are always asking for snacks.
This recipe is super easy to whip up and it is full of healthy, whole food ingredients. And in this house, it also doubles as dessert – especially on those nights when the kids aren't particularly fond of my dinner and I feel like they could use a little more substance so that they don't go to bed hungry.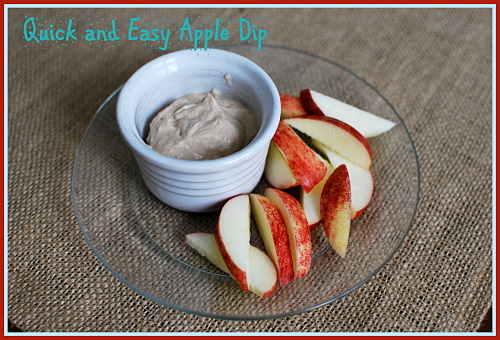 Quick & Easy Apple Dip
Recipe adapted from happy healthy mama
1/2 cup plain Greek yogurt
3 T. all natural peanut butter or almond butter (no sugar added)
1-2 T. honey or maple syrup
1/4 tsp cinnamon
Mix all ingredients in a bowl and serve with cut fruit, such as apples or bananas, and or organic, whole grain graham crackers. For a nut-free option when I pack this for a school snack, I substitute sunflower seed butter and it is just as good!
I have to admit, I'm actually a little excited that it is Monday.  I like the thrill of tackling my to-do list, getting organized, and being productive.  In terms of the blog, it means I can post a meatless meal without having to explain myself.   I have to say, I am so much more comfortable posting undeniably nutritious vegetarian and vegan recipes because it is something that I feel so strongly about.
Every once in awhile, I come across some new information from a book, online research, or a documentary, and it just reignites the flame for me.  This weekend we watched the documentary "Food Matters."  While it is not the most captivating and well-delivered documentary I've seen, it is very powerful information that everyone needs to know.
This movie begins with one of my favorite quotes, "Let food be thy medicine and medicine be thy food," from Hippocrates, the "father of medicine."  Unfortunately our society has turned its back on this very fundamental and powerful concept that food is medicine.  Most medical doctors today have very little, if any, training in nutrition.  Instead of looking to the powerful healing properties of the foods included a patient's diet, doctors are more focused on prescribing "a pill for every ill" which oftentimes ends up doing more harm than good.  Every year 225,000 people die from improperly used medications.  Another 2.2 million end up in the hospital from adverse reactions to prescribed medications.  With over $289 billion in annual sales in the U.S., it makes sense that doctors are over-prescribing these medications because prescription drugs are big business for pharmaceutical companies.
In 2009, the U.S. spent $2.5 trillion dollars on healthcare, the highest of any country.  At this amount, I would expect to have access to some of the best medicine in the world.  But we don't.  We spend more than every other country with only mediocre outcomes.  Each year approximately 575,000 people in the U.S. are still dying from cancer and almost 600,000 will die from heart disease.
Fortunately, most chronic disease such as heart disease, cancer and diabetes can be prevented through simple lifestyle choices including daily exercise, not smoking, eating a proper diet of whole foods (including organic fruits and vegetables and an appropriate calorie level), reducing stress, reducing exposure to environmental toxins (such as BPA), and limiting alcohol consumption.
Furthermore, there are a number of other health conditions, such as depression, high blood pressure, and digestive issues to name a few, that can be effectively treated through proper nutrition and/or vitamin supplements.
Yes, you most definitely have the power to prevent and reverse disease starting with a key decision you make three times a day.  You can choose to fuel every single cell in your body with delicious and nutritious whole foods or you can sabotage your health with processed junk and fast food.  Just like the title of the movie implies, food matters.
If you commit to making these critical food choices, I promise to deliver as many delicious recipes that I can!  Starting with this Falafel and Tzatziki dip.
These falafel are great because they can be made ahead, frozen, re-heated, used multiple ways, and are kid-friendly vehicles for a yummy dipping sauce.
Start with garbanzo beans, chopped onion, 2 cloves of garlic, chopped cilantro, lemon juice, and kosher or sea salt in the bowl of a food processor.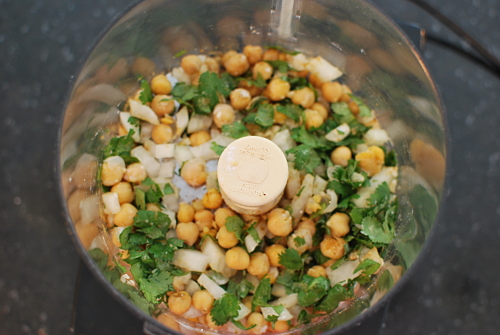 Pulse briefly.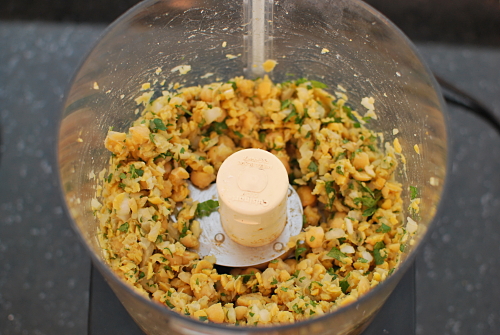 Add in ground oat flour and baking powder and pulse a few more times to combine.  It is important not to over-process.  You want it processed enough to stick together, but still have a little texture.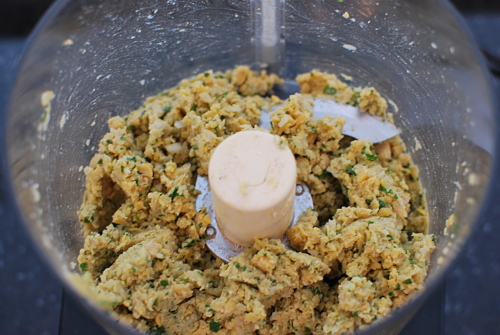 Shape this into flattened patties and refrigerate for up to 24 hours.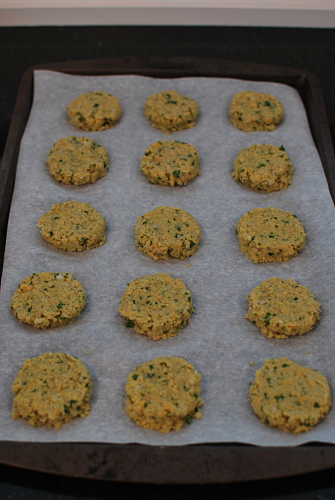 When you're ready to complete the falafel, preheat oven to 350 degrees.  Heat a pan coated with extra virgin olive oil over medium heat.  Sear each side of the falafel patties for about a minute, or until golden brown.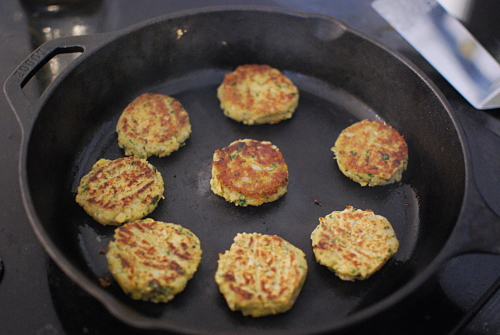 Place the patties back on the baking sheet and bake for 15-20 minutes.
Serve them alongside this Tzatziki Sauce, which you will want to make ahead of time to allow the flavors to combine.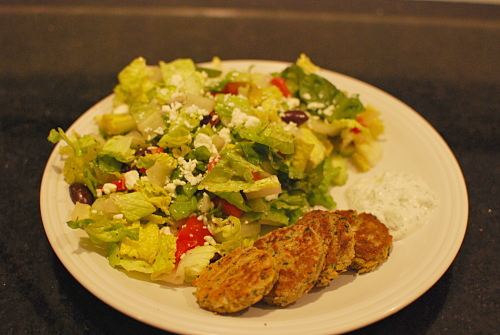 To complete the meal, I like to serve the falafel and tzatziki alongside a huge Greek salad.  Everyone else  likes to tuck them into a lightly toasted pita with some lettuce, tomato, cucumbers, and red onion.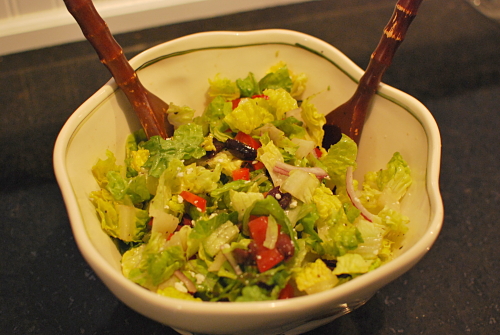 Falafel with Tzatziki Dipping Sauce
Falafel Ingredients
1 can garbanzo beans, drained and rinsed
1/2 cup chopped onion
2 cloves garlic, minced
3 T. chopped cilantro
1/2 tsp kosher or sea salt
2 tsp fresh lemon juice
1 tsp ground cumin
1/2 tsp baking powder
3 T. oat flour (finely ground oats or sub wheat flour)
Extra Virgin Olive Oil to coat pan
Falafel Directions
Place drained beans, chopped onion, minced garlic, chopped cilantro, lemon juice, salt, and ground cumin into the bowl of a food processor fitted with the "S" blade.  Pulse briefly to combine (see picture above).  Add baking powder and flour and pulse briefly to combine, being careful not to over process.  The mixture should stick together, but still have some texture (see picture above).
Scoop spoonfuls of the mixture and form into ball or flatten into discs.  Cover and refrigerate for up to 24 hours.
When ready to cook falafel, preheat oven to 350 degrees.  Lightly coat a skillet with extra virgin olive oil and heat over medium heat.  Add falafel and sear on each side for 1-2 minutes until golden brown.  Place falafel onto a baking sheet and bake in preheated oven for 15-20 minutes.
Note: Depending on your goal, the more oil you add to the pan when searing, the more traditional crunchy exterior you will get.  If you prefer a lighter, healthier falafel, minimize the amount of oil that is used.
Tzatziki Sauce Ingredients
1/2 cup plain Greek yogurt
1 small clove of garlic, finely minced
1 T. fresh lemon juice
1/2 tsp dried dill
1/2 cucumber, seed area removed, chopped
Salt and Pepper to taste
Tzatziki Sauce Directions
To avoid a watery sauce, you will want to remove excess moisture from cucumbers by placing chopped cucumbers in a colander and sprinkling with 1/4 tsp salt.  Let sit for approximately 15-30 minutes and squeeze dry with a paper towel.  Add remaining ingredients to a mini food processor and blend for a smooth sauce.  Or simply combine ingredients in a bowl for a more authentic chunky style sauce.  Cover and refrigerate for at least 2 hours but up to 24 hours before serving for flavors to develop.  Season with additional salt and pepper if desired. I find that because of the salt added to drain moisture from the cucumbers, additional salt isn't usually necessary.
Note:  This will provide enough sauce for one meal for 4 people.  Double the recipe for additional sauce.
For a vegan Tzatziki Sauce recipe, check out this one at Peas and Thank You.
Greek Salad Dressing
Recipes from Allrecipes
Makes enough for 10-12 individual salads
1/2 cup extra virgin olive oil
1 1/4 tsp garlic powder
1 1/4 tsp dried oregano
1 1/4 tsp dried basil
1 tsp kosher salt
1 tsp onion powder
1 tsp Dijon-style mustard
2/3 cup red wine vinegar (if you don't like a real tangy dressing, you can mix equal parts of vinegar and oil using 1/2 cup of each)
Freshly ground black pepper to taste
Add all ingredients to a glass jar (I use a mason jar) and shake well.  For an authentic style Greek salad, toss a few tablespoons of dressing with romaine, cucumbers, bell peppers, tomato, red onion, kalamata olives, and Feta cheese.
Note:  After consulting with a professionally trained chef, I have learned that technically this dressing does not need to be refrigerated.  To be cautious, though, we refrigerate ours.  Doing so will cause the oil to solidify.  I take it out of the refrigerator and set it on the counter when I begin making dinner to give the olive oil time to dissolve and then shake it well before serving.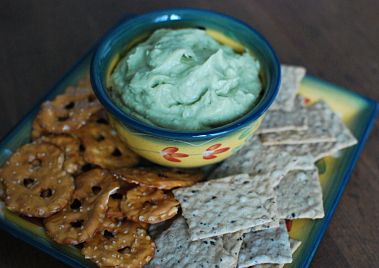 I have been trying to branch out from standard store-bought hummus lately.  It gets a bit pricey since we eat so much of it.  But also, I  just wanted to mix it up a little bit and try something different.
When I saw this dip on Pinterest, I just knew it would be a winner!  Not exactly hummus, but more of a hummus guacamole blend.  Quick, easy, kid friendly, versatile, and tastes great.  What more can you ask for?!?
Avocado and White Bean Dip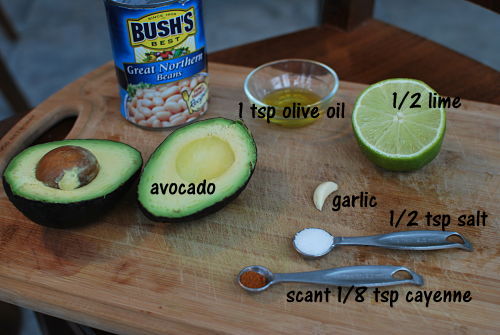 First things first, I always wash my produce before I cut into it since this can transfer germs from the outside into the fruit or vegetable that you're cutting!
Slice the avocado length-wise all the way around and twist to open.  Using a large sharp knife, give it a good whack into the pit and twist to remove it (see this youtube tutorial if you're not familiar with this method of pitting an avocado).
Scoop the avocado flesh out and place it into the bowl of a food processor fitted with the "S" blade.  Squeeze the juice from the lime half into the bowl and add the remaining ingredients.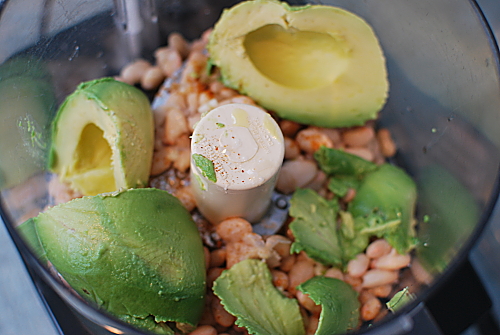 Place the lid on the food processor and process until smooth.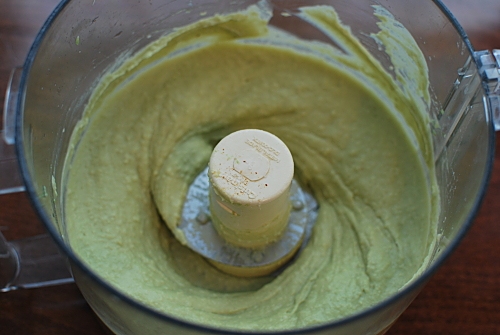 And in less than 10 minutes, you will have white bean and avocado dip packed with fiber (roughly 10 grams per serving!) and nearly 20 different vitamins, minerals, and phytonutrients.  I especially like that you can store this dip in the refrigerator for a few days without it turning brown like traditional guacamole.
You can serve this with a combination of raw veggies and crackers (I prefer gluten-free rice crackers) or other chips (tortilla, pretzel chips, etc) for an appetizer or well-balanced snack.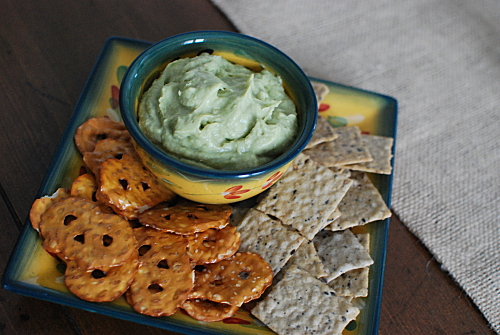 Avocado and White Bean Dip
Ingredients
1 ripe avocado
1 can of Great Northern beans, drained and rinsed well
1 /2 lime
1 tsp extra virgin olive oil
1 clove garlic, minced
1/2 tsp kosher salt
1/8 tsp cayenne pepper (or to taste)
Directions
Add the flesh of one avocado, the juice of 1/2 of a lime, olive oil, minced garlic, kosher salt, and cayenne pepper to the bowl of a food processor fitted with the "S" blade.  Process until smooth.  Adjust seasonings to your liking (more lime, salt, or cayenne).  Serve with veggies, chips, or crackers.