I hope everyone had a great Halloween!!!
I was one of the parents in charge of Hailey's class Halloween party at school yesterday.  Of course, I volunteered to help out with the food.  My goal was to not use any food coloring or refined (white) sugar, but to still have it be fun.
I was worried that they may not like the "healthy" snacks, but everything seemed to go over really well. I think the fun games and awesome slime-making craft were probably the highlight for the kids though. It was great to see them having so much fun and that it wasn't just all about the candy!!
I thought I would post the recipe for the muffins – I have been making these a lot for the kids and they love them. They freeze really well so its great to have them on hand to pop into lunch boxes or for snacks.
Whole Wheat Pumpkin Muffins
adapted from 100 Days of Real Food
Ingredients
1 1/2 cups whole wheat pastry flour or white whole wheat flour (original recipe calls for spelt flour, which is good too!)
1 T. pumpkin pie spice (make your own with the recipe here)
1 tsp. baking soda
1/4 tsp. baking powder
1/2 tsp. salt
1 cup canned pure pumpkin
2 eggs
1/2 cup honey
1/3 cup melted butter
1/3 cup mini chocolate chips, optional
Directions
Preheat oven to 350 degrees and line a muffin pan with paper liners or brush with melted butter.
In a large bowl, mix dry ingredients. In a separate bowl, mix wet ingredients (pumpkin through butter). Fold dry ingredients into wet and combine, but do not over-mix. Stir in mini chocolate chips if using.
Divide batter evenly in muffin pan. For full-size muffins, bake for 18-20 minutes, or until a toothpick comes out clean. For mini muffins, bake 13-15 minutes, or until a toothpick comes out clean.
When I make them for my kids, I usually add the chocolate chips.  But for the Halloween party, I made the muffins full-size and left out the chocolate chips. I topped them with this naturally sweetened cream cheese frosting instead (the eyes were made with a very small batch of chocolate frosting, but chocolate chips would work here too).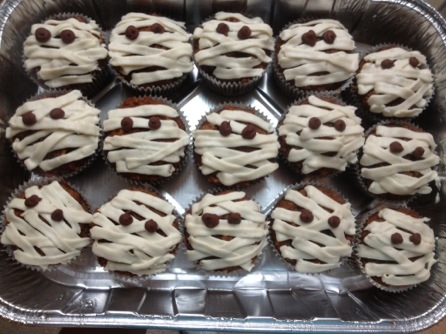 Honey-Sweetened Cream Cheese Frosting
Ingredients
1 1/2 packages of 1/3 less fat cream cheese (12 oz. total) – at room temperature
1 1/2 sticks of butter – at room temperature
1/3 cup honey
1 tsp. vanilla extract
Directions
Use a stand mixer or hand mixer to combine all ingredients until light a fluffy. Refrigerate frosting to help it set up. Frost as desired.
2 Responses to Pumpkin Muffins