Since this is going to be a pretty busy week getting ready for Spring Break, I thought I would make up some of these Broccoli, Kale & Cheddar Quinoa cups to have on hand throughout the week.  They are a great to reheat as a grab-and-go breakfast or sometimes I even eat them as lunch or dinner paired up with some fruit or salad!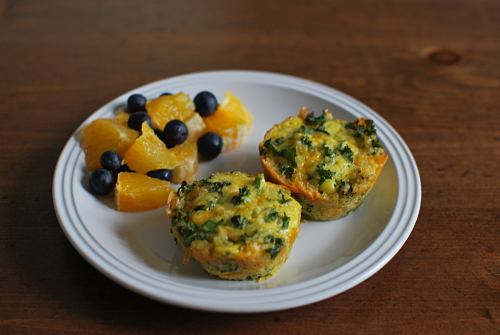 Becoming very popular recently, quinoa (pronounced "keen-wah"), is a grain-like superfood grown in the Andes since the time of the Incan Empire.  Although it is often confused with being a whole grain, it is actually a seed.  It is gluten free, easy to digest, and a great source of complete protein since it contains all of the amino acids.  It is readily available in most supermarkets and is usually sold near the rice.
While I love using quinoa to make these egg-based "muffins" and as the base of a mediterranean quinoa and veggie salad in the summer, I have tried to be cautious not to over-use quinoa.  Unfortunately demand has risen so much in recent years that the crop is no longer affordable for the native Andeans who have enjoyed it as a staple of their diet for thousands of years.  Furthermore, the rising demand for more and more of the crop is also destroying their land.  Therefore I enjoy it in moderation and try to vary the color and variety of quinoa that I buy.
To cook quinoa, rinse it thoroughly to remove the bitter tasting coating.  After that it cooks up much like rice, in a 2-to-1 ratio with 2 parts water to 1 part quinoa for approximately 15 minutes.  After it cooks for 15 minutes, I like to leave the lid on to steam a little longer until it is perfectly cooked and fluffy.
To make these quinoa cups, I cooked up 1 cup of quinoa and will have quite a bit leftover to have as our dinner later this week with some of the Slow Cooker Jamaican Jerk Pork and Caribbean Salsa that I froze a few weeks ago (we will reheat the frozen meat and will make fresh salsa).
In a large bowl, mix 1 cup of the cooked quinoa, 1/2 cup shredded cheddar cheese, 1/2 cup chopped broccoli, 1 large handful finely chopped kale, 4 eggs, 1/2 tsp sea salt, and some freshly ground black pepper.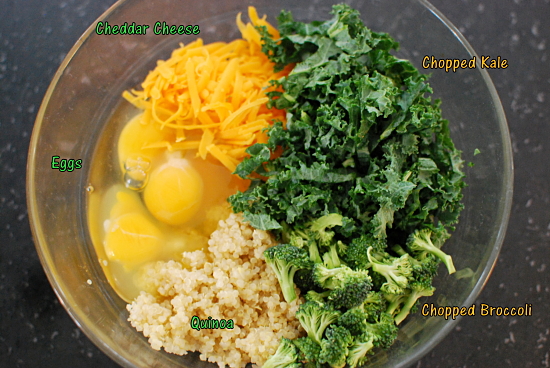 Lightly oil a muffin pan.  I recently bought some really nice Organic Valley pastured (grass-fed) butter that is naturally high in healthy CLA's (conjugated linoleic acid, a healthy fatty acid), so I melted a little of that and brushed the insides of the muffin pan.  Fill 8 of the muffin cups so that they are about 3/4 full.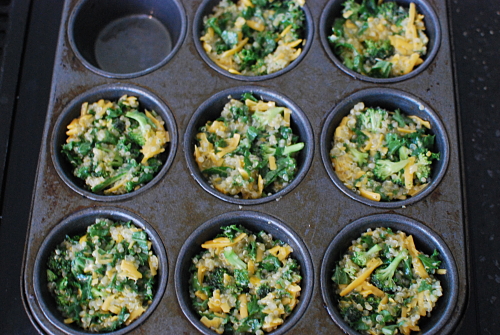 Bake at 350 degrees for 22-24 minutes until egg is set and edges are a light golden brown.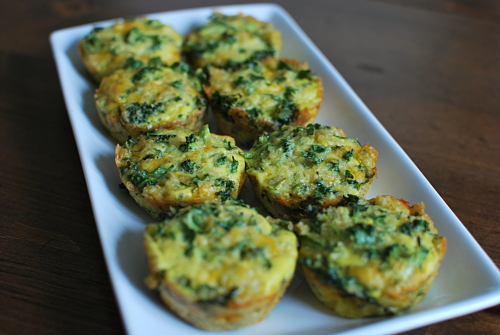 Enjoy 2-3 of these alongside some fresh fruit or salad for a filling meal packed with protein and high quality carbohydrates.
Broccoli, Kale & Cheddar Quinoa Cups
Ingredients
1 cup cooked quinoa
1/2 cup shredded cheddar cheese
4 eggs
generous 1/2 cup finely chopped broccoli
generous handful of kale, finely chopped
1/2 tsp sea salt or kosher salt
fresh ground pepper
olive oil or butter for brushing muffin pan
Directions
Cook quinoa according to directions on package.  In a large mixing bowl, combine 1 cup cooked quinoa, chopped broccoli, finely chopped kale, shredded cheese, salt and pepper.  Lightly brush insides of muffin tin with oil or butter.  Divide mixture into 8 of the muffin wells filling each 3/4 full.  Bake for 22-24 minutes until eggs are set and edges are light golden brown.
For a serving size of 2 Broccoli, Kale & Cheddar Quinoa Cups, the nutritional information is as follows:
250 calories
14 grams of fat
18 grams carbohydrates
2 grams of fiber
14 grams of protein
66% of Vitamin A
50% of Vitamin C
15% of Calcium
5 Responses to Meatless Monday: Broccoli, Kale & Cheddar Quinoa Cups