I just started coaching a group of elementary-age girls for the Girls on the Run program at my daughter's school.  This is a little bit of a stretch for me.  Although I work out on a regular basis, I wouldn't exactly consider myself a runner – I have run one 5K in my life just to check it off of my bucket list.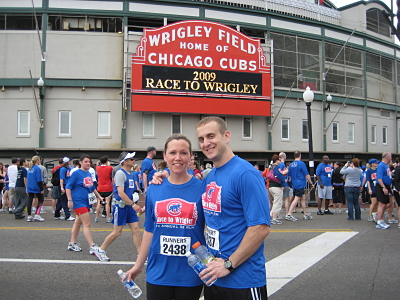 Being that I love all things related to nutrition, working out, and a healthy lifestyle, I felt like it was a good fit for me and a fun way to push myself outside of my comfort zone to try something new.  Plus I really like the bonding experience with Hailey as we work together towards this goal.  And to keep us going, I already signed us up for The Color Run later in the summer (supposedly the happiest 5K on the planet, how fun does that sound?!?).
Today's lesson was so much fun for me to prepare.  It was all about our physical health and nutrition, so of course I wanted to provide the team with some healthy snacks.  I tried to come up with some things that I use as a pre- or post- workout snack but would be kid-friendly at the same time.  I also need it to be practical to transport and cost-effective for a team of 14 girls.  I came up with apples and my Quick and Easy Apple Dip and these Granola Energy Bites.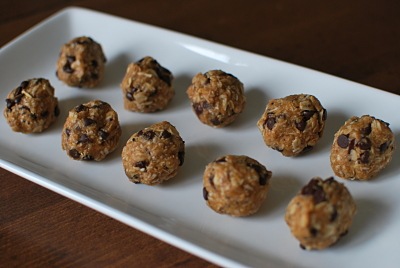 I have tried different types of these energy "balls" before, usually with a combination of dates and nuts in the food processor with add-ins like coconut, cocoa powder, etc.  I have always liked them but the kids never really seemed to care for them very much.  So I decided to adapt one of our favorite no-bake granola bars into these little nutrient-packed bite size treats.  It totally worked!  I really think the addition of the oats for texture and the familiar flavor of peanut butter helped.
These are great before or after a workout since they include some high quality carbs from the oats and dates.  The protein in the peanut butter, chia seeds, and flax seeds help with muscle recovery and any pre-workout hunger.  If you happen to be on a long training workout, they would even be a great mid-workout snack too since they are portable and easy to eat.  They are versatile based on your taste preferences or food allergies – feel free to swap in Sunflower Butter for a nut-free option or raisins instead of the chopped dates, etc.
Granola Energy Bites
Ingredients
1 cup old fashioned oats
1/2 cup ground flax seed (or a mixture of half ground flax and half chia seeds)
scant 1/3 cup mini chocolate chips (I prefer the Enjoy Life brand)
1/2 cup shredded, unsweetened coconut
1/3 cup finely chopped dates (or raisins)*
1/2 cup all natural (no sugar) peanut butter or almond butter
1/3 cup honey
1 tsp pure vanilla extract
**Edited – after making these quite a few times now, I no longer add the chopped dates or raisins.  I find that they are sweet enough for us without them, but feel free to use them if you like!
Directions
Mix oats, flax/chia seeds, and coconut in a large bowl.
Combine honey, nut butter, and vanilla extract in a small bowl.
Pour wet ingredients into dry and mix well.
Fold in chocolate chips and chopped dates/raisins.
Form into small balls (I used a mini ice cream scoop then packed them together) and store in an airtight container in the refrigerator.