Are you wondering what to do with all of the zucchini that is in season right now??  Try this stuffed zucchini on the grill!!!!
Slice up a few zucchini and hollow them out…..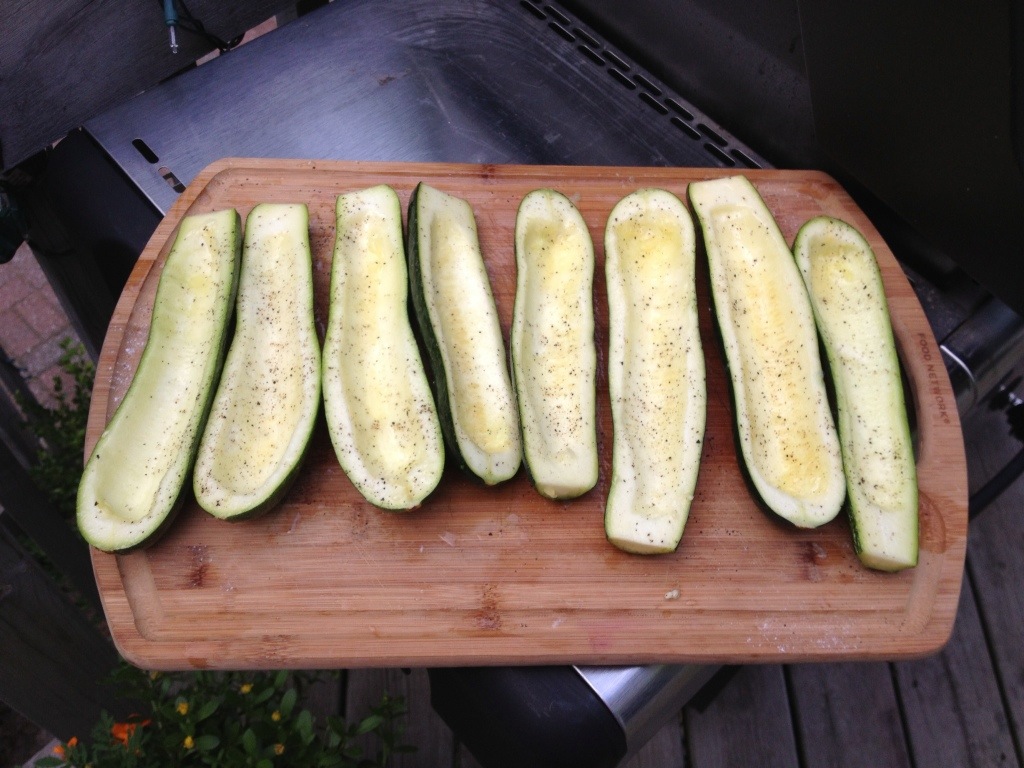 Then, fill them up with a yummy mixture of chicken sausage, garlic, onion, summer ripe tomato, bread crumbs, and Parmesan…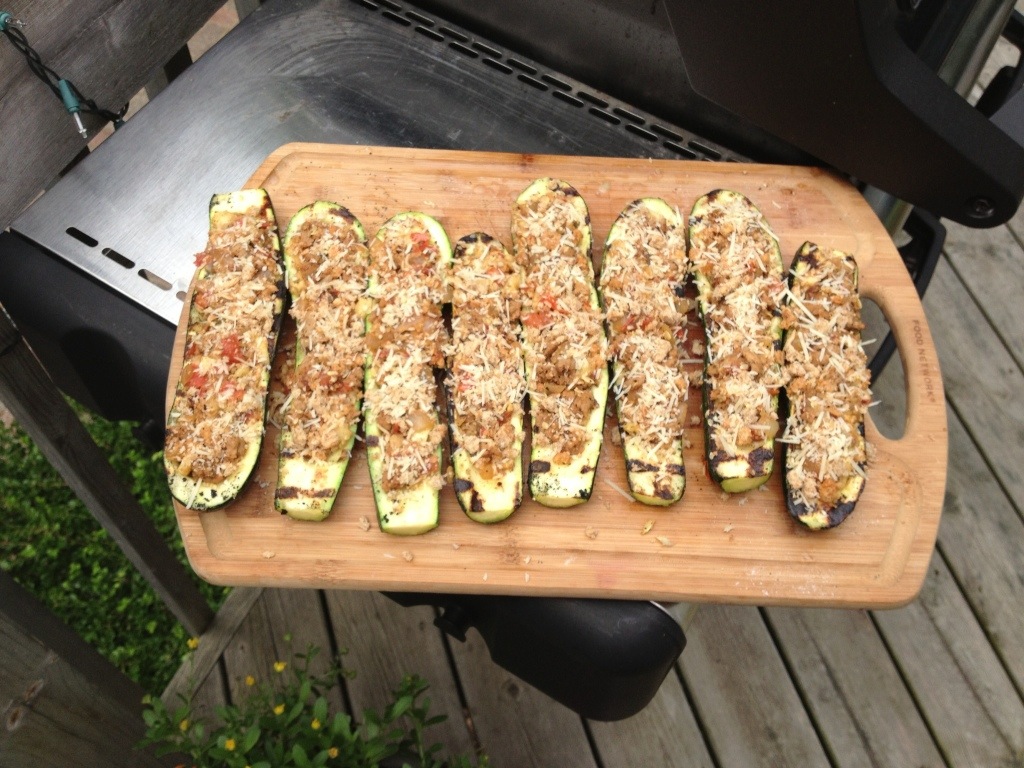 Grill them up and serve alongside a green salad filled with garden veggies and you have a great little summer dinner!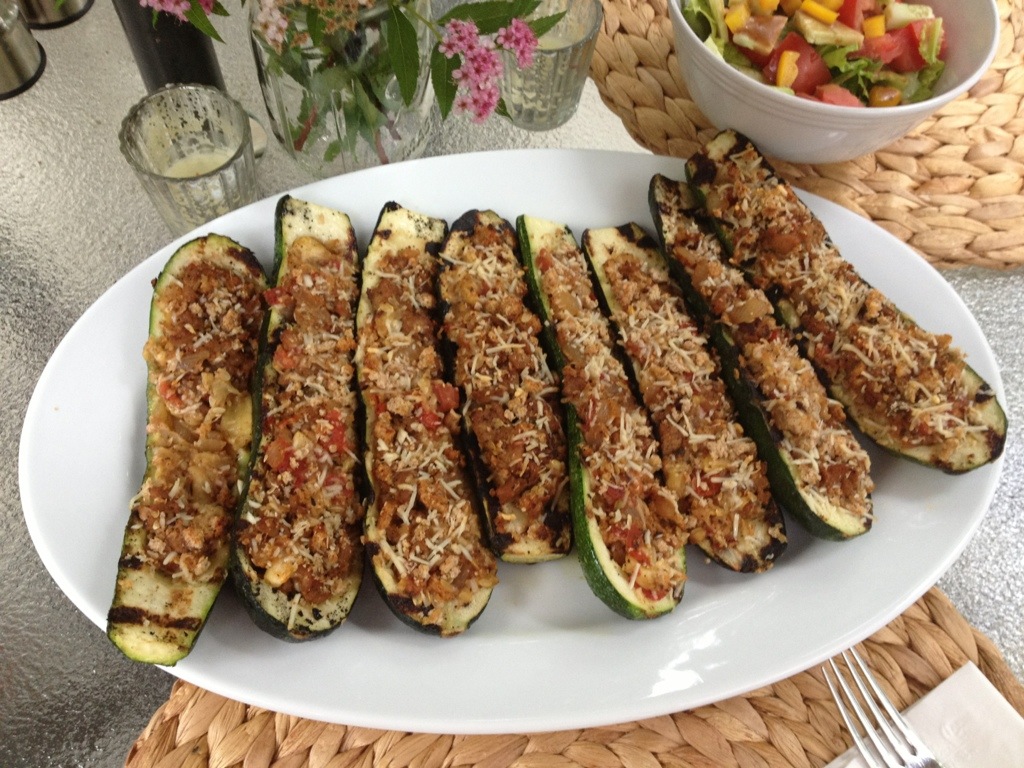 Italian Stuffed Zucchini on the Grill
Ingredients
4 zucchini
3 links all-natural Chicken Sausage, chopped or crumbled*
1/2 onion, diced
2 cloves garlic, minced
1 medium tomato, diced
2 slices Ezekiel sprouted grain bread, toasted and zipped through the food processor to make fresh bread crumbs
1/3 cup Parmesan cheese, divided
Extra virgin olive oil or grass-fed butter
Sea salt & fresh ground pepper
Dried seasonings – basil, oregano, or Italian blend
*I used these Sweet Italian chicken sausages from Al Fresco, but next time I may try these breakfast sausages instead.  It is tough to find clean ingredient sausage in the grocery store!
Directions
We tag team in order to make this meal! Darren does the grilling while I make the filling!
Preheat grill to medium heat.
Slice zucchini lengthwise and use a spoon to scrape out the seeds, leaving a half-inch thick shell as shown in the photo above.  Keep the zucchini insides and chop up to add into the filling mixture!
Brush with olive oil or melted grass-fed butter and season with sea salt and fresh ground pepper.
Place zucchini halves cut-side down and grill for about 5 minutes.
Remove zucchini from grill and set aside.
Heat a large skillet pan to medium heat and cook sausage, chopped zucchini insides, diced onion and garlic.
When sausage and onion is cooked, add diced tomato and season with 1 tsp dried seasonings (Italian blend, oregano, and or basil are all great) and some sea salt and fresh black pepper.
Remove mixture from heat and stir in 1/3 cup bread crumbs (keeping a few tablespoons aside for topping) and 1/4 cup Parmesan cheese.
Divide mixture among pre-grilled zucchini shells.
Mix remaining bread crumbs and a couple tablespoons of Parmesan together to sprinkle on top of stuffed zucchini.
Place stuffed zucchini back on the grill for 7-8 minutes to finish cooking.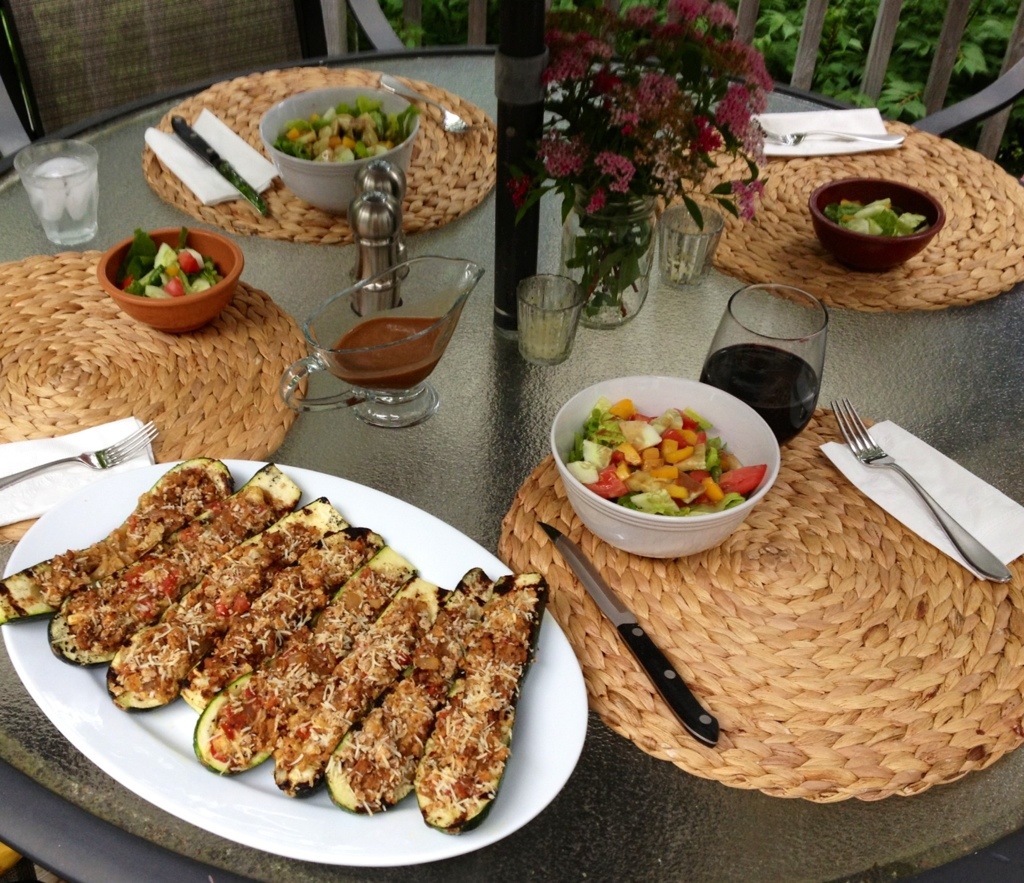 We all loved this awesome family summer meal outdoors!!!