Welcome to another What I Ate Wednesday, the one day during the week where I post everything that I ate for the whole day!
Ever since seeing some cute little baby bok choy at the Farmers Market last week, I have been wanting to give them a try. I know the logical thing would be adding them to a stir fry, but this Mango Dream Bok Choy Smoothie on Pinterest had my name all over it!!!
Into the blender went 2 heads of baby bok choy (bulb ends removed), 1 whole mango (peeled and diced), 1/2 of a ripe banana, a few chunks of frozen pineapple, 1 tsp of coconut oil, 1 and 1/2 cups water, and a handful of ice cubes. If you are not using a high powered blender, you'll want to blend the greens and water first, and then add in the fruit and ice in order to get a nice smooth blended drink. If its not sweet enough for your taste, you can add more banana. There is definitely a bit of an earthy green flavor to this drink, but I LOVED it!!!!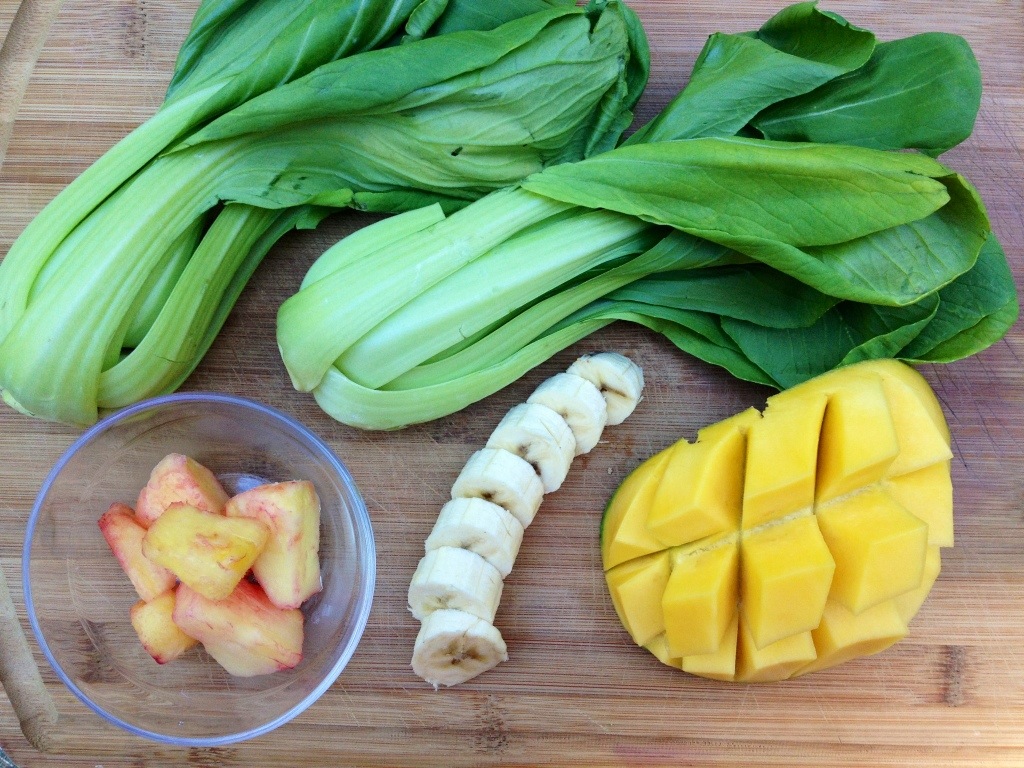 Before heading out for the day, we snacked on these little blueberry baked oatmeal "muffins". I like them because its like a little bowl of oatmeal you can eat on the go, but unfortunately they didn't go over too well with the kids….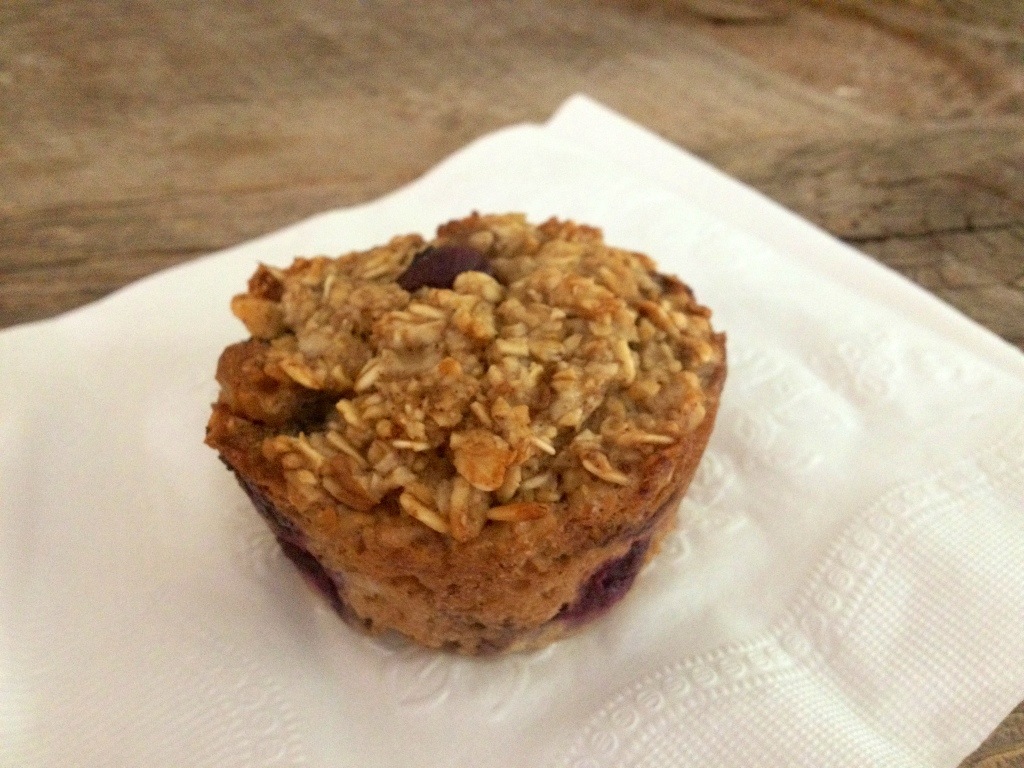 After a fun day downtown at the Coast Guard Festival, we came home STARVING!
Food Should Taste Good chips to snack on while making lunch…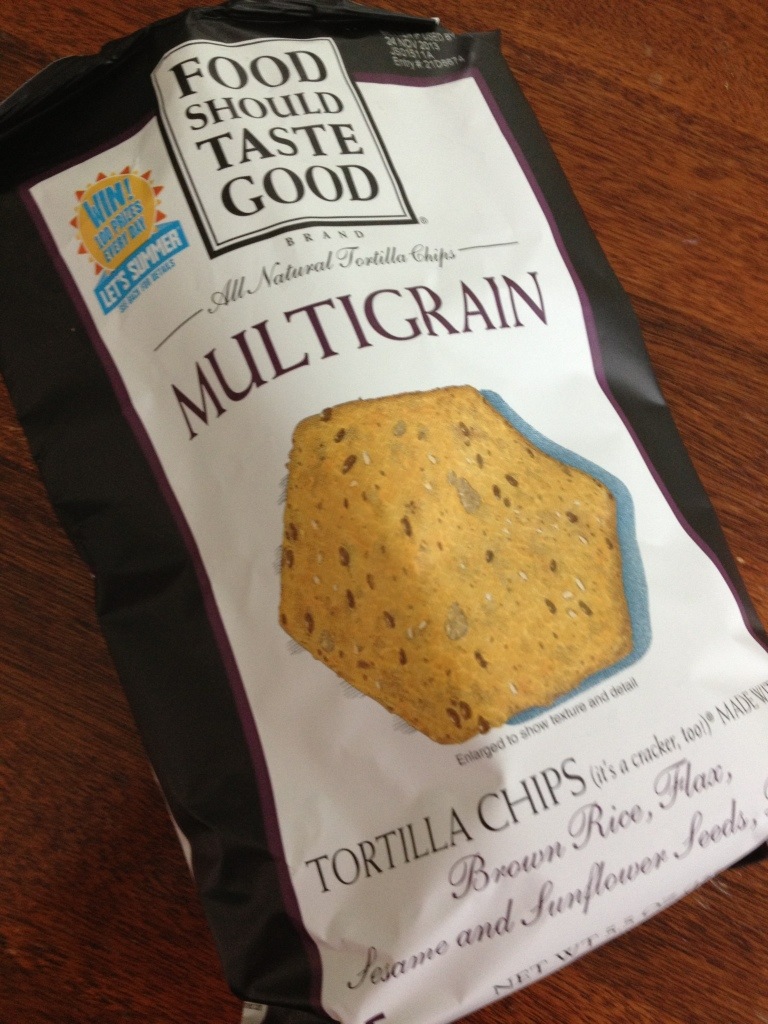 I reheated some of the Lemon Butter Cauliflower Soup from yesterday and also made a Greek salad for lunch. I am so in love with this soup!!!!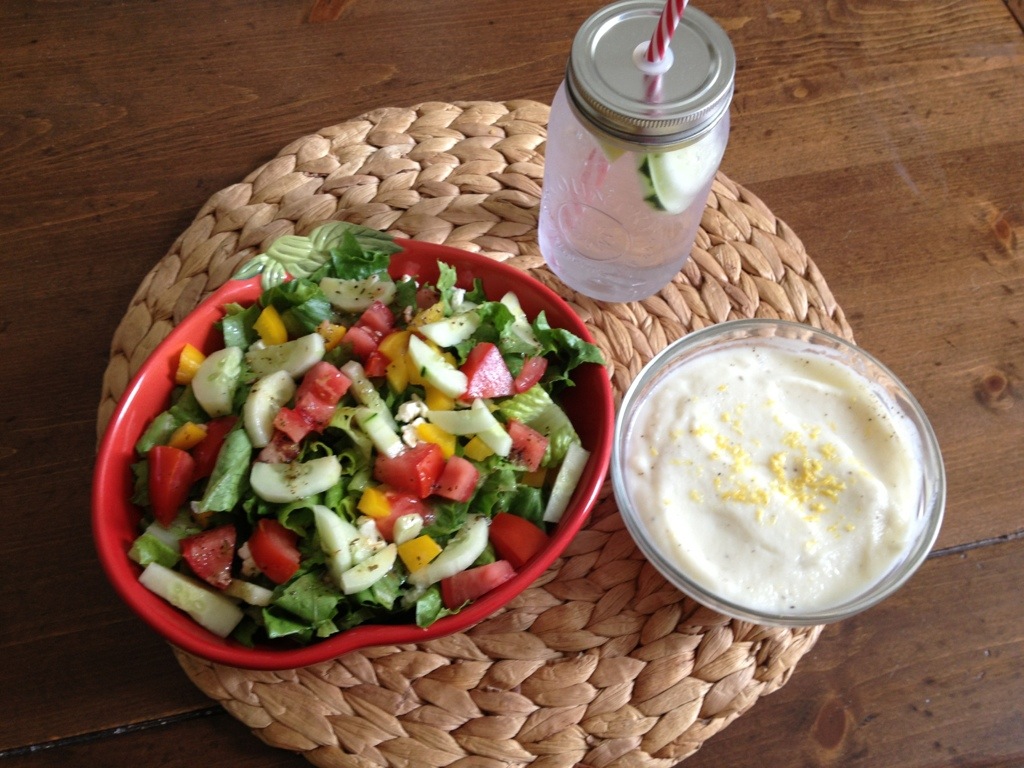 For dinner, we made use of the ever-abundant summer zucchini and made these Italian Stuffed Zucchinis on the grill. If you follow me on Instagram, you may have seen a sneak peek. They tasted every bit as good as they looked!! I will post the complete recipe tomorrow!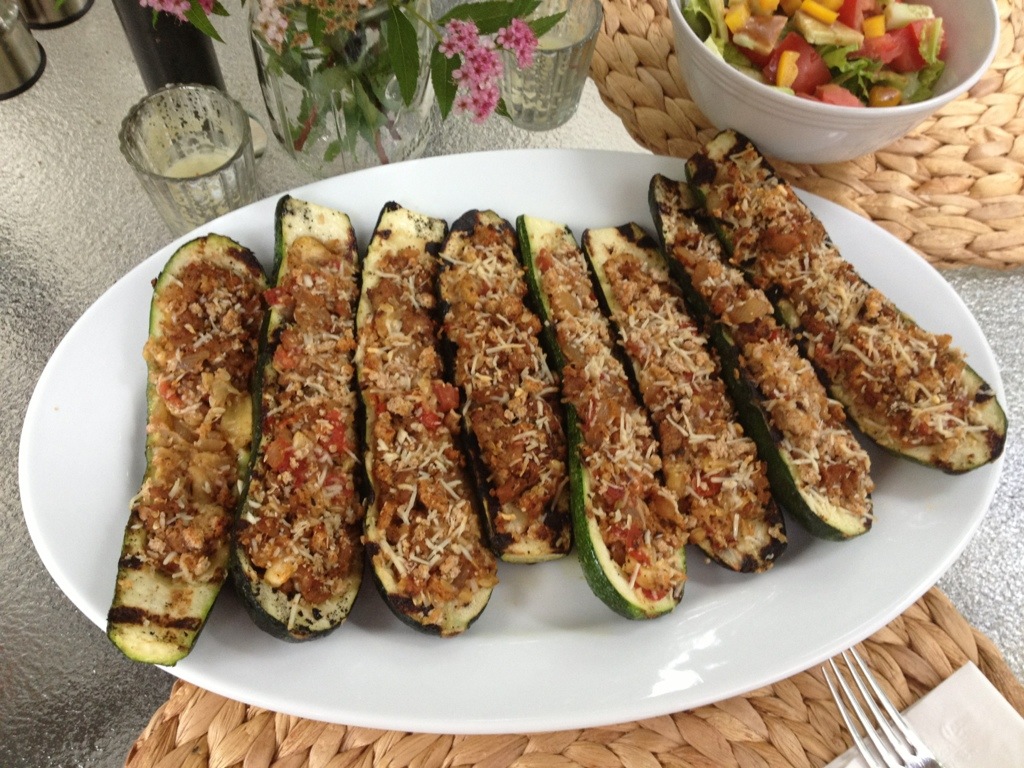 We served them with a simple salad topped with balsamic vinaigrette. Hailey loved the filling and had a few bites of the zucchini. Jake still has pretty simple taste so he preferred just the grilled sausage and a few bites of the zucchini. Plus they both ate their salad, so overall I consider the dinner a WIN!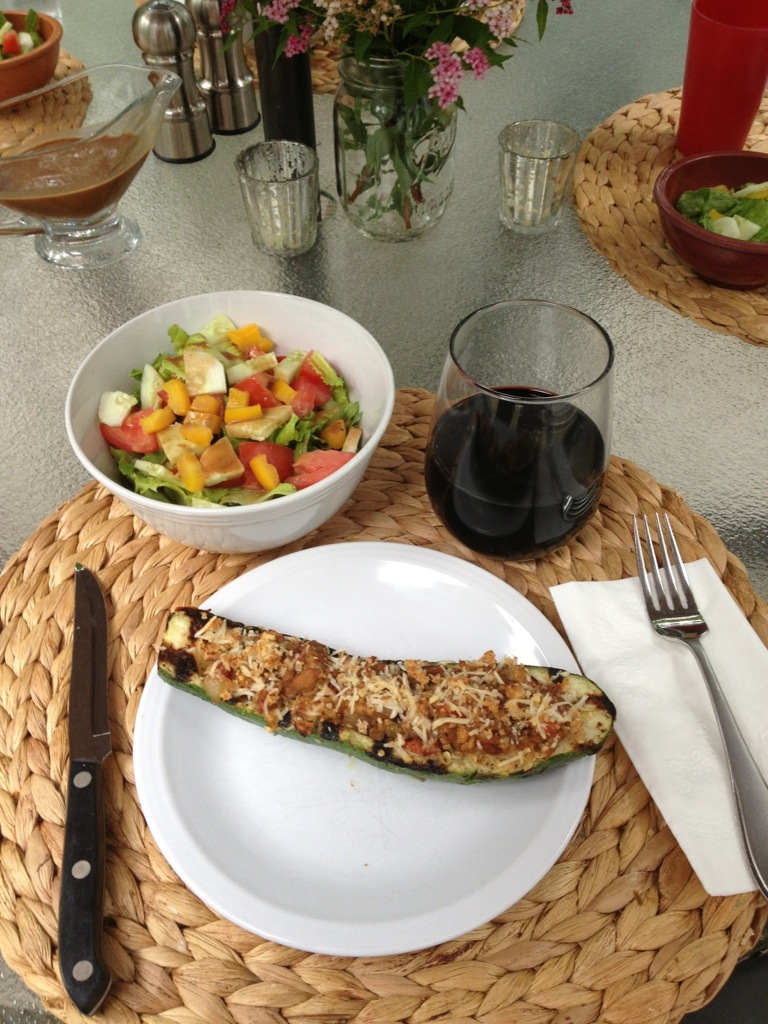 I had made these little frozen yogurt tarts last week and it seemed like the perfect night to enjoy them.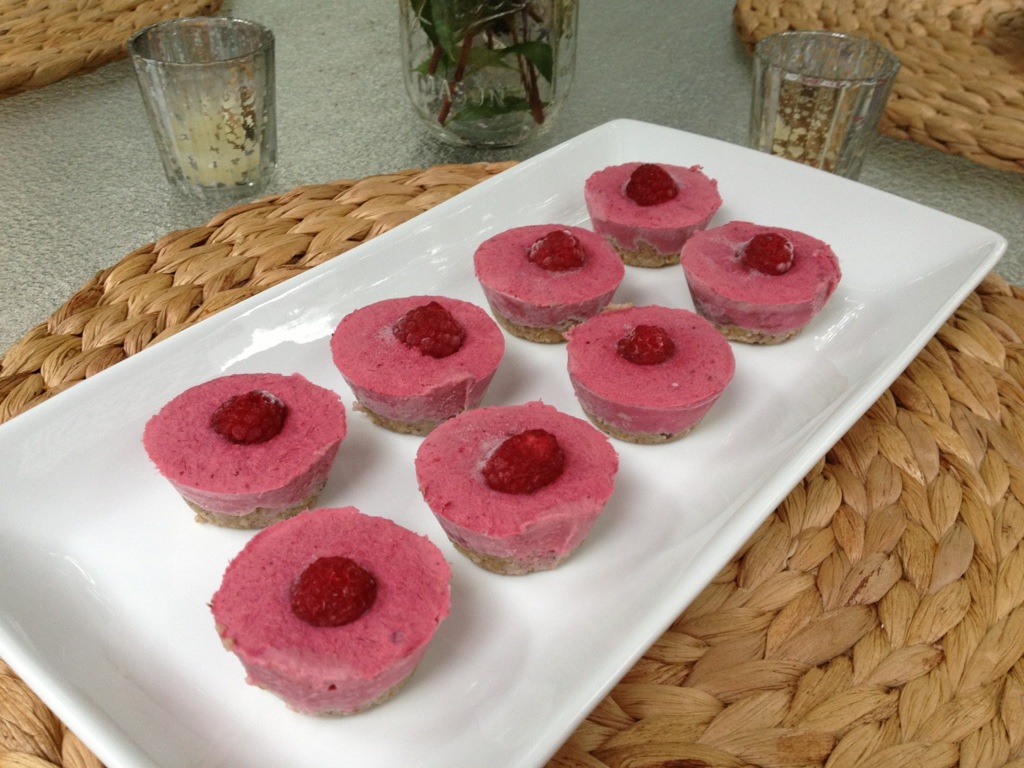 The crust was walnuts, shredded coconut, and a drizzle of honey in the food processor. I needed to do something with the raspberries that got smushed on the way home from the Farmers Market, so I threw them in the blender with some plain Greek yogurt and a little honey, then topped it all off with the few remaining whole berries, and froze them in a mini muffin pan. These need to sit out for 5-10 minutes to thaw a bit before eating them. The kids and I like them, but they definitely have that Greek yogurt taste and texture. I may try making these with the frozen fruit and banana "ice cream" for a little more of a traditional tasting dessert.
What summer meals have you been enjoying lately??