Slow Cooker
Earlier today, I was talking with a friend about finding the time to eat healthy.  Working, going to school, taking care of kids, a new baby, travelling, sports, volunteering, moving, or just living life….whatever it is that keeps you busy, I think we can all relate.  I am definitely trying to take this into consideration with the recipes that I feature here.
Ironic that we were talking about it today, because for me, Sunday afternoon is the ideal time to make up a couple of things to eat for the week.  I usually try to make one thing for the kids (muffins, oatmeal bars, granola bars, quick bread, healthy cookies, or a soup or casserole to pack for lunches) and one thing for us  (soup, grilled chicken breasts, boiled eggs, chicken salad, chickpea salad, or washed and chopped greens for smoothies and salads, etc).  By taking an hour or so to do this, it ensures that we have a few healthy things stocked in the refrigerator all week long for those times when we need something quick.
And like every busy mom since the 70's, I love  finding great Crock-Pot meals for busy days.  You just cannot beat the convenience of coming home to a nearly finished dinner!  Tonight's dinner was a new recipe and WOW, was it a hit!!  Easy, healthy, and full of flavor.
Slow Cooker Jamaican Jerk Pork with Caribbean Salsa
Recipe adapted from Skinny Taste
Jamaican Jerk Pork Ingredients
3 lb pork loin (all visible fat trimmed from the bottom)
3-4 cloves garlic, minced
2 T. jerk seasoning (I used the McCormick Perfect Pinch Jerk seasoning)
1/2 tsp kosher salt
1 lime, juiced
1/2 cup orange juice (store bought or a couple of fresh squeezed oranges)
Caribbean Salsa Ingredients
1 avocado, diced
2 mangos, finely diced (or 1 1/2 cups thawed from frozen)
1 1/2 T red onion, finely diced
2 T. fresh cilantro, chopped
2 T. fresh squeezed lime juice
kosher salt to taste (I used about 1/4 tsp)
Directions
Mix lime juice, orange juice, minced garlic, jerk seasoning, and salt.
The original recipe calls for the marinade to be poured over the pork and marinated in the refrigerator overnight (in a ziploc bag or large covered dish).  While this would be a great option for a busy weekday, I missed this step and just added everything to the Crock-Pot before cooking it and it still tasted great.
Add pork and marinade to slow cooker and cook on low for 4-8 hours.  Here is where you will need to know your slow cooker a little bit.  Even on low, mine seems to cook pretty quickly.  Our pork loin was perfect after 4-5 hours.
Remove pork to a cutting board and shred using 2 forks.
Remove liquid from the slow cooker and reserve.  Add pork back into slow cooker along with 1 cup of the reserved liquid.  Allow this to sit while you prepare the salsa.
To prepare salsa, add diced avocado, diced mango, chopped onion, cilantro, and fresh squeezed lime juice to a bowl.  Gently toss to combine and season with kosher salt.
I served this over cilantro lime rice.  I made up some basmati rice according to the directions on the package, and mixed it with some fresh lime juice (1-2 T), chopped cilantro (1-2 T), and a pinch of kosher salt.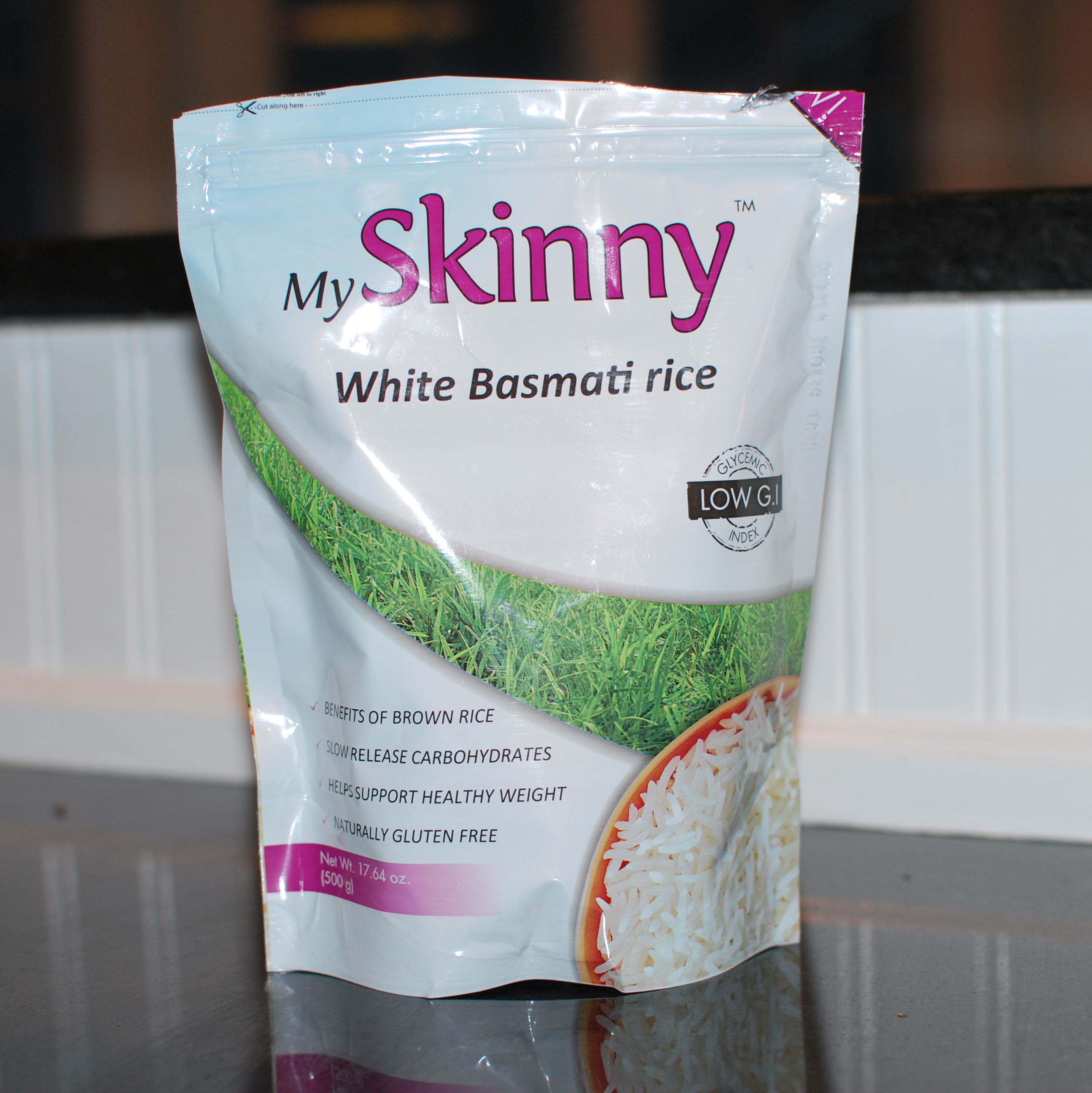 For a side, I went with some simple marinated cucumbers and they were great together!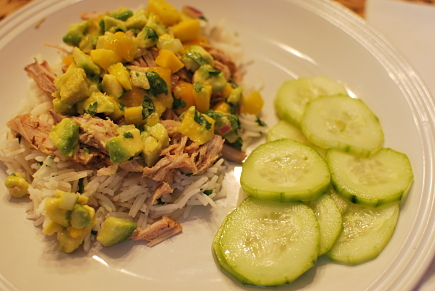 Marinated Cucumbers
Ingredients
2 cucumbers, peeled and sliced
1/2 cup white distilled vinegar
1/4 cup cold water
3 T sugar (could sub honey)
1/2 tsp kosher salt
Directions
Mix vinegar, water, sugar and salt.  Add sliced cucumbers and toss to coat.  Cover and refrigerate for 2-3 hours before serving.