Holiday
Every Thursday night for the last 5 or 6 years, we have made homemade pizza for dinner.  I'm not really sure where this little ritual came from, but it definitely makes my menu planning for the week a little bit easier!
Since this Thursday was Valentine's Day, we had some fun with it and made….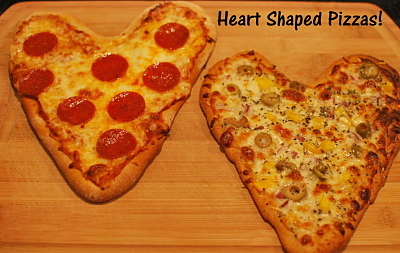 It's a lot of fun because we can each personalize our pizzas with our own toppings.  Hailey's standard is garlic butter (no red sauce!), cheese, and veggies.  Jake is a pepperoni guy.  Darren and I mix it up.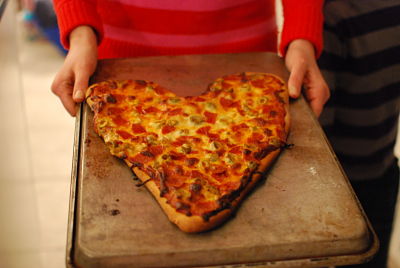 I almost always make mine on an Ezekiel 4:9 pocket bread (pita) and usually top it with mostly veggies and just a sprinkle of cheese.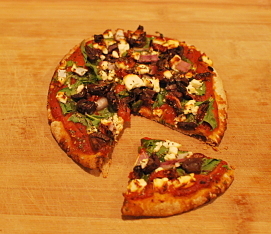 This one was Mediterranean Pizza with red sauce, lots of spinach, chopped red onion, kalamata olives, sundried tomatoes, and a little bit of crumbled feta cheese.
I buy these at our local health food store where they are kept in the freezer.  They are only $1.99 for 6 of them and make the best pizza crusts!  They are made of all organic ingredients including whole wheat flour, carrots, barley flour, millet flour, lentil flour, spelt flour, soy flour, fresh yeast, and sea salt.  They have 100 calories, 0.5 grams of fat, 21 carbs, 4 grams of fiber, and 7 grams of protein.
I just take one out of the freezer and top it and put it in the oven for about 10 minutes or so, depending on the toppings.
Either way that we make them, pizza night is always a favorite around here, especially when you get to eat a whole heart-shaped pizza!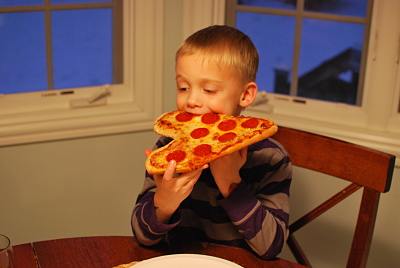 Homemade Pizza Crust
1 1/2 cups water (heated to 110-115 degrees or a little over a minute in the microwave)
1 tsp honey
2 1/4 tsp yeast
1 tsp salt
2 T. extra virgin olive oil
3 1/2 cups flour, plus additional as needed  (see note below)
Heat water to 110-115 degrees (important to be warm enough to activate the yeast but not too hot to kill it) and put into a large bowl.  Stir in honey.  Sprinkle yeast over top of the water and let stand for approximately 10 minutes until it is foamy on top (this is "proofing" the yeast and lets you know that its active)  Add in salt, olive oil, and 3 cups of flour.  Once everything is incorporated, turn out onto a floured mat.  Knead dough and add more flour until the dough is slightly sticky but not tacky.  Knead for about 5 minutes and then place into a well-oiled bowl.  Cover with a clean dish towel and place in a warm dry area to rise (I set it in a corner of the counter near the oven).  Dough can be ready in as little as 1 hour but I prefer to let the dough rise for closer to 2 hours or more.
Preheat oven to 425 degrees (we have found through trial and error that 400 degrees on convection is the perfect temp for us).  Turn dough out onto the floured mat again and separate into 2 large crusts or 4 small crusts (great for individual pizzas) and roll out with a flour-dusted rolling pin.  Place on an oiled pan and pre-bake for 7-8 minutes.  Add desired toppings and bake for an additional 8-10 minutes until pizza is done to your liking.  During the final baking stage, we prefer to cook the pizzas directly on the rack.
A note on flours – we originally started making these with all whole wheat pastry flour (or white whole wheat flour) as I wanted a 100% whole grain, healthy pizza crust.  This is not going to give you the traditional pizza crust flavor that most people are expecting.  You can try half whole wheat flour and half white flour to start.  For us, I now like to use 1 cup white flour, 1 cup whole wheat pastry flour, and 1 cup of whole grain spelt flour (a grain similar to wheat).  It may take some experimentation to see what you like.