Dips
I am always looking for healthy snack ideas for my kids. On days that they have school, I have to pack them two snacks in addition to their lunch. Even on days when they are home, it seems like they are always asking for snacks.
This recipe is super easy to whip up and it is full of healthy, whole food ingredients. And in this house, it also doubles as dessert – especially on those nights when the kids aren't particularly fond of my dinner and I feel like they could use a little more substance so that they don't go to bed hungry.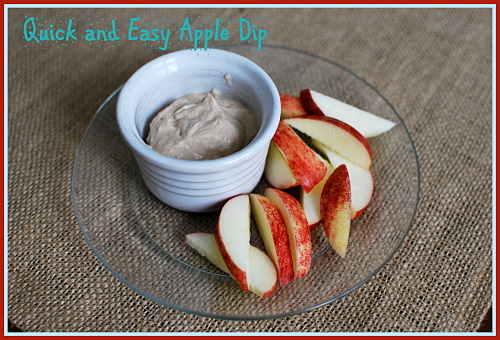 Quick & Easy Apple Dip
Recipe adapted from happy healthy mama
1/2 cup plain Greek yogurt
3 T. all natural peanut butter or almond butter (no sugar added)
1-2 T. honey or maple syrup
1/4 tsp cinnamon
Mix all ingredients in a bowl and serve with cut fruit, such as apples or bananas, and or organic, whole grain graham crackers. For a nut-free option when I pack this for a school snack, I substitute sunflower seed butter and it is just as good!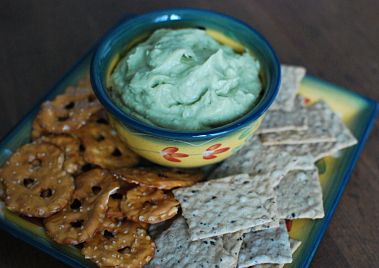 I have been trying to branch out from standard store-bought hummus lately.  It gets a bit pricey since we eat so much of it.  But also, I  just wanted to mix it up a little bit and try something different.
When I saw this dip on Pinterest, I just knew it would be a winner!  Not exactly hummus, but more of a hummus guacamole blend.  Quick, easy, kid friendly, versatile, and tastes great.  What more can you ask for?!?
Avocado and White Bean Dip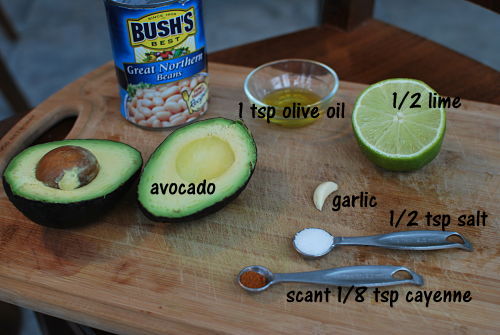 First things first, I always wash my produce before I cut into it since this can transfer germs from the outside into the fruit or vegetable that you're cutting!
Slice the avocado length-wise all the way around and twist to open.  Using a large sharp knife, give it a good whack into the pit and twist to remove it (see this youtube tutorial if you're not familiar with this method of pitting an avocado).
Scoop the avocado flesh out and place it into the bowl of a food processor fitted with the "S" blade.  Squeeze the juice from the lime half into the bowl and add the remaining ingredients.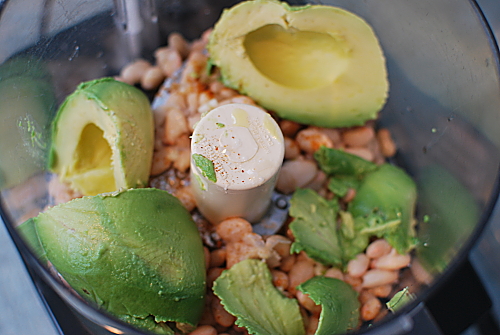 Place the lid on the food processor and process until smooth.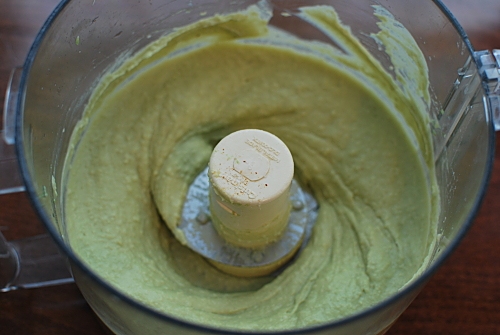 And in less than 10 minutes, you will have white bean and avocado dip packed with fiber (roughly 10 grams per serving!) and nearly 20 different vitamins, minerals, and phytonutrients.  I especially like that you can store this dip in the refrigerator for a few days without it turning brown like traditional guacamole.
You can serve this with a combination of raw veggies and crackers (I prefer gluten-free rice crackers) or other chips (tortilla, pretzel chips, etc) for an appetizer or well-balanced snack.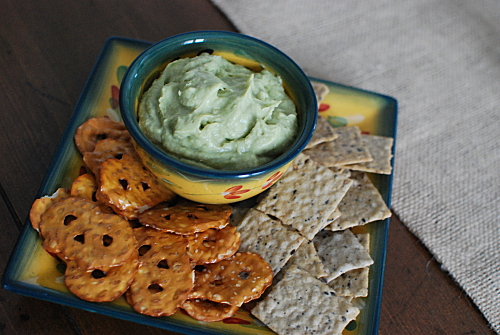 Avocado and White Bean Dip
Ingredients
1 ripe avocado
1 can of Great Northern beans, drained and rinsed well
1 /2 lime
1 tsp extra virgin olive oil
1 clove garlic, minced
1/2 tsp kosher salt
1/8 tsp cayenne pepper (or to taste)
Directions
Add the flesh of one avocado, the juice of 1/2 of a lime, olive oil, minced garlic, kosher salt, and cayenne pepper to the bowl of a food processor fitted with the "S" blade.  Process until smooth.  Adjust seasonings to your liking (more lime, salt, or cayenne).  Serve with veggies, chips, or crackers.