Avocado
We have been making this Avocado Chicken Salad a lot this summer. I have even served it while entertaining, and everyone seems to really like it!
This is hardly a recipe – use what you have on hand and tweak it to your liking!! Mine tastes a little different every time! It's also a great way to use up any leftover grilled, roasted, or rotisserie chicken.
Clean-Eating Avocado Chicken Salad Wraps
Ingredients
About 2 chicken breasts, grilled, cooled, and chopped or shredded
1 small or 1/2 large avocado
1-2 T plain Greek yogurt
Salt, pepper, and dried tarragon (optional)
1/2 cup chopped red grapes
1/4 cup chopped walnuts
1/4 cup celery, diced small
1/4 cup red onion, diced small
Ezekiel sprouted grain, lettuce leaves, or whole wheat pita for serving
Directions
If you don't have leftover chicken to start with, you'll need to season 2 small chicken breasts with salt, pepper and garlic powder and bake or grill until done. Cool and chop or shred the chicken.
In a medium bowl, mash up 1 small or 1/2 of a large avocado. Add in 1-2 Tablespoons of plain Greek yogurt and mix well. Season with sea salt, fresh ground pepper and a sprinkle of dried tarragon if you have it.
Add in chopped grapes, celery, walnuts, and red onion.
Mix in chopped chicken and combine all ingredients. Taste and adjust ingredients as necessary.
Serve in lettuce wraps, in whole wheat pita pockets, or open face on toasted Ezekiel sprouted grain bread. Enjoy with a side of fresh fruit for a great summer lunch!!!!!
The Happy Family loves this Healthy Plate because:
avocado – full of heart-healthy fats that are anti-inflammatory and help the body to absorb fat-soluble nutrients. Avocados are high in potassium which helps reduce blood pressure, folate for healthy fetal development, and lutein for eye health.
red grapes – contain flavanoids which can help slow the build up of plaque build up in the arteries leading to heart disease. Red grapes are also full of antioxidants that prevent damage to your body from harmful free radicals. The skins of red grapes contain resveratrol, which helps to lower your blood cholesterol level.
walnuts – packed with Omega-3 fatty acids which are beneficial for reducing depression, ADHD, cancer and Alzheimers, and can also counter inflammatory diseases such as rheumatoid arthritis and Crohns disease. Walnuts also contain antioxidants for heart health and reducing the risk of certain cancers.
Earlier today, I was talking with a friend about finding the time to eat healthy.  Working, going to school, taking care of kids, a new baby, travelling, sports, volunteering, moving, or just living life….whatever it is that keeps you busy, I think we can all relate.  I am definitely trying to take this into consideration with the recipes that I feature here.
Ironic that we were talking about it today, because for me, Sunday afternoon is the ideal time to make up a couple of things to eat for the week.  I usually try to make one thing for the kids (muffins, oatmeal bars, granola bars, quick bread, healthy cookies, or a soup or casserole to pack for lunches) and one thing for us  (soup, grilled chicken breasts, boiled eggs, chicken salad, chickpea salad, or washed and chopped greens for smoothies and salads, etc).  By taking an hour or so to do this, it ensures that we have a few healthy things stocked in the refrigerator all week long for those times when we need something quick.
And like every busy mom since the 70's, I love  finding great Crock-Pot meals for busy days.  You just cannot beat the convenience of coming home to a nearly finished dinner!  Tonight's dinner was a new recipe and WOW, was it a hit!!  Easy, healthy, and full of flavor.
Slow Cooker Jamaican Jerk Pork with Caribbean Salsa
Recipe adapted from Skinny Taste
Jamaican Jerk Pork Ingredients
3 lb pork loin (all visible fat trimmed from the bottom)
3-4 cloves garlic, minced
2 T. jerk seasoning (I used the McCormick Perfect Pinch Jerk seasoning)
1/2 tsp kosher salt
1 lime, juiced
1/2 cup orange juice (store bought or a couple of fresh squeezed oranges)
Caribbean Salsa Ingredients
1 avocado, diced
2 mangos, finely diced (or 1 1/2 cups thawed from frozen)
1 1/2 T red onion, finely diced
2 T. fresh cilantro, chopped
2 T. fresh squeezed lime juice
kosher salt to taste (I used about 1/4 tsp)
Directions
Mix lime juice, orange juice, minced garlic, jerk seasoning, and salt.
The original recipe calls for the marinade to be poured over the pork and marinated in the refrigerator overnight (in a ziploc bag or large covered dish).  While this would be a great option for a busy weekday, I missed this step and just added everything to the Crock-Pot before cooking it and it still tasted great.
Add pork and marinade to slow cooker and cook on low for 4-8 hours.  Here is where you will need to know your slow cooker a little bit.  Even on low, mine seems to cook pretty quickly.  Our pork loin was perfect after 4-5 hours.
Remove pork to a cutting board and shred using 2 forks.
Remove liquid from the slow cooker and reserve.  Add pork back into slow cooker along with 1 cup of the reserved liquid.  Allow this to sit while you prepare the salsa.
To prepare salsa, add diced avocado, diced mango, chopped onion, cilantro, and fresh squeezed lime juice to a bowl.  Gently toss to combine and season with kosher salt.
I served this over cilantro lime rice.  I made up some basmati rice according to the directions on the package, and mixed it with some fresh lime juice (1-2 T), chopped cilantro (1-2 T), and a pinch of kosher salt.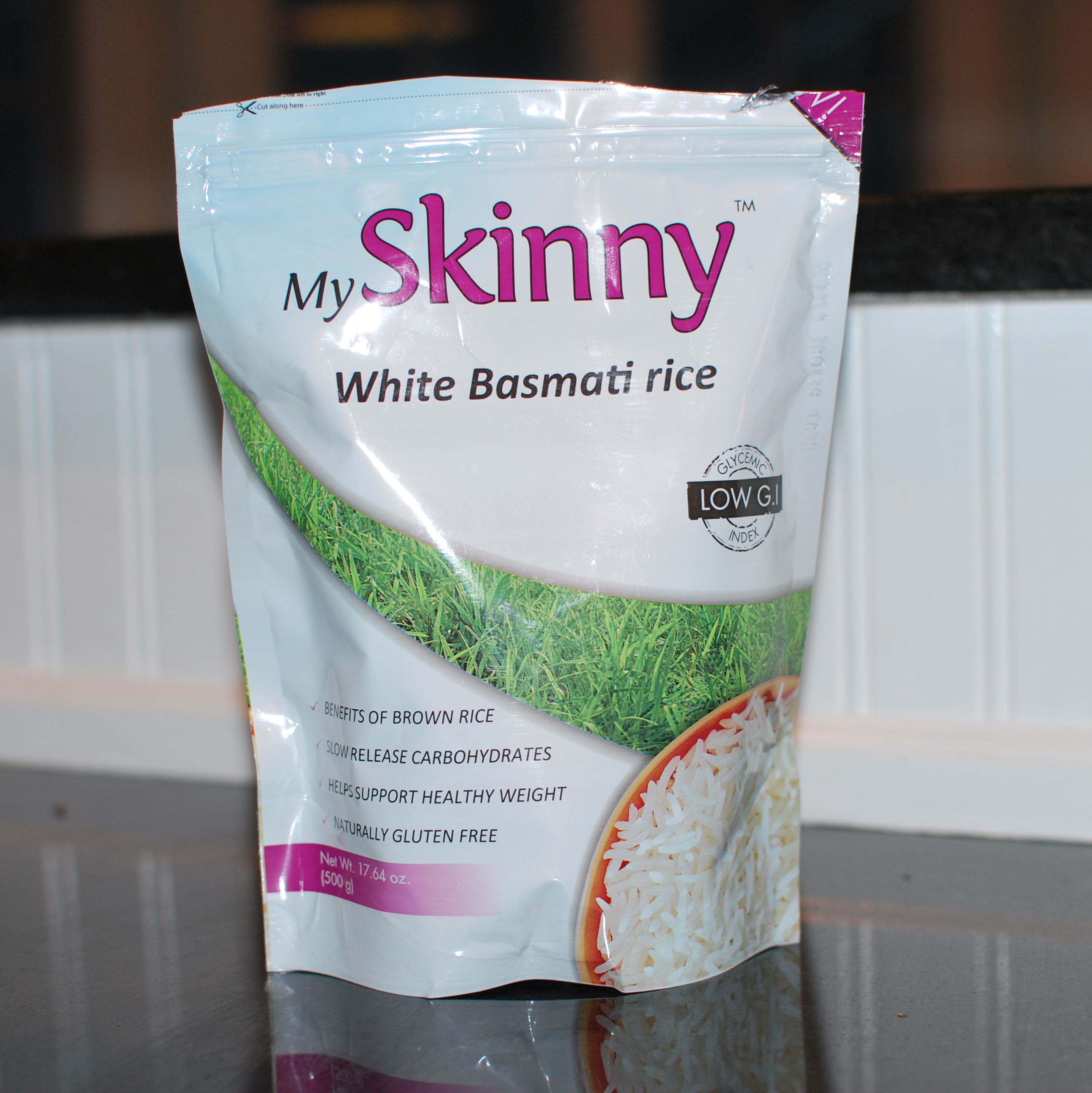 For a side, I went with some simple marinated cucumbers and they were great together!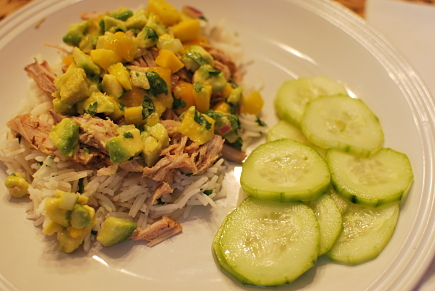 Marinated Cucumbers
Ingredients
2 cucumbers, peeled and sliced
1/2 cup white distilled vinegar
1/4 cup cold water
3 T sugar (could sub honey)
1/2 tsp kosher salt
Directions
Mix vinegar, water, sugar and salt.  Add sliced cucumbers and toss to coat.  Cover and refrigerate for 2-3 hours before serving.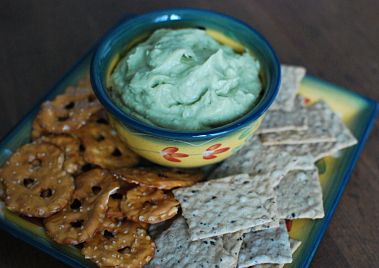 I have been trying to branch out from standard store-bought hummus lately.  It gets a bit pricey since we eat so much of it.  But also, I  just wanted to mix it up a little bit and try something different.
When I saw this dip on Pinterest, I just knew it would be a winner!  Not exactly hummus, but more of a hummus guacamole blend.  Quick, easy, kid friendly, versatile, and tastes great.  What more can you ask for?!?
Avocado and White Bean Dip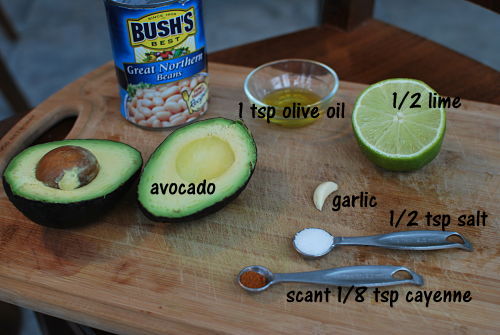 First things first, I always wash my produce before I cut into it since this can transfer germs from the outside into the fruit or vegetable that you're cutting!
Slice the avocado length-wise all the way around and twist to open.  Using a large sharp knife, give it a good whack into the pit and twist to remove it (see this youtube tutorial if you're not familiar with this method of pitting an avocado).
Scoop the avocado flesh out and place it into the bowl of a food processor fitted with the "S" blade.  Squeeze the juice from the lime half into the bowl and add the remaining ingredients.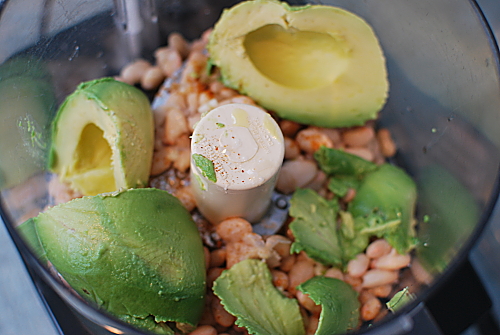 Place the lid on the food processor and process until smooth.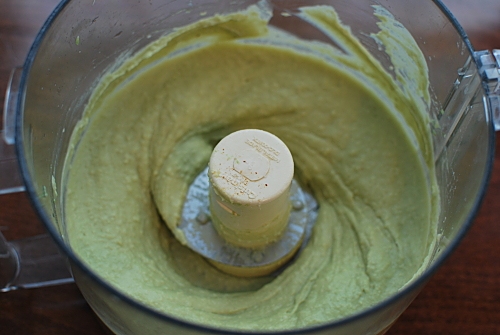 And in less than 10 minutes, you will have white bean and avocado dip packed with fiber (roughly 10 grams per serving!) and nearly 20 different vitamins, minerals, and phytonutrients.  I especially like that you can store this dip in the refrigerator for a few days without it turning brown like traditional guacamole.
You can serve this with a combination of raw veggies and crackers (I prefer gluten-free rice crackers) or other chips (tortilla, pretzel chips, etc) for an appetizer or well-balanced snack.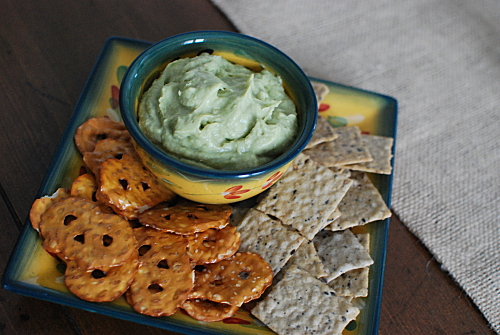 Avocado and White Bean Dip
Ingredients
1 ripe avocado
1 can of Great Northern beans, drained and rinsed well
1 /2 lime
1 tsp extra virgin olive oil
1 clove garlic, minced
1/2 tsp kosher salt
1/8 tsp cayenne pepper (or to taste)
Directions
Add the flesh of one avocado, the juice of 1/2 of a lime, olive oil, minced garlic, kosher salt, and cayenne pepper to the bowl of a food processor fitted with the "S" blade.  Process until smooth.  Adjust seasonings to your liking (more lime, salt, or cayenne).  Serve with veggies, chips, or crackers.
I am not going to lie….our Meatless Monday dinner was AWESOME tonight!  I love when healthy meals turn out really, really GOOD!  It is a Southwestern (and vegetarian) spin on classic stuffed peppers.
Some food for thought – bell peppers are the #3 most pesticide contaminated produce on the Environmental Working Group's Shopping Guide to Pesticides in Produce, with up to 15 different pesticides found on a single pepper.   If you are looking to reduce your exposure to the toxins in pesticides, you can refer to the list of the "Dirty Dozen" fruits and vegetables, and try to buy these fruits and vegetables organically grown, if possible.
Start with some bell peppers (we prefer the red, yellow, or orange for this dish).  Cut the stem out of the center and remove  the seeds and membranes inside.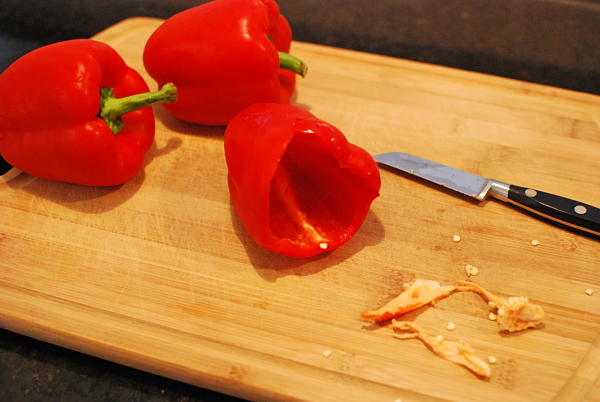 I prefer to serve pepper halves so I sliced each pepper in half from the top down.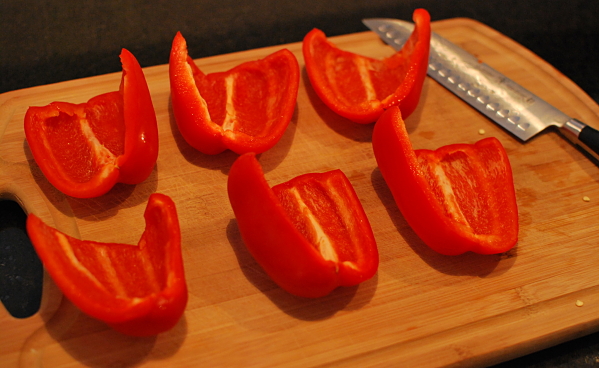 In a large stock pot, boil the peppers for 5 minutes.  This will ensure that they are perfectly done, and not "crunchy" after baking.  When peppers are done, remove from water with tongs and place into 9 X 12 casserole dish.  Sprinkle with a pinch of kosher salt.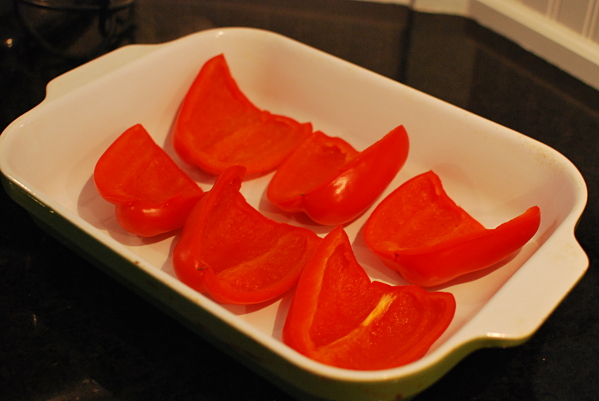 Chop 1 onion, 2 cloves of garlic, and a jalapeno.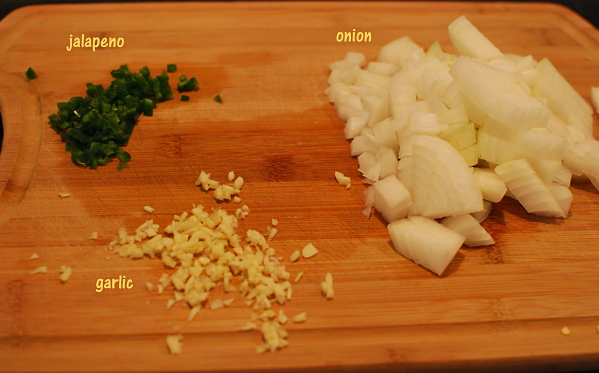 In a large skillet, saute onion, garlic, and jalapeno in 2 tsp. of olive oil over medium heat for 5 minutes, until veggies are softened.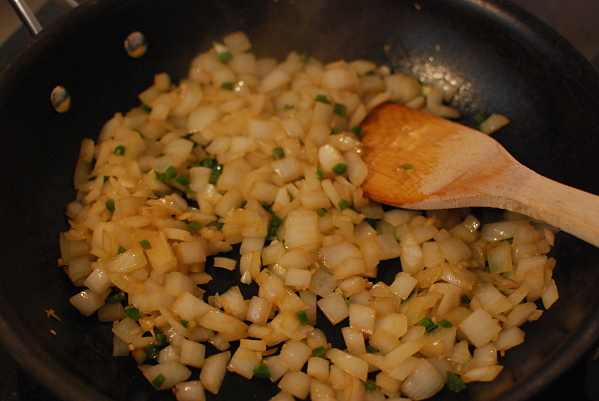 Add in 1 can of fire roasted tomatoes, 2 cups cooked rice, 1 cup of frozen corn, 1 1/2 cups of cooked lentils, 1 tsp. ground cumin, 1/8 tsp. of ground chipotle pepper, and 1/2 tsp. salt.  Mix well and let simmer for 5 minutes.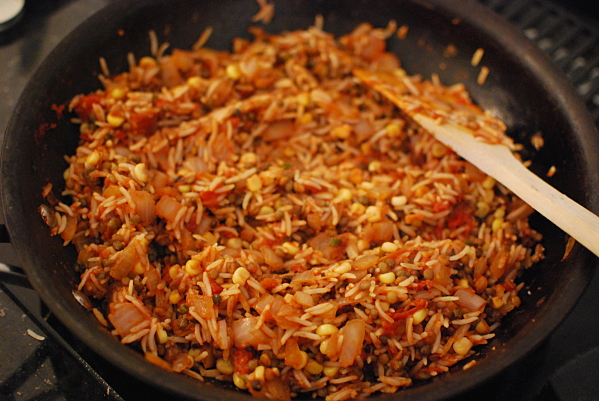 Scoop rice mixture into peppers.  This amount of rice would fit nicely into 4 whole peppers (8 halves) but I knew 3 peppers would be plenty for us.  Any leftover rice can be baked separately in a small dish.
Top each stuffed pepper with a couple of tablespoons of shredded jalapeno pepperjack cheese and crushed tortilla chips.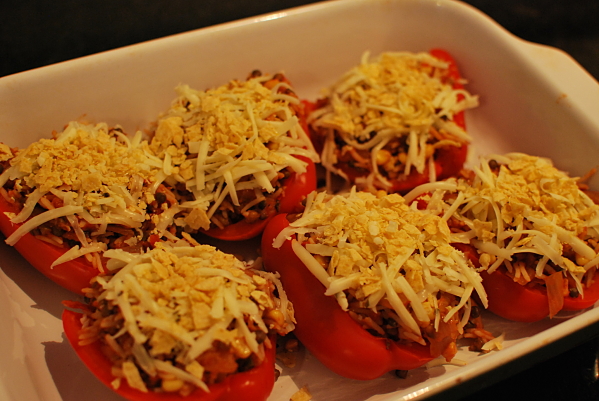 Bake uncovered for 25 minutes.  Serve with guacamole and extra chips on the side.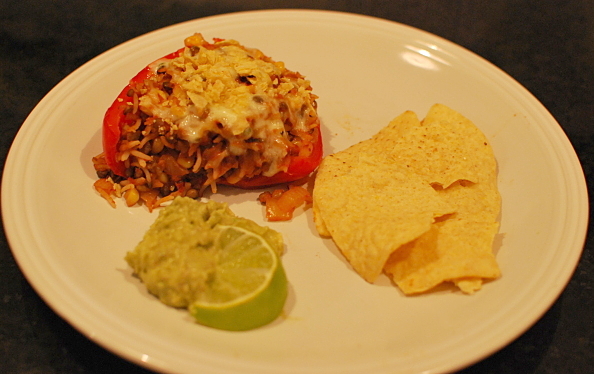 Southwestern Stuffed Peppers
Ingredients
3-4 bell peppers (we prefer red, yellow, or orange)
1 cup rice (cooked according to directions on package, yielding appx. 2 cups)
1 medium onion, chopped
1 jalapeno pepper, seeds and ribs removed, finely diced (or substitute mild green chilies)
2 cloves garlic, minced
2 tsp. extra virgin olive oil
1 cup frozen corn
1 1/2 cups cooked lentils (I buy them pre-cooked at Trader Joes.  I believe you can also buy them canned similar to beans)
1 can fire roasted tomatoes
1 tsp. ground cumin
1/2 tsp kosher salt
1/8 tsp chipotle chili powder
Topping Ingredients
1/2 cup shredded pepperjack cheese
crushed tortilla chips
"quick guacamole" (1 mashed avocado with a squeeze of lime and pinch of salt)
Directions
Preheat oven to 350 degrees.
Cook rice and lentils as necessary.
Bring large stockpot full of water to boil.
Remove stems, seeds, and membranes from peppers.  Slice in half vertically if desired.
Boil peppers for 5 minutes.  Remove with tongs and place into a 9 X 12 casserole dish.  Sprinkle with kosher salt.
Heat 2 tsp. of olive oil in a large skillet over medium heat (being careful not to let it smoke).  Saute chopped onion, jalapeno (or green chilies), and garlic for 5 minutes, until softened.
Add into skillet 1 can of fire roasted tomatoes, 2 cups cooked rice, 1 cup frozen corn, 1 1/2 cups cooked lentils, 1 tsp. ground cumin, 1/2 tsp. kosher salt, and 1/8 tsp. chipotle chili powder.  Mix well and let simmer for 5 minutes.
Stuff pepper halves with rice mixture.  Top with 2 T. shredded pepperjack cheese and some crushed tortilla chips.
Bake uncovered for 25 minutes.
Serve with simple guacamole and additional chips, if desired.