I apologize for my long blogging breaks lately.  School, travelling, and family are all keeping me on my toes!
I traveled down to North Carolina for some yoga training last week, which was a really exciting experience.  More to come on that soon!  Whenever I'm away from home for an extended amount of time, I definitely miss my green smoothies and juices.  I have been having at least one a day since getting home and keeping them pretty heavy on the veggies.  I've pretty much been sticking to my classic green smoothie made with tons of kale, romaine, cucumber, apple, clementine, 1/2 of a banana, and lots of fresh squeezed lemon.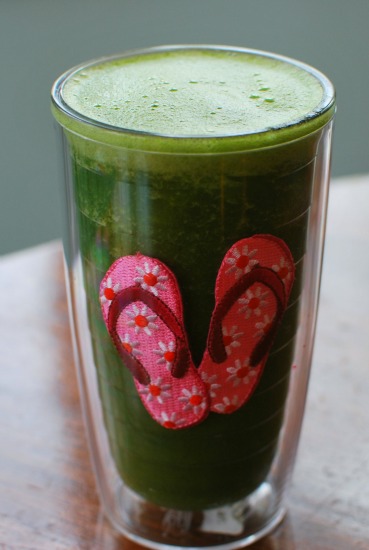 I have also discovered a new favorite chia pudding.  This combination of strawberry, lemon, and ginger was a perfect complement to the sunny warm weather we've been having the past couple of days.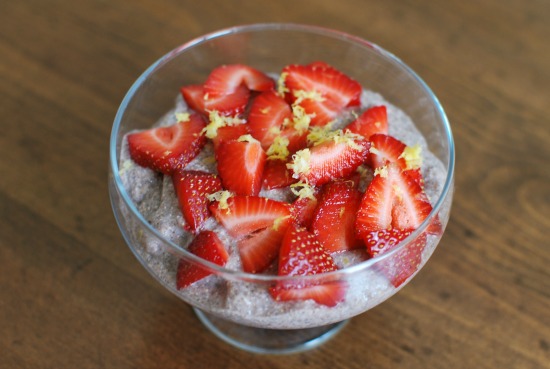 To make this, combine 1 cup of almond milk, 6 fresh organic strawberries, 1/3 cup of chia seeds, 1 T honey, 1/2 inch long slice of ginger (you may want to finely chop it up if you're not using a high powered blender such as a VitaMix), and the juice from 1/4 of a lemon.  Blend on high until mixture is smooth.
I left it in the refrigerator to thicken for about an hour and topped it off with fresh strawberries and some lemon zest. I could eat this for dessert – honestly, it was that good!  I'm thinking I might have to experiment with this flavor combination somewhere else….maybe some muffins?
Lots of salads for lunch this week.  This one was lots of organic romaine topped with cherry tomatoes, red onion, cucumber, red pepper, lightly toasted sunflower seeds, avocado and feta cheese.  Since I went a little heavy on the avocado, I just topped it with some good quality balsamic vinegar, salt and pepper.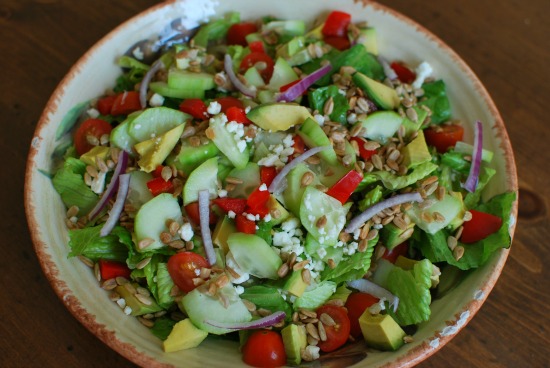 For dinner, I ventured out and tried something a little new for me.  It does not come naturally for me to incorporate bacon into a recipe, but I've been doing a lot of research on the Weston A. Price foundation and their philosophy on nourishing foods.  I guess I can find some common ground in that they strongly believe in eating all high quality, real foods, with very little wheat/grains and processed food.  I am trying to stay open to some more animal fat and protein in my diet as long as it comes from good sources.
This recipe from Detoxinista stood out to me because it is kind of a makeover of a standard make-ahead breakfast casserole, which we love around here.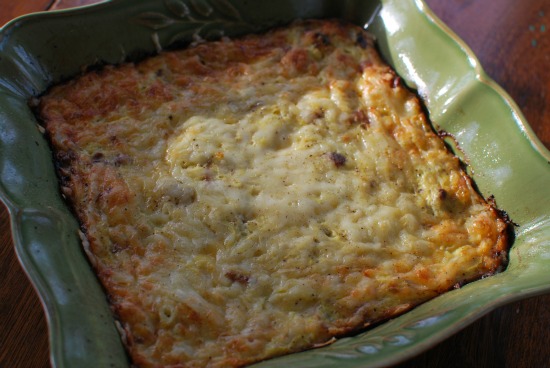 I loved the idea of replacing the hash brown potatoes with more nutrient dense spaghetti squash – kind of genius if you ask me!  The baked squash was combined with some local, free range eggs I've been picking up from our health food store, nitrate-free uncured bacon, sauteed onions, and some Swiss cheese.  It was a great combination of flavors.
I baked the squash up earlier in the day and then it came together pretty quickly at dinner time.
I think this would go great with salad (a classic brunch combination) but the kids requested fruit "just in case they didn't like it".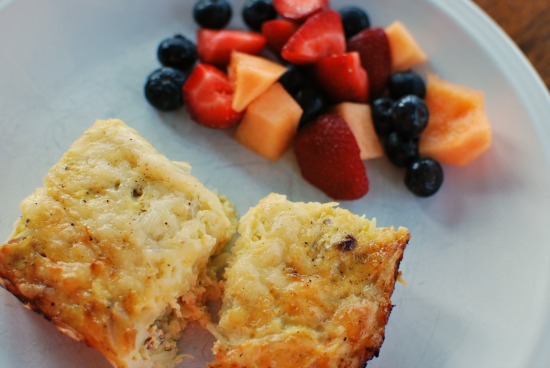 Hailey gave it a thumbs up and ate 2 pieces.  Jake thought it was OK and mostly picked out the bacon and ate his fruit.  I was afraid it was going to be really rich and too heavy for me, but surprisingly the squash kept it pretty light.  I would definitely make this again.
Bacon Swiss Egg Casserole
Adapted from this recipe
Ingredients
2 cups cooked spaghetti squash
8 oz. uncured, nitrate free bacon – cut into 1/2″ pieces
1 yellow onion, chopped
5 eggs
4 oz. Swiss cheese, shredded (Gruyere would be fabulous here but it was a little pricey at our store)
1 tsp salt (sea salt or kosher)
fresh ground black pepper to taste
Directions
To cook the spaghetti squash, carefully slice squash in half.  Scoop seeds out with a spoon.  Place squash face down on a rimmed baking sheet lined with parchment paper.  Bake at 400 degrees for 40-50 minutes, depending on the size of the squash.  The squash should shred into spaghetti-like strands easily and be tender but not mushy.  This can be done up to 24 hours in advance.
Preheat oven to 350 degrees.  Grease and 8 X 8 baking dish with olive oil or butter.
Heat a large skillet to medium heat and saute the chopped bacon pieces for about 5 minutes.  Add in chopped onion and cook bacon and onion together until onion is tender and bacon is crispy, about 10 minutes.
Remove the bacon and onion to a mixing bowl and add in eggs, spaghetti squash, 1/2 of the cheese, salt and pepper.
Transfer mixture to greased baking dish and top with remaining shredded cheese.
Bake for 35-40 minutes until center is firm and top is golden brown.  Allow dish to set for 10 minutes before cutting and serving.
One Response to Catching Up – WIAW #14 and a Sunday Brunch Recipe