Now that my rage against the cereal is over, I can move on to some awesome breakfast ideas for you!!
This morning, we had a late start at school, so I had some extra time to make breakfast for the kids. One of our main staples for breakfast in our house (for the kids) is homemade whole grain waffles. I usually make a big double batch of them on Saturday or Sunday, and then freeze them. Then, on crazy school mornings, we can just pull out a couple of them and throw them in the toaster and we're good to go!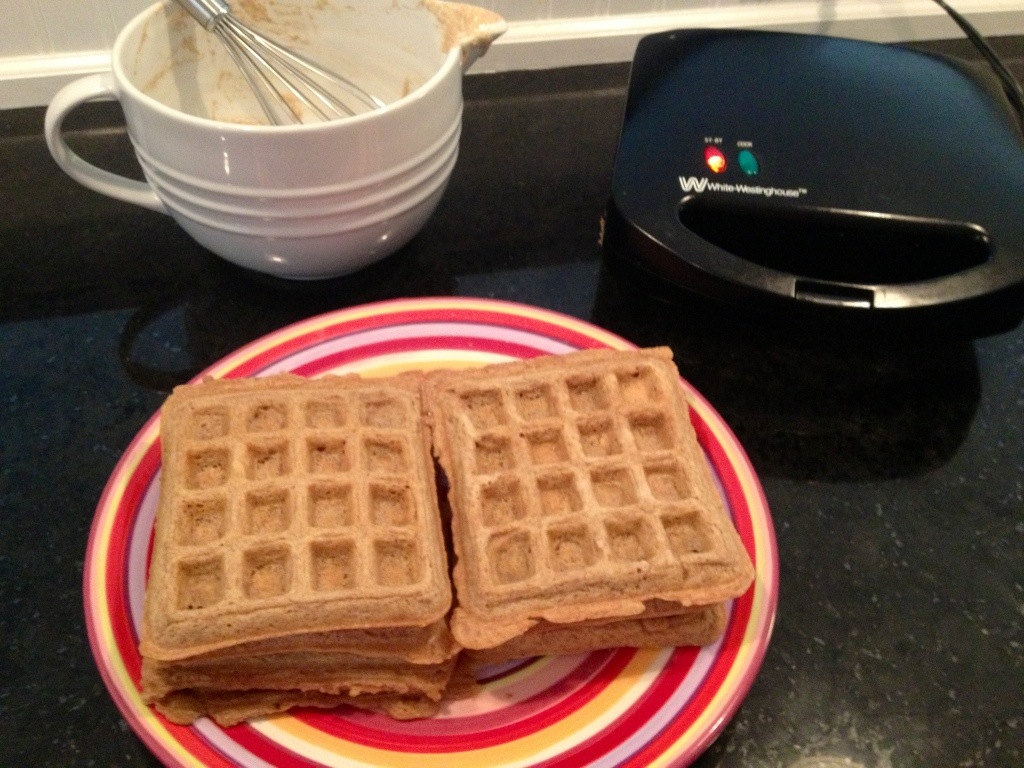 You can serve them up plain with a little fruit and syrup.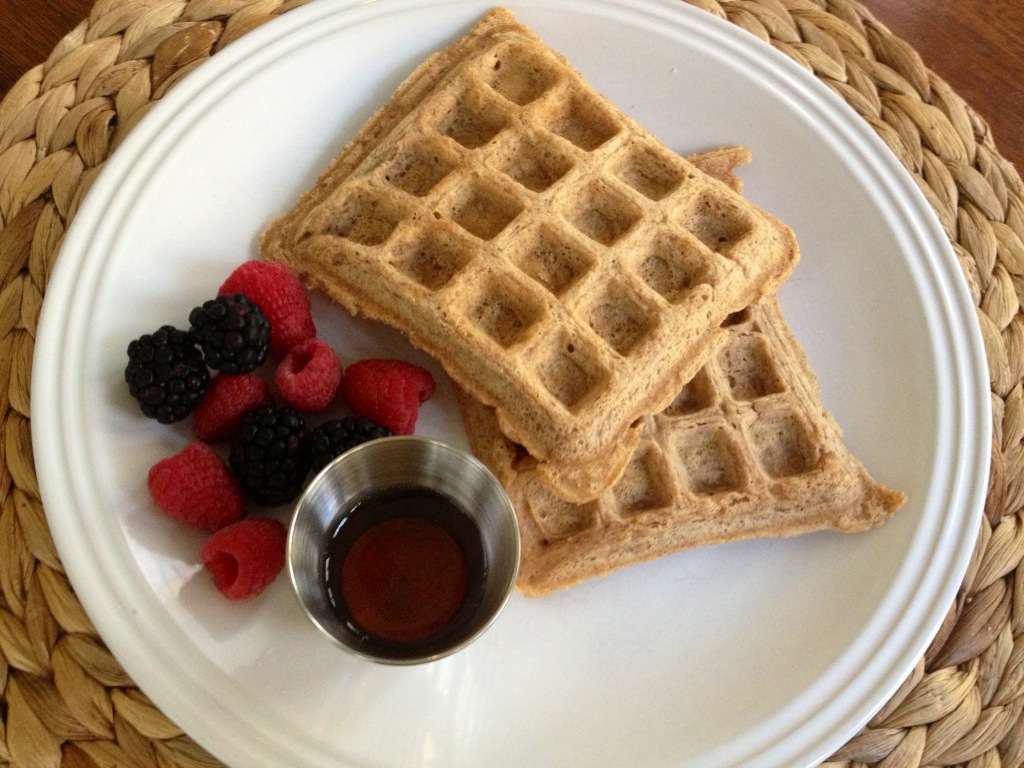 Or, for something a little different, we sometimes cut them into strips and make "waffle dippers" with sides of yogurt and berry sauce to dip them in. The sauces are plain Greek yogurt with a little maple syrup stirred in and defrosted berries pureed in the blender with a splash of maple syrup.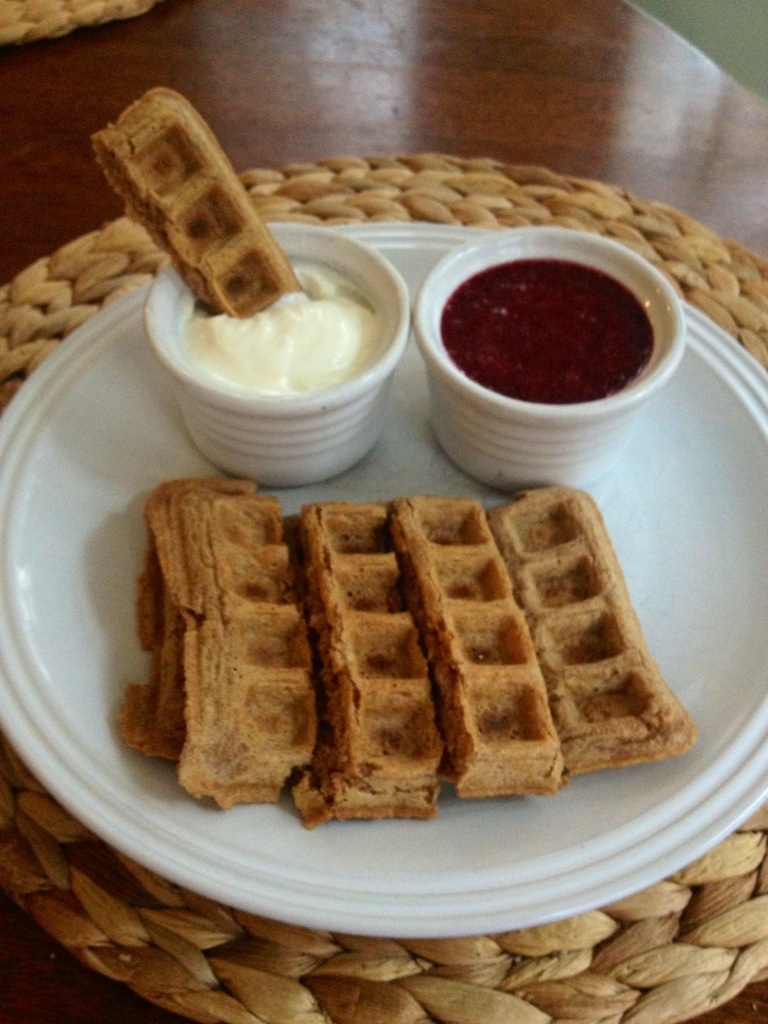 They are also good slathered with all-natural peanut butter and sliced bananas.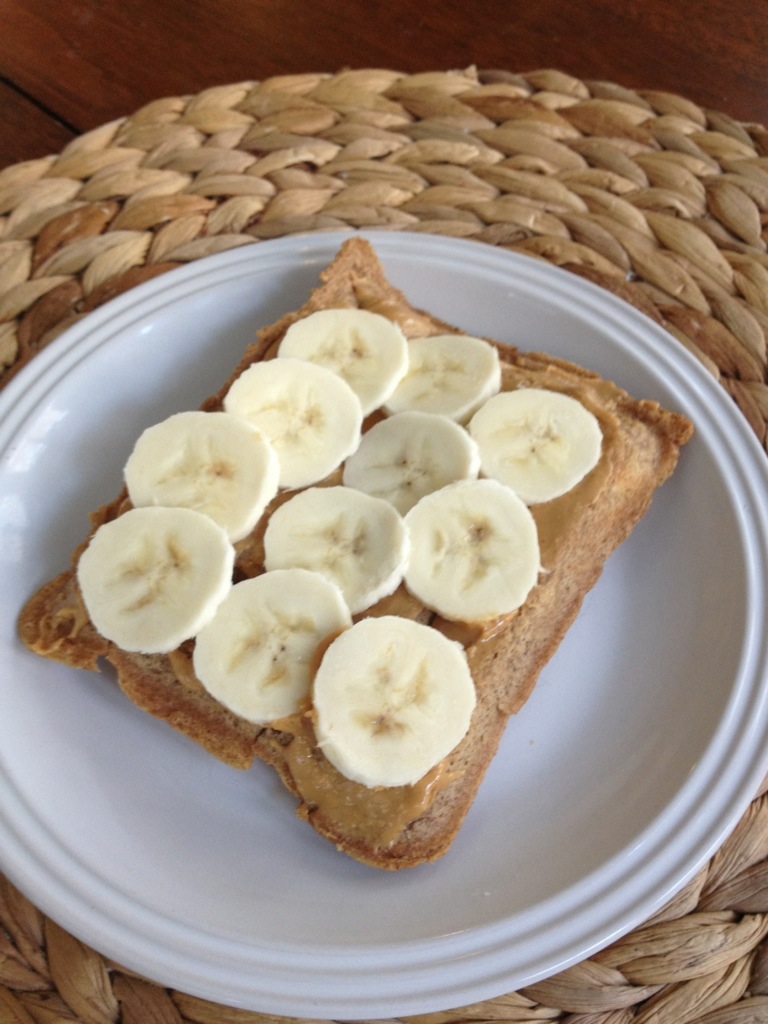 Or turned into little breakfast sandwiches with cream cheese and strawberry jam, pumpkin butter, or sliced berries.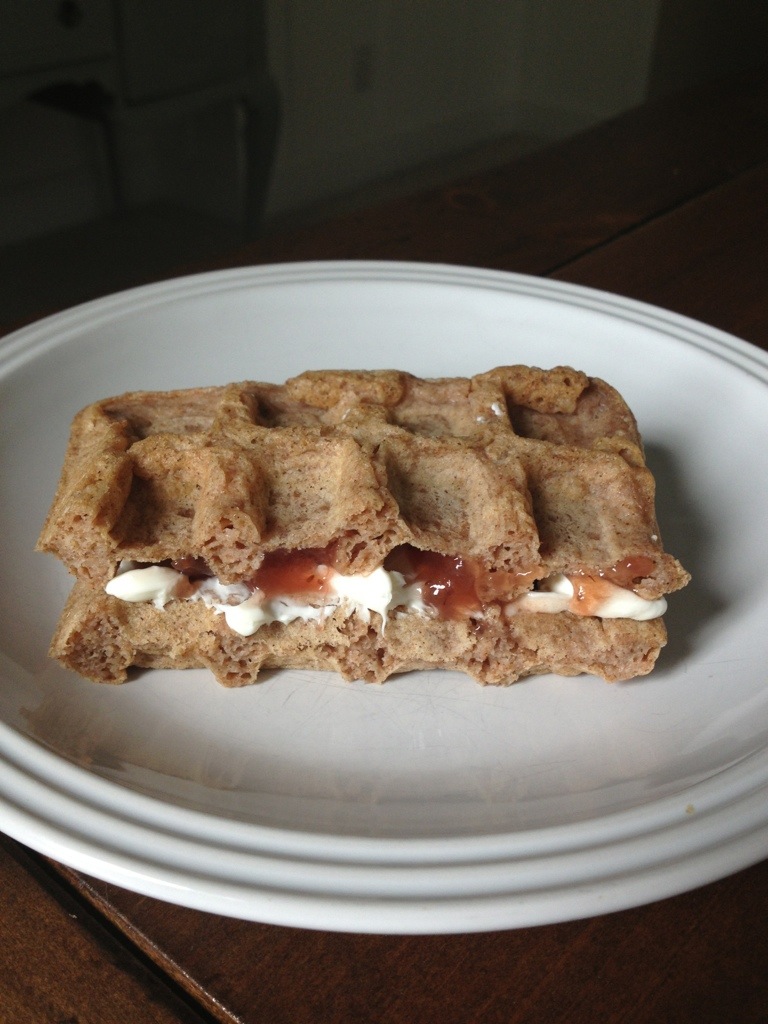 For a really special treat, I throw a few mini chocolate chips into the batter (I prefer the clean ingredient soy-free, dairy-free mini chips by Enjoy Life).  Or mash up a banana and throw that into the batter to make banana waffles….or banana chocolate chip waffles!  You get the idea!
The options are endless and it's a pretty quick and easy breakfast once the waffles are pre-made.
Warning….nutrition nerdiness ahead…
As a side note, I have started making these waffles, as well as a lot of my other recipes, with whole grain spelt flour. I recently learned about spelt flour while studying pH and the acid-alkaline balance in our bodies. Our bodies strive to maintain a certain pH level, which is slightly alkaline. The problem is that most of the foods in the Standard American Diet cause our blood to be more acidic (think white flour, dairy, corn, sugar, meat, soda, table salt, processed foods, etc). Our bodies wage a daily war to maintain this balance and get rid of the toxins – through the lymphatic system, by filtering excess acid out through the kidneys or withdrawing calcium from our bones to neutralize the acidity. Most of the chronic diseases that run rampant in our society right now are the result of having acidic blood (this includes allergies, Alzheimers, arthritis, cancer, cardiovascular disease, chronic fatigue, depression, fibromyalgia, high blood pressure, high cholesterol, hormone imbalances, obesity, osteoporosis, and premature aging to name a few). By eating more alkaline foods, we can keep our tissues and organs healthy and help prevent disease.
Spelt is an ancient grain. It is part of the wheat family (so NOT gluten-free). However, spelt is substantially higher in nutritional value than whole wheat. And unlike wheat, it is not acid-forming. It has a naturally sweet taste so it is perfect for making bread, muffins, or waffles. I buy this in bulk at our health food store and it runs about $2.00/lb. I store it in the freezer for maximum freshness and substitute it one-for-one in cooking and baking. Give it a try!!!!
Whole Grain Waffles
Adapted from the King Arthur recipe here
Ingredients
1 1/2 cups whole grain flour (whole wheat or spelt)
2 tsp. baking powder
1/4 tsp. salt
1 egg
1 1/2 cups milk (regular or non-dairy)
1/4 cup melted coconut oil or grass-fed butter (supposedly the waffles crisp up more on the outside using butter)
Extra coconut oil or butter for brusing on the waffle iron
Toppings of choice
Optional – 1 tsp. ground cinnamon or 1 tsp vanilla extract to add extra flavor
Optional – 1-2 T. maple syrup or honey to make waffles sweeter (I personally don't think they need it with the toppings)
Optional – 1 T. orange juice or lemon juice added to the milk will help neutralize the strong whole grain flavor for those who may not be used to whole grain baked goods
Directions
Preheat waffle iron.
In a large mixing bowl, combine all of your dry ingredients – flour, baking powder, salt (and cinnamon if using).  In a separate bowl, add all liquid ingredients – milk (and orange or lemon juice if using), egg, melted butter/oil, and vanilla extract.  Mix wet and dry ingredients together, stirring them just until they are combined (there will be a few lumps).
Cook waffles according to the instructions that came with your waffle iron.  For me, I brush the waffle iron with melted butter or coconut oil and pour in some of the batter and simply leave it to cook until the light goes off.  Each waffle takes 2-3 minutes and the recipe yields 8-9 waffles in my waffle iron.