Is it too late in the Fall for apple posts?? I hope not!!
We have been going to pick apples at the same orchard in Southwest Michigan for the last 7 or 8 years.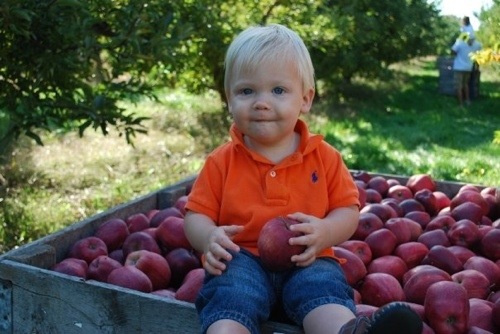 This year, we lucked out with a gorgeous Fall day….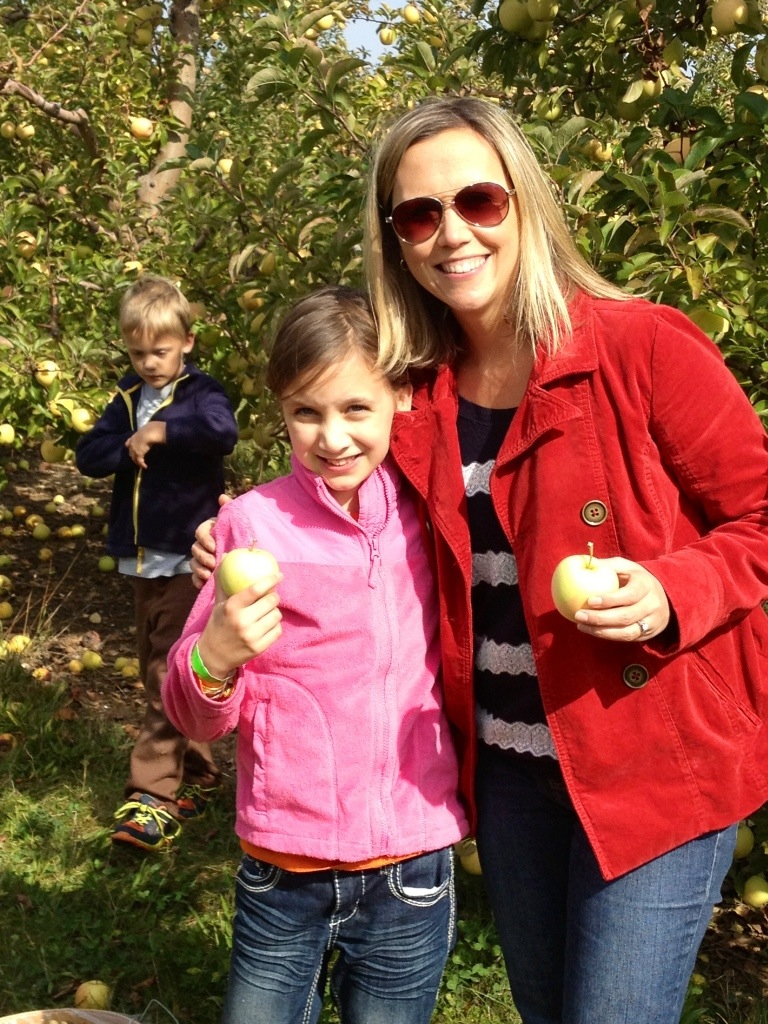 We were able to pick golden delicious and granny smith apples, but the golden delicious have by far been our favorite!!!
The very first thing that I made with our apples was crockpot applesauce. This hardly needs a recipe – it was about 10-12 apples, peeled and chopped with a couple of teaspoons of cinnamon, slow cooked on low for a few hours. I left it pretty chunky and served it for dinner with pork tenderloin and sweet potatoes and it was devoured before I could even take a picture!
Then, I decided to make some muffins with it. I have mentioned the grain-free raspberry muffins that I have been making lately. I love the nutritional profile of them, but wanted something more seasonal and thought apples and cinnamon would be a great addition.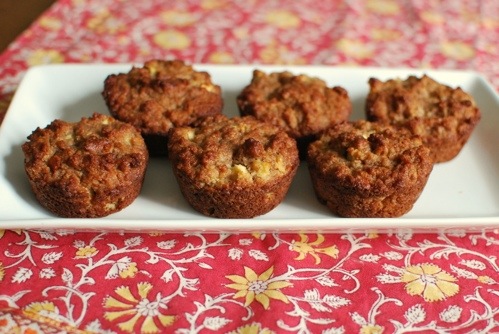 Personally, I don't mind eating these cold when I'm on the go, but they are amazing sliced and toasted or warmed up a bit. I even crumbled one into my Greek yogurt the other day for breakfast and it was SO good.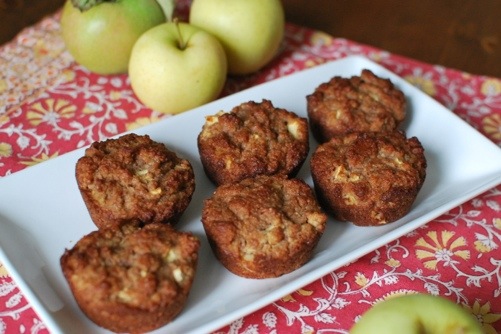 If you are experimenting with some of the grain-free flours or gluten-free recipes, I highly recommend giving these muffins a try!
Cinnamon Apple Muffins (gluten-free, dairy-free, paleo-friendly, no refined sugar)
Ingredients
2 c. almond meal/almond flour (you can make this by grinding blanched almonds in your blender until flour consistency)
3 T. coconut flour
1/2 tsp baking soda
1/2 tsp baking powder
1/2 tsp salt
1 heaping tsp cinnamon
3 eggs
1/3 c. pure maple syrup
1/4 c. melted coconut oil
1/4 c. unsweetened applesauce (I used the tiny bit of leftover homemade applesauce that we had)
1 1/2 tsp. vanilla extract
1-2 apples, peeled, cored, and diced into small pieces
Directions
Preheat oven to 350 degrees. Lightly grease a muffin pan with melted coconut oil or butter. Mix dry ingredients together in a bowl. Mix liquid ingredients in a separate bowl. Combine wet and dry and fold in chopped apples. Fill muffin pan 2/3 full and bake 22-25 minutes, until a toothpick comes out clean.