Monthly Archives:
July 2013
Welcome to another What I Ate Wednesday, the one day during the week where I post everything that I ate for the whole day!
Ever since seeing some cute little baby bok choy at the Farmers Market last week, I have been wanting to give them a try. I know the logical thing would be adding them to a stir fry, but this Mango Dream Bok Choy Smoothie on Pinterest had my name all over it!!!
Into the blender went 2 heads of baby bok choy (bulb ends removed), 1 whole mango (peeled and diced), 1/2 of a ripe banana, a few chunks of frozen pineapple, 1 tsp of coconut oil, 1 and 1/2 cups water, and a handful of ice cubes. If you are not using a high powered blender, you'll want to blend the greens and water first, and then add in the fruit and ice in order to get a nice smooth blended drink. If its not sweet enough for your taste, you can add more banana. There is definitely a bit of an earthy green flavor to this drink, but I LOVED it!!!!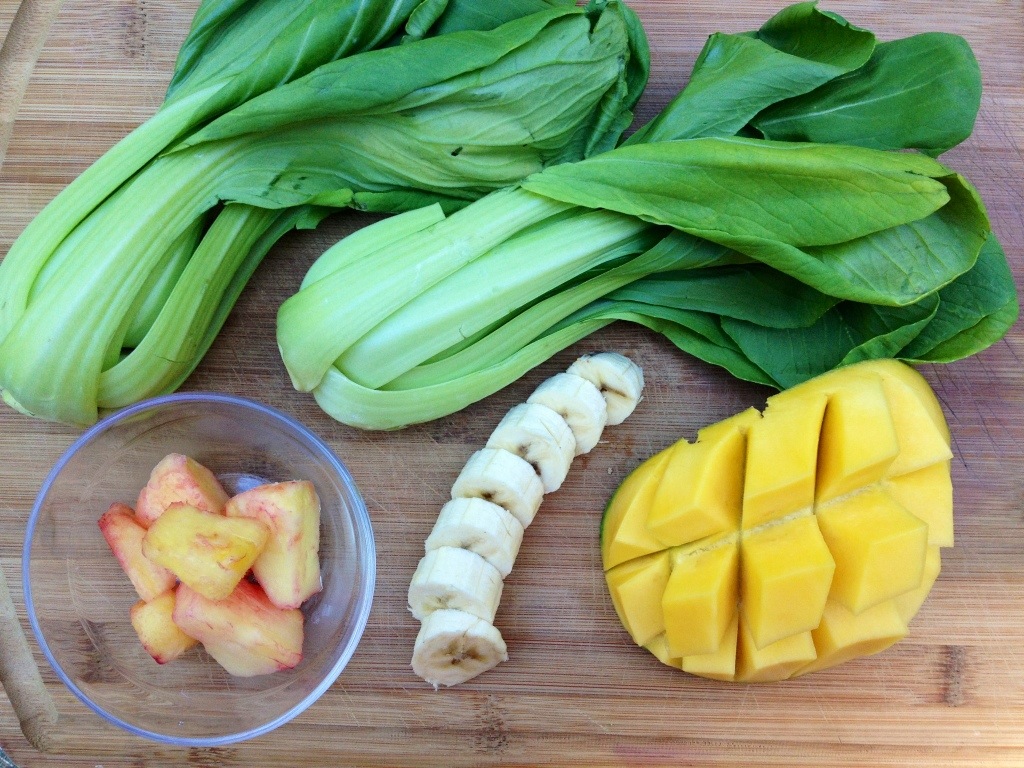 Before heading out for the day, we snacked on these little blueberry baked oatmeal "muffins". I like them because its like a little bowl of oatmeal you can eat on the go, but unfortunately they didn't go over too well with the kids….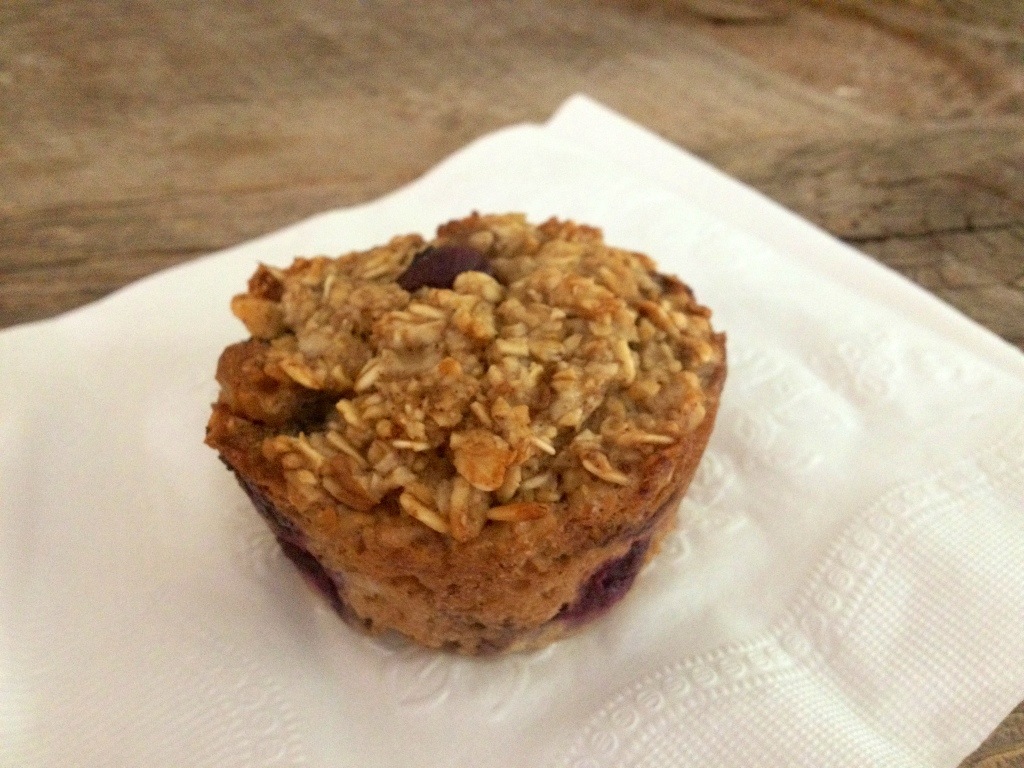 After a fun day downtown at the Coast Guard Festival, we came home STARVING!
Food Should Taste Good chips to snack on while making lunch…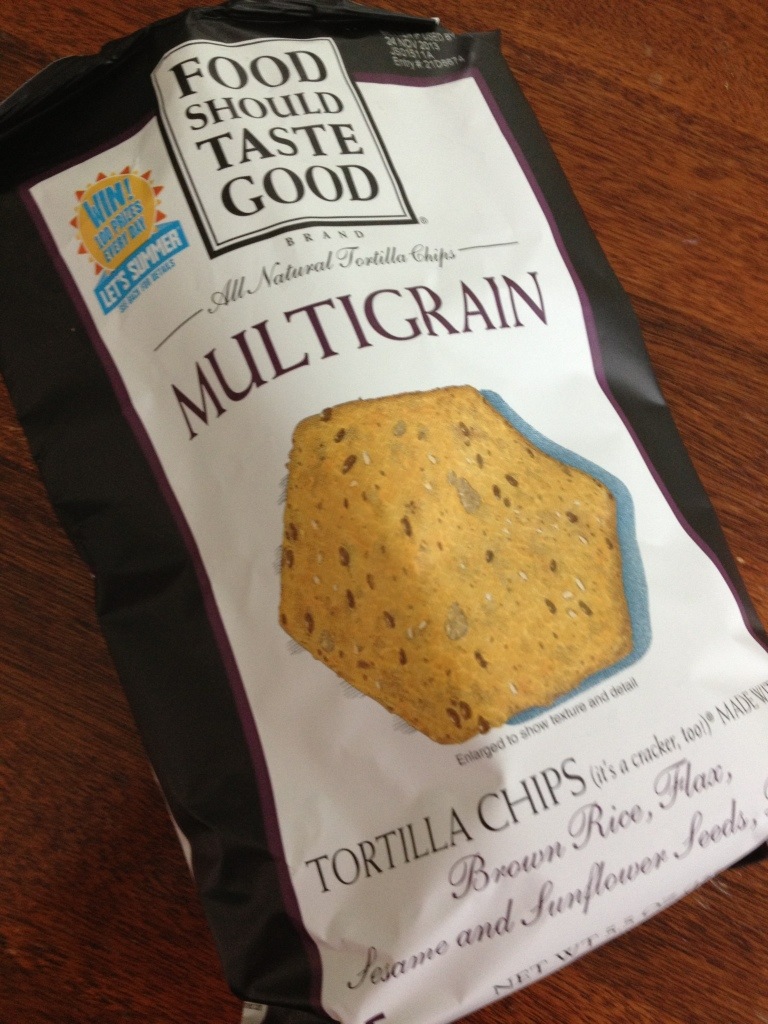 I reheated some of the Lemon Butter Cauliflower Soup from yesterday and also made a Greek salad for lunch. I am so in love with this soup!!!!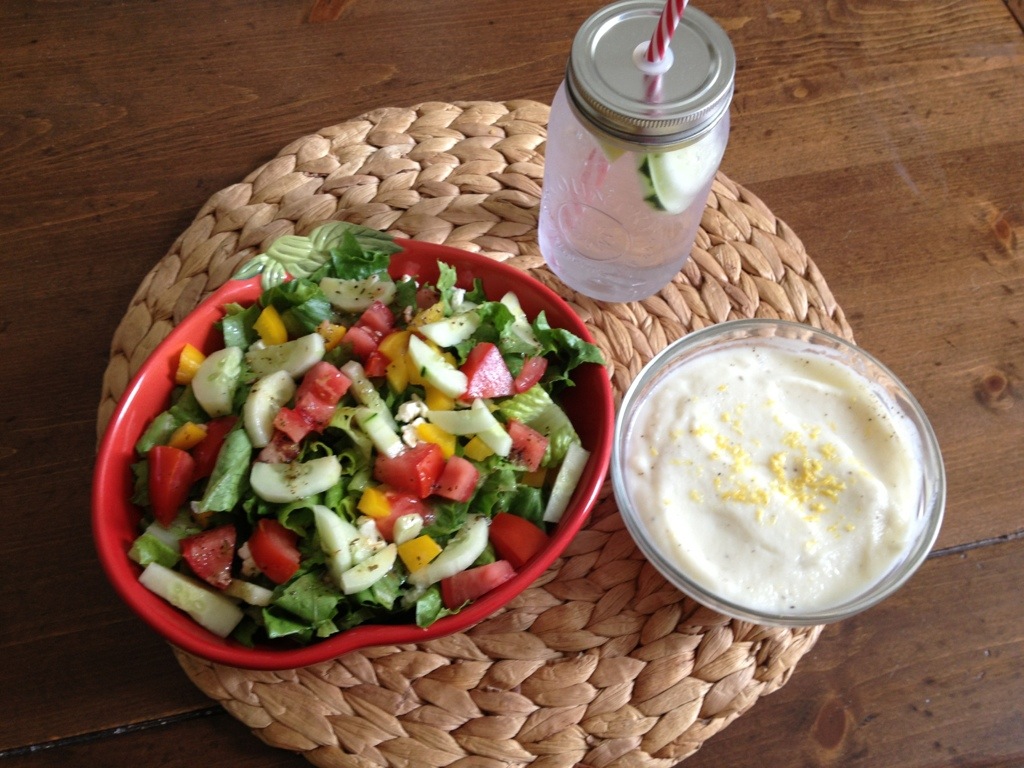 For dinner, we made use of the ever-abundant summer zucchini and made these Italian Stuffed Zucchinis on the grill. If you follow me on Instagram, you may have seen a sneak peek. They tasted every bit as good as they looked!! I will post the complete recipe tomorrow!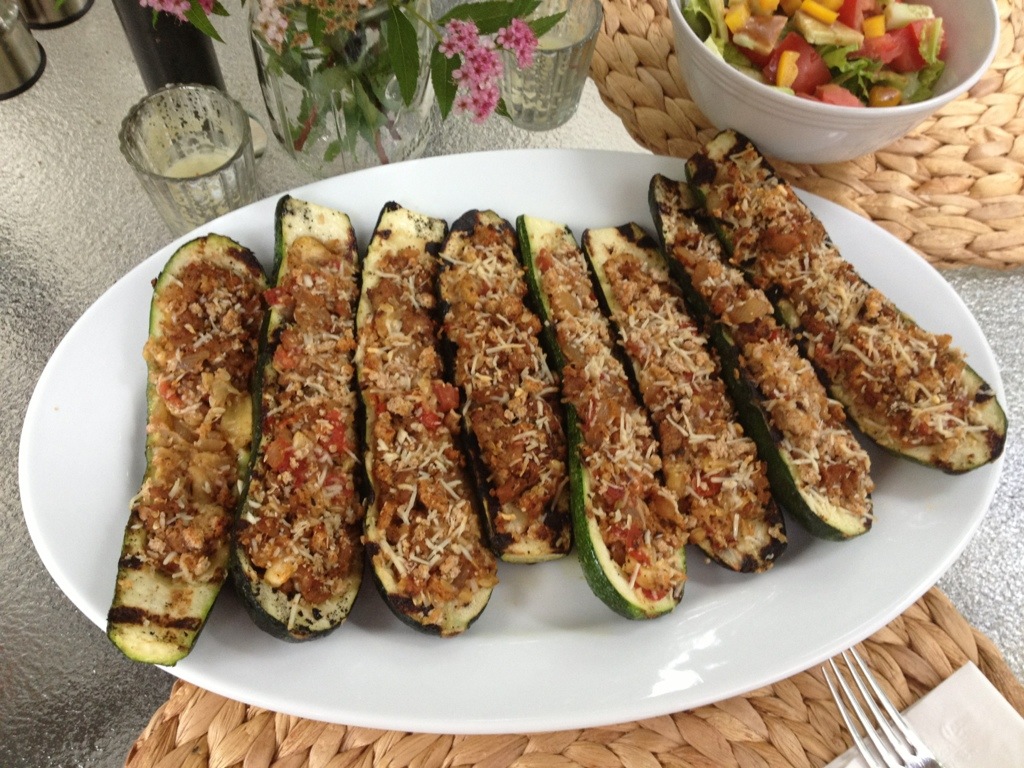 We served them with a simple salad topped with balsamic vinaigrette. Hailey loved the filling and had a few bites of the zucchini. Jake still has pretty simple taste so he preferred just the grilled sausage and a few bites of the zucchini. Plus they both ate their salad, so overall I consider the dinner a WIN!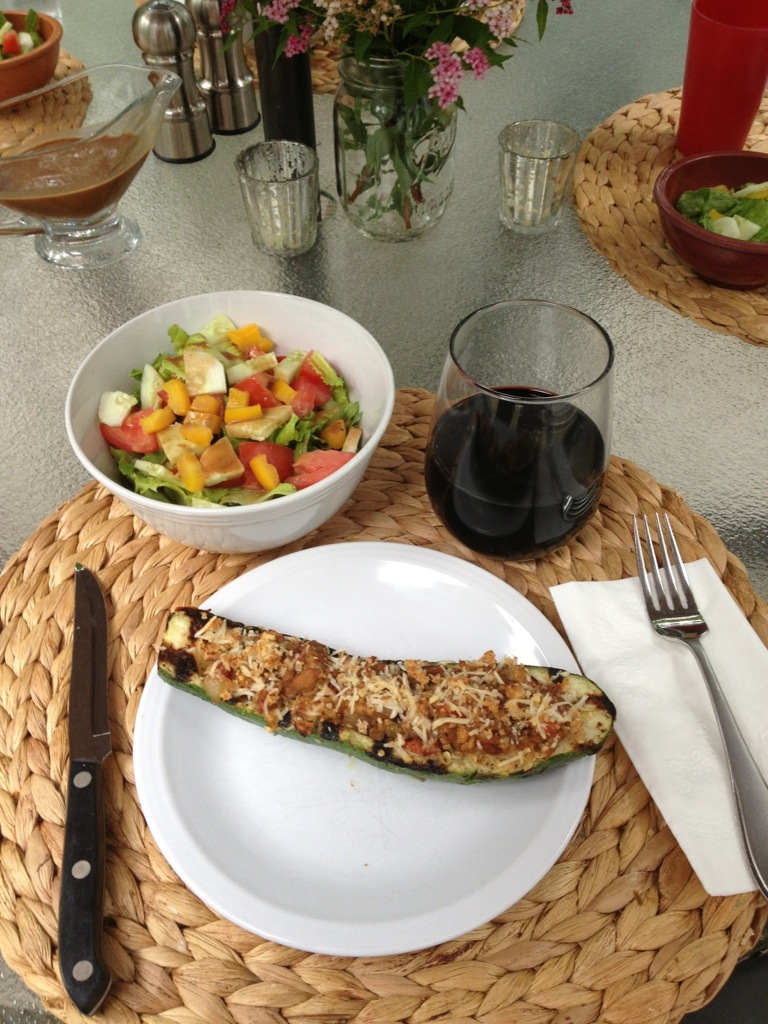 I had made these little frozen yogurt tarts last week and it seemed like the perfect night to enjoy them.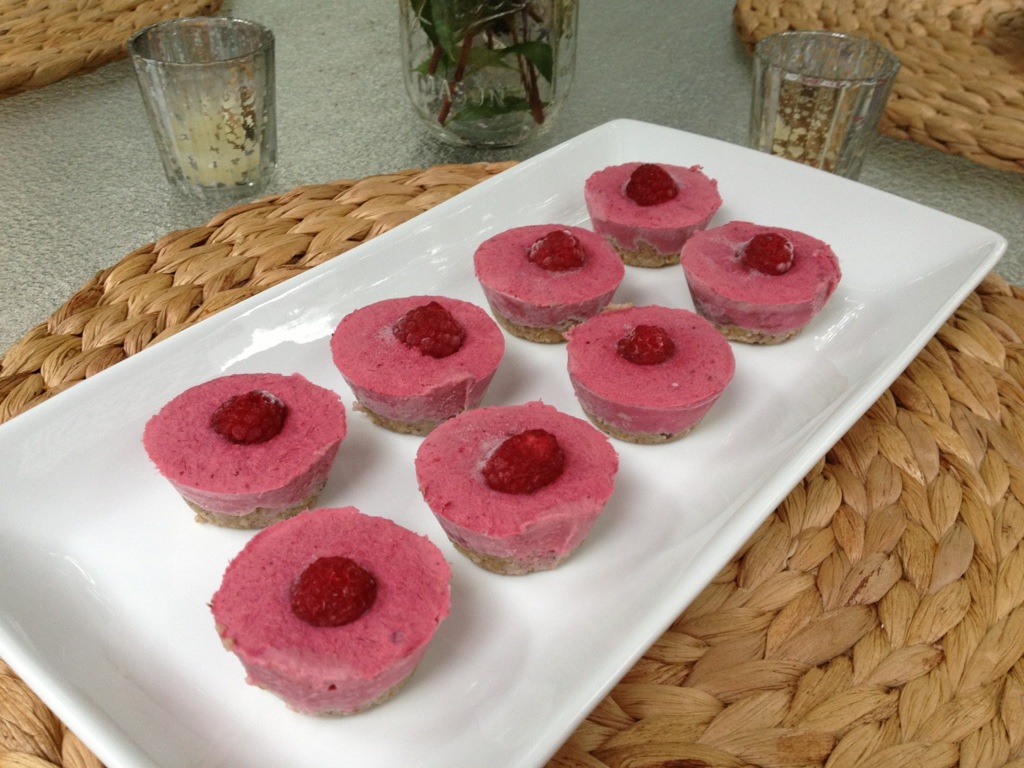 The crust was walnuts, shredded coconut, and a drizzle of honey in the food processor. I needed to do something with the raspberries that got smushed on the way home from the Farmers Market, so I threw them in the blender with some plain Greek yogurt and a little honey, then topped it all off with the few remaining whole berries, and froze them in a mini muffin pan. These need to sit out for 5-10 minutes to thaw a bit before eating them. The kids and I like them, but they definitely have that Greek yogurt taste and texture. I may try making these with the frozen fruit and banana "ice cream" for a little more of a traditional tasting dessert.
What summer meals have you been enjoying lately??
What is going on with this cool weather?!? Summer can come back anytime now!!!
Well, I guess its a good excuse to make some soup. This actually works quite well as a summer soup since cauliflower is in season and it comes together so quickly that you'll hardly have your stove on for more than 10 or 15 minutes tops!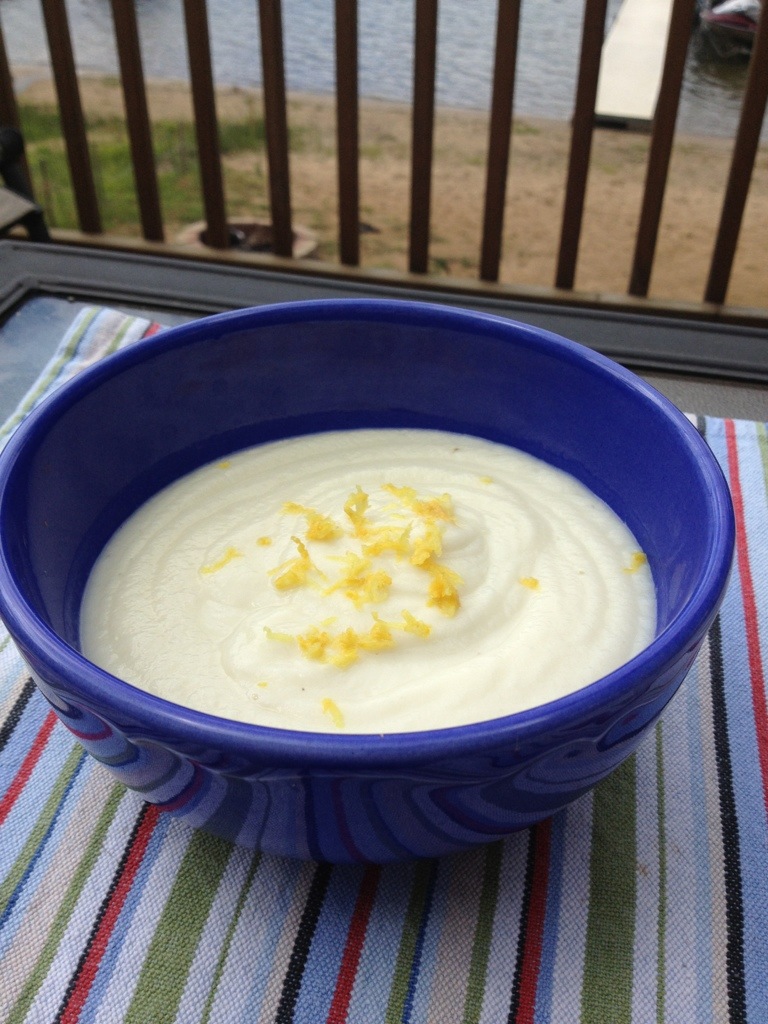 Jake has really been into cauliflower lately so I had picked up this reduced-price cauliflower at the grocery store last week. And, well, who can pass up produce for 50 cents!?!  It was a double score because lemons were on clearance too!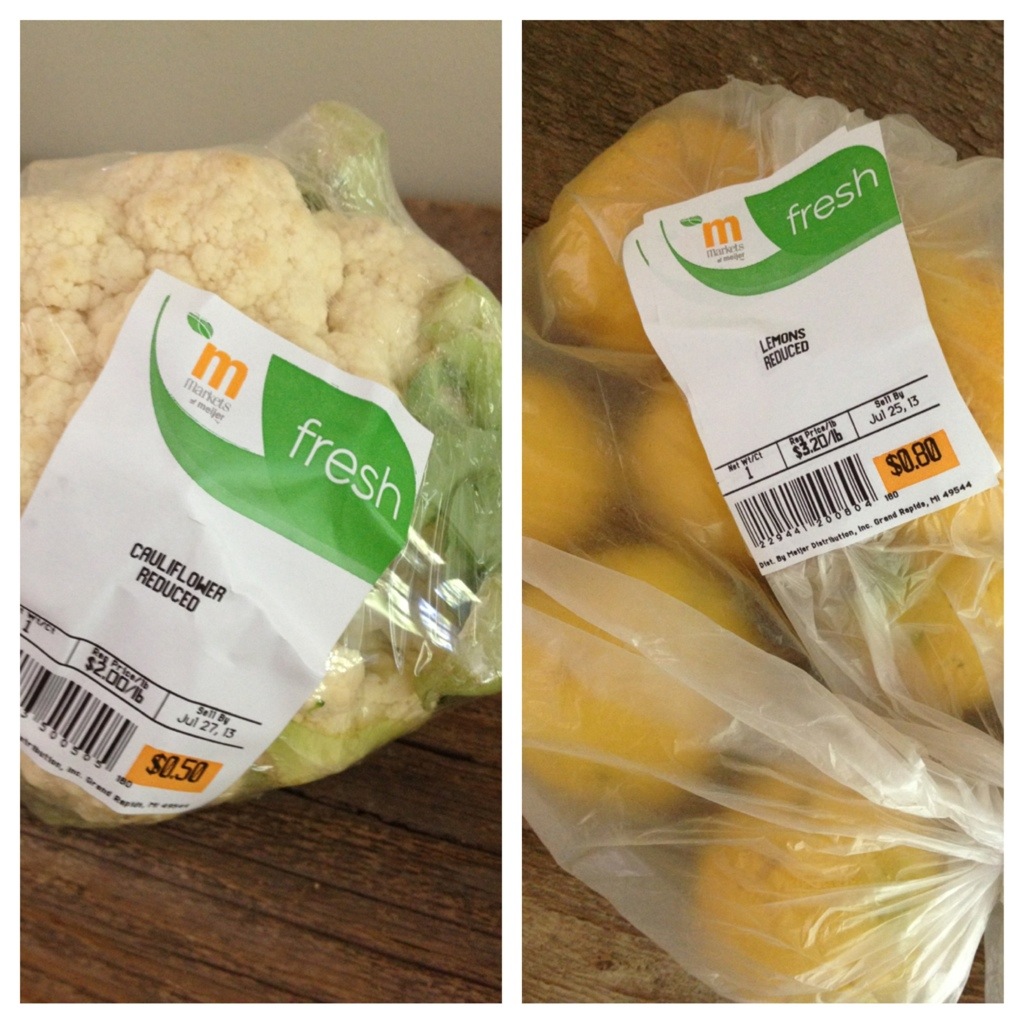 With these two ingredients, I knew I had to make this recipe that I had seen over at Kristens Raw.  As a side note, I love that she is including more high quality cooked ingredients into her recipes now!  This soup is seriously so easy that it can hardly even be considered a recipe!!!!
Lemon Butter Cauliflower Soup
Inspired by and adapted from here
Ingredients
2 heads of cauliflower, cut into florets and washed
2 T grass-fed butter*
Lemon, juice and zest
Sea salt and freshly ground black pepper
*See notes below for nutritional information on grass-fed butter.  I highly recommend Kerrygold grass-fed Irish butter, which is easily found at Trader Joes and other grocery stores for less than $3.
Directions
Add water to a large soup pot (or Dutch oven) until it is 2-3 inches high. Bring water to a boil.
Add cauliflower florets to boiling water (water does not need to cover all of the cauliflower). Cover with a lid and steam for about 10 minutes or so, until it is tender enough to easily be pierced by a fork.
While cauliflower is cooking, zest the lemon and set aside. Then slice lemon in half and squeeze juice into a small bowl removing any seeds.
Scoop half of the cooked cauliflower into a blender and add 1 T of the butter and 2tsp of the lemon juice. Blend until smooth, adding some of the water from the pot as necessary to thin the soup.
Add remaining cauliflower, 1 T of butter, and 2 tsp of lemon juice and blend until smooth.
The entire amount fit nicely into my standard blender, but you can blend the soup in batches if necessary.
Season soup with about 1/2 tsp of sea salt and freshly ground pepper. Top individual bowls with additional pepper and lemon zest to serve.
Of course it always helps when you enjoy your soup outside with a beautiful view like this!
The Happy Family loves this Healthy Plate because:
Antioxidants – cauliflower contains a ton of vitamin C and manganese, as well as carotenoids. These little florets pack a punch in fighting free-radicals!
Vitamin K and Omega-3 Fatty Acids – both of these help to reduce inflammation in the body.  Cauliflower contains omega-3 fatty acids, the same healthy fats found in salmon and flax seeds, but with the added bonus of practically no calories!
Fiber – Each serving of cauliflower contains 3 grams of fiber, helping to cleanse the digestive tract.
Loads of B Vitamins – Cauliflower contains an array of B vitamins: 1, 2, 3, 5, 6, and 9 to be exact. That includes folic acid, so if you are pregnant or planning to become pregnant, be sure to add this vegetable to your weekly consumption.
Grass-fed butter – this deeply colored, vitamin-rich version of butter is a source of healthy saturated fats and is naturally high in Conjugated Linolenic Acids (CLA), which has been linked to heart health and better body fat composition.  Grass-fed butter is also high in Vitamin K2 which appears to reduce, prevent, or even counteract arterial plaque, and it helps the  body use calcium correctly and effectively.
Lemon zest – Lemon peels consists of components known as salvestrol Q40 and limonene, which are known to fight against cancerous cells in the body. Also, the flavonoids present in the peel are effective in curbing the division of cancerous cells.
We have been making this Avocado Chicken Salad a lot this summer. I have even served it while entertaining, and everyone seems to really like it!
This is hardly a recipe – use what you have on hand and tweak it to your liking!! Mine tastes a little different every time! It's also a great way to use up any leftover grilled, roasted, or rotisserie chicken.
Clean-Eating Avocado Chicken Salad Wraps
Ingredients
About 2 chicken breasts, grilled, cooled, and chopped or shredded
1 small or 1/2 large avocado
1-2 T plain Greek yogurt
Salt, pepper, and dried tarragon (optional)
1/2 cup chopped red grapes
1/4 cup chopped walnuts
1/4 cup celery, diced small
1/4 cup red onion, diced small
Ezekiel sprouted grain, lettuce leaves, or whole wheat pita for serving
Directions
If you don't have leftover chicken to start with, you'll need to season 2 small chicken breasts with salt, pepper and garlic powder and bake or grill until done. Cool and chop or shred the chicken.
In a medium bowl, mash up 1 small or 1/2 of a large avocado. Add in 1-2 Tablespoons of plain Greek yogurt and mix well. Season with sea salt, fresh ground pepper and a sprinkle of dried tarragon if you have it.
Add in chopped grapes, celery, walnuts, and red onion.
Mix in chopped chicken and combine all ingredients. Taste and adjust ingredients as necessary.
Serve in lettuce wraps, in whole wheat pita pockets, or open face on toasted Ezekiel sprouted grain bread. Enjoy with a side of fresh fruit for a great summer lunch!!!!!
The Happy Family loves this Healthy Plate because:
avocado – full of heart-healthy fats that are anti-inflammatory and help the body to absorb fat-soluble nutrients. Avocados are high in potassium which helps reduce blood pressure, folate for healthy fetal development, and lutein for eye health.
red grapes – contain flavanoids which can help slow the build up of plaque build up in the arteries leading to heart disease. Red grapes are also full of antioxidants that prevent damage to your body from harmful free radicals. The skins of red grapes contain resveratrol, which helps to lower your blood cholesterol level.
walnuts – packed with Omega-3 fatty acids which are beneficial for reducing depression, ADHD, cancer and Alzheimers, and can also counter inflammatory diseases such as rheumatoid arthritis and Crohns disease. Walnuts also contain antioxidants for heart health and reducing the risk of certain cancers.
I can't believe summer is half over!! We have been busy doing all of the kids' favorite summer things – bike rides, going to the beach, letterboxing, playing with cousins, picking blueberries, trips to the cottage, paddleboarding, sleepovers, and going to fun day camps. So much more still to pack into these next few weeks!!
I started off this morning with one of the most awesome smoothies I have made in a long time.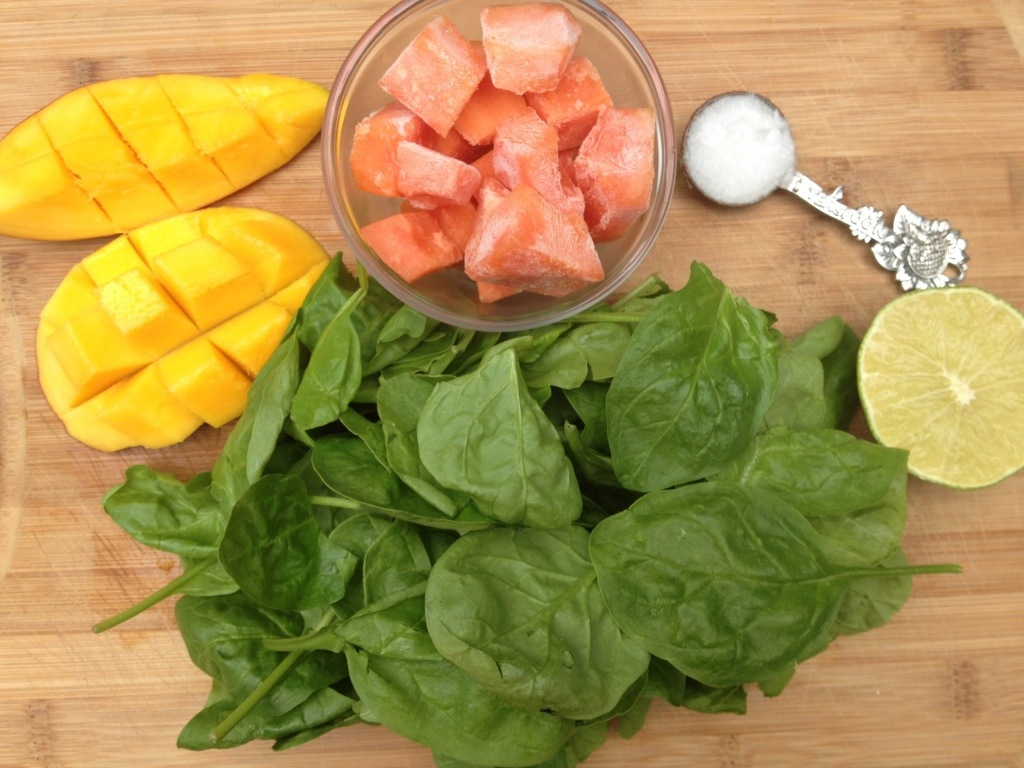 About 2 cups of spinach, 1/2 cup frozen papaya chunks, 1/2 of a mango, 1 teaspoon of coconut oil, and a squeeze of lime. YUM! If you are attempting your first green smoothie, try this one for sure!!
Be sure to blend the greens with about a cup of water first to get them fully blended. Then, add in the fresh and frozen fruit and blend again, adding enough water to get to your desired consistency.
For lunch, I had some leftover southwestern quinoa salad that I took to a family get together over the weekend. It was just a little variation from the recipe I've posted on here before. It was cooked and cooled quinoa mixed with black beans, fresh corn from the cob, red onion, yellow pepper, tomato, avocado, and fresh cilantro tossed in a simple vinaigrette of fresh squeezed lime juice, olive oil, sea salt, ground cumin and chili powder. I also had a little extra tomato and avocado on the side.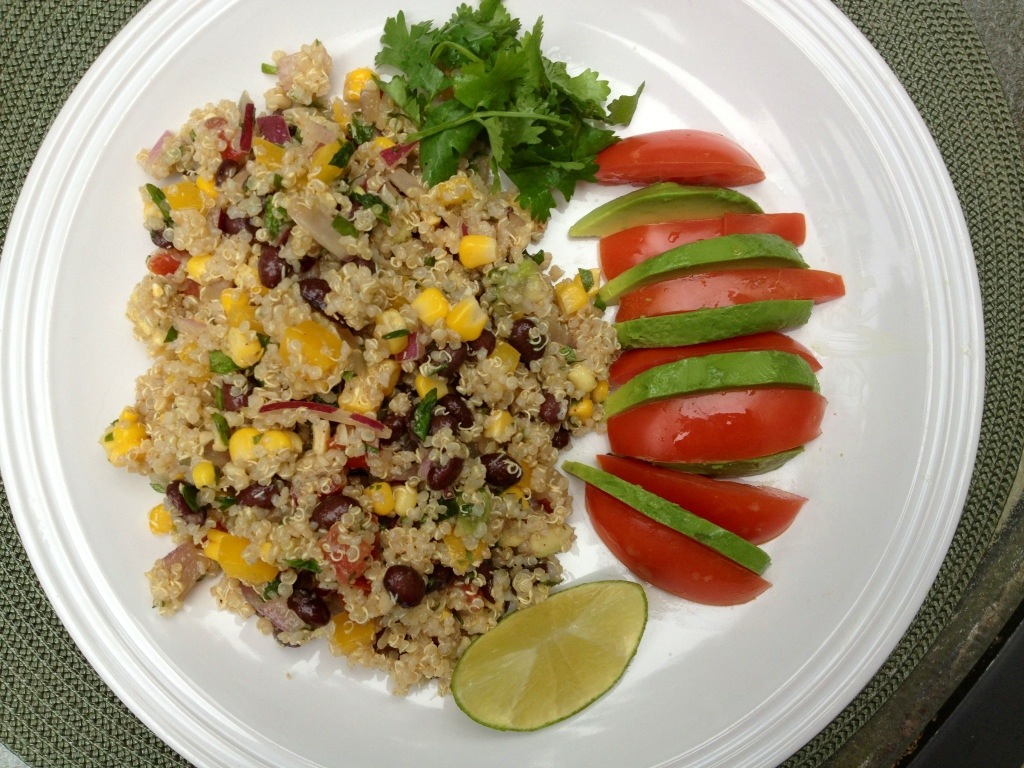 After lunch, the kids and I biked a couple miles down to one of our favorite parks.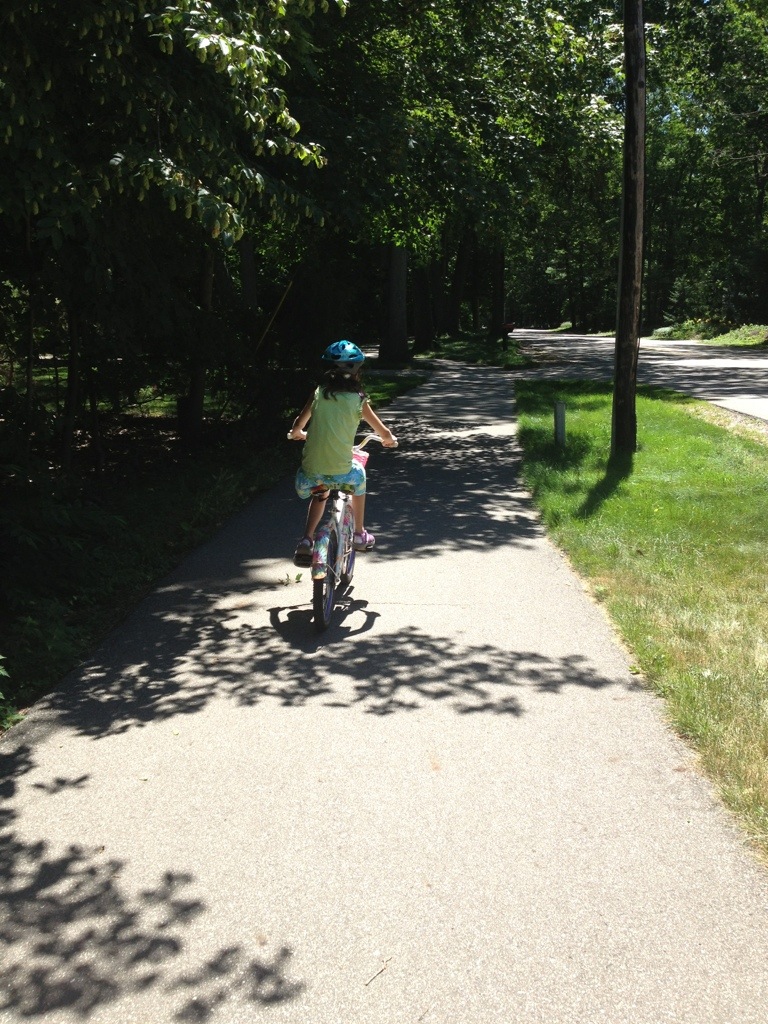 We hiked up the 104 steps to see this view. The waves in Lake Michigan were crazy today!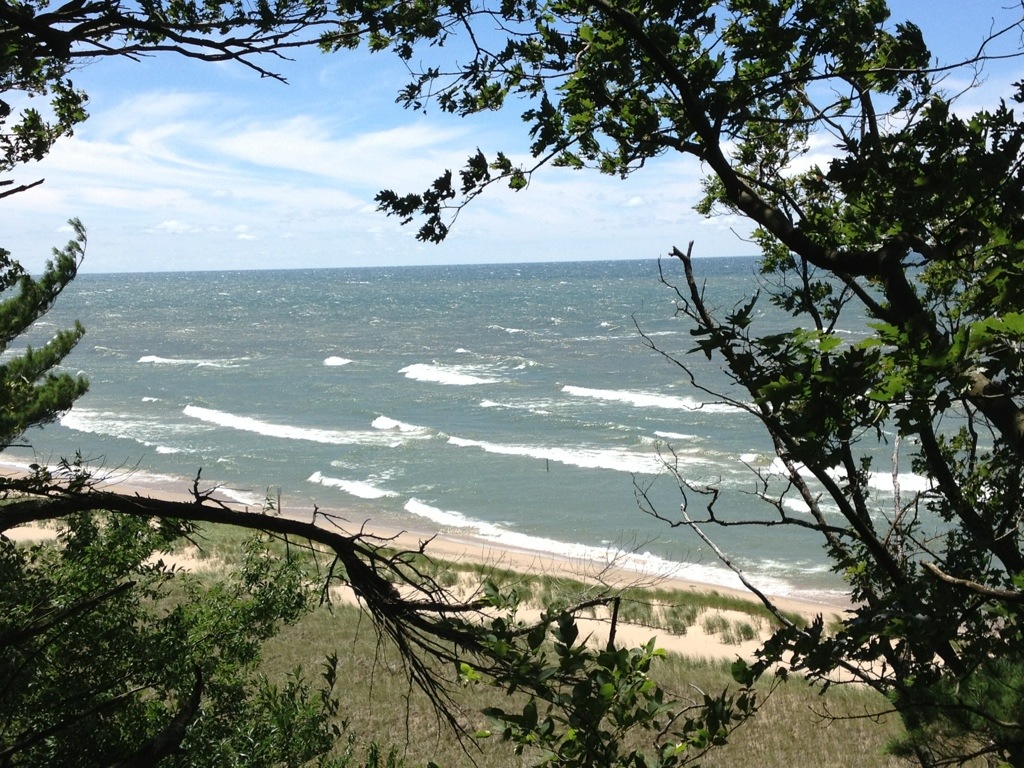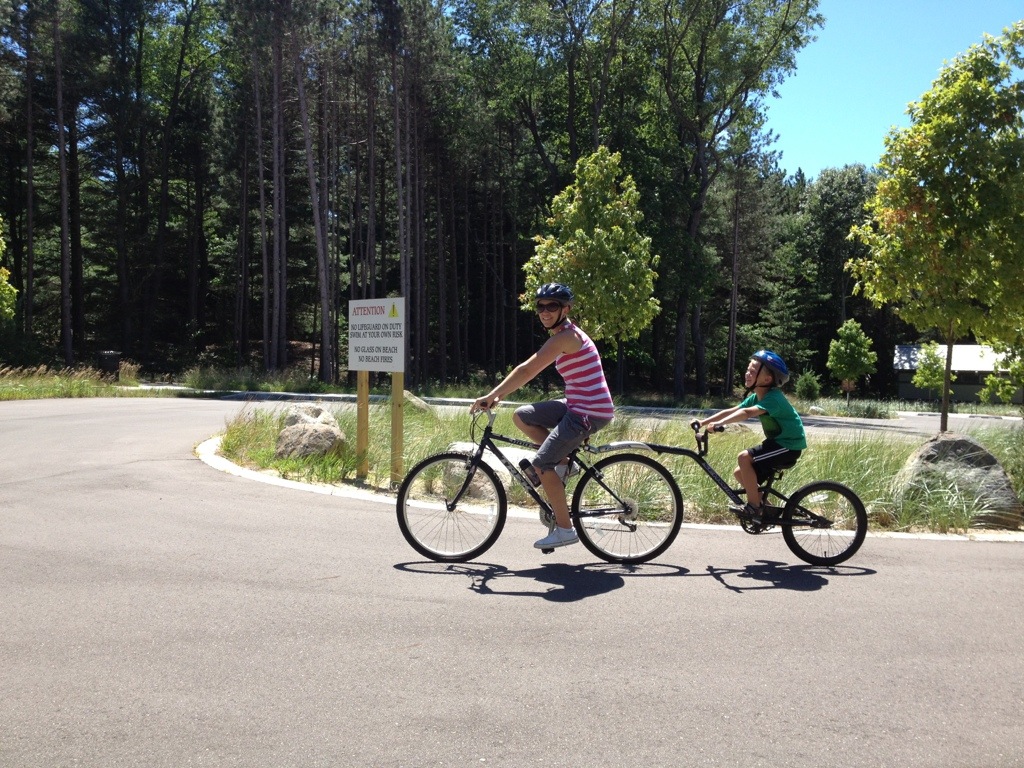 We were all starving when we got back two hours later so we snacked on the Blueberry Lemon Oatmeal Squares from yesterday. We may have each had two of them! Hiking and biking makes us hungry!!!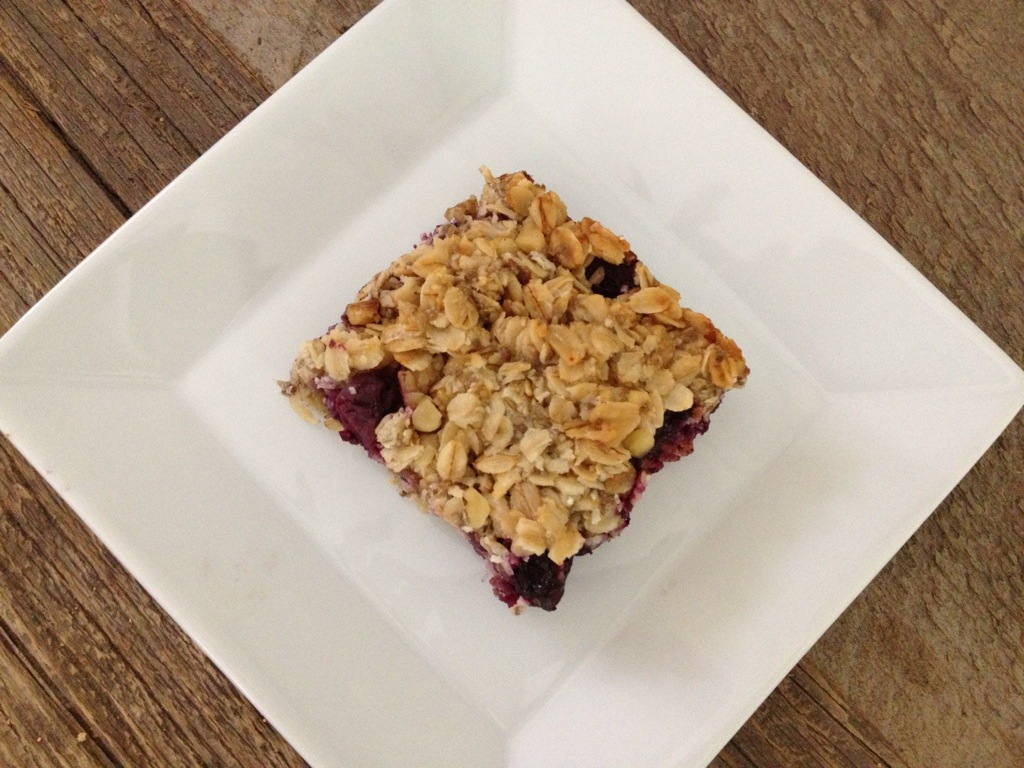 For dinner, Jake requested the Lasagna Roll Ups that he made in his Gourmet Cooking Camp a couple weeks ago. They were so quick and easy and the kids gobbled them up! New family favorite here!!!!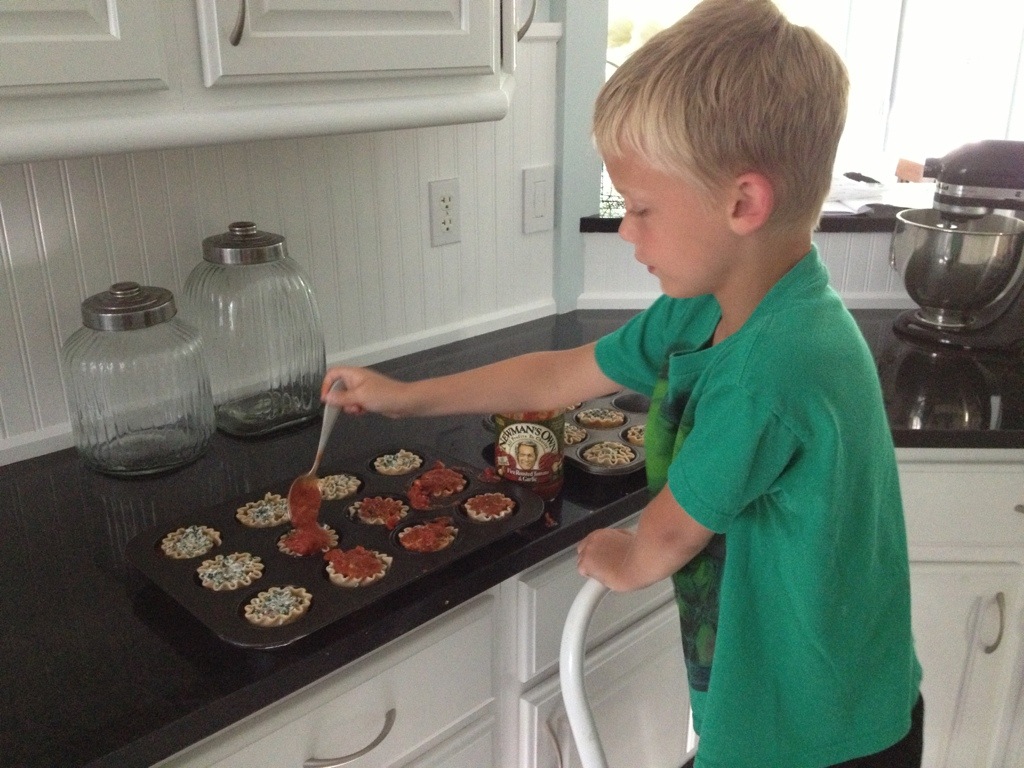 Lasagna Roll Ups
Ingredients
9 whole wheat lasagna noodles
1 lb organic, grass fed ground sirloin (optional)
1 box frozen chopped spinach, defrosted and excess water squeezed out
1 container part skim ricotta cheese
1 jar pasta sauce (we like the Newmans Own fire roasted tomato)
1-2 cups shredded mozzarella
Seasonings such as garlic powder, dried basil, oregano, and sea salt
Shredded Parmesan
Directions
Preheat oven to 350 degrees.
Cook noodles in boiling water according to package directions.
Cook ground beef and drain off any excess fat.
Mix together ricotta, drained spinach, cooked ground beef (if using), and season with a little sea salt and Italian seasonings.
Spoon half of the sauce into the bottom of 18 muffin tin wells.
Lay out cooked noodles on a large cutting board and blot dry.
Spread mixture onto noodles. Sprinkle with a little mozzarella.
Roll noodles up and slice in half. Place halves into muffin tin.
Top with more sauce and shredded mozzarella. Sprinkle with some shredded Parmesan cheese and bake for 25 minutes.
We served this with a green salad loaded with veggies topped with a simple homemade vinaigrette and the kids ate every last bite!!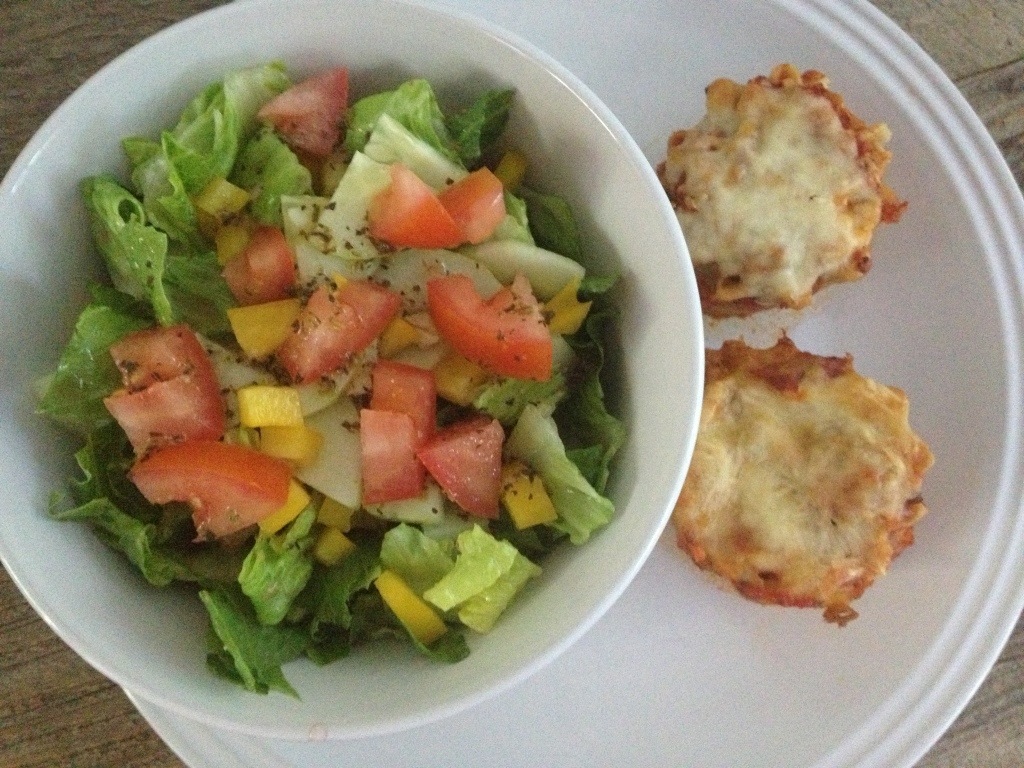 We have finally had a break from the humidity and 90-degree temps last week. It was perfect weather for taking the kids to pick blueberries. We are so lucky that we have these local blueberry farms right in our own backyard. Food doesn't get much more local or seasonal than this!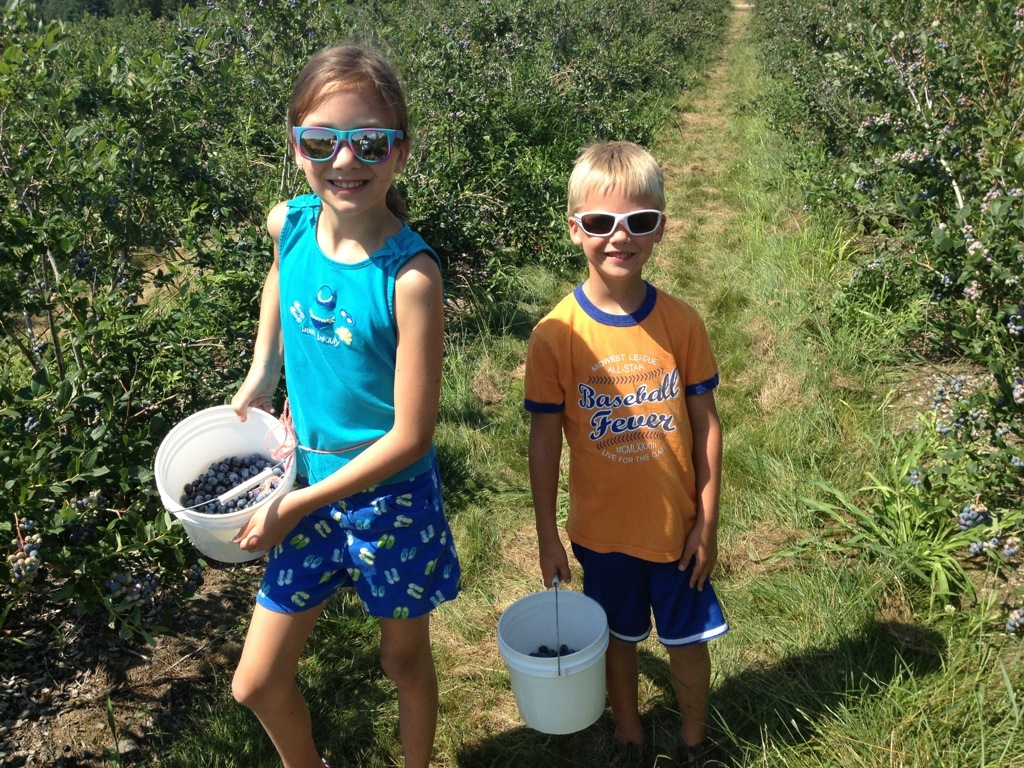 Hailey was going for efficiency and tied her bucket around her waist!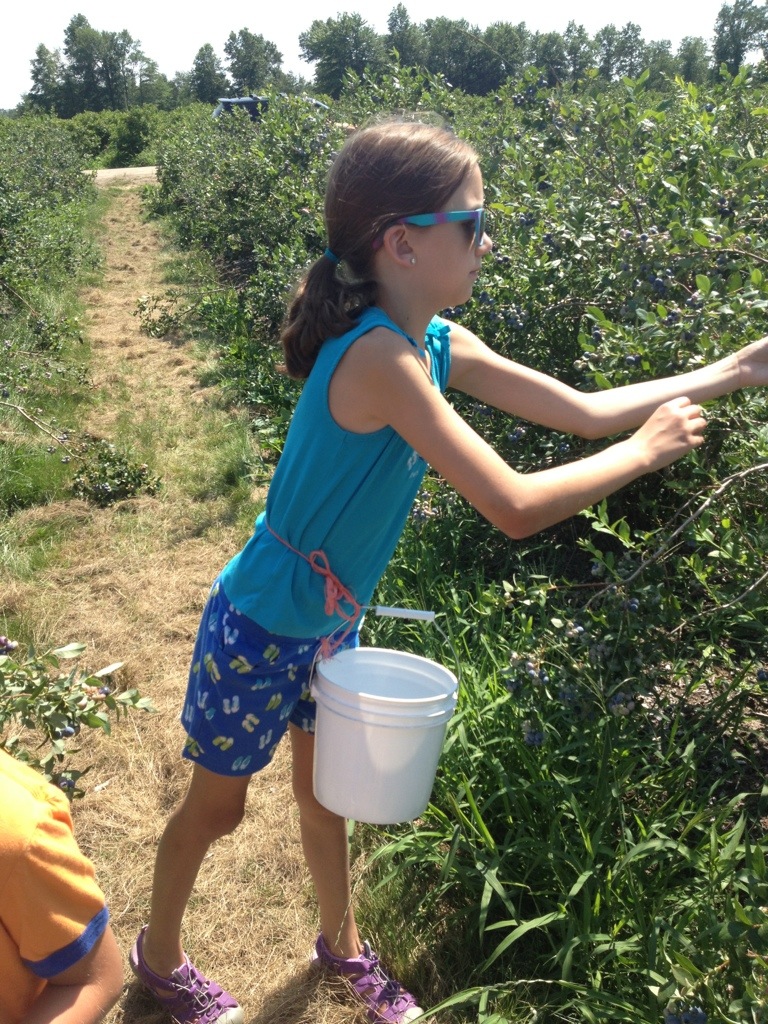 Jake was sampling berries as he picked.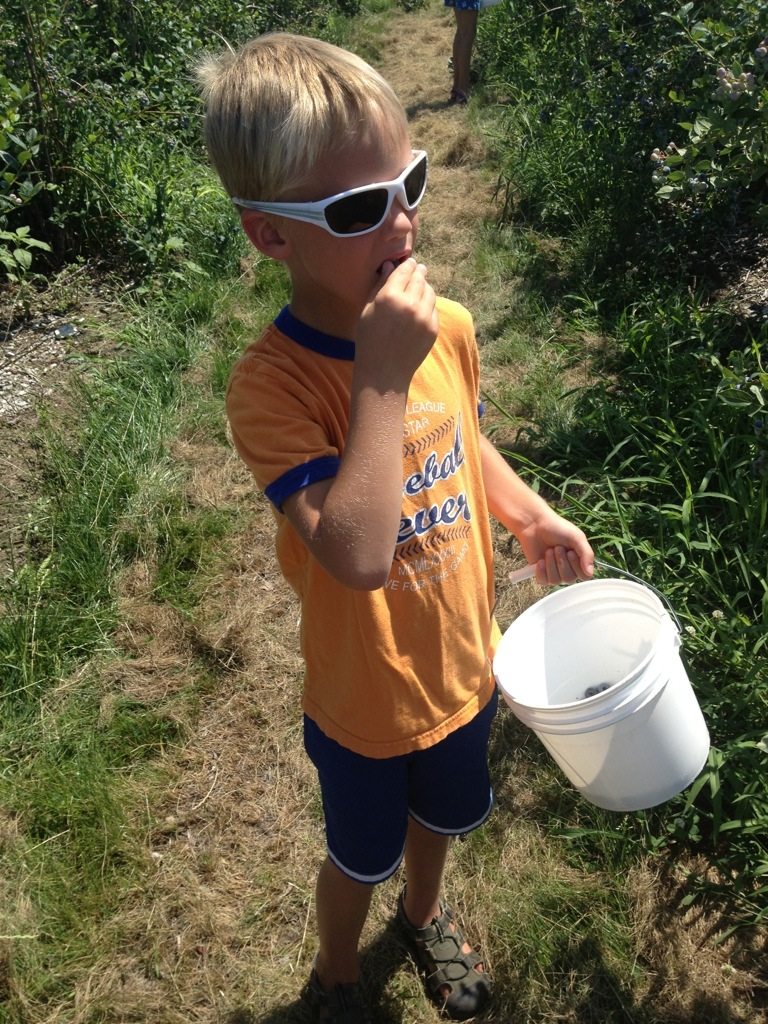 We have been picking blueberries for quite a few years now, and these were by far the biggest, fattest, plumpest blueberries I've ever seen! We each swore we had The Biggest Blueberry Ever!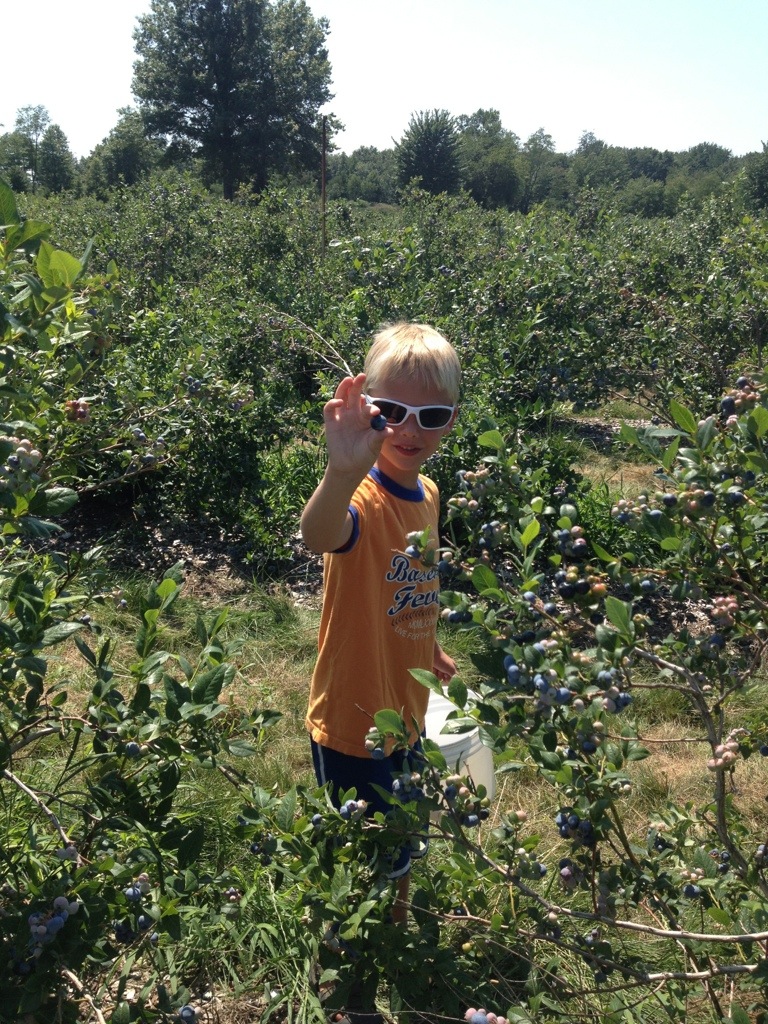 So, half an hour and lots of samples later, we went home with 9 and 1/2 pounds of fresh picked blueberries. All for about $12!!!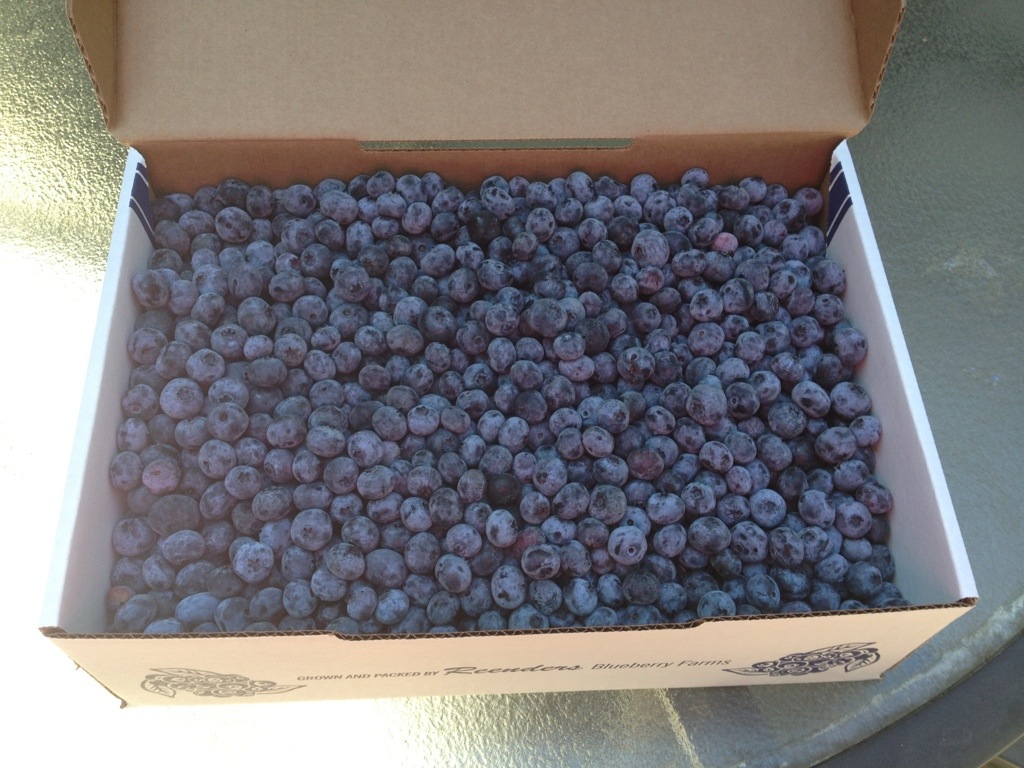 Be prepared to see an obscene amount of blueberry recipes coming up! We have talked about blueberry donuts, waffles with blueberry sauce, blueberry mojitos (for the adults), blueberry crumble with ice cream, and of course I will be throwing them into smoothies, salads, and chia pudding!
I started off by tweaking my oatmeal bar recipe to make these Blueberry Lemon Oatmeal Squares. Perfect for afternoon snacks or packing up to take to the beach.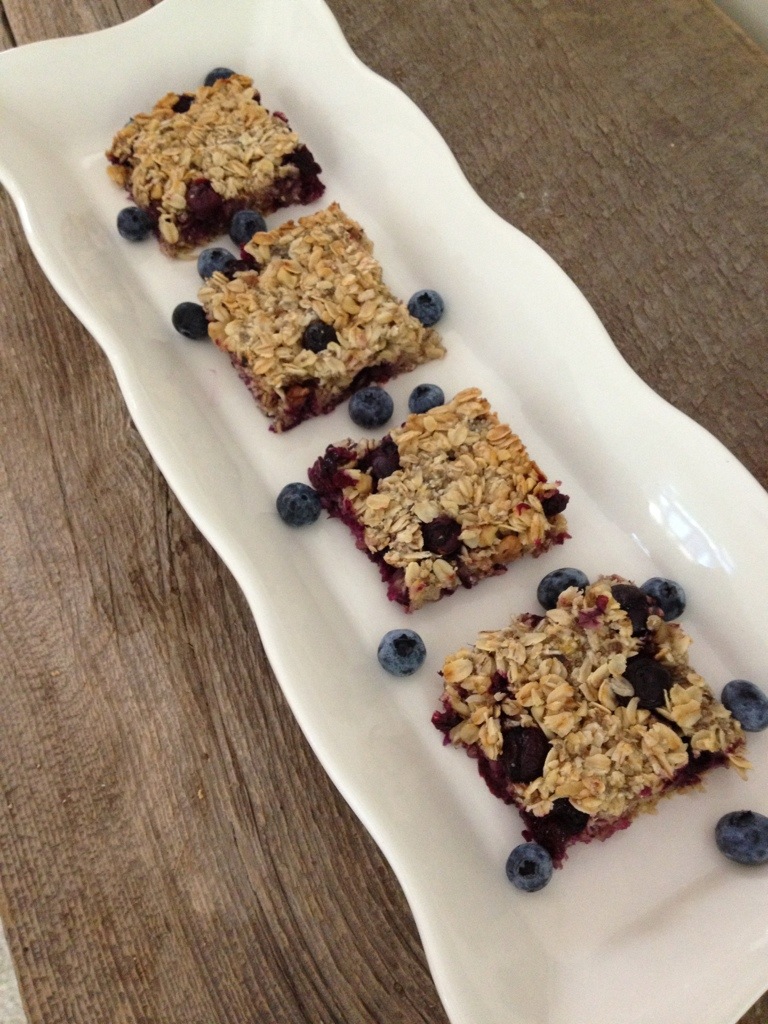 Blueberry Lemon Oatmeal Squares
Ingredients
2 cups old fashioned oats
1/3 cup walnuts, chopped very small
zest and juice of 1/2 of a lemon
1/3 cup coconut oil, melted
1/3 cup honey
2 T. chia seeds
1 heaping cup blueberries
Directions
Preheat oven to 350 degrees.
Mix chia seeds with 6-7 Tablespoons of water and set aside to thicken into a gel (the chia gel is used in place of an egg for extra nutrition since my kids already eat a lot of eggs. Feel free to swap in 1 egg instead).
Add oats, walnuts, and lemon zest to a large mixing bowl.
Melt coconut oil in a glass measuring cup and stir in honey and lemon juice.
Pour liquid ingredients into dry and mix well. Add gelled chia mixture (or egg) and stir. Gently fold in blueberries being careful not to smash them.
Pour mixture into an 8×8 square baking pan that has been brushed with a little coconut oil.
Bake for 35-40 minutes until set and beginning to turn golden brown on top. Allow to cool completely before cutting into squares.
The Happy Family loves this Healthy Plate because:
Oats – contains soluble fiber, which helps to lower cholesterol by removing some of the plaque build-up in the arteries. It is also a rich source of magnesium, a mineral which is involved in the body's use of glucose and insulin secretion, to help stabilize blood sugar levels.
Blueberries – one of the highest antioxidant containing fruits, helping to combat the free radicals that can damage cellular structures and DNA. Many years of studies have shown blueberries to benefit the nervous system and brain health.
Chia Seeds – one of the richest plant-based sources of Omega-3 Fatty Acids, specifically alpha-linolenic acid or ALA, which help to reduce inflammation, enhance cognitive performance, and reduce high cholesterol. Per 2 Tablespoon serving, chia seeds are an excellent source of fiber (10 grams!) and calcium (18% of the daily recommended intake).
Coconut Oil* – contains a saturated fat called lauric acid, a type of medium chain triglyceride. Lauric acid has been shown to increase the good HDL cholesterol in the blood to help improve cholesterol ratio levels. The breakdown of these medium chain triglycerides in the liver helps increase metabolism. Coconut oil also has antifungal and antimicrobial properties to improve immunity and fight off yeast, fungus, and candida. It also positively affect our hormones to boost thyroid function and improve insulin use within the body.
Walnuts – high in a particular form of Vitamin E which is beneficial for cardiovascular health and protects skin from harmful oxygen-free radicals. Walnuts are also rich in Omega-3 essential fatty acids, which have anti-inflammatory actions to help lower blood pressure, decrease risk of coronary artery disease, strokes and some cancers.
*This, as well as all nutritional highlights featured on my blog, are my own opinion based on my own personal research. For further detailed information on coconut oil, here are links to two well-respected doctors and their science-based research:
http://coconutoil.com/mary_enig/
One of the many things I love about summer vacation is a little more time in the morning to make breakfast for my kids. They both love smoothies, but I just don't always have the time to make them on busy school mornings. So I started off this morning by blending up 2 cups of kale, some strawberries, half of a banana, half of a cucumber and some frozen pineapple.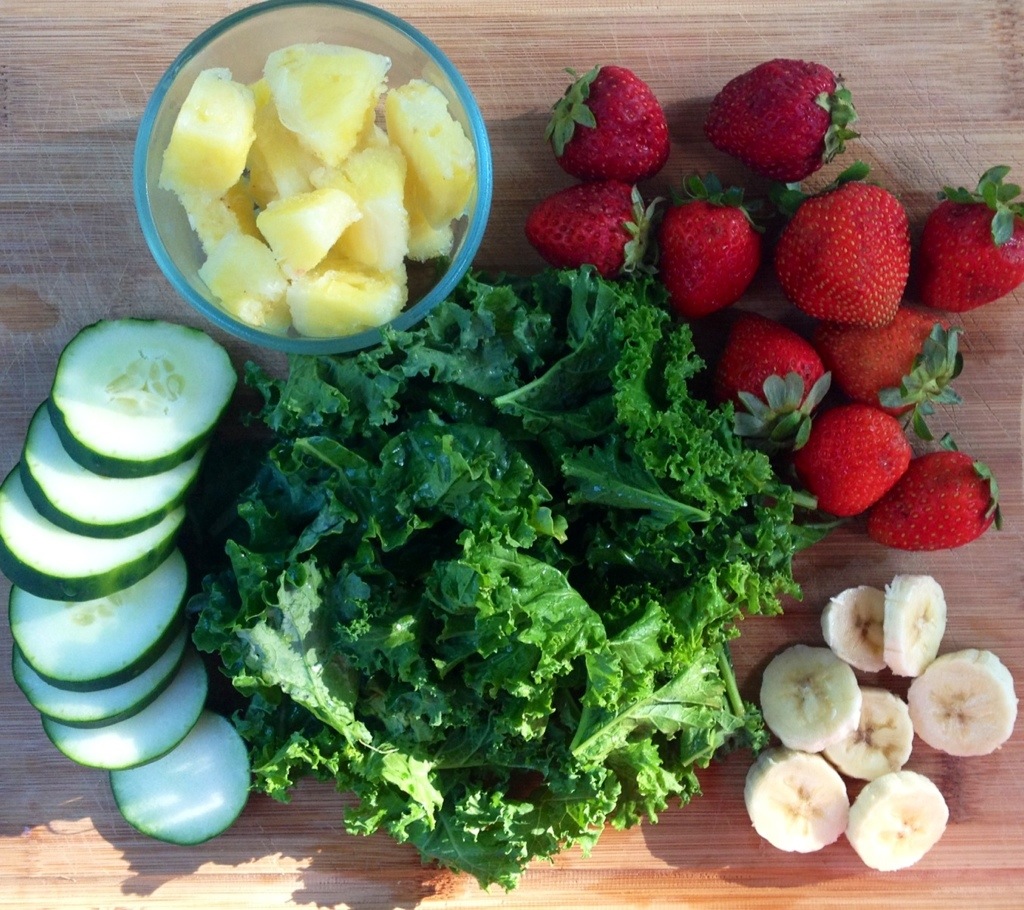 I will usually serve that alongside some oatmeal for the kids, either at the same time or a little later on in the morning.  I have been loving these overnight chia oats.  I have discovered that I really like cold soaked oatmeal like this.  The chia gives it an extra nutritional boost.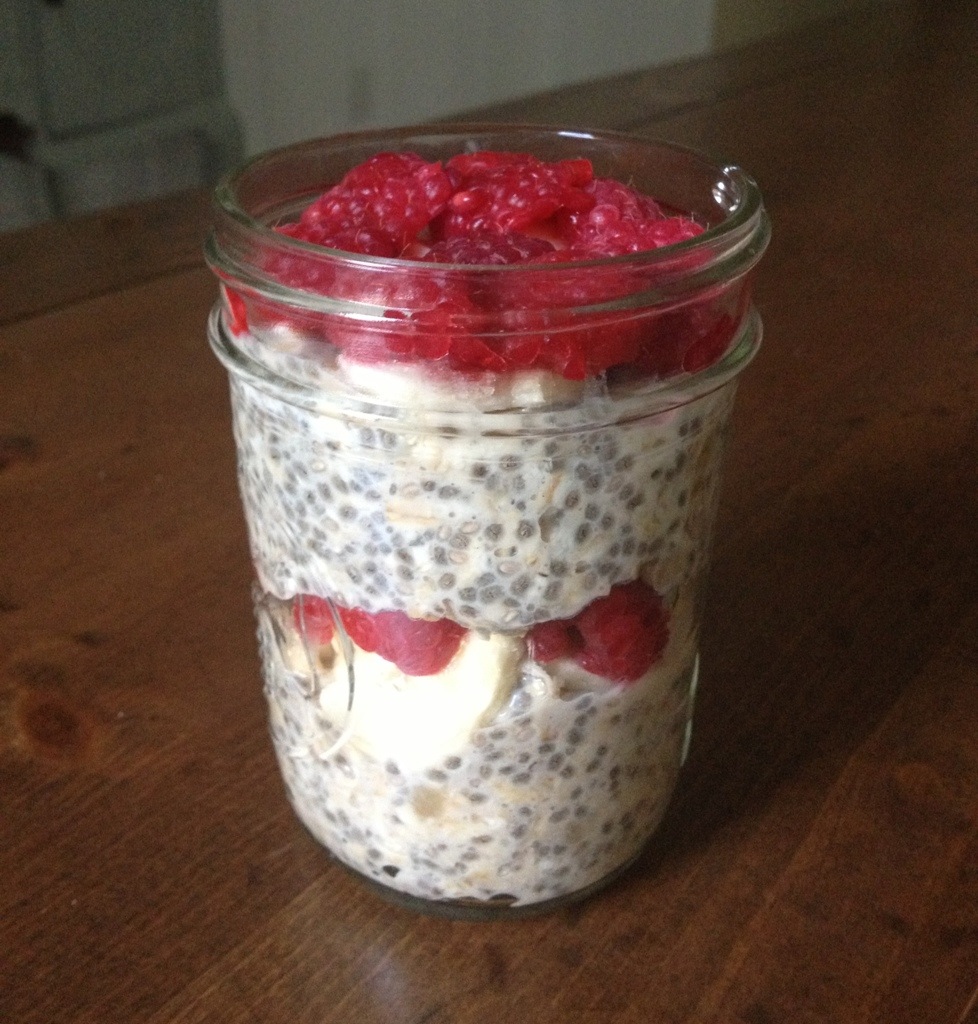 To make Overnight Chia Oats, combine:
1/2 cup old fashioned oats
2 T. chia seeds
1 cup unsweetened almond milk
1/2 banana, mashed
Stir to combine, cover, and leave in the refrigerator overnight.  In the morning, I divide the mixture into 2 small mason jars and layer it with different combinations of fruit, nuts, coconut, etc.  It is a great breakfast to make ahead of time and take on the go!
For lunch, I have been obsessed with this kale salad lately. I start with a huge bowl of washed bite-size kale leaves. In a small bowl, I mash up about 1/4 of a large avocado and the juice from 1/2 of a lemon, and season it with sea salt. Then I massage the lemon avocado mixture into the kale with clean hands. Its topped with edamame, diced mango, red onion, lightly toasted sunflower seeds, dried cranberries, chunks of avocado, cucumber, cherry tomatoes. This salad is such a great mix of flavors and textures, and I love that its filling without weighing me down at all.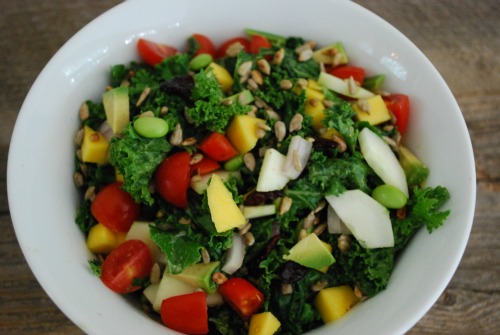 When I am making a big salad like this for myself for lunch, I will usually chop up extra fruits, veggies, edamame, etc. to throw on the kids lunch plates. They love having lots of little tastes of different things, and I can generally get them to eat a fruit or veggie they may not like if its just a few little bites versus a whole side of it.  If you saw this photo on Instagram, it is a great example of one of their chopped fruit and veggie lunches!
This afternoon, the kids and I snacked on some whole wheat pita chips, hummus, and carrots before dinner and I did not snap a photo of that 

For dinner, it was just me and the kids so we had their favorite Breakfast For Dinner.  Jake did a Gourmet Cooking camp last week and came home every day so excited about the recipes that he was making. He loved these little baked eggs and called them Egg McMuffins. The original recipe had a circle cut-out piece of bread at the bottom, but I left it out and he didn't even notice.
We whisked together a few eggs (1 egg per muffin), poured it into a lightly buttered muffin tin, and each added in the toppings of our choice – chopped spinach, sauteed red pepper, diced roma tomato, chopped nitrate-free ham, and shredded cheese. This is a great recipe to use up any little bits of leftover veggies in your fridge! Jake was very insistent that the cheese went on the very top! We baked them at 350 for about 13-15 minutes.
While those were baking, I mixed another egg with a splash of almond milk, a few drops of vanilla extract, and some cinnamon. I dipped slices of Ezekiel sprouted grain cinnamon raisin toast into the mixture and cooked them in my cast iron pan for a few minutes on each side. Ta da! Easy, yummy, healthy french toast!  They had a little side of 100% real maple syrup to drizzle on top or dunk their french toast.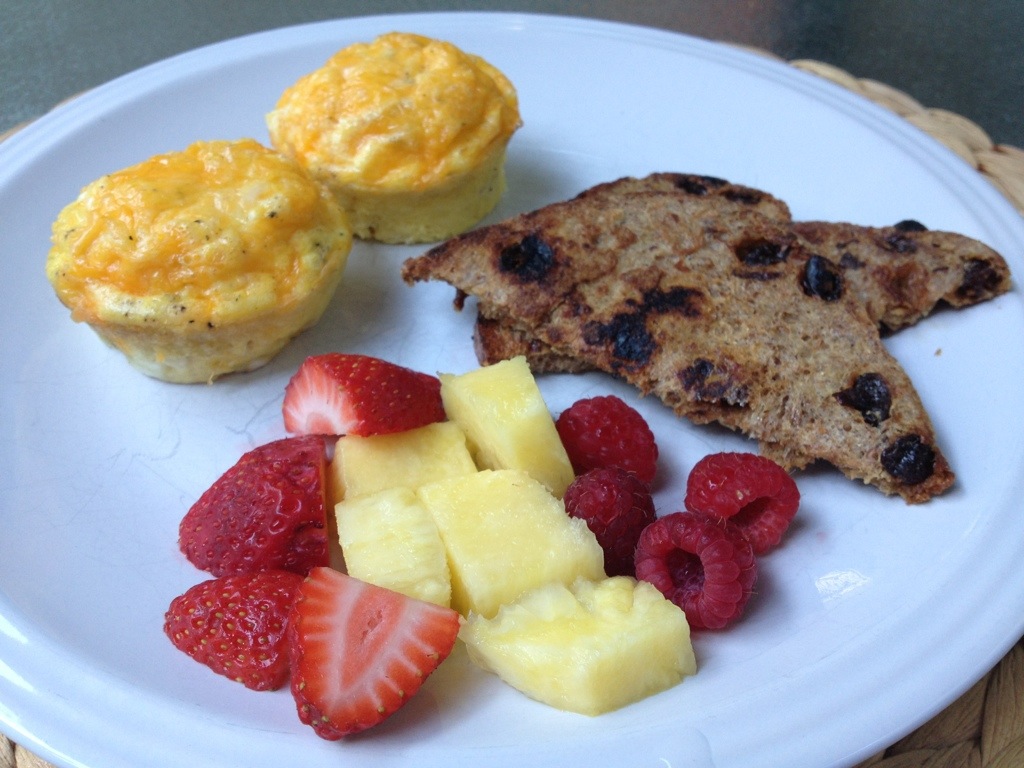 Summer is definitely in full swing around here! We are soaking up every moment of sunshine that we can get!!! I have been trying out all kinds of new frozen treats for the kids lately and thought I would round them all up into one post.
These are all super simple no-recipe recipes!! Just eyeball it and use what you have on hand. Easy stuff!!!!
First, we started off with making strawberry ice cream. This involved a tiny bit of planning ahead of time in order to have frozen fruit to blend. We chose bananas (for creaminess and sweetness) and strawberries.  I froze about 2 bananas and a big handful of strawberries for this version.
If you ever have leftover banana from making a smoothie, you can throw chunks of it into a storage container and keep it in the freezer for this purpose! I sometimes do this with random fruit if we have some that were not going to use up before we leave town for the weekend.
When you're ready to make your ice cream, throw the frozen fruit into a food processor and let it run for a few minutes, occasionally scraping down the sides. I added a little coconut milk to thin it out just a bit and get it blending. Scoop into a bowl and add the toppings of your choice. I love that this was healthy enough to serve in the middle of the day!!!!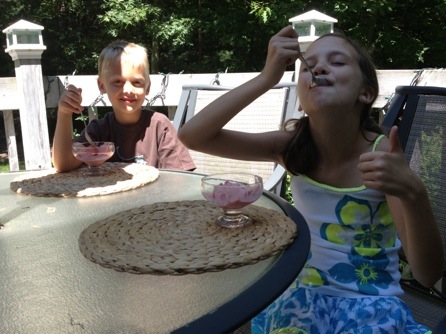 Next up, frozen slushies. Everyone was posting their pictures from free Slurpee day at 7-11. So I went on a mission looking for an alternative that didn't have all of the sugar and food coloring. Behold…..frozen fruit slushies!!!
These are so incredibly easy. Pick a fruit and blend with ice. That's it!  Serving it inside of the fruit is optional, but fun!  This one was Lemondrop melon, a squeeze of lemon to make it more lemony, and ice.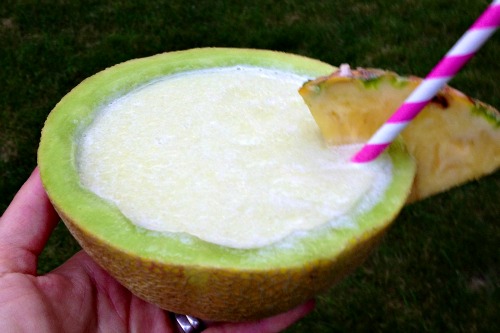 The kids were begging for them the next night, so I blended up half of a mini seedless watermelon, a few strawberries, and some ice.  Don't think I wasn't tempted to throw a splash of tequila into these and turn them into watermelon margaritas for the adults!!!!!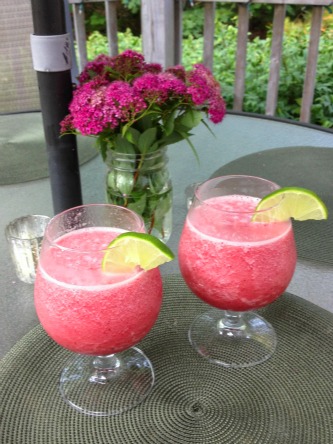 Next up, frozen yogurt tarts!  My kids have been taken out for frozen yogurt a few times this summer.  After reading this post by Food Babe breaking down all of chemicals and loads of sugar in commercial frozen yogurt, I decided to make my own healthy version for the kids.  I threw these together with odds and ends that I had on hand – they are totally flexible!!!!
In the mini food processor, I blended up a handful of nuts (pecans, because its what I had), a couple of dates, and a couple of spoonfuls of shredded unsweetened coconut. I think this could probably be made with just the nuts and a bit of coconut oil and a little drizzle of honey. I pulsed it a few times until it was coarsely crumbled and pressed it into the bottom of a muffin tin.
Mix some plain Greek yogurt with a little honey. Lots of options here too – blend fruit and yogurt together for a ton of different flavor combinations.  Then top with a little fruit and freeze for a couple of hours.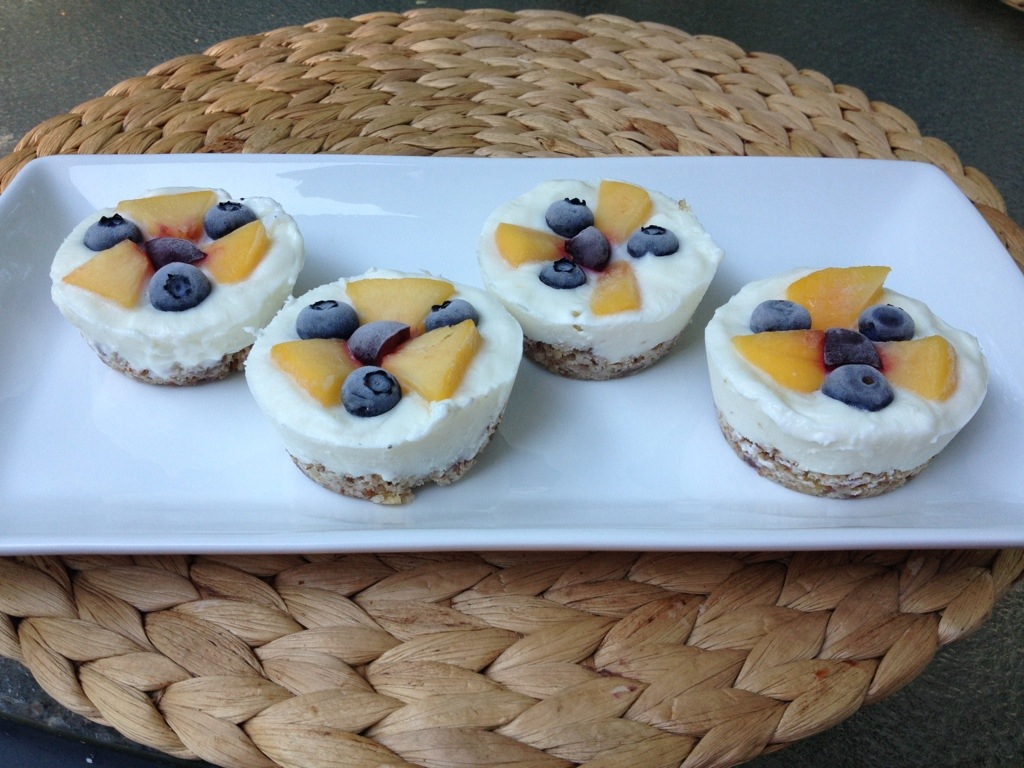 Take them out of the freezer for about 5 minutes and use a butter knife to loosen them from the pan.  My kids thought this was such a fun treat! I felt good knowing it was full of calcium, protein, probiotics, antioxidants, and healthy fats. Thats my kind of treat!
I hope you'll try out one of these frozen treats!  Let me know if you come up with any good flavor combinations!