Monthly Archives:
June 2013
We made our first purchase from the local farm stand near our cottage this past week.
I always look forward to my conversations with the owner/farmer because he is so passionate about the food that he is growing.  He recognizes me and knows that I enjoy learning about where my food comes from.  On this visit, he was explaining the new fertilizer that he is using in his soil.  Apparently there are 90 potential minerals to be found in our soil.  Because of current farming methods of growing one crop over and over and using pesticides, most of our soil is now depleted, therefore contributing very few nutrients to the food that is grown in it (he claimed that the average soil has about 30 of the 90 minerals).  The one place that we can still find all 90 minerals is in the ocean.  There are a growing number of companies that are creating fertilizer out of dried seawater (similar to sea salt) in order to replenish these minerals, including SeaAgri, Inc and Ocean-Grown.  If you are into gardening and growing your own food, check out these links because these are products that you can buy in smaller quantities for your own garden!
I love knowing that the food that I purchase from him is full of nutrients, grown with love and respect for the earth, and free from harmful pesticides!
On this trip, I picked up strawberries, rhubarb and a dozen eggs from his chickens.  Often, when he has abundant kale growing, he will throw some in for free because he knows it is my favorite!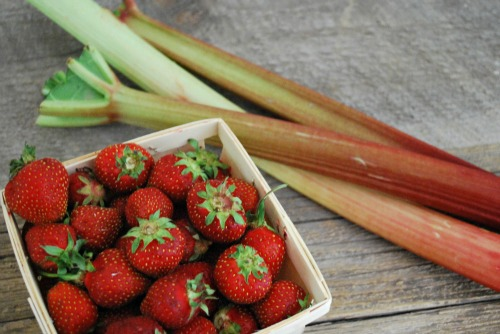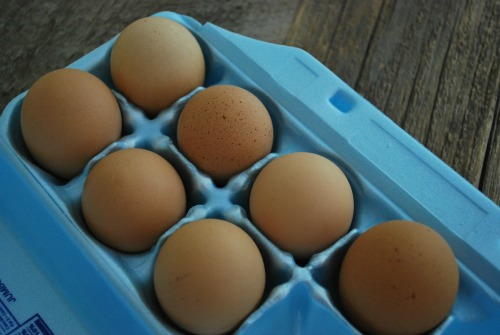 My kids request these muffins every summer when they see me bring home strawberries and rhubarb.  This year, I experimented with replacing the white sugar with honey since it is a whole food and has some antioxidants.  They loved them just as much and I am thankful to have this yummy healthy portable snack on hand as we transition into our first crazy week of summer vacation.  Enjoy!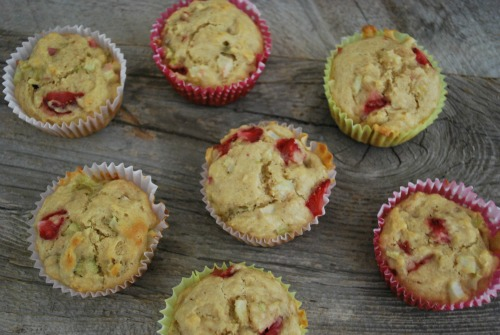 Strawberry Rhubarb Muffins
adapted from this CSA recipe
Ingredients
1 3/4 cup white whole wheat flour (or whole wheat pastry flour)
2 tsp baking powder
1/2 tsp sea salt
1 egg
3/4 cup milk (I used unsweetened almond milk)
1/3 cup oil (I used unrefined coconut oil, gently warmed so that it is liquid)
1/3 to 1/2 cup honey, depending on how sweet you like your muffins
1 cup finely chopped rhubarb
heaping 1/2 cup chopped strawberries
2 tsp grated orange zest
Directions
preheat oven to 400 degrees.
Combine dry ingredients in a large mixing bowl.
In a separate bowl, beat egg and add in milk, oil, and honey.
Gently combine dry and wet ingredients being very careful not to overmix.  Fold in rhubarb, strawberries and orange zest.
Line 12 muffin cups with paper liners and fill 2/3 full.  Bake 20-25 minutes until a toothpick comes out clean.