Monthly Archives:
May 2013
I hope everyone had a great Memorial Day weekend!
We had a great kickoff to summer at our cottage.  Our weekend guests treated us to dinner one night, which was very much appreciated.
On Saturday night, we grilled up an awesome meal that seemed to get a lot of interest on my Facebook page – Darren marinated some pork tenderloins in his famous whiskey/soy sauce/brown sugar marinade and grilled them up.  I tried two new side dish recipes….chipotle lime grilled sweet potatoes and a cold brussel sprout salad.  They were both awesome!
The brussel sprouts were great because I made them up in the morning and then they just marinated in the refrigerator until dinner.  So easy!  We will definitely be making these a lot this summer!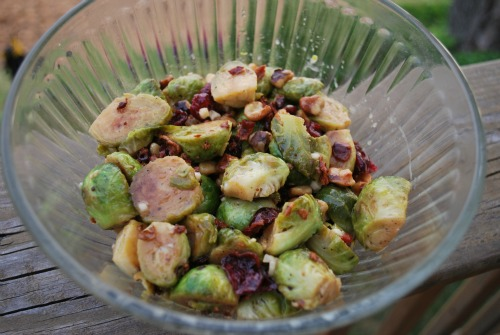 Maple Dijon Brussel Sprouts with Cranberries, Walnuts, and Bacon
Ingredients
1 lb brussel sprouts, washed, bottoms trimmed and sliced in half lengthwise
3-4 slices organic, uncured, nitrate-free bacon (vegetarian option – see below*)
1 T. extra virgin olive oil
1 T. cider vinegar
1/2 T. real maple syrup
1/2 tsp. dijon mustard
1 small clove garlic, finely minced
1/8 – 1/4 cup dried cranberries
1/8 – 1/4 cup chopped walnuts
kosher or sea salt and fresh ground black pepper
Directions
Cook bacon in a medium-sized frying pan until brown and crispy.  Remove to a plate covered with paper towel.  When cooled, crumble into bite-size pieces.
Drain most of the grease out of the pan, reserving just enough to lightly coat the bottom of the pan (I used a paper towel, but be careful!).   Add brussel sprouts to pan, cut-side down.  Saute for about 4-5 minutes until cut side is nicely browned.  Flip and add a little water to the pan to help steam them.  Cook an additional 5 minutes, tossing them around if necessary so that they don't burn.
Mix together olive oil, cider vinegar, maple syrup, dijon, minced garlic, and season with kosher or sea salt and fresh ground black pepper.
Toss brussel sprouts with dressing and refrigerate for a few hours for flavors to mix.
When ready to serve, mix chopped bacon, dried cranberries, and chopped walnuts in with the marinated brussel sprouts and serve.  I left the dish out while we were making dinner so that it was room temperature instead of being cold.
*Vegetarian option – saute brussel sprouts in olive oil or butter instead of bacon grease and omit bacon crumbles from topping.
I feel like I haven't done a "What I Ate Wednesday" post in awhile.  I'd really like to get back to writing about other things besides just the food that I eat — like the benefits of chia seeds and coconut oil, why we should avoid artificial dyes in our foods, and maybe even touch on the gardening I am roughly attempting to do this summer — but seeing as how I spent over 3 hours this morning writing essays on the nervous system for my Anatomy class, it is just difficult to find the time for putting together those types of posts.  So I am just not really sure of the direction of this blog.  As long as my readers are interested in recipes and food that I'm eating day to day, I may just have to stick with that for now.
Moving on.  For breakfast, I had some of the Strawberry Lemon Ginger chia pudding that I made a couple of weeks ago.  I love this because I can make a big batch of it in the blender in just a few minutes and then its ready in the fridge whenever I want it.  It's flavorful enough that I can eat it plain if I don't have time to top it, but it's definitely better with the fresh strawberries!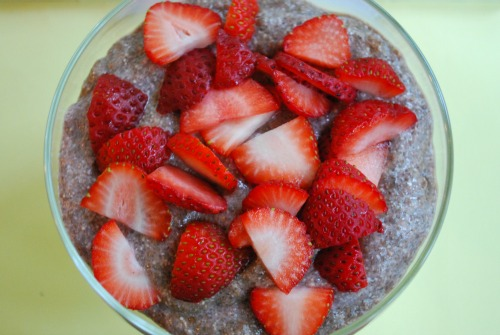 I needed something to hold me over for my workout before I was going to have lunch.  Quick and easy apple slices, celery, and almond butter.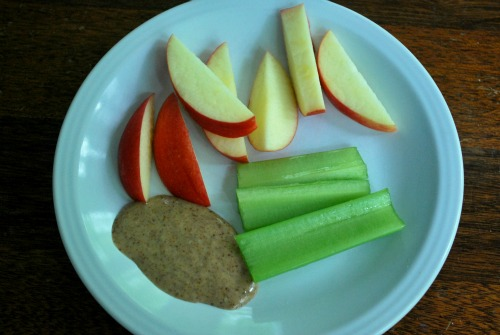 For lunch, I made egg salad with mashed up avocado instead of mayo (seasoned with salt, pepper, and a little dried dill) and served it in lettuce wraps with some carrots and cherries.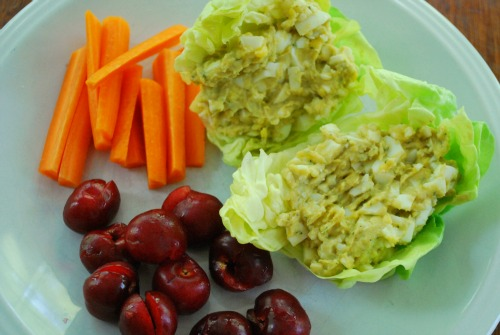 For dinner, we made use of all kinds of leftovers and made this Corn Chowder.  This is a great soup to make in the summer when sweet corn is in season.  We had some left over from dinner on Sunday night that worked perfectly since leftover corn isn't usually very good reheated anyway.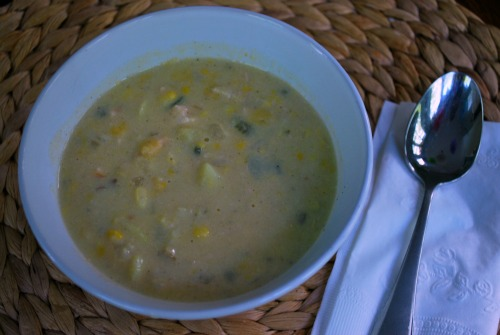 Corn Chowder
adapted from Cooking Light
Ingredients
1-2 T. extra virgin olive oil or butter
1/4 cup chopped onion
1/4 cup chopped celery
1-2 cloves garlic, minced (or 1 tsp jarred garlic)
1 jalapeno, seeded and minced
2 T. flour (gluten free, whole wheat, etc)
3 cups milk (I used 2%)
2 cups roasted or grilled chicken, chopped
1 1/2 cups fresh corn kernals removed from the cob
1/4 tsp dried thyme
1 can cream-style corn (as an alternative, you can use 1 cup canned, fresh, or frozen corn and add a drizzle of honey and a sprinkle of salt and pulse it a few times in a mini food processor)
vegetable/chicken broth or additional milk or water to thin soup if necessary
kosher salt and fresh ground black pepper to taste
optional –  we happened to have some leftover baby potatoes from grilling out the other night so I chopped those up and added them in too
Directions
Add olive oil or butter to a large stock pot over medium heat.  Cook onion, celery, jalapeno until tender.  Add in garlic near the end so that it cooks but doesn't burn.  Add flour, cook 1 more minute, stirring constantly.  Stir in milk and add in chicken, corn, thyme, cream-style corn, cubed pre-cooked potatoes if using.  Season with salt and pepper (just a bit, you can add more at the very end).  Bring soup to a boil and cook until thick (5-10 minutes).  Thin out with broth, milk or water if necessary (I ended up adding in about 1 cup of vegetable broth) and adjust seasonings to taste.
This past weekend we took our moms out for Mothers Day Brunch, and although the restaurant is known for their amazing seafood, we all went nuts over the salads!  I knew at the first bite that I would be trying to recreate both of them at home.  The first one is a mixed green salad with pretty simple ingredients.  I knew that it would just come down to getting the dressing right.  The other salad was a cold brussel sprout salad that will take a little more experimenting.
To make this great summer salad, start with a base of mixed baby greens.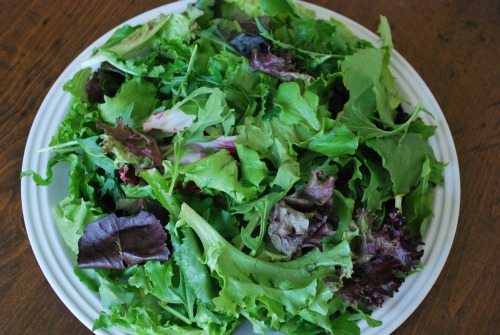 Top with the most perfectly ripe, in-season strawberries you can find.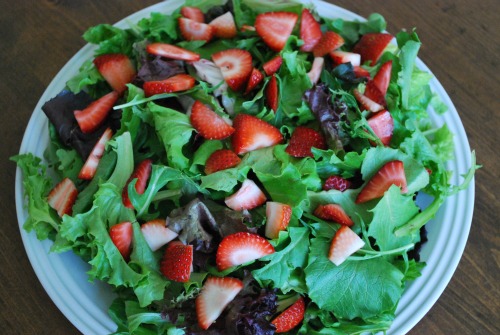 Add some sliced cucumbers, red onion, crumbled goat cheese, and lightly toasted sunflower seeds.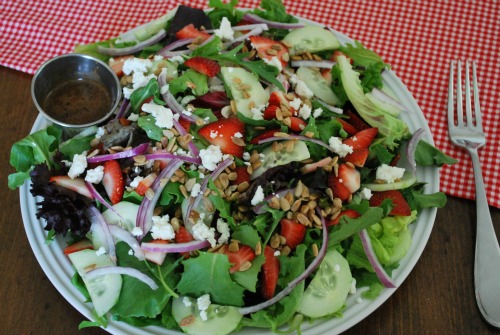 For the dressing, I just adapted this recipe to include half raspberry vinegar and half balsamic vinegar.
Raspberry Balsamic Vinaigrette
1/2 of 1/3 cup balsamic vinegar
1/2 of 1/3 cup raspberry balsamic (mine was a gift from a specialty vinegar store)
1 clove of garlic
1 tsp honey
fresh ground salt and pepper
Add vinegars, garlic, honey, salt and pepper to blender and blend well until garlic is pureed.  Slow blender to low speed and slowly drizzle in 1/3 cup plus 1/2 of 1/3 cup extra virgin olive oil.
**I apologize for all of the odd fractions in this recipe!  I couldn't make a big batch of dressing since I didn't have much of the rasberry vinegar.  Feel free to double the recipe in order to have nice even measurements!
Top salad with dressing and enjoy!  This will definitely be a staple around here all summer long!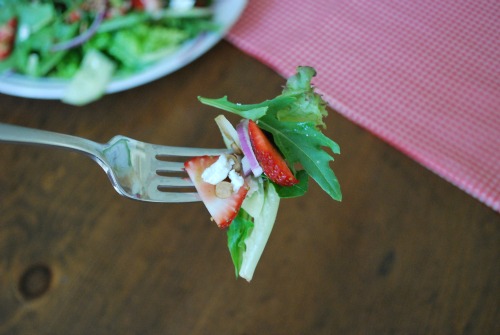 Is anyone still reading this little blog???  Things have gotten just a tad crazy around here.  To be perfectly honest, I have taken on quite a bit lately.  It's all good – some things I am beyond excited about!  But its all still a lot going on nonetheless.
I felt the need to address something though.
This…
And this….
And then this….
….they have all been a part of what has gotten between me and my blogging lately.
In all of the chaos and stress, I have turned to sugar for comfort….and lots of it!  Not exactly blog-worthy food!!!  This has caught me a little off guard because I don't normally have a big sweet tooth.  You don't see a lot of sweets and desserts posted on my blog for a reason – I am just not really a dessert person and always leave that dish up to someone else when I'm hosting an event.  I don't crave sweets after dinner most nights and have never been one to keep ice cream and candy in our cupboards.
But somehow these things have found their way into our house and I totally fell victim to them.  I felt the need to address this because I don't want to come across as some clean eating nutrition goddess who eats perfectly all of the time (that is half-joking but you know what I mean!).  It happens to all of us and I just want to be perfectly clear that it happens to me too.
I think my only saving grace has been a decent amount of regular exercise!  The weather has finally been nice so I've been taking Bodhi for longer walks on the trails by the beach.  I've been in the yoga studio a couple of times a week and fairly consistent with my 5K training program for the Girls on the Run team that I'm coaching.  I've also been trying to get out on the paddleboard here and there.  Its nothing intense, but its a little something every day.
But that doesn't make it all better.  As a good friend recently reminded me, its important to remember to take care of myself, even during this busy season of life.  This means taking time to shop for healthy groceries to have in the house, making healthy dinners at home for myself and my family, drinking more water (and less wine!), getting to bed A LOT earlier, and having some down time….all adding up so that I'm not turning to sugar for a pick-me-up to keep me going during these crazy days.  Seeing it all in writing somehow helps it feel like a comittment to me.
I feel better now that that is off my chest

  This weekend will be busy – a good kind of busy – having friends over to celebrate Hailey's 9th birthday with a "Cupcake Wars" party, enjoying time with our moms on Sunday, and soaking in all of this beautiful life that we have been blessed with.  Then I promise I'll be back with a new healthy, family-friendly recipe for you next week!
I apologize for my long blogging breaks lately.  School, travelling, and family are all keeping me on my toes!
I traveled down to North Carolina for some yoga training last week, which was a really exciting experience.  More to come on that soon!  Whenever I'm away from home for an extended amount of time, I definitely miss my green smoothies and juices.  I have been having at least one a day since getting home and keeping them pretty heavy on the veggies.  I've pretty much been sticking to my classic green smoothie made with tons of kale, romaine, cucumber, apple, clementine, 1/2 of a banana, and lots of fresh squeezed lemon.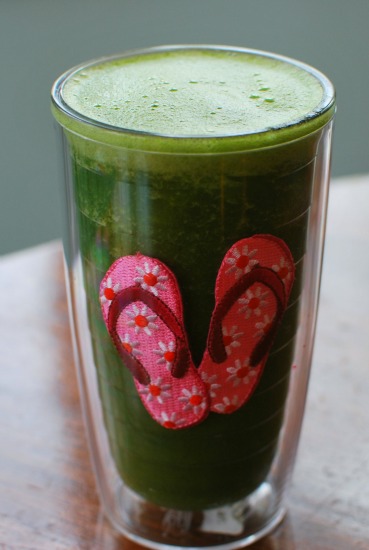 I have also discovered a new favorite chia pudding.  This combination of strawberry, lemon, and ginger was a perfect complement to the sunny warm weather we've been having the past couple of days.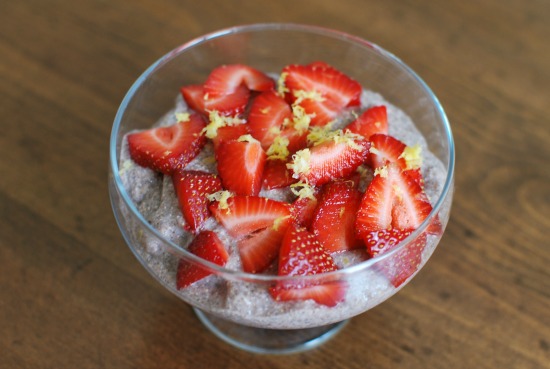 To make this, combine 1 cup of almond milk, 6 fresh organic strawberries, 1/3 cup of chia seeds, 1 T honey, 1/2 inch long slice of ginger (you may want to finely chop it up if you're not using a high powered blender such as a VitaMix), and the juice from 1/4 of a lemon.  Blend on high until mixture is smooth.
I left it in the refrigerator to thicken for about an hour and topped it off with fresh strawberries and some lemon zest. I could eat this for dessert – honestly, it was that good!  I'm thinking I might have to experiment with this flavor combination somewhere else….maybe some muffins?
Lots of salads for lunch this week.  This one was lots of organic romaine topped with cherry tomatoes, red onion, cucumber, red pepper, lightly toasted sunflower seeds, avocado and feta cheese.  Since I went a little heavy on the avocado, I just topped it with some good quality balsamic vinegar, salt and pepper.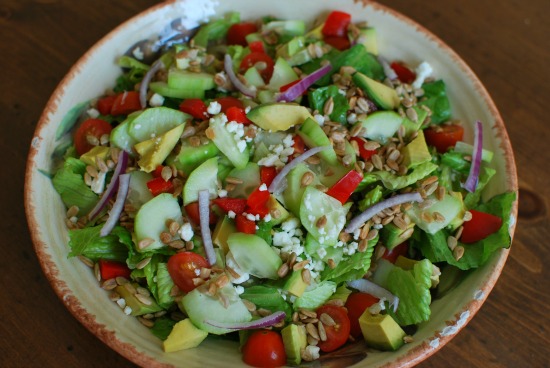 For dinner, I ventured out and tried something a little new for me.  It does not come naturally for me to incorporate bacon into a recipe, but I've been doing a lot of research on the Weston A. Price foundation and their philosophy on nourishing foods.  I guess I can find some common ground in that they strongly believe in eating all high quality, real foods, with very little wheat/grains and processed food.  I am trying to stay open to some more animal fat and protein in my diet as long as it comes from good sources.
This recipe from Detoxinista stood out to me because it is kind of a makeover of a standard make-ahead breakfast casserole, which we love around here.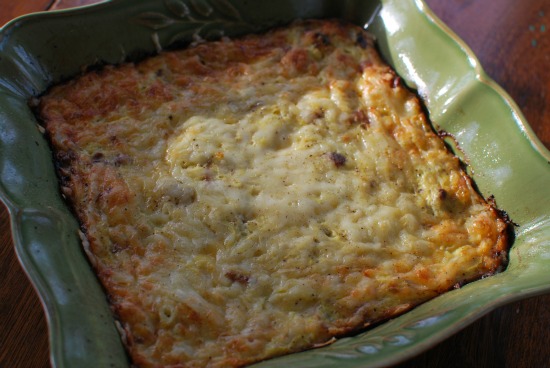 I loved the idea of replacing the hash brown potatoes with more nutrient dense spaghetti squash – kind of genius if you ask me!  The baked squash was combined with some local, free range eggs I've been picking up from our health food store, nitrate-free uncured bacon, sauteed onions, and some Swiss cheese.  It was a great combination of flavors.
I baked the squash up earlier in the day and then it came together pretty quickly at dinner time.
I think this would go great with salad (a classic brunch combination) but the kids requested fruit "just in case they didn't like it".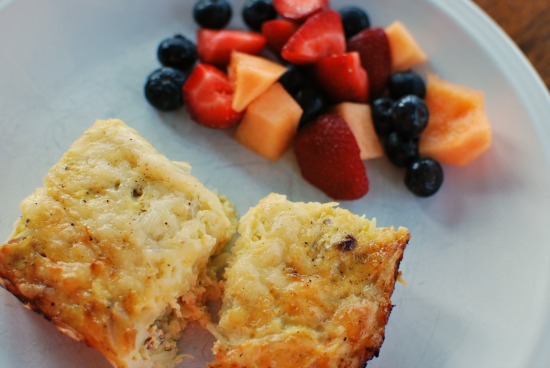 Hailey gave it a thumbs up and ate 2 pieces.  Jake thought it was OK and mostly picked out the bacon and ate his fruit.  I was afraid it was going to be really rich and too heavy for me, but surprisingly the squash kept it pretty light.  I would definitely make this again.
Bacon Swiss Egg Casserole
Adapted from this recipe
Ingredients
2 cups cooked spaghetti squash
8 oz. uncured, nitrate free bacon – cut into 1/2″ pieces
1 yellow onion, chopped
5 eggs
4 oz. Swiss cheese, shredded (Gruyere would be fabulous here but it was a little pricey at our store)
1 tsp salt (sea salt or kosher)
fresh ground black pepper to taste
Directions
To cook the spaghetti squash, carefully slice squash in half.  Scoop seeds out with a spoon.  Place squash face down on a rimmed baking sheet lined with parchment paper.  Bake at 400 degrees for 40-50 minutes, depending on the size of the squash.  The squash should shred into spaghetti-like strands easily and be tender but not mushy.  This can be done up to 24 hours in advance.
Preheat oven to 350 degrees.  Grease and 8 X 8 baking dish with olive oil or butter.
Heat a large skillet to medium heat and saute the chopped bacon pieces for about 5 minutes.  Add in chopped onion and cook bacon and onion together until onion is tender and bacon is crispy, about 10 minutes.
Remove the bacon and onion to a mixing bowl and add in eggs, spaghetti squash, 1/2 of the cheese, salt and pepper.
Transfer mixture to greased baking dish and top with remaining shredded cheese.
Bake for 35-40 minutes until center is firm and top is golden brown.  Allow dish to set for 10 minutes before cutting and serving.