Monthly Archives:
January 2013
I am quite obsessed with kale.  When I combine my finance background with my love for nutrition, the reasoning goes something like this – you simply cannot get more nutritional bang for your buck when it comes to kale!!!!   For a mere $1.49, I can get a bunch of kale so big that I have to wrestle it into the bag.  I must look like I'm losing the battle sometimes because I have had people in the grocery store ask me what it is that I am buying!
There are a lot of reasons why kale is considered one of the healthiest vegetables on the planet.
The Nutritional Details:   One cup of kale contains 36 calories, 5 grams of fiber, and 15% of the daily requirement of calcium and vitamin B6 (pyridoxine), 40% of magnesium, 180% of vitamin A, 200% of vitamin C, and 1,020% of vitamin K. It is also a good source of minerals copper, potassium, iron, manganese, and phosphorus.   (SOURCE)
What does all of that mean???
Kale is a rich source of antioxidant vitamins A, C, and K, fiber and carotenoids.     Research has shown that kale contains 45 different flavonoids with a variety of antioxidant and anti-inflammatory properties.
It is a very potent source of vitamin K, which can reduce the overall risk of developing cancer, according to a study in the American Journal of Clinical Nutrition.
Kale is one of the best sources of beta-carotene, one of the antioxidants believed by many nutrition experts to be a major player in the battle against cancer, heart disease, and certain age-related chronic diseases.
Kale possesses other important carotenoids: lutein and zeaxathin. These help keep UV rays from damaging the eyes and causing cataracts.
According to recent research results, kale is an incredible source of well-absorbed calcium, which is one of the many factors that may help prevent osteoporosis.
The manganese in kale helps your body's own antioxidant defense system, protecting you from damaging free radicals.
Its folate and B6 team up to keep homocysteine levels down, which may help prevent heart disease, dementia, and osteoporosis bone fractures.
Beyond antioxidants, the fiber content of cruciferous kale binds bile acids and helps lower blood cholesterol levels and reduce the risk of heart disease, especially when kale is cooked instead of raw.
Something else I found particularly interesting is that kale contains indole-3- carbinol, a nutrient that seems to play a role in how estrogen is metabolized in the body and may play a protective role against breast cancer.  According to the naturopathic physician quoted in this article, "We sometimes use it as a supplement in patients with breast cancer, anyone who has a reason to be concerned about developing breast cancer and for those with estrogen-dominant illnesses like fibroids, fibrocystic breast disease or endometriosis, to try to help modulate negative estrogenic effects in the body.  Eating kale is a natural way to do that."
With all that being said, I learned a couple of years ago when my mom was experiencing some heart problems that the high amount of vitamin K can cause problems for some people.  Anyone taking anticoagulants (blood thinners, such as Warfarin, Coumadin, etc) or other medications should avoid kale because the high level of vitamin K may interfere with the drugs.  Please consult your doctor before adding or increasing the amount of kale and other greens to your diet.
But for those who are looking to add more of this SUPERFOOD to their diet, I highly suggest starting with kale chips!!!
Start by removing the tough stem from the center of each stalk.  This part can taste bitter.  Tear the remaining leaves into bite-sized pieces.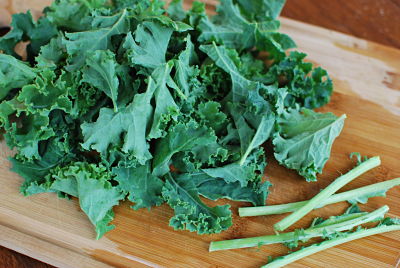 Wash and dry kale (I use a salad spinner)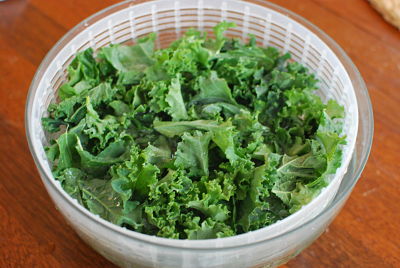 With clean hands, massage kale leaves with extra virgin olive oil to get them completely coated.  For reference, I used about 2 teaspoons of oil for a whole head of kale.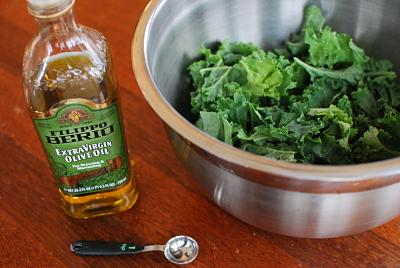 Spread on a SINGLE layer on a baking sheet (or two sheets if necessary).  Sprinkle with coarse ground kosher salt.  For this batch, I used about 1/2 teaspoon.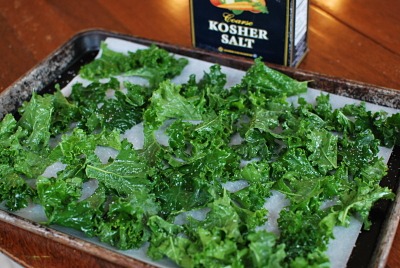 Bake at 375 degrees for 10 to 15 minutes.  Start checking the kale chips around 12 minutes as you will want them to be super crispy, but not burnt.  Mine are usually perfect around 14 minutes.  I just taste as I go, which depletes about half the pan!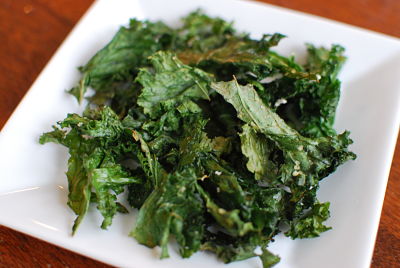 With the kids helping me, we can usually eat an entire batch in one sitting.  And by sitting, I mean standing over the pan shoving them in our mouths!!!
There are a TON of variations all over the internet.  But this classic version is quick, easy, and SO good!  I hope you'll give them a try!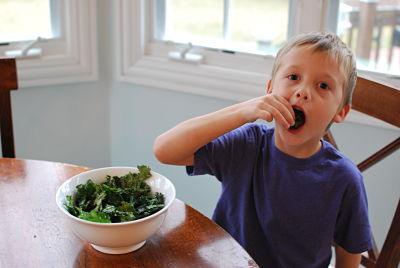 Happy Wednesday!
After I dried out from a cold and wet walk with the dog this morning, I decided to switch it up from my usual smoothie/juice for breakfast.  This weather definitely called for a great big warm bowl of oatmeal!!!  The recipe just makes a single portion, but I think you could probably triple or quadruple the recipe to bake up a bigger pan of it to share with the family or eat throughout the week.  I love this because its not too sweet, very filling, and packs in a serving of vegetables!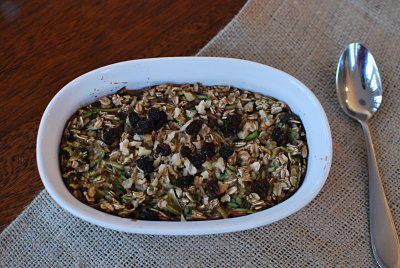 Zucchini Bread Baked Oatmeal for One
1/2 cup old fashion or rolled oats
1/3 cup unsweetened almond milk
heaping 1/3 cup zucchini, shredded
1/2 tsp pure vanilla extract
1/4 tsp cinnamon
1/4 tsp baking powder
1 T honey (or more if you prefer it sweeter)
optional – chopped walnuts and/or raisins for topping
Mix all ingredients and pour into a lightly sprayed dish.  Bake at 350 for 20-22 minutes.
Top with chopped walnuts and raisins, if desired.
My morning was busy with errands – trying to get lots done and groceries stocked up before we get hit with more snow.  Luckily the oatmeal held me over until lunch.  I have Jake home with me for lunch on Wednesdays so we shared our lunch of sandwiches, fruit, and
kale chips
.  His was PB&J.  My sandwich was
Ezekiel sprouted wheat bread
with hummus, avocado slices, tomato, cucumber, and red onion.
If you haven't tried
Ezekiel
breads by Food for Life, I
highly
recommend them!!!  They have really clean ingredients – only organic sprouted grains, yeast, vital wheat gluten and sea salt.  Because the grains are all soaked and sprouted, it is easier to digest for those with grain sensitivies.  I also love that each piece is only 80 calories and a whopping 4 grams of protein!
If you're interested, its usually found in the freezer section of the grocery store and runs about $4-4.50/loaf.  I keep it in the refrigerator and it lasts for weeks.  The raisin bread is really good too, especially with peanut butter or almond butter on it.  As a sidenote, I pretty much only like this bread when it is toasted (same goes for the kids!).  Its a little heartier than normal soft, sandwich bread and toasting it makes the dense, grainy texture less noticeable.
My afternoon snack was not cooperating for photos today.  This gray weather and lack of sunshine is just awful for taking pictures!!!
I learned about adding greens to smoothies a couple of years ago from blogs like
this
.  Its such an easy way to add a little extra leafy greens into your day (or into your kids)!!  I am pretty adventurous with greens in smoothies, but if you're not, then I promise this is a good starter recipe.  This one had a handful of spinach, a frozen banana, 3/4 – 1 cup of unsweetened almond milk, a scoop of vegan vanilla protein powder, and a spoonful each of raw almond butter (or PB is good too!) and ground flaxseed.  The protein powder is not necessary but I like to add it in on days that I lift weights.
This particular dinner has gone through a lot of modifications.  It started off as a knock-off of the Buffalitos from Buffalo Wild Wings.  We would grill the chicken, add store-bought wing sauce, and wrap them in whole wheat tortillas, which was significantly healthier than the restaurant version.
My latest version is served in lettuce wraps.  And after a review of the ingredients in wing sauce (soybean oil, artificial flavors, caramel color, corn syrup, and EDTA?  No thanks!!), I just mix Franks red hot with a little melted organic butter.  We also had roasted sweet potatoes on the side.  I leave the skins on and slice them up, coat them with a little olive oil and kosher salt and roast them in a single layer at 450 degrees for 15 minutes.  Flip them and cook them another 15 minutes or until evenly browned.  The kids aren't a fan of the spicy sauce, so they do chicken/cheese wraps on whole wheat tortillas instead.
That wraps it up for this Wednesday

Without a doubt, carrot cake is my all time favorite dessert.  Next up might be key lime pie.  Oddly enough, chocolate desserts usually aren't on my radar.
I've tried numerous recipes to make a lighter, healthier carrot cake but just haven't quite nailed it yet.  In the meantime, I still love the flavor combination, so when I saw this snack bar recipe over at Happy Healthy Mama, I knew I could tweak it just a bit to make it more like carrot cake.
Needless to say these have been a huge hit around here!!  There is so much nutrition packed into these little squares!!!  Fruits, vegetables, oats, healthy fats, and Omega 3 fatty acids all sweetened naturally for an awesome on-the-go snack or breakfast!!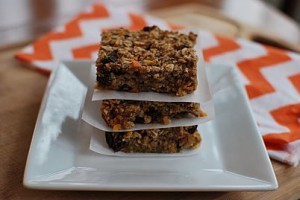 The original recipe called for eggs as the binder.  Feel free to make them this way if you prefer or if it is what you have on hand.  I decided to experiment with swapping out the eggs for a chia "egg" which is a common substitute in vegan baking.  Since the kids have been eating eggs a lot for breakfast, I felt like this was a good place to reduce the egg and swap in something with a little more nutritional oomph.  Chia seeds are an excellent source of plant-based calcium, protein and Omega 3 fatty acids.  Since I haven't made the original, I can't compare the texture between the two, but we've been happy with them this way.
I have made chia gel or chia "eggs" two different ways now.  The ratio is 1 tablespoon of chia seeds to 3 tablespoons of water – this will yield the equivalent of 1 egg.  You can simply mix the whole chia seeds into a bowl of water or grind the seeds in a coffee grinder first and then mix with the water.
So lets make some oatmeal squares!!!  Gather all of your ingredients – I love this recipe because I almost always have these ingredients on hand!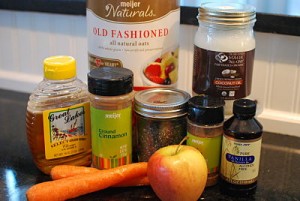 To make a chia egg, add 2 T. of ground chia seeds to a small bowl with 6 T. water.  Mix with a fork and set aside while you prepare the rest of the ingredients.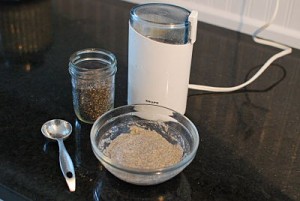 Into a large bowl, add oats, shredded carrots, shredded apple, raisins, and spices.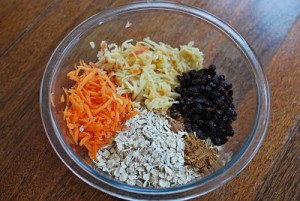 Combine wet ingredients:  melted coconut oil, honey, and vanilla.  Add to bowl along with gelled chia "egg".
Mix wet and dry ingredients and press into a greased 8 X 8 pan (I greased mine with a little coconut oil).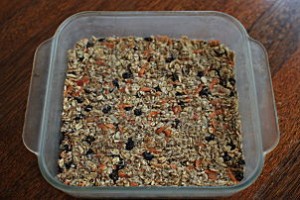 Bake at 350 degrees for 30 minutes.  Cool in pan before cutting into squares.  I have also found that I prefer to take these out of the pan to sit on a cooling rack for awhile.  This seems to help the bottom "dry out" a little.  I store them in a storage container in the fridge.  They don't last long around here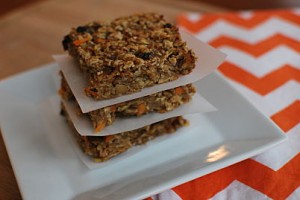 Carrot Cake Oatmeal Squares
Inspired by Happy Healthy Mama
2 T. chia seeds, ground in coffee grinder (or sub 2 regular eggs)
2 Cups Old-Fashioned Oats
2 small-medium sized carrots, grated (or 1 large carrot)
1 apple, grated
Scant 1/2 cup raisins
1 tsp. ground cinnamon
1/2 tsp. nutmeg
1/4 tsp. ground allspice
1/4 tsp. ground ginger
1/3 Cup honey
1/3 Cup coconut oil, melted
1 tsp. pure vanilla extract
Extra coconut oil for pan
Directions
Preheat oven to 350 degrees and grease an 8 X 8 pan with coconut oil.  Grind 2 T. chia seeds in a clean coffee grinder.  Mix with 6 T. water in a small bowl and set aside to "gel".
In a large bowl, combine oats, shredded carrots, shredded apples, raisins, and spices.
In a small bowl  or glass measuring cup, combine melted coconut oil, honey and vanilla extract.
Pour liquid ingredients and thickened chia "gel" into oat mixture and mix well.  Press down into an 8 X 8 pan and bake for 30 minutes.  Let cool in pan before slicing into squares.  Remove from pan to finish cooling on a rack.
Happy Wednesday!
We've been snowed in the last couple of days.  Luckily I stocked up at the grocery store before the snow and sub-zero temps hit.  We've only been in West Michigan for a year and a half and we're still getting used to this lake effect snow that seems to go on and on and on!  The kids think that it looks like we live inside of a snow globe!!!
Other than helping to get snow gear on and off, making endless cups of hot cocoa, and playing lots of board games, here is what I've been eating on this cold and snowy Wednesday.  The morning started off with my version of a Chai Latte.  Its made by steeping a Tazo Chai tea bag in half water and half almond milk and sweetened with some honey.  I've been trying to cut back on coffee (more because of the chemical-filled, sugary sweetener I put in it than for the caffeine).  This stuff is awesome and makes skipping the coffee pretty easy.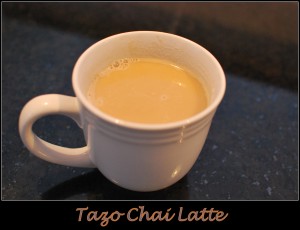 I'm still trying to eat super clean to combat all of these viruses going around right now.  Breakfast was a giant glass of one of my favorite juice/smoothie combinations, which just happens to be loaded with Vitamin C.  Its made with 1 red beet (raw, peeled, chopped), 1/2 red grapefruit, 1 carrot, 1 apple, and 1 small slice of fresh ginger.  This is blended up with a cup or so of water in a high speed blender for about 30-45 seconds.  I think if you wanted to try this in a regular blender, you would probably need to steam the beet first to get it a little softer.  This is a great combination to put through the juicer too!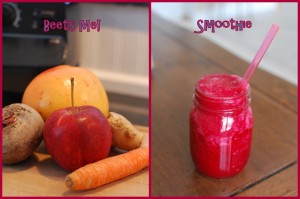 We were all a little bit snacky by mid-morning.  It was just easier for us all to have the same thing with everyone home today.  I made these carrot cake oatmeal bars the other day and they have been a huge hit around here.  We paired them up with a clementine.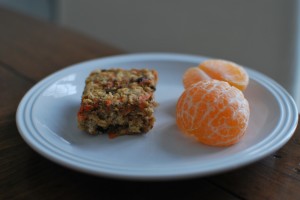 For lunch, I had a Greek-inspired salad.  It was a huge bowl of red romaine topped with cucumbers, red onion, tomato, yellow pepper, kalamata olives and topped with a simple lemon and olive oil dressing and some fresh parsley.  I don't always take the time to chop up fresh herbs for my salad but I had them left over from the veggie burgers on Monday.  I usually like to add toasted nuts to my salads for the crunchy texture and extra protein.  I experimented with something new to top this salad – roasted chickpeas!  They were sprayed with a little olive oil and some kosher salt, pepper, garlic powder, dried dill, and dried oregano.  Roast them in a 425 degree oven, tossing half-way, for 30 minutes.   This is nothing new in the healthy-eating-blog-world, but I had made them before and did not care for them.  Turns out I didn't cook them long enough to get crunchy and I also learned that they don't keep very well, which is the mistake I made the last time by trying to make them ahead of time.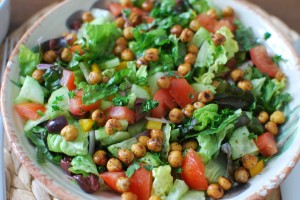 I also had some homemade Tomato Soup to go along with it.  Now that is a lot of veggies to pack into one meal!!!!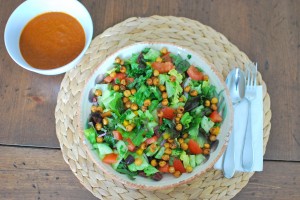 I know it was an awesome lunch when I can make it all the way to dinner without a snack!  Highly unusual for me!!  Dinner was chicken stir-fry served over Basmati rice with some pineapple on the side.  It is very loosely based off of this recipe from Danica's Daily.  I basically use her recipe for the sauce  (3T. Hoisin, 2T. vegetable stock, 1T. sherry, 1T. ketchup, 2 T. soy sauce, 1 tsp. fresh grated ginger, 1  tsp. sriracha hot sauce, and 1 T. brown sugar) but do not make it in the crock pot.  I stir fry the chicken and set aside, then the vegetables until just tender.  I add the sauce at the end and top it all of with some lightly toasted cashews.  Out of all of the stir fry recipes I've tried over the years, this seems to be our favorite so far.  Other than chopping up the vegetables (which could be done ahead of time) this dinner comes together really quick!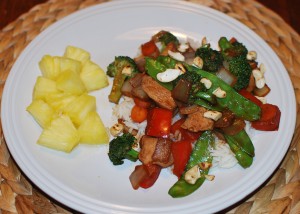 We've switched over to a new kind of rice lately.  I have always used quick cooking brown rice, but I didn't always get the texture right and sometimes it turned out a little bit sticky.  Hailey had gotten to the point where she would only eat it if I made it into "fried rice" which involves a lot of extra soy sauce (sodium!) and oil.  I recently found this at Meijer and love it.  It retains 80% of the nutrients from the husk that traditional brown rice would.  It is a slow-release carbohydrate with a low G.I. (glycemic index) of 52.  This means the sugar is slowly released into your bloodstream, providing a steady supply of energy and helps you feel fuller, longer.  I love the taste and texture and so far its cooked up perfect every time.  If you see it in your grocery store, check it out!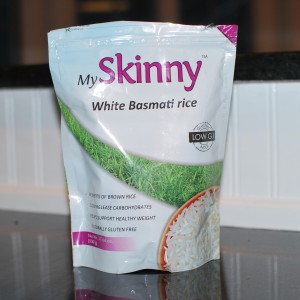 Well that wraps it up for this Wednesday!!
"One of the greatest opportunities to live our values – or betray them – lies in the food we put on our plates"     -Jonathan Saffran Foer, Eating Animals
Ever since reading books like "Omnivore's Dilemma" and "Eating Animals" and seeing the movie "Forks Over Knives", I have made an effort to limit my consumption of animal products including meat, fish, dairy and eggs.  This isn't to say that I don't eat these things.  I just try to limit them in my diet.  I think there are so many compelling reasons to cut back on meat consumption.  For me, these include the global and environmental impact of factory farming, the painful truth about the conditions in which the animals are raised and slaughtered, and the health implications of consuming animal protein.  While I was trying to make sense of the information that I was learning, I thought the answer was to purchase organic or farm-raised meat and dairy.  But after reading The China Study and seeing the documentary "Forks Over Knives", I learned that degenerative diseases such as diabetes and heart disease and some forms of cancer have all been linked to the consumption of animal protein, some of which can be reversed through a plant-based diet.   Seeing as how these diseases run in my family, I made the decision to start experimenting with more plant-based recipes and make a concerted effort to cut back on animal protein.
For our family, a flexitarian approach works best.  My husband prefers to eat a higher protein diet and our kids don't care for meat very much – either way, I would never force anyone to change or eat something they don't want. I tried to cut out all meat completely for a couple of years, but in the end it was just too much trying to cook different meals to please everyone.  I could take a simple classic like Broccoli, Cheese, and Chicken Casserole and spend an hour and a half making it three different ways: traditional style with a homemade soup base (no canned soups for us!) with the chicken and cheese, some without the chicken, and mine with a cashew "cheeze" sauce and no chicken.  It just couldn't go on that way every night for dinner!  I also wasn't happy with the amount of mock-meat substitutes that I was relying on in order to feed everyone a similar dinner.  Therefore I have tried to simplify our meals by cooking a couple of vegetarian meals a week and include some meat the rest of the week for each person to choose whether or not they want to include it.
This is a decision that I am very much at peace with now.  Most days, I eat vegetarian or vegan until dinner.  When we do include animal protein, I try to buy the most humanely raised meat, eggs and dairy that I can reasonably locate and can afford.   I feel like it has brought a little bit of balance back to my diet and I am a much more sane and happy person when it comes time to make dinner.
Tonights dinner was a new-to-us vegetarian recipe that was cut out of the newspaper by my husband.  I always try to make any vegetarian recipes he suggests since he is the most apprehensive about meatless dishes.  This one was a veggie burger from "The Meat-Free Monday Cookbook" by Paul McCartney and his daughters, Stella and Mary.  It had great "meaty" flavor and just a hint of spice and held together very well compared to other veggie burger recipes I've made.  Even my kids gave it the thumbs up.  That is a winner in my book!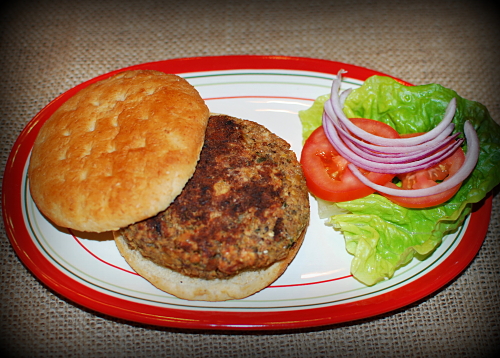 Chickpea, Cheese & Onion Burgers
Adapted from "The Meat-Free Monday Cookbook"
3 T. olive oil, divided
1 medium onion, chopped
2 cloves garlic, minced
1 tsp. ground cumin
1/4 tsp cayenne pepper (I probably used closer to 1/8 tsp)
1 can garbanzo beans, drained and rinsed
1 1/2 cups cooked lentils (I use the pre-cooked lentils from Trader Joes)
1 T. tahini
2 T. fresh parsley, chopped
1 egg, beaten
2 cups fresh breadcrumbs (see directions below)
1 1/2 cups swiss cheese, shredded
1/2 tsp. salt
Flour, for dusting
Directions
For fresh breadcrumbs, toast 4 slices of Ezekial sprouted grain bread.  Pulse in a food processor until breadcrumb consistency and set aside.
Heat 1 tablespoon of olive oil in a large skillet. Add onion and cook over  medium heat until tender. Add garlic, cumin and cayenne, and  cook 30 seconds. Remove from the heat.
Put lentils and chickpeas into the bowl of a food processor and pulse until  coarsely chopped. Add onion mixture, tahini and parsley, and pulse again until  combined and nearly smooth. Spoon into a large bowl and add egg, breadcrumbs and  cheese. Mix using your hands and add salt and pepper. Shape into patties and  lightly dust with flour.
Heat remaining oil in a large skillet (I used my cast iron which gave them a nice "crust" on the outside). Place burgers in pan cook until  golden on both sides (about 5 minutes per side).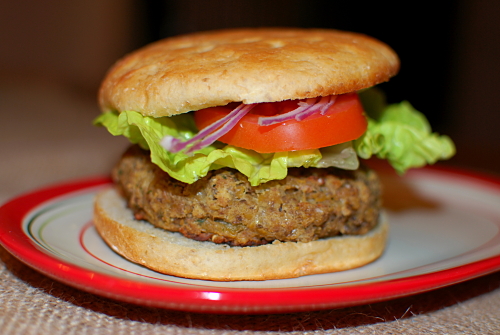 I thought it would be fun to show a typical day of what I eat.  This was an interesting experience and I now have a whole new respect for food bloggers!!  It took some extra time to stop and photograph everything and I had to remember every ingredient that I put into each meal.  It also didn't help that I was trying to take so many pictures on a cloudy, gray Michigan winter day!  Although, the advantage to this is that it definitely kept my hand out of the box of Cheddar Bunnies on more than one occasion!
I would say this is a somewhat typical day of eating for me.   However, I am on Operation "Avoid the Dreaded Flu" right now, so I am definitely putting in a little more effort than usual to eat clean and stick to as many raw fruits and veggies as possible (lets not even talk about how many times I wash my hands in a day!).
I started off the morning with a blender full of green juice, my absolute favorite way to start the day!  Green juice is great first thing in the morning because your body has been healing, restoring, and detoxing itself all night long.  So starting off with something as clean and nutrient packed as this keeps the process going a little longer.  Into the blender went a handful of kale, a handful of romaine, 1 stalk of celery, 1/3 of a cucumber, 1/2 of an apple, a clementine, 1/2 of a banana, and a slice of fresh ginger.  I added a couple of cups of water (and more if necessary) since I prefer it more like juice than a smoothie (although technically its considered a smoothie since all of the pulp and fiber remain).  All of this green goodness is blended up in the Vitamix for about 30-40 seconds and served over ice.  This concoction grosses Darren out every single time.  But I am convinced he would like it if he stopped calling it "lawn clippings" and just tried it.  You can ease into it by using a milder green like spinach and starting off with less greens overall.  I've noticed that the celery adds a very distinct flavor that took some time to get used to.  And the banana definitely makes it in my opinion.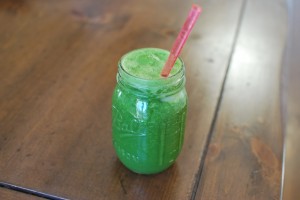 Next up, is some chia pudding.  I love love LOVE chia seeds!!!!  These little guys are nutritional powerhouses packed with fiber, protein, minerals, Omega-3 (even more than flax seed!), and antioxidants.  They also play an important role in cardiovascular health and controlling inflammation.  Plus they are great plant-based sources of calcium and protein.  My favorite way to make chia pudding is in the blender.  I add 2 T. of chia seeds, 1/4 cup of almond milk, 1/4 cup of water, 1/2 of a banana, 1/4 tsp. vanilla extract and a sprinkle of cinnamon to the blender and blend on medium speed for about 15 seconds.  I make this the same time as my smoothie and leave it in the fridge until I'm ready to eat it – the chia seeds will absorb the liquid and thicken up so that its like yogurt or pudding.  I like to top it with banana slices or other fresh fruit and some unsweetened coconut or chopped nuts.  This is definitely one of those things that can take some getting used to!  I need the toppings in there to give it the right texture so that its not so much like eating baby food.  Mainly, I just love it for the blast of nutrients and energy it provides.  It is awesome pre-workout fuel!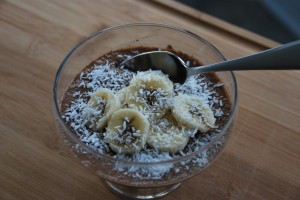 Lunch consisted of more immune-building foods:  a romaine salad with lots of raw veggies and topped with cayenne tahini dressing   alongside some miso garlic soup.  This dressing recipe comes from my friend Kristen over at Kristen's Raw.  Since I am not rocking the raw lifestyle like she is, I just use the regular (or organic) EVOO.  I also am not brave enough to add in the entire amount of cayenne.  But this dressing is definitely worth a try!!!!  It is lick-the-bowl-good and one of my all time favorites.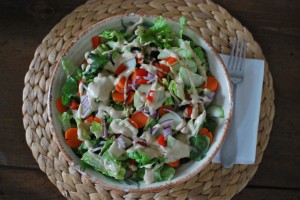 The miso soup is made by boiling 1 cup of organic vegetable broth and 1 cup of water.  Remove it from the heat (so as not to destroy the beneficial microorganisms in the miso, which is considered a "live" food).  Whisk in 1 T. of organic mellow white miso and then grate a clove of raw garlic into it.  This soup is my secret weapon for all kinds of winter sicknesses but its definitely not for people who work in public during the day….or do anything around any other people during the day

  I'm showing it as a separate item because I am a food-blogging rookie and was so hungry that I ate the salad and then took this picture and ate the soup!!!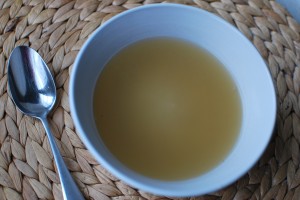 Since I lifted weights for my workout today, I wanted to get in a little extra protein so I went for a Pumpkin Pie Protein Smoothie for my afternoon snack.  I'm sure most normal people probably stop eating pumpkin after November, but I'll keep buying it until spring!  This smoothie had 1 cup pure pumpkin puree, 2/3  cup unsweetened almond milk, 1 scoop of vanilla protein powder (I use a vegan, custom-made blend of hemp and pea protein from www.trueprotein.com), 1/2 tsp. cinnamon, 1/4 tsp. ginger, and few shakes of ground cloves or nutmeg if you have them (or you could just throw some pumpkin pie spice in there).  Add a few ice cubes and blend it until its super smooth.  Sometimes I throw in a spoonful of flax seeds or hemp seeds for an extra nutritional boost, but I skipped them today.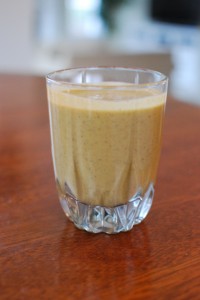 I ended up having to share!  He is a total smoothie smuggler!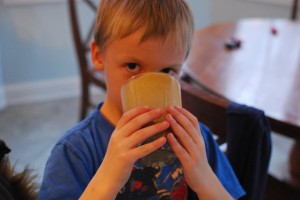 This was supposed to be their snack!  A mixed berry smoothie with chia seeds and probiotics and a homemade oatmeal bar!  I'm sure it goes without saying, but this is not all that my kids got to eat today!  I just focused on photographing my food, not theirs, since they are at school most of the day.  Since I shared my snack, he shared some of his oatmeal bar.  Mmm, shared food….such is the life of a mom….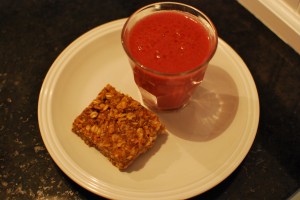 Dinner was simple and good, but another rookie blogging experience.  A hungry family plus one extra dinner guest (my dad would have thought I was NUTS whipping out my camera at the table!) plus zero natural daylight equals no pictures of dinner!  Thats OK.  It was so basic that it was hardly worth photographing.  It was simple grill chicken with some BBQ sauce, a baked sweet potato with a tiny bit of coconut oil and some steamed green beans.
Well, that is it for my first "What I Ate Wednesday"!
Tomato soup and grilled cheese.  No doubt, one of the most simple comforting meals around, especially this time of year.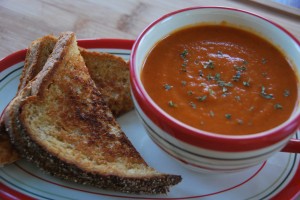 I love this as a quick weeknight dinner or to make ahead for lunches throughout the week.  And it was through trial and error that I realized how much my kids love this soup.  I had made a basic tomato vegetable soup for dinner one night.  The kids were just picking at it when Hailey informed me that she would like it better if it was "smooth" tomato soup.  So, a quick zip with the immersion blender and I had a new family favorite on our hands.  I had made basic tomato soup before, but now I realized I could hide a few extra veggies in there and still pass it off as tomato soup!  Genius!!  Oh wait, Jessica Seinfeld already did that

  Oh well……
The ingredients are fairly simple and the extra veggies can vary by what you have on hand or what is in season.  My biggest issue that I struggle with is the canned tomatoes.  By now, I'm sure most everyone has heard news stories of BPA (or bisphenol A).  It is a chemical that is used to harden plastic.  It is found in everything from plastic water bottles and storage containers to cash register receipts and medical devices.  Unfortunately, it is also present in canned goods.  And it is actually more dangerous in canned tomatoes over other canned goods as the high acidity in tomatoes requires an even higher amount of the chemical in the cans, and therefore even more BPA is leached into the food.
BPA had been considered safe by the U.S. Food and Drug Administration until 2010 when the agency altered its position and expressed "some concern" about the potential effects on the brain, behavior, and prostate glands in fetuses, infants, and young children.  Studies have linked BPA exposure to hormonal disruptions, brain and behavior problems, cancer, heart problems, and other diseases.  And unfortunately, the effects are most pronounced in infants and young children as their developing bodies are less efficient at eliminating the substance.
The good news is that consumer awareness and demand are convincing manufacturers to begin phasing it out of many plastic products.  Some states have banned the sale of certain products such as bottles and sippy cups made with BPA.  It is possible to reduce exposure to BPA by using BPA-free products, using non-plastic containers for food,  and using less canned foods when possible.
Which leads me to the tomatoes.  The most readily available option that I have found that does not contain BPA is Pomi Chopped Tomatoes, which come in a tetra pak (box).  Of course, these are a bit more expensive than traditional canned tomatoes.  I try to stock up on them when they go on sale and definitely freeze any portion that I do not use.  When debating whether or not to go with a more natural/organic/expensive product, I usually weigh in the amount of the item we consume, and particularly how much my children consume.  Given that we use canned tomatoes so often in soups, casseroles, etc, I try to opt for the Pomi boxed tomatoes the majority of the time or as often as my grocery budget allows.   Other options would be using your own canned tomatoes (something I'd eventually like to try!) or simply boiling whole roma tomatoes for a minute or two, and peeling them once cooled.
 Lets make some soup!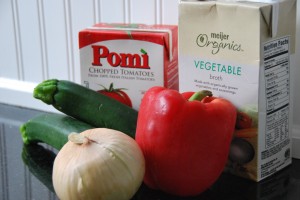 Chop all veggies into uniform pieces.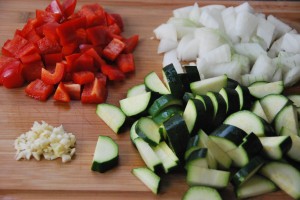 Heat a large pot (preferrably NOT a non-stick) over medium heat.  Add the olive oil and veggies and saute approximately 5-7 minutes until soft.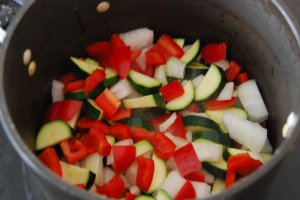 Add in tomatoes, broth and seasonings.  Bring to a low boil and reduce heat.  Simmer for 15 minutes.
Remove the bay leaf.  Blend with an immersion blender (or in batches in a traditional blender) until smooth.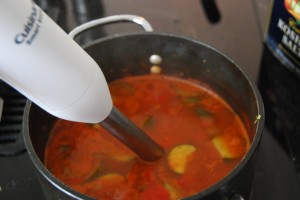 The most recent time I made this soup, we happen to have a small amount of organic creamer left from the holidays (not something I normally have on hand).  While I think this soup is really good without it, just a small amount makes it great (a bit more like a tomato bisque but much healthier)!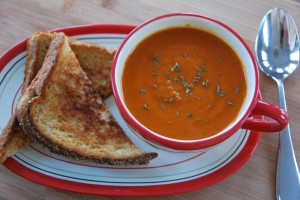 And since one of my New Year's resolutions is to focus on improving the foods that my kids are eating, I've made a double batch of this soup to freeze in small glass jars.  I can defrost it in the refrigerator overnight, and then heat it up in the morning and pack it in a Thermos in the lunchbox.  Along with some whole grain crackers and string cheese or a whole wheat quesadilla and some fruit, this has become one of my kids favorite cold-weather school lunches!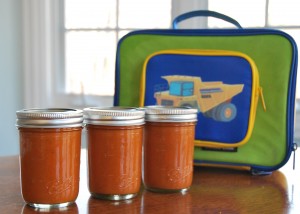 Tomato Soup with a Twist
1 26 oz. box Pomi chopped tomatoes
1 32 oz. box organic vegetable broth (or other non-msg containing broth)
1 T. oil (extra virgin olive oil or grapeseed oil)
1 medium onion
2 small zucchini
1 bell pepper (red, yellow, or orange)
2 cloves garlic, minced
1 bay leaf
1/2 tsp. Italian seasoning blend
1/2 tsp. dried rosemary
1/2 tsp. kosher salt
1/4 cup organic dairy creamer (half and half)
Directions
Chop all vegetables into medium-size pieces. Heat oil over medium heat.  Saute vegetables over medium heat 5-7 minutes, adding in garlic during last few minutes so that it does not burn.  Add broth, chopped tomatoes, and seasonings and simmer for 15 minutes.  Remove bay leaf and blend with an immersion blender or in a traditional blender in 2 batches.  Taste for additional salt and pepper if desired.  Blend in optional creamer if using.
I have decided that one of my goals this year is to focus a little more on better nutrition for my two kids.  I probably love healthy eating more than the average person – I feel my best when my days are full of green juice, chia pudding, and kale salads and truly enjoy eating this way.  But over the past year or so, I have found that while I'm experimenting with new recipes for myself to enjoy, I am falling back into old habits and feeding my kids more processed foods during the day than I would like.  So, I'd like to work on swapping out some of their packaged snack foods for more nutritious, real foods.
I am a busy parent of two kids with time and budget constraints just like everyone else.  I realize just how convenient it is to toss a granola or cereal bar in the backpack for a snack.  But a recent review of the approximately 45 different ingredients in Kellogg's Nutri Grain Bars (8 of them being different forms of sugar, many ingredients that I cannot pronounce, artificial flavors, and artificial food colorings) leaves me feeling like I can easily do better than this. With just a little effort, I can have make a homemade snack that is not full of an entire day's worth of sugar, genetically modified foods, and unrecognizable ingredients and still gets the thumbs up from my family.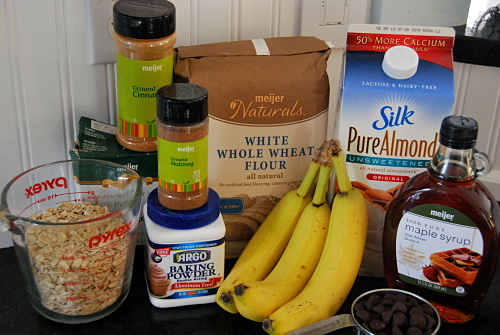 So, this week I baked up a batch of one of our favorite muffins to pack as a snack throughout the week.  My kids love these mini banana chocolate chip muffins based off of the Oil-free Vegan Banana Bread by the vegan cookbook author Dreena Burton of Plant Powered Kitchen.   I love that these muffins are full of REAL food ingredients – with no white flour, no white sugar, and no oil.  With the addition of a few chocolate chips, my kids think they are getting a treat when in reality they are getting less sugar than a pre-packaged granola bar!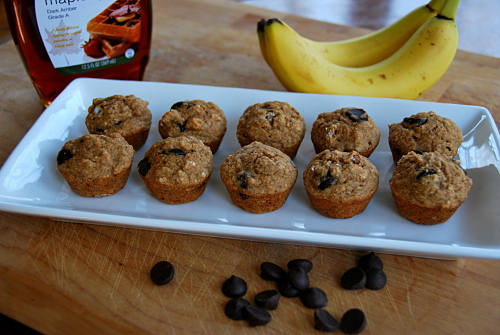 Mini Banana Chocolate Chip Muffins
Adapted from the recipe by Dreena Burton
1 cup white whole-wheat flour or whole-wheat pastry flour
3/4 cup oat flour (oats finely ground in a blender or coffee grinder – grind first, then measure)
2 tsp baking powder
1/2 tsp baking soda
1/2 tsp cinnamon
1/4 tsp ground nutmeg
1/4 tsp salt
1 cup pureed overripe banana (puree bananas in deep cup with an immersion blender, or in a blender or mini food processor.  Puree first, then measure)
1/2 cup pure maple syrup
1/2 cup plain unsweetened non-dairy milk (I like almond milk, but you can use soy or other)
1 tsp pure vanilla extract
1/2 cup chocolate chips
Preheat oven to 350. In a large bowl, mix dry ingredients. In a separate bowl, combine mashed banana, maple syrup, almond milk, and vanilla. Add wet mixture to dry, fold in chocolate chips, and stir until just combined (very important not to overmix). Lightly grease a mini muffin pan (I use a Misto sprayer filled with grapeseed oil) and fill 2/3 of the way full.  Bake for approximately 15 minutes, just until a toothpick comes out clean.  Makes approximately 2 1/2 dozen mini muffins.
My kids will be enjoying a couple of these mini muffins with a few apple slices as their afternoon snack this week!  I hope you enjoy them too.