A year ago, I was offered a great job opportunity, complete with a title, salary, benefits, flexible hours….the whole package.  Although everything seemed perfect on paper, I knew in my heart that I would never be happy or feel fulfilled in that job.  Either way I went with that decision made me sick to my stomach.  I turned it down without an alternative plan in mind and began a crazy journey of soul searching, determined to figure out what I was meant to do with my life.  In the next 12 months, I conquered my fears of all things technology-related in order to learn how to write a self-hosted blog, went back to college at twice the age of most other college freshmen, aced an Anatomy class, completed my first detox, travelled on an airplane by myself multiple times (another one of my greatest fears), coached a team of girls to run a 5K, learned how to stand on my head on a paddleboard, earned certifications in yoga, PaddleFit and CPR, helped my husband start a stand-up paddleboard company, and otherwise pushed myself physically and mentally farther than I ever thought I was capable of.  Did I end up where I thought I would or where I was planning?  Not at all.
While I was pushing myself further and further outside of my comfort zone, it was often hard to separate out all of the different feelings.  There were highs and lows of course.  But there was always a nagging feeling that the "goal" of where I was headed wasn't really "right". One day, I was looking for a funny "Throwback Thursday" photo to post on Instagram.  I was looking through a bag of old photos in the attic that my Nana had given me.  This is the only one I remember seeing in the pile that day.
For a moment time stood still while I looked at this picture.  I can remember this moment like it was yesterday.  When I look at this picture, I see "happy".  I put it back in the bag and instead posted an old picture of Darren and I dressing as 1920's gangsters for a date night out in Chicago! (As a side note, the friend with me in that picture is now a well-known food blogger and cookbook author

 )
One Sunday night a few weeks later, I received my "Weekly Dharma" from Caren Baginski's popular yoga blog.  The timing was rather ironic.  While reading Caren's post about looking to your childhood for clues to your purpose in life, it became clear as day to me.  That picture I had found and her blog post went hand-in-hand.  I closed down my computer and sat there in the dark trying to figure out how I was going to do a complete 180 on where I was headed.  But the funny thing is I don't really feel like I had to do too much at all.  I simply put the thought out there, and assumed that it would happen if it was meant to be (that is yoga teacher training coming into play right there!).
Within the span of about 6 weeks I went from my holistic nutrition finals to opening the doors of my new business teaching people how to sew.  I think its safe to say that based on the way things unfolded, it was meant to be!
I thought about re-writing my "About Me" page and trying to somehow work this blog into a mix of healthy recipes and craft ideas.  But for now, I like the blog the way that it is as a record of my journey.  I definitely do not regret any of the decisions I have made or the experiences I've had over the past year.  I draw on those experiences on an almost daily basis….from dealing with a technology glitch to deep breaths to get through a stressful moment to prepping oatmeal bars to grab for breakfast for another crazy busy week.  I truly believe that no education or experience in life is ever a waste.  They are all just part of the journey.
A friend recently sent me this quote:
Twenty years from now you will be more disappointed by the things that you didn't do than by the ones you did do.  So throw off the bowlines.  Sail away from the safe harbor.  Catch the trade winds in your sails.  Explore.  Dream. Discover.   -Mark Twain
For now, my journey as a holistic nutrition-loving food blogger has ended.  I will keep the blog up and running since it has all of my favorite recipes on it, but I will not be posting anything new.  If you are curious what I am up to, you can find me here.
Hey there!
We are in full blown Christmas mode around here, which explains my absence recently!
Today I made up some of this homemade playdough for my kids.  It makes a super cute little gift or stocking stuffer.  Or something fun to do while the kids are home for Christmas break.  I thought you might like to make some too!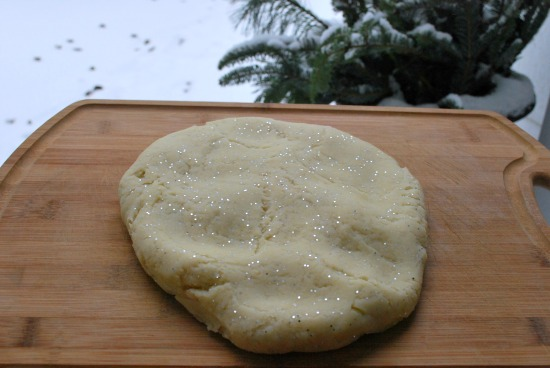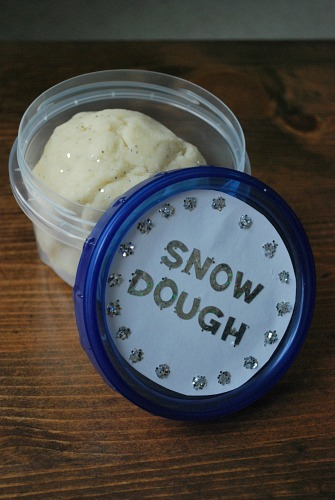 Peppermint-Scented Snow Dough
*be sure to remind the little ones that this is play dough and not to be eaten

Ingredients
2 T. oil (great place to use up any of that yucky old vegetable or canola oil you may have lying around!  And as much as I love coconut oil, do NOT use it here)
1 cup water
1/2 cup salt
1 cup white flour (again, as much as I love whole wheat flour, I think you realy need to use the white stuff here)
2 tsp Cream of Tartar (found with the spices in the baking aisle)
Peppermint extract
Glitter (I used silver)
Directions
Add oil and water to a medium-sized pot and gently warm on the stovetop of medium low heat.  Add in flour, salt, and cream of tartar and mix until a big ball of dough forms.  It comes together and thickens very quickly so do not burn it.  Remove from heat and place on wax paper to cool.  Knead in peppermint extract and glitter (as much as desired).  I used quite a bit of peppermint extract to cover up the strong olive oil scent (because it was all I had on hand!).
Note:  if you want colored, glittery snow dough, add a few drops of food coloring to the oil and water mixture.
Package up in a small plastic container with stickers or these mini mason jars and some decorative scrapbook paper.  Perfect for classroom gifts or for the kids to give to their friends!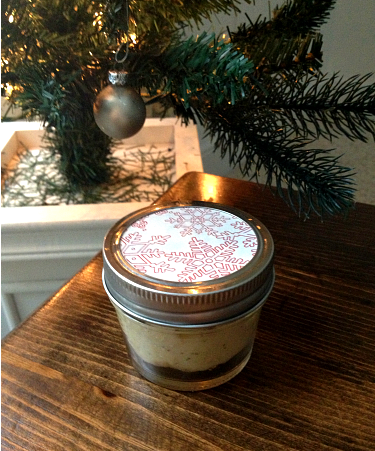 Happy What-I-Ate-Wednesday!!
I have been starting my mornings off a little differently lately. I promised a friend that I would do the new Beachbody video series "T25" with her if she ordered it. We just started on Monday. What a great workout! It's challenging and goes by quickly, plus I love the motivation of having someone to workout with!
Since we workout right after the kids go to school, I need a breakfast that is quick and easy but won't weigh me down. I have been loving the chia pudding for an awesome pre-workout meal!!! If you've been hesitant to try chia pudding, give this flavor combo a try. It is SO good! Even though I say that about all of them….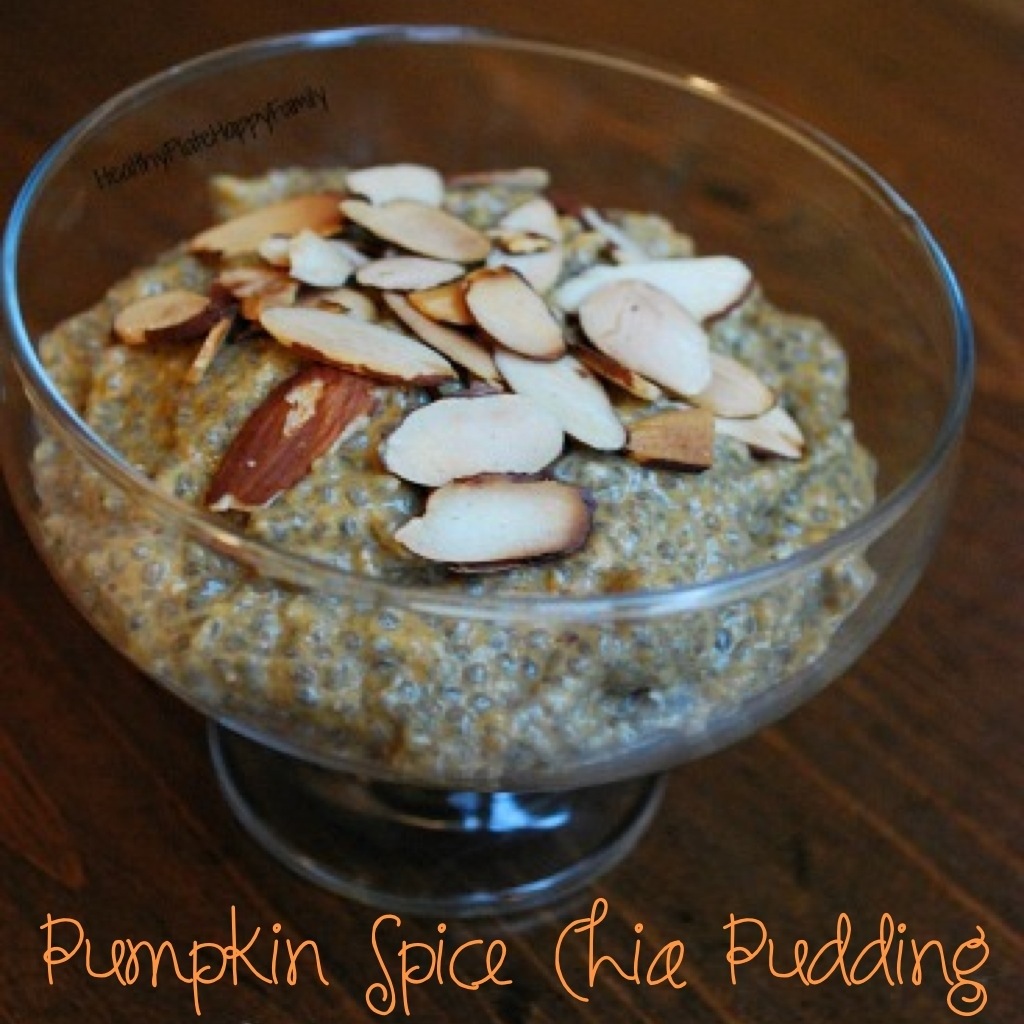 Pumpkin Spice Chia Pudding
Ingredients (serves 2)
1/3 cup chia seeds
1 cup unsweetened almond milk
1 T. raw almond butter
1/3 cup canned pumpkin
1 T. pure maple syrup
1/2 tsp. cinnamon
pinch of ginger and nutmeg
Directions
Thoroughly mix all of the ingredients together. For a smoother, more pudding-like texture, blend the ingredients in a blender. Store in a container overnight to thicken and let flavors develop. In the morning, top with toasted nuts, dried cranberries, coconut, banana slices, etc.
For lunch, I came up with this new salad combination. I am trying to utilize some seasonal produce to keep my salads fresh and interesting. Today's combination had a bed of red romaine topped with red onion, clementine segments, pomegranate seeds, toasted walnuts, a little bit of avocado, and some goat cheese. I topped it with a simple dressing made from 3 tsp balsamic vinegar and 1 tsp olive oil. I love all the colors in this salad – wouldn't it be so pretty for the holidays?!?!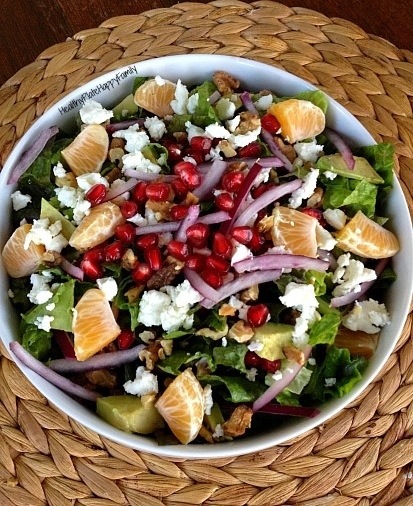 This afternoon, I had a gluten-free Cinnamon Apple Muffin toasted in the toaster and a clementine. As a side note – does anyone else have an issue with lots of food coming home from school in the lunch boxes?!?! My kids can be really hit-or-miss. Sometimes the entire thing is empty and sometimes there are entire things uneaten. There have been a lot of good, organic (expensive!) fruits and veggies coming home lately and I get SO frustrated! So today, when I unpacked the lunch boxes, I plated each of them the carrots/oranges etc. they didn't eat with a little fresh dip, cheese, pretzels, etc. and served it to them again. I think the food is still "safe" since it's all packed with ice packs and just a few hours beyond lunch. They totally ate it all up! Win. Win.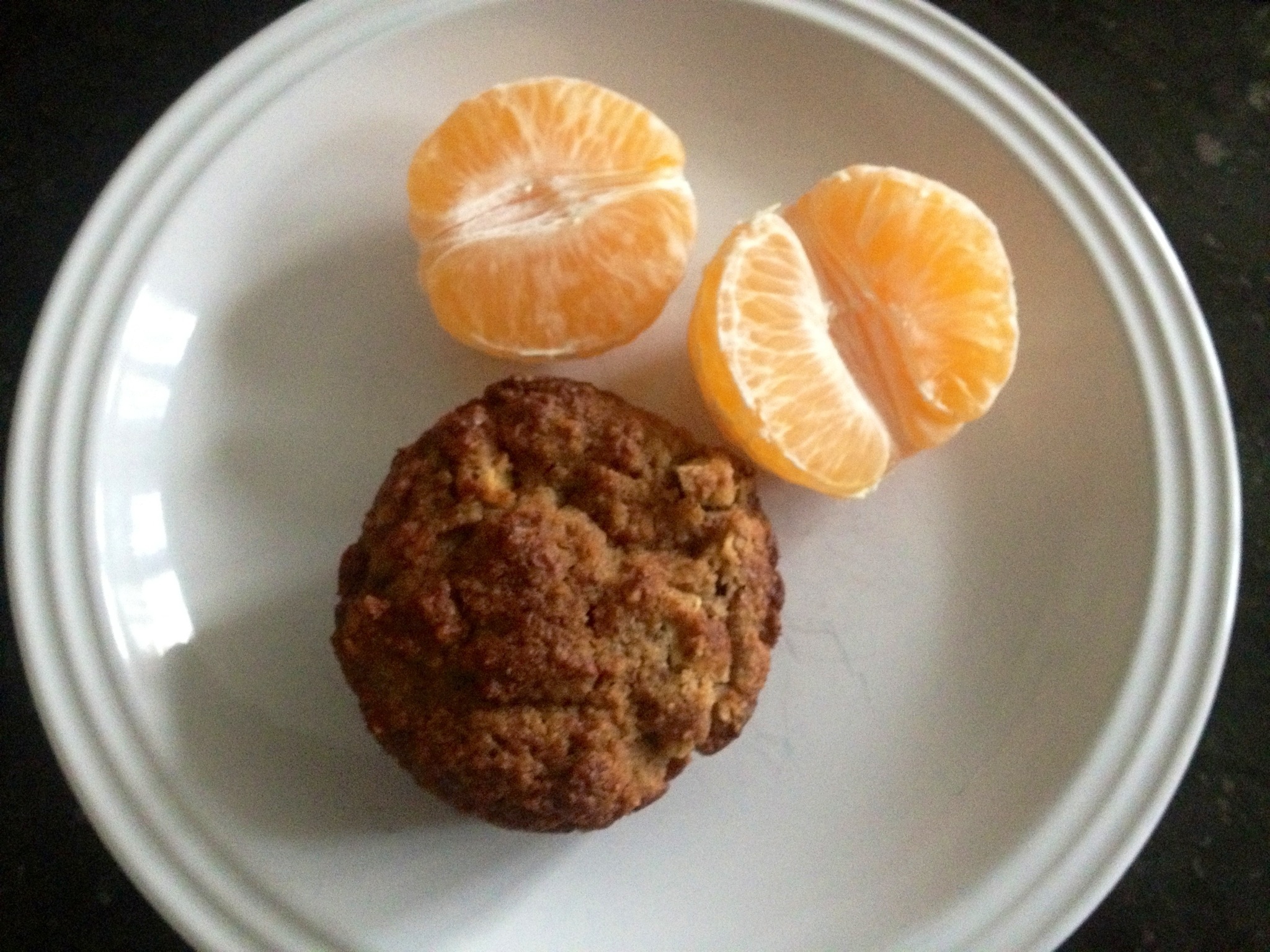 For dinner, I was super excited for all of us to be adventurous and try a fun new vegetable….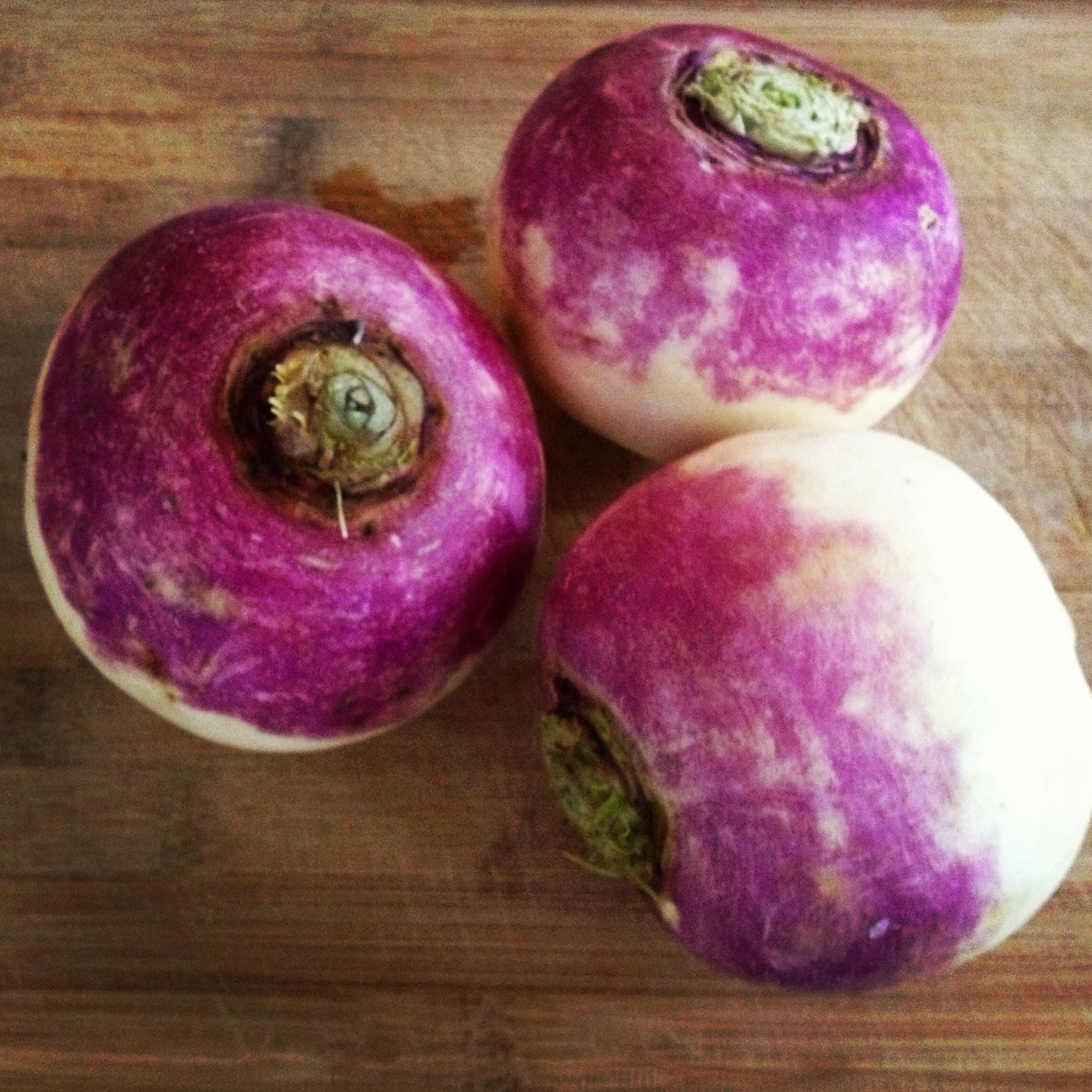 Turnips! Aren't they pretty??? (As Buddy the Elf would say "so purple-y!!!!!")
I peeled and boiled them with the hopes of mashing them up along with roasted garlic to be a creamy side dish along the lines of mashed potatoes, but healthier. I would give them a 5 out of 10. They weren't terrible. But they had a stronger flavor than I was expecting. I think I prefer mashed cauliflower better. I might try roasting them next time.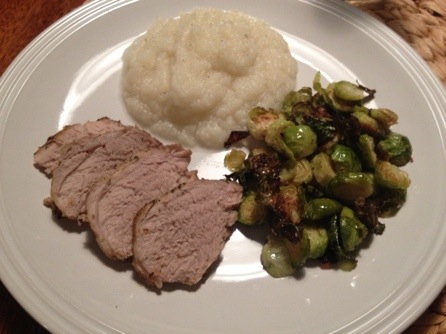 We served it up with an awesome herb-roasted pork tenderloin (and Darren's famous horseradish cream sauce!) and some thinly sliced roasted brussels sprouts. The sprouts stole the show at dinner tonight. I will always cut them this way from now on!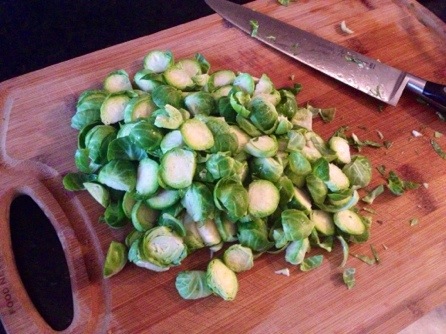 Thats it for today. I'm packing lunches (or after-school snacks, their choice!) and heading to bed!
Hey there! I hope you're enjoying the all of the breakfast ideas. While the Spelt Waffles and Oatmeal are awesome, easy, nutritious recipes, we also like to frequently include eggs as our breakfast.
First, lets talk about the nutrition in eggs:
Great source of high-quality protein with about 6 grams per egg, helping to satisfy hunger
Supply choline, important for fetal brain development and overall brain function and health
Excellent source of selenium, which is thought to help prevent cancer, especially prostate cancer
Excellent source of the minerals lutein and zeaxanthin, two caratenoids that are beneficial for eye health
One of the only foods with naturally occurring Vitamin D
There has been quite a bit of controversy surrounding eggs in recent years. However, research such as this study by the Harvard School of Health in the Journal of American Medical Association, has proven there is no link between eggs and heart health in otherwise healthy people. Since my family is in overall good health, very active, and not eating a diet high in other unhealthy trans fats, I feel comfortable including them as a regular part of our diet.
If you decide to include eggs in your diet, try to get free-range pastured eggs when possible. They are much more nutritious than eggs from factory-raised chickens and they taste better!
So, what are some creative ways to serve them up? Lately, my favorite way has been to combine them with sweet potatoes!
Sweet Potato and Veggie Hash with Eggs
Ingredients
1/2 sweet potato, peeled and diced small
Veggies of choice – broccoli, peppers, onions, mushrooms, spinach, zucchini
1 T. Butter, divided (grass-fed butter or ghee are great choices)
2 Eggs
Directions
Chop all veggies into uniform size pieces. Heat a pan to medium heat (I love my cast iron!) and melt butter or ghee in the pan and add sweet potato. Cook sweet potato, browning on all sides, for about 5-6 minutes. Add a little water to steam and cover the pan for a few minutes to help the potatoes cook through. Add remaining veggies and cook for an additional 3-5 minutes until all veggies are cooked through. In a separate pan, cook eggs to your liking (these are over-medium cooked in grass-fed butter). Plate the veggies and eggs together and enjoy!
Sweet Potato Cakes
Ingredients
1 large sweet potato, peeled and shredded
2-3 egg whites depending on size of potato
Sea salt and freshly ground black pepper
Butter (grass-fed or ghee would be great options)
Directions
Shred sweet potato using a box grater and place into a medium-sized bowl. Mix in 2-3 egg whites and season with salt and pepper. Heat a pan (I use my cast iron) to medium heat and add butter to the pan to melt. Scoop sweet potato mixture into pan and form into "patties". Cook 5-6 minutes on each side depending on thickness. Cover the pan for 1-2 minutes to help the potatoes cook through. Serve alongside eggs.
If you don't have time for fresh-cooked eggs in the morning, try out some of these make-ahead recipes that are our favorites!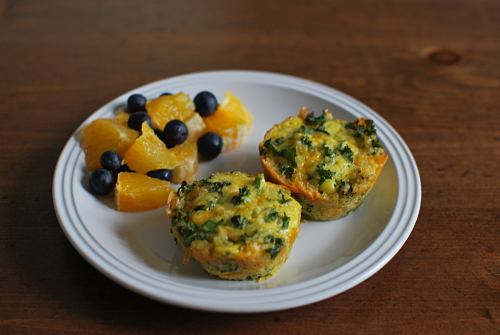 Broccoli, Kale and Cheddar Quinoa Cups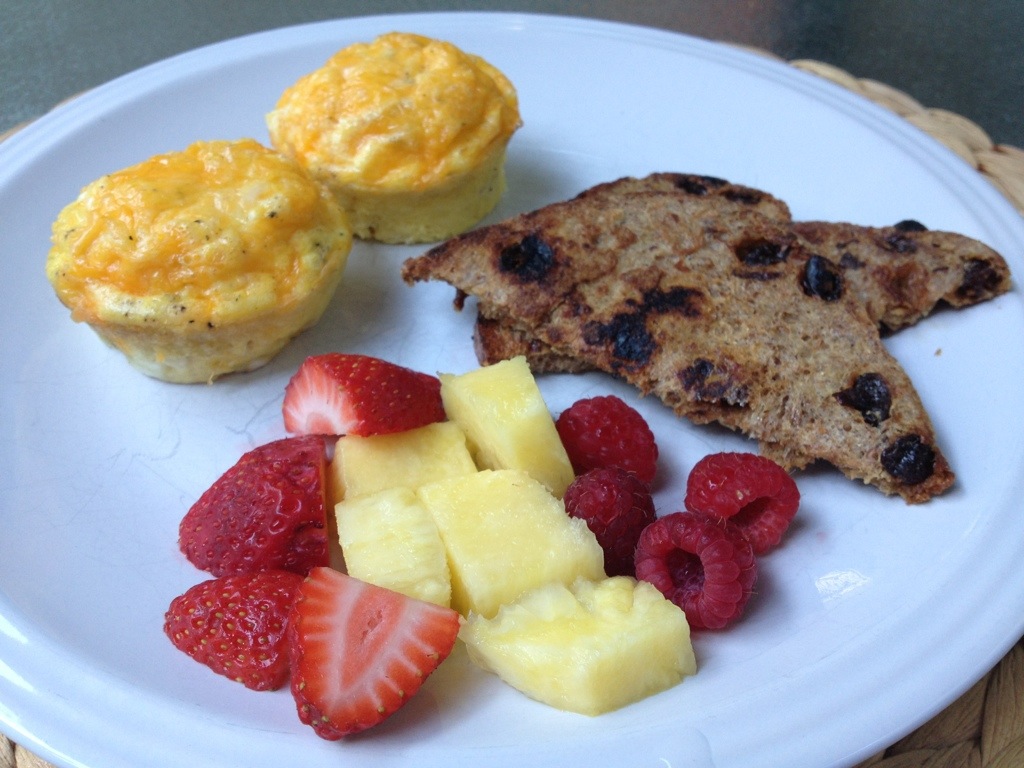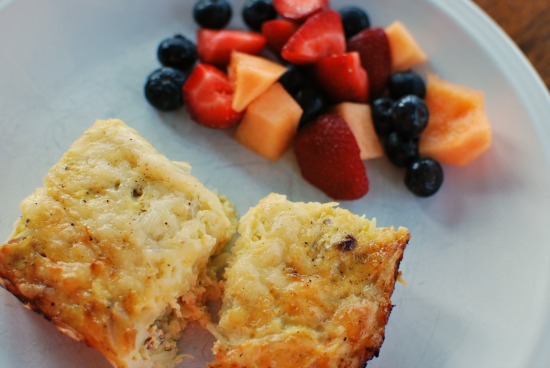 Bacon and Swiss Egg Casserole with Spaghetti Squash
Oatmeal is probably the breakfast food that I have made the most for my kids. Hailey went at least two years straight, if not more, where she ate oatmeal every single day for breakfast. Smart girl….oatmeal is healthy!!
It contains vitamins, minerals and antioxidants, and are a source of protein and complex carbohydrates.
Oats contain a specific type of fiber called beta-glucan, which helps reduce cholesterol and reduce the risk of heart disease.
The soluble fiber in oats helps stabilize blood sugar levels and keep you feeling full.
It's still a favorite around here and I've found plenty of ways to mix it up and keep it fresh.
If you follow me on Facebook, you may have seen the oatmeal-stuffed baked apple that I made yesterday. This was amazing and I had it again today!!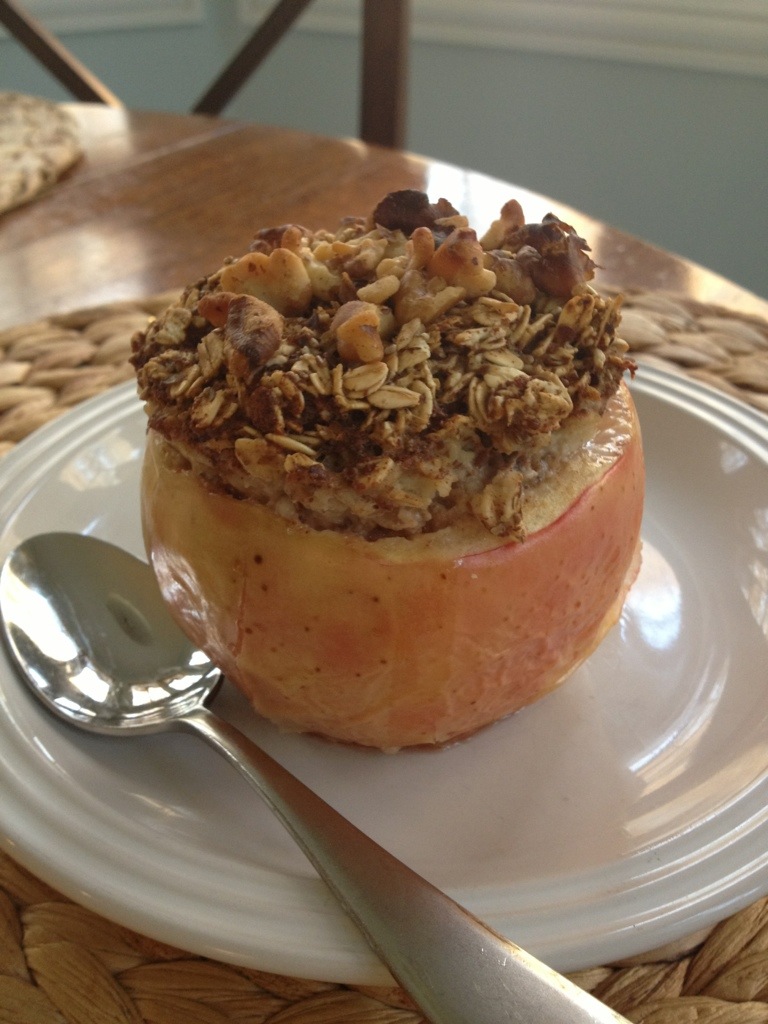 Directions
Use a sharp paring knife to cut out the core and some of the apple to make a nice big "well". In a bowl, combine 1/2 cup oats, 1/3 milk (or non-dairy milk), 1 egg white, 1 T. ground flax, 1 tsp. pure maple syrup, and 1/2 tsp. cinnamon. Fill the apple and top with chopped walnuts or pecans. Bake at 375 degrees for 25-30 minutes.
Alternatively, you can stuff this into a halves of a hollowed out orange (with a little extra maple syrup and some dried cranberries) for more of an Orange Spice flavor!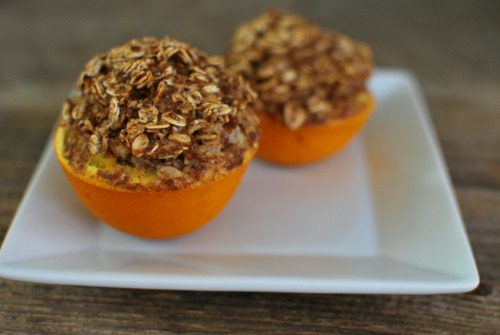 Something that my kids have been loving lately is Oatmeal Parfaits. While the oats are cooking on the  stove top, I get get the fruit and yogurt ready.  Then, simply layer oatmeal, yogurt, and berries a few times. We like to stir a little honey into our Greek yogurt or just drizzle it on top.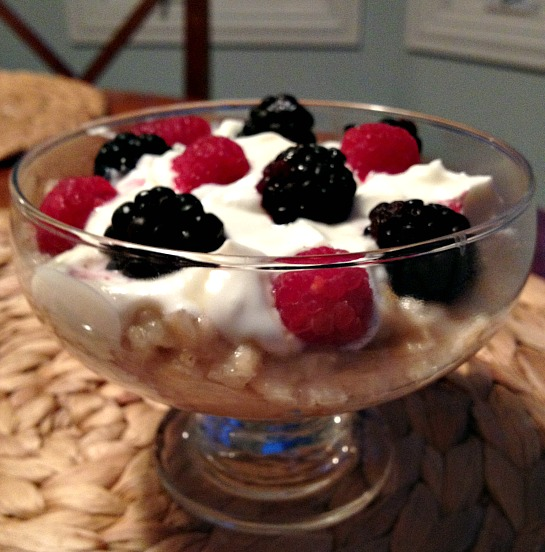 If you are in more of a time crunch in the mornings, I highly recommend this recipe for Crockpot Overnight Steel Cut Oats. I have made these a couple of times and everyone loves it!!! My crockpot tends too run a little hot so I just set it on the "Warm" setting and cook it that way overnight. I also skip the butter and brown sugar and it's still great.
If you want other ways to eat oats, check out some of these other recipes I have posted:
Baked Oat Recipes (can be made and then eaten all week long)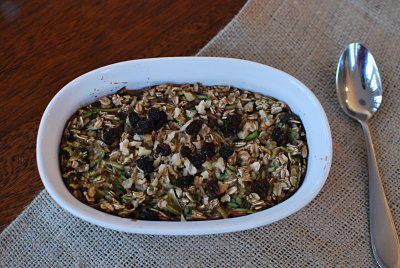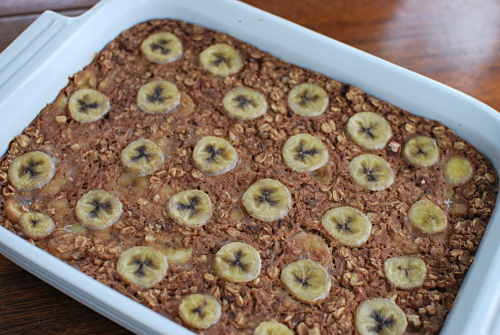 Overnight Oat Recipes (eaten cold or warmed up a bit in the morning)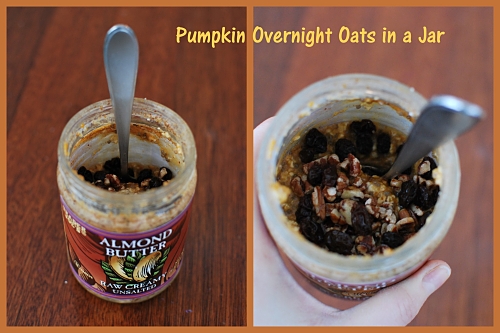 Pumpkin Overnight Oats in a Jar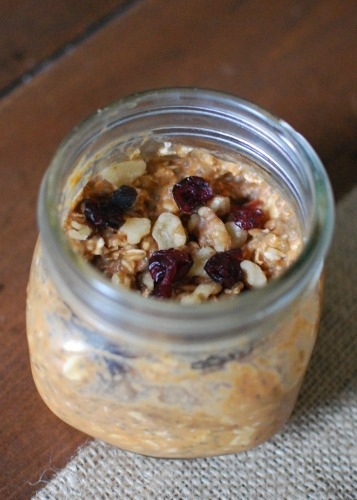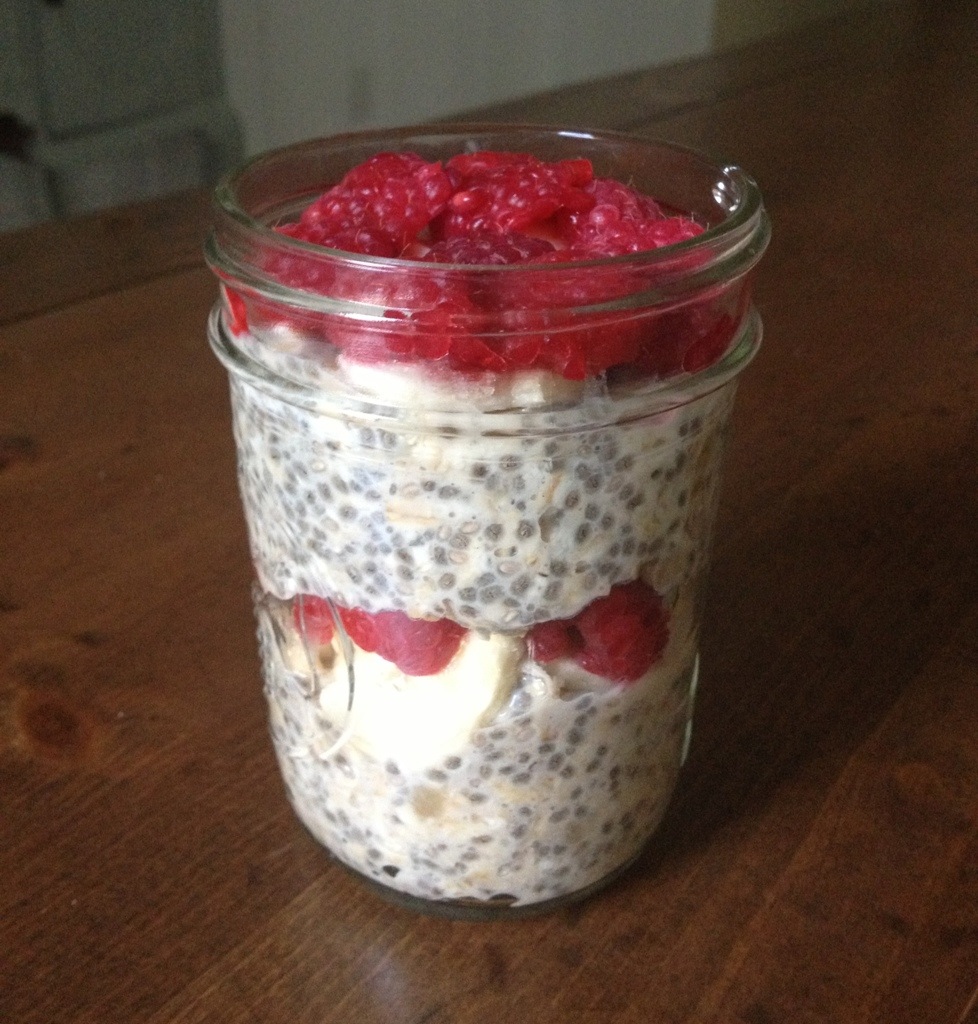 Overnight Chia Oats with Fruit
Now that my rage against the cereal is over, I can move on to some awesome breakfast ideas for you!!
This morning, we had a late start at school, so I had some extra time to make breakfast for the kids. One of our main staples for breakfast in our house (for the kids) is homemade whole grain waffles. I usually make a big double batch of them on Saturday or Sunday, and then freeze them. Then, on crazy school mornings, we can just pull out a couple of them and throw them in the toaster and we're good to go!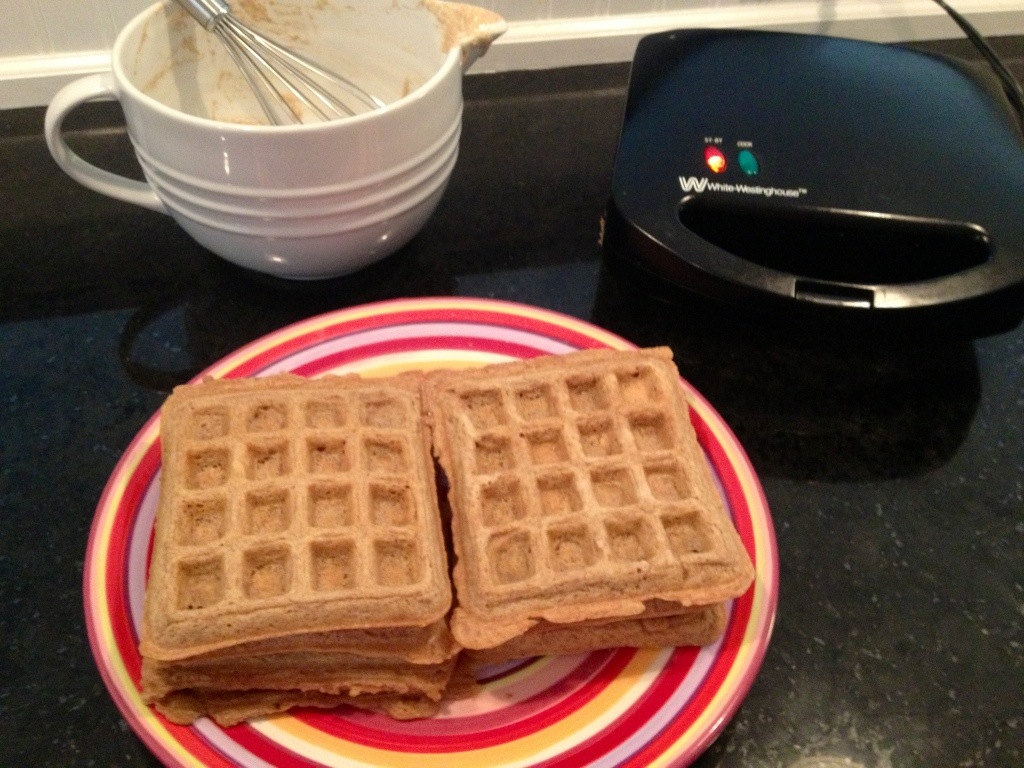 You can serve them up plain with a little fruit and syrup.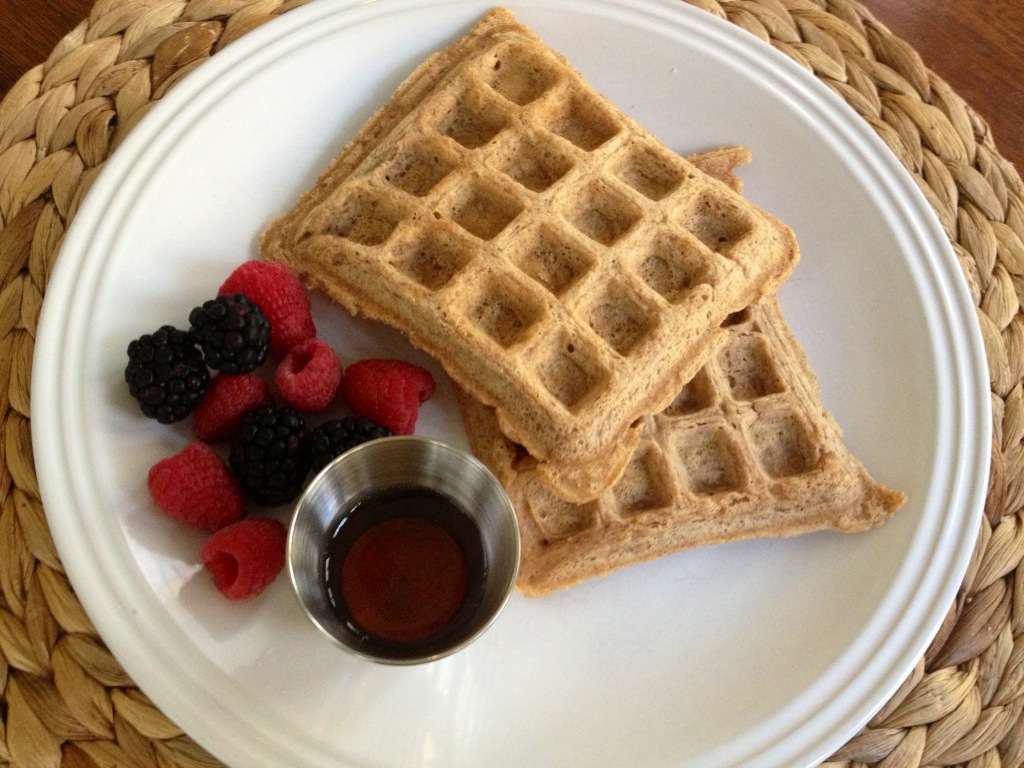 Or, for something a little different, we sometimes cut them into strips and make "waffle dippers" with sides of yogurt and berry sauce to dip them in. The sauces are plain Greek yogurt with a little maple syrup stirred in and defrosted berries pureed in the blender with a splash of maple syrup.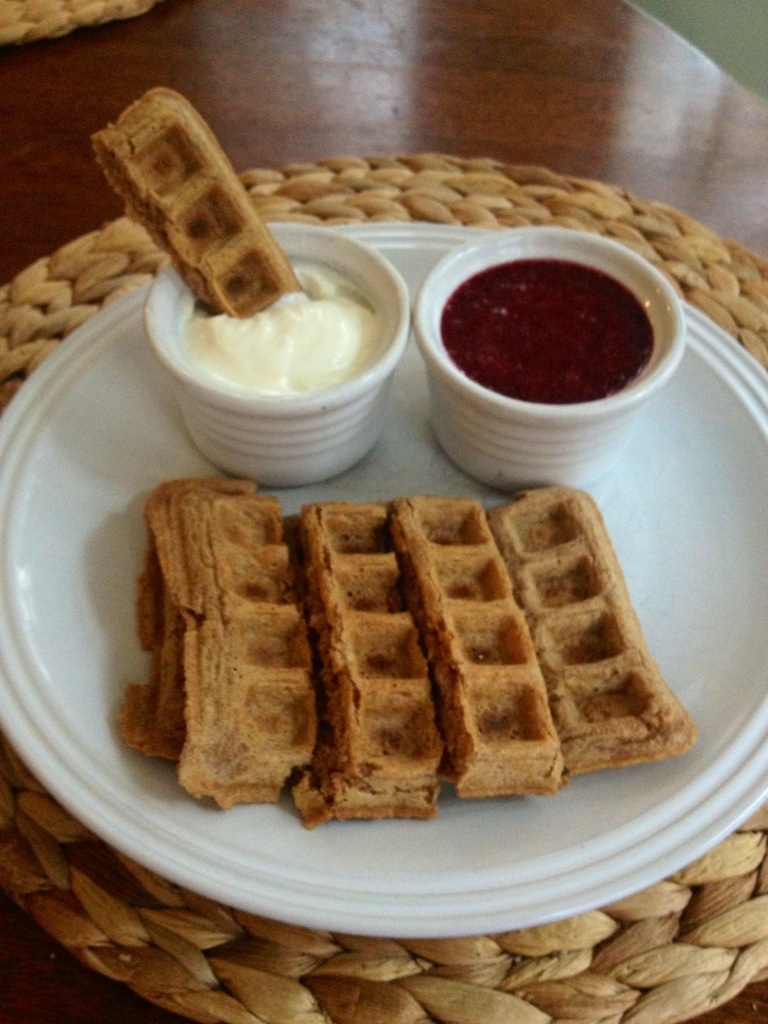 They are also good slathered with all-natural peanut butter and sliced bananas.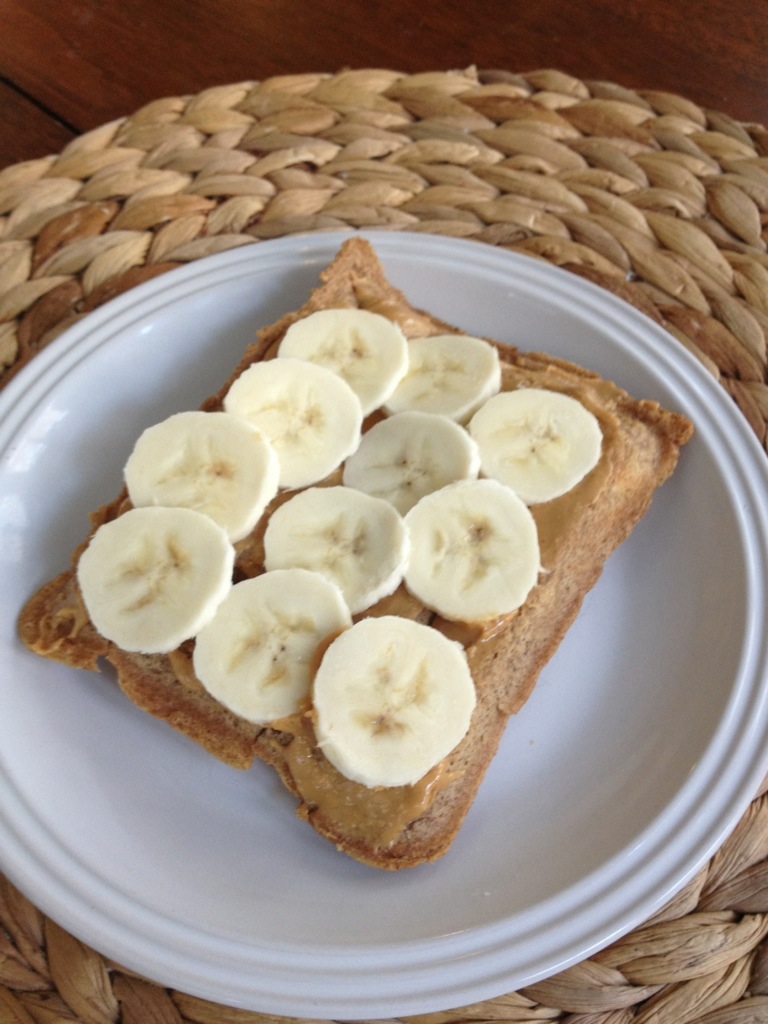 Or turned into little breakfast sandwiches with cream cheese and strawberry jam, pumpkin butter, or sliced berries.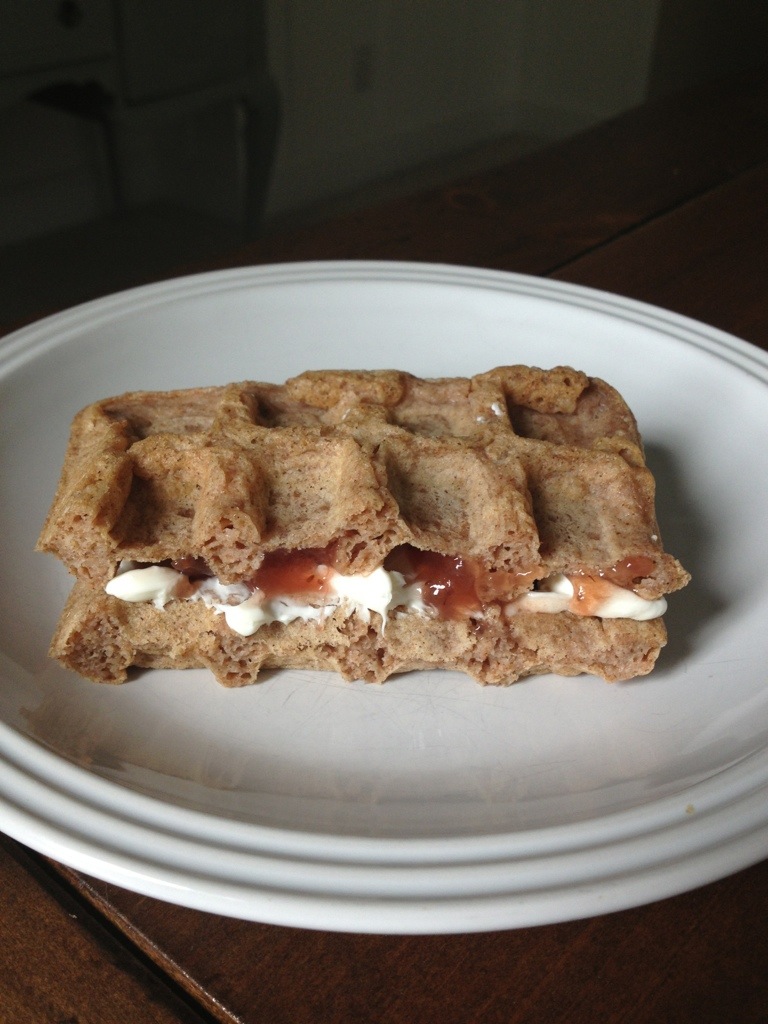 For a really special treat, I throw a few mini chocolate chips into the batter (I prefer the clean ingredient soy-free, dairy-free mini chips by Enjoy Life).  Or mash up a banana and throw that into the batter to make banana waffles….or banana chocolate chip waffles!  You get the idea!
The options are endless and it's a pretty quick and easy breakfast once the waffles are pre-made.
Warning….nutrition nerdiness ahead…
As a side note, I have started making these waffles, as well as a lot of my other recipes, with whole grain spelt flour. I recently learned about spelt flour while studying pH and the acid-alkaline balance in our bodies. Our bodies strive to maintain a certain pH level, which is slightly alkaline. The problem is that most of the foods in the Standard American Diet cause our blood to be more acidic (think white flour, dairy, corn, sugar, meat, soda, table salt, processed foods, etc). Our bodies wage a daily war to maintain this balance and get rid of the toxins – through the lymphatic system, by filtering excess acid out through the kidneys or withdrawing calcium from our bones to neutralize the acidity. Most of the chronic diseases that run rampant in our society right now are the result of having acidic blood (this includes allergies, Alzheimers, arthritis, cancer, cardiovascular disease, chronic fatigue, depression, fibromyalgia, high blood pressure, high cholesterol, hormone imbalances, obesity, osteoporosis, and premature aging to name a few). By eating more alkaline foods, we can keep our tissues and organs healthy and help prevent disease.
Spelt is an ancient grain. It is part of the wheat family (so NOT gluten-free). However, spelt is substantially higher in nutritional value than whole wheat. And unlike wheat, it is not acid-forming. It has a naturally sweet taste so it is perfect for making bread, muffins, or waffles. I buy this in bulk at our health food store and it runs about $2.00/lb. I store it in the freezer for maximum freshness and substitute it one-for-one in cooking and baking. Give it a try!!!!
Whole Grain Waffles
Adapted from the King Arthur recipe here
Ingredients
1 1/2 cups whole grain flour (whole wheat or spelt)
2 tsp. baking powder
1/4 tsp. salt
1 egg
1 1/2 cups milk (regular or non-dairy)
1/4 cup melted coconut oil or grass-fed butter (supposedly the waffles crisp up more on the outside using butter)
Extra coconut oil or butter for brusing on the waffle iron
Toppings of choice
Optional – 1 tsp. ground cinnamon or 1 tsp vanilla extract to add extra flavor
Optional – 1-2 T. maple syrup or honey to make waffles sweeter (I personally don't think they need it with the toppings)
Optional – 1 T. orange juice or lemon juice added to the milk will help neutralize the strong whole grain flavor for those who may not be used to whole grain baked goods
Directions
Preheat waffle iron.
In a large mixing bowl, combine all of your dry ingredients – flour, baking powder, salt (and cinnamon if using).  In a separate bowl, add all liquid ingredients – milk (and orange or lemon juice if using), egg, melted butter/oil, and vanilla extract.  Mix wet and dry ingredients together, stirring them just until they are combined (there will be a few lumps).
Cook waffles according to the instructions that came with your waffle iron.  For me, I brush the waffle iron with melted butter or coconut oil and pour in some of the batter and simply leave it to cook until the light goes off.  Each waffle takes 2-3 minutes and the recipe yields 8-9 waffles in my waffle iron.
It was great to gain the extra hour this weekend when Daylight Savings Time ended.  It is a bit depressing that it starts getting dark so early.  But I like the fact that it's light out when I get up, and it's just a little easier to wake up in the morning.  For a little while at least

I thought I would take advantage of waking up a little earlier this week and a delayed start at school tomorrow and feature breakfast posts all week.  Honestly, it is and always has been my favorite meal of the day!  And I think we all know that it is the most important meal of the day.
Instead of just posting a new pancake/egg/muffin recipe everyday, I thought I would start with a little background of what we DON'T eat for breakfast in our house.
This may seem strange to some people if they don't know me well, but I rarely buy boxed cereal for my kids for breakfast.  I have avoided the cereal aisles for quite some time now after learning that most cereals contain genetically modified corn and/or soy, an outrageous amount of sugar (sometimes up to 50% sugar by weight and many times it is in the form of high fructose corn syrup), as well as numerous petroleum-based food dyes. Surely, that is no way to start off the day!
On occasion, I do buy cereal for my kids as a treat.  They are kids after all and they do like it!  When I buy cereal for them, is usually Cascadian Farms organic cereals, with ingredients that I recognize, and it is rare since it's pretty expensive.  Besides, they have enough other breakfasts that they love (and are just as quick and easy)!
The topic of cereal just came up with my kids when they recently had a sugary cereal at a sleepover.   I won't name the specific cereal, but I thought it would be interesting to take a look at the ingredients: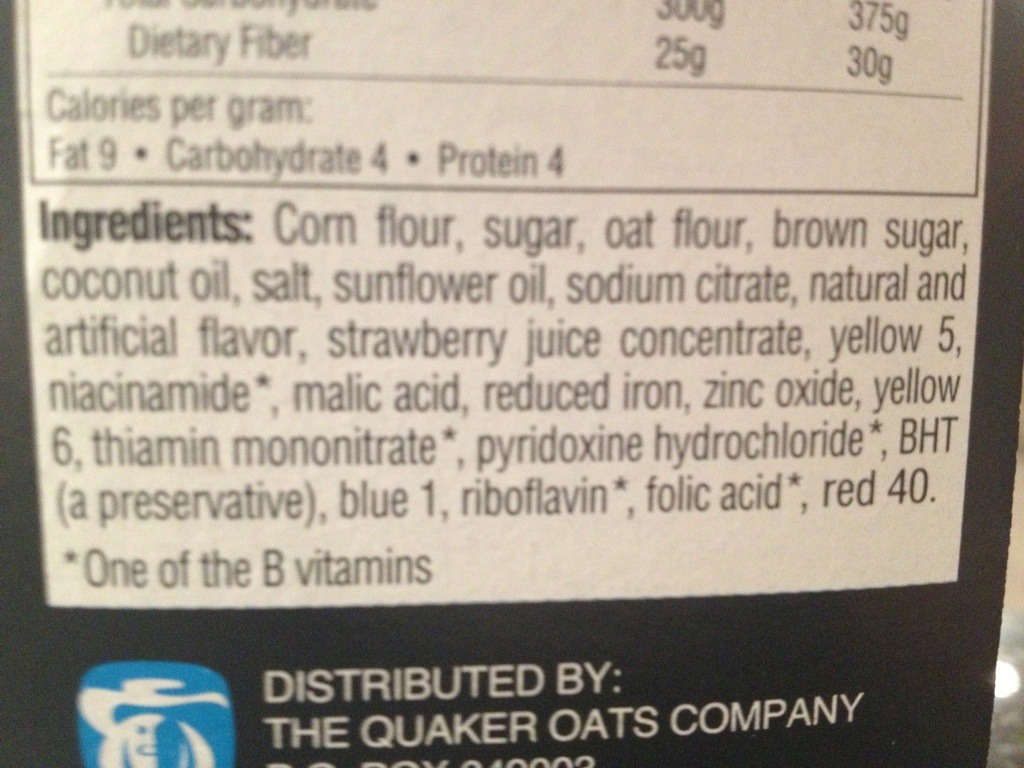 To some, this may look pretty harmless….oat flour, coconut oil, strawberry juice.  But let's take a closer look at some of the worst offenders here, shall we??
Corn flour – unless the item is certified organic, it is most likely derived from genetically modified corn (known as GMO or GM). According to the American Academy of Environmental Medicine, "several animal studies indicate serious health risks associated with GM food," including infertility, immune problems, accelerated aging, faulty insulin regulation, and changes in major organs and the gastrointestinal system. Want to know more about GMO's?? Read this.
Sugar – Toxic and addictive according to this eye-opening feature on 60 Minutes last year. According to Dr. Joseph Mercola, "sugar takes a devastating toll on your health. In fact, excessive sugar consumption may be the largest factor underlying obesity and chronic disease in America." You know its bad when he has a list of 76, yes you read that right…. 76 Dangers of Sugar to Your Health!!! In a nutshell, it is a fact that consuming sugar causes inflammation in the body which contributes to heart disease, cancer, diabetes, candida, as well as a weakening of the immune system.  For children specifically, it weakens their immune system and has a negative impact on their behavior, attention span, and learning according to well-known pediatrician Dr. Sears.  He also states that children are more sensitive to the effects of sugar than adults are.  I could go on and on, but really, there is nothing positive about sugar.
Natural and Artificial flavor – Both artificial and natural flavors are made by scientists in a laboratory by blending either "natural" chemicals or "synthetic" chemicals to create flavorings. The distinction between natural and artificial flavorings is subtle and is based on the source of these often identical chemicals.  Unfortunately the FDA has no real regulation for the term "natural flavor."
One of my main concerns is that Monosodium Glutamate ("MSG") is a neurotoxin that can be legally hidden from you as "natural flavors" in the ingredients list.  MSG is a problem as it can cause brain lesions, neuro-endocrine disorders, and neurodegenerative disease in humans according to Natural News.  While we are on the topic, did you know that there are more than 25 names for MSG?
Some examples of sources of "natural" flavors in our food supply:
shellac – the resinous secretion of female bugs
cystine – a dough conditioner derived from human hair and duck feathers
maltodextrin – derived from genetically-modified corn is considered a natural flavor
beavers' anal gland secretions (Castoreum) in the manufacturing of vanilla, strawberry and raspberry flavors – which then appear in ice cream, soda and yogurt
Gross.  Just gross.
Yellow 5, Yellow 6, Blue 1, Red 40 – A whopping 4 dyes included in this cereal!!!!! Here are some facts from Lisa at 100 Days of Real Food regarding food dyes:
I particularly liked the information in her post "7 Reasons I Hate Artificial Food Dyes."
BHT – a preservative banned in almost every country but the U.S.  The Skin Deep site rates BHT as having a "high hazard depending on product usage" and says it has been linked to cancer, developmental toxicity, allergies, neurotoxicity, endocrine disruption, biochemical and  cellular level changes.
Are you as upset as I am by this information?!?!?  And I am just highlighting here, barely touching the surface of the issues with these ingredients!
Now, I am all for "treats" in moderation. But in my opinion, this is not a treat as I do not even consider this to be edible. If you refer to Michael Pollan's definition of "food," this would not be considered real food (an item your grandmother would recognize, has less than 5 ingredients, has ingredients you can pronounce, and will eventually rot).   Personally, I think it is tragic that food manufacturers (and the FDA) think it is OK to bombard small, growing, developing children with this toxic load of chemicals.
It is my hope here at Healthy Plate Happy Family to inspire you to eat healthy.  I hope that this information will encourage you to take a closer look at the labels on the foods that you are buying and question the ingredients in the food that we feed our families.  I hope that this week of awesome breakfasts will leave you excited to try something new for your family.  Feel free to share your favorites or let me know if you try anything new this week!!
I hope everyone had a great Halloween!!!
I was one of the parents in charge of Hailey's class Halloween party at school yesterday.  Of course, I volunteered to help out with the food.  My goal was to not use any food coloring or refined (white) sugar, but to still have it be fun.
I was worried that they may not like the "healthy" snacks, but everything seemed to go over really well. I think the fun games and awesome slime-making craft were probably the highlight for the kids though. It was great to see them having so much fun and that it wasn't just all about the candy!!
I thought I would post the recipe for the muffins – I have been making these a lot for the kids and they love them. They freeze really well so its great to have them on hand to pop into lunch boxes or for snacks.
Whole Wheat Pumpkin Muffins
adapted from 100 Days of Real Food
Ingredients
1 1/2 cups whole wheat pastry flour or white whole wheat flour (original recipe calls for spelt flour, which is good too!)
1 T. pumpkin pie spice (make your own with the recipe here)
1 tsp. baking soda
1/4 tsp. baking powder
1/2 tsp. salt
1 cup canned pure pumpkin
2 eggs
1/2 cup honey
1/3 cup melted butter
1/3 cup mini chocolate chips, optional
Directions
Preheat oven to 350 degrees and line a muffin pan with paper liners or brush with melted butter.
In a large bowl, mix dry ingredients. In a separate bowl, mix wet ingredients (pumpkin through butter). Fold dry ingredients into wet and combine, but do not over-mix. Stir in mini chocolate chips if using.
Divide batter evenly in muffin pan. For full-size muffins, bake for 18-20 minutes, or until a toothpick comes out clean. For mini muffins, bake 13-15 minutes, or until a toothpick comes out clean.
When I make them for my kids, I usually add the chocolate chips.  But for the Halloween party, I made the muffins full-size and left out the chocolate chips. I topped them with this naturally sweetened cream cheese frosting instead (the eyes were made with a very small batch of chocolate frosting, but chocolate chips would work here too).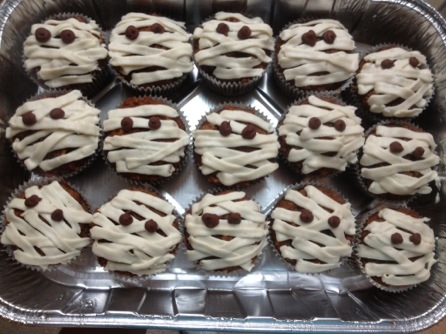 Honey-Sweetened Cream Cheese Frosting
Ingredients
1 1/2 packages of 1/3 less fat cream cheese (12 oz. total) – at room temperature
1 1/2 sticks of butter – at room temperature
1/3 cup honey
1 tsp. vanilla extract
Directions
Use a stand mixer or hand mixer to combine all ingredients until light a fluffy. Refrigerate frosting to help it set up. Frost as desired.
Is it too late in the Fall for apple posts?? I hope not!!
We have been going to pick apples at the same orchard in Southwest Michigan for the last 7 or 8 years.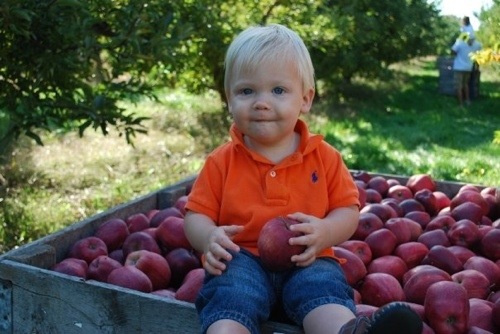 This year, we lucked out with a gorgeous Fall day….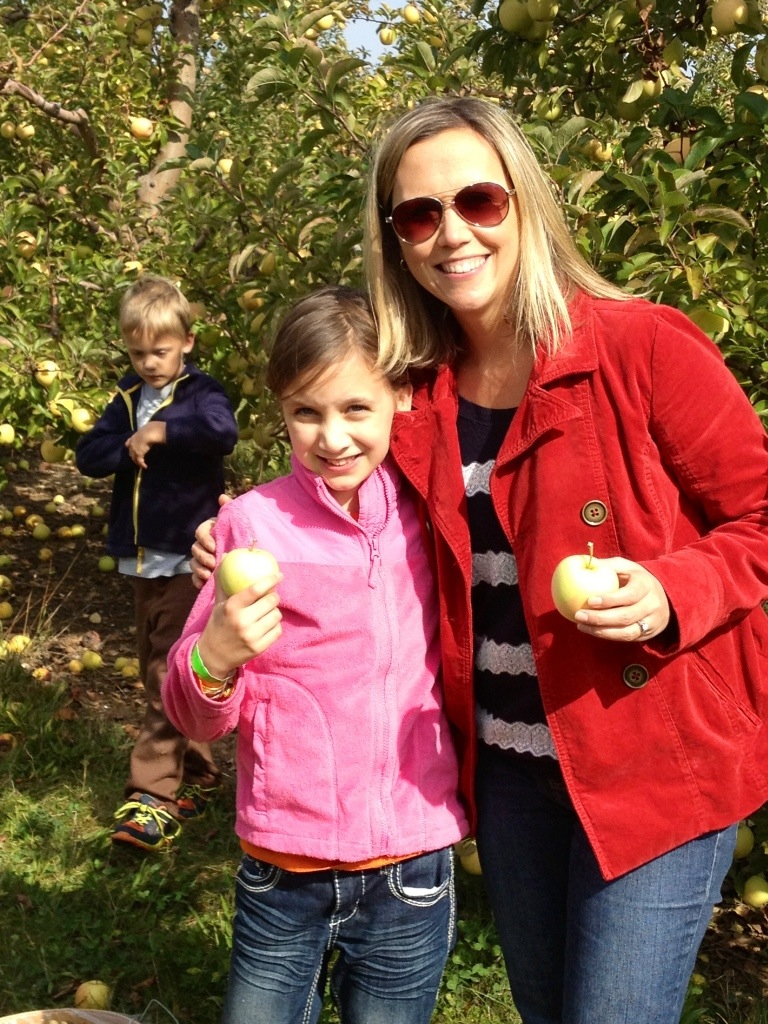 We were able to pick golden delicious and granny smith apples, but the golden delicious have by far been our favorite!!!
The very first thing that I made with our apples was crockpot applesauce. This hardly needs a recipe – it was about 10-12 apples, peeled and chopped with a couple of teaspoons of cinnamon, slow cooked on low for a few hours. I left it pretty chunky and served it for dinner with pork tenderloin and sweet potatoes and it was devoured before I could even take a picture!
Then, I decided to make some muffins with it. I have mentioned the grain-free raspberry muffins that I have been making lately. I love the nutritional profile of them, but wanted something more seasonal and thought apples and cinnamon would be a great addition.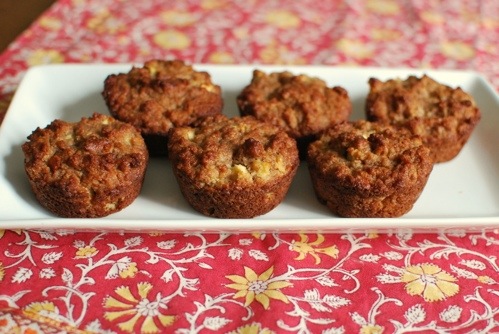 Personally, I don't mind eating these cold when I'm on the go, but they are amazing sliced and toasted or warmed up a bit. I even crumbled one into my Greek yogurt the other day for breakfast and it was SO good.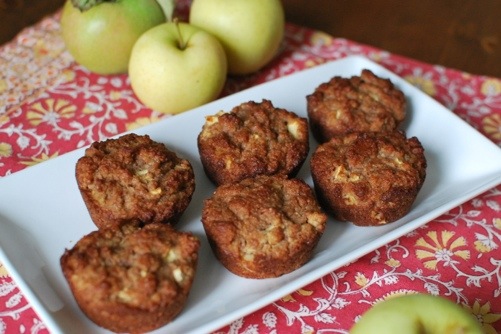 If you are experimenting with some of the grain-free flours or gluten-free recipes, I highly recommend giving these muffins a try!
Cinnamon Apple Muffins (gluten-free, dairy-free, paleo-friendly, no refined sugar)
Ingredients
2 c. almond meal/almond flour (you can make this by grinding blanched almonds in your blender until flour consistency)
3 T. coconut flour
1/2 tsp baking soda
1/2 tsp baking powder
1/2 tsp salt
1 heaping tsp cinnamon
3 eggs
1/3 c. pure maple syrup
1/4 c. melted coconut oil
1/4 c. unsweetened applesauce (I used the tiny bit of leftover homemade applesauce that we had)
1 1/2 tsp. vanilla extract
1-2 apples, peeled, cored, and diced into small pieces
Directions
Preheat oven to 350 degrees. Lightly grease a muffin pan with melted coconut oil or butter. Mix dry ingredients together in a bowl. Mix liquid ingredients in a separate bowl. Combine wet and dry and fold in chopped apples. Fill muffin pan 2/3 full and bake 22-25 minutes, until a toothpick comes out clean.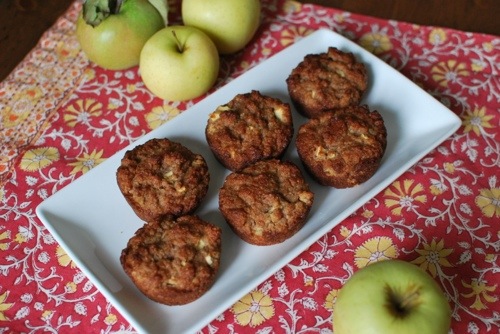 Hello!!!! Happy Wednesday!
Today got off to an amazing start! I was just telling my husband that I needed something new to mix up my workouts a bit. Then last night I got a text that a friend of mine was teaching a spin class in the morning. Just what I needed!
So, I made up this smoothie quickly before I headed out this morning. Absolute favorite new smoothie right here!! If you are into protein smoothies, you must try this!!!!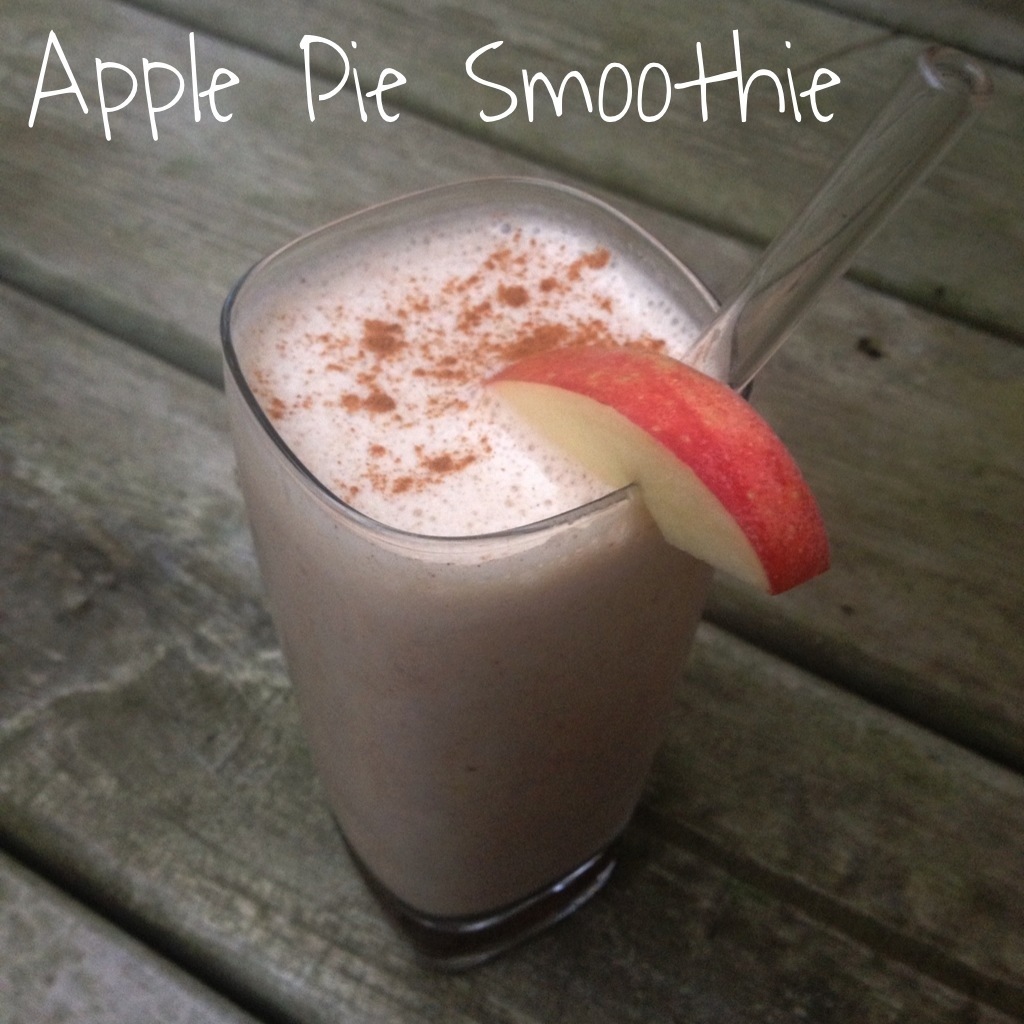 Ingredients:  1/2 cup unsweetened almond milk, 1 scoop vanilla protein powder, 1 chopped up apple, 1 T. ground flax, 1 tsp cinnamon, sprinkle of nutmeg and ground cloves, 5 ice cubes…..blend it up until nice and smooth!
The ground flax will add a bit of a "texture" to the smoothie so if you're not sure about that, you can leave it out. Or toss a little almond butter or dry oatmeal in there – just something to give it that "nutty" flavor of the pie crust.
The spin class was awesome and I was a sweaty mess with limp noodle legs afterwards. I can't wait to go back next week!!!
I was starving and had an early lunch.  I made a Kale and Goat Cheese "omelette".  I say that in quotes because I have don't have the patience or the pan to make a proper omelette! So I sauteed some kale in a little grass-fed butter and threw in 2 eggs plus 1 egg white and topped it all off with a little bit of goat cheese and pressed it all together to sort of resemble an omelette. I had some organic red grapes with it.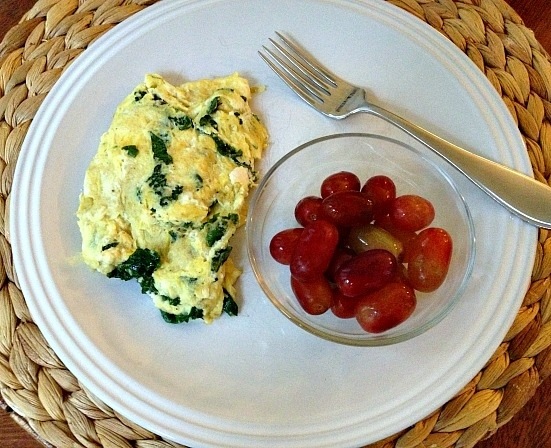 My snack this afternoon was a spin on these Granola Energy Bites. I make a batch of these almost every single week for the kids lunches and snacks. For this batch, I reduced the amount of oatmeal and subbed in some protein powder instead (these are more for me, not necessarily the kids).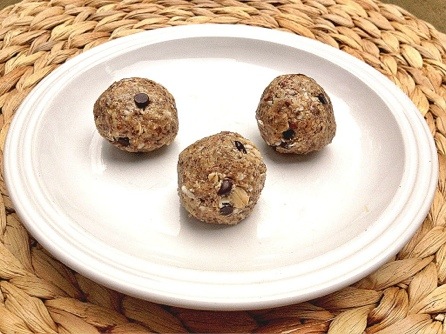 Darren offered to make dinner tonight since the we have after-school activity craziness on Wednesday nights. I am planning to start doing more crockpot meals on Wednesday nights, but wasn't going to turn down his offer to cook. Especially after he made a special trip to the health food store to buy some local, free-range, grass-fed meats!  I love that we have found this great source for meat!!  They are located in Ravenna, MI and offer meats that are "raised on fresh air and sunshine and without grains, antibiotics, and growth stimulants…allowed to live low stress lives."  The amazing thing is that these range in cost from $4.79 to $5. 29, which is cheaper than the factory farmed meats from our regular grocery store!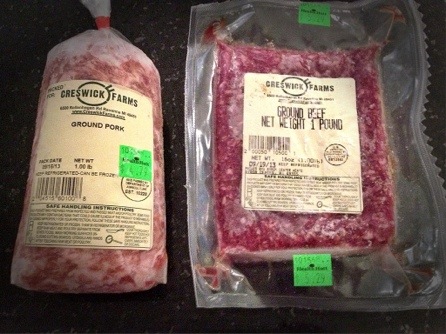 He always goes all out with his meals.  Tonight it was Swedish Meatballs, which I had with mashed cauliflower and some green beans. I always think food tastes so much better when someone else cooks it for me!! This was heavenly!!!!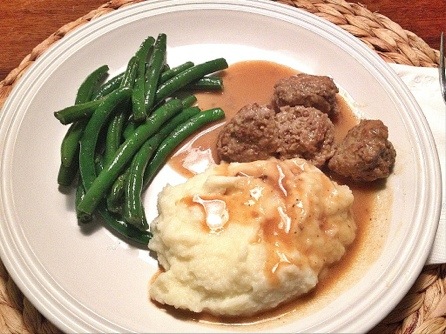 That's all for today. Have a great night!!!!!